[2023] What is Digital Signage? How Does It Help Your Business?
Digital signage offers an option impossible for print advertising formats: ads can be transmitted in real-time so that the message can be changed according to circumstances or reactions. However, there are still many companies that still need to recognize the benefits of signage for brand growth. So, they miss an excellent opportunity to increase their exposure and development.
Therefore, today we will explain what digital signage is, how they work, what its benefits are, and how to manage digital signage. Are you interested in learning more about this innovative marketing tool? Don't worry! We'll tell you everything you need to know in a moment.
Part 1. What is Digital Signage?
Digital signage is a network of programmed screens to display a message or content (videos, images, graphics, text, and audio) on hardware (LED/LCD monopoles, multi-touch screens, beacons, cameras, etc.) Created using software that allows the content to be visualized on the selected device through touch, voice recognition, etc.
What is Digital Signage used for? Digital signage has applications in various fields, including public information, hospitality, marketing, tourism, restaurants, museums, education, and corporate environments.
So you learn what digital signage is used for, let's get to know its components in detail!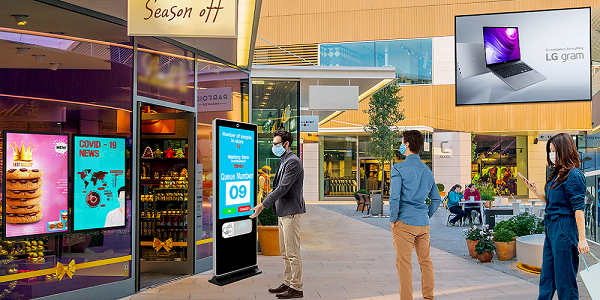 Part 2. What Makes Up Digital Signage?
Once the digital signage definition is provided, we can understand that this is an innovative marketing alternative that allows us to reach our audience at the most opportune moments. Giving digital signage a chance opens the door to a world of possibilities for the growth of our commercial brand.
Among the components of digital signage, the following stand out:
Hardware: It includes all necessary computer hardware, electronic displays, mounting systems, display panels, and peripherals.
Software: The software allows business owners, digital content creators, and professionals to remotely manage an unlimited number of networked display screens.
Network: Refers to the communication method used to network a digital display. Typically, a standard Ethernet cable, the Internet, a wireless system, or a cellular carrier is used.
Content: The content of any signage is the message conveyed to the target market. It can range from still images to dynamic videos, flash animations, news feeds, static text, or any combination above.
Installation: It includes all necessary computer hardware, electronic displays, mounting systems, display panels, and peripherals.
Purchase: It includes all the channels through which end customers purchase the digital signage components.
Part 3. Popular Types of Digital Signage
There are 5 main types of digital signage, which I will discuss below:
1Indoor Digital Signage
These projects seek more direct contact with the consumer through smaller screens where interactivity is a priority.
They require less investment, but the impact is also potentially lower. However, it is also more direct and favors conversion since the consumer can usually access it from the point of sale itself.
2Outdoor Digital Signage
These take advantage of places of great affluence to display messages. For example, they can be the facade of a building, transport stations (trains, buses, subways), and roads, among others.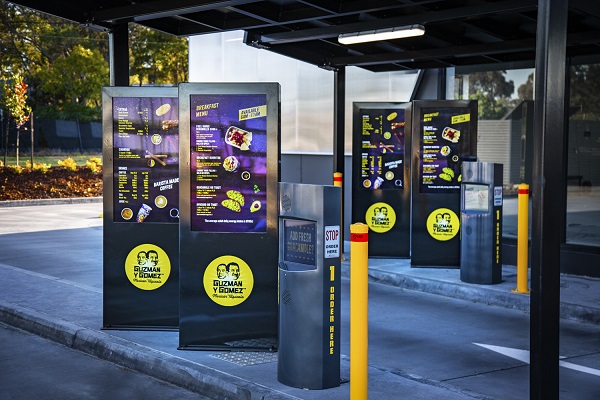 3Digital Menu
These displays can be used independently or in a network. The boards use an LCD monitor and work very well in restaurants and bars. This form of advertising technique can exponentially improve the sales of the premises where they are installed.
4Stand-Alone Display
A stand-alone digital signage display requires no external hardware or software and no Internet connection. Its content, such as images and videos, is loaded onto a blank USB stick and inserted into the display.
5Digital Posters
Businesses that need to provide a list of messages, services, and notices to their customers can use these displays. With the help of digital signage, owners can instantly update their information in a way that appeals to the public.
Part 4. How to Manage Digital Signage Remotely & Easily?
The benefits of digital signage are varied. These types of software allow companies to communicate compellingly to their external and internal audiences. These specific messages can be updated remotely and instantly, anywhere, through a connection, which is a massive advantage over other methods.
Among the options you have to manage your digital signage remotely, AirDroid Business is undoubtedly the best choice on the market.
AirDroid Business - Your Best Choice
AirDroid Business is the best Android device management solution. It can help you manage all your Android-based digital signage easily anywhere and anytime. Users with limited IT experience can upload, delete multimedia files in bulk, and manage digital signage displays.
Moreover, you can monitor and control digital screens remotely and if there is any wrong with the digital display, you can solve the problems instantly.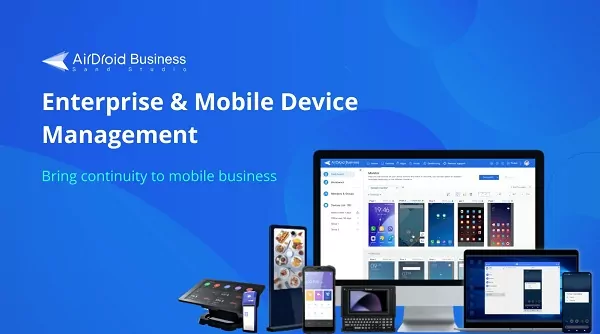 How AirDroid Business Help You Manage Digital Signage?
Undoubtedly, commercial digital signage is one of the most efficient and effective ways to communicate with different audiences. Effectively managing digital signage plays an important role in this process. Here are how AirDroid Business can help you manage digital signage:
1Monitor Unattended Digital Signage
You will also receive full access to a comprehensive digital signage dashboard that you can use to view the status and online connectivity of your digital signage, run detailed media reports, gather statistics, and much more.
This powerful tool allows you to collect valuable real-time information about your displays and media. You can use this data to track and optimize your display performance.
2Remotely Troubleshooting Anywhere & Anytime
You can manage remotely, and any changes made to the system are automatically synchronized across all displays. This remote management facility allows quick troubleshooting and saves the high costs of delays and erroneous digital signage. Also, you don't have to send a technician onsite to fix the problem, as your team can fix it remotely.
3Streamline Android App Updates
By having focused control of your Android screens, you can update your digital signage devices easily. So, you won't have to worry when implementing new tools in your project; AirDroid Business works as an all-in-one.
4Manage Multimedia Files in Bulk
AirDroid Business has a content distribution platform that allows you to control audiovisual elements and information on each screen according to programmed playlists and additional business logic. This way, you can upload or delete the multimedia files you want in bulk from the comfort of your remote devices.
5Keep Confidential
Data privacy is an essential element that protects our software, AirDroid Business incorporates SSL certificates, has end-to-end data encryption, and has security protocols for all activation and use processes.
Also, AirDroid Business has a black mode feature, when you remote control your digital signage, it will show black on the screen, so the customers or others are unable to see your operation. This way, you will avoid the risk of information leakage.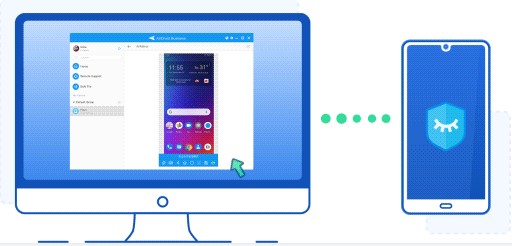 Want to remote support your digital signage without lots of management?
If you want to find a remote support tool but do not need lots of device management features, then we recommend AirDroid Remote Support here for you. AirDroid Remote Support for Business is a professional remote support software. With it, if your digital signage has some issues, you can provide on-screen tutorials and troubleshooting for your digital signage remotely from your computer or mobile device.
Part 5. What are the Benefits of Digital Signage for Your Business?
There are multiple pros, from ease of use and cost reduction to attracting new customers. Discover the benefits one by one!
1Increase Exposure
The use of digital signage allows you to make known on different scales and according to your intention, your brand, and the range of products or services you offer in the market. Everything you do in your business, what you offer and what makes you different from the rest of your competitors. These have as a plus that they allow you to make a broader and more attractive diffusion of the message you want to send.
2Catch Attention
The projection of content in dynamic formats effectively attracts potential customers' attention, arousing their interest and using a more powerful way of communication. It is because of the visual premium over any other way to convey a message. That is why digital signage displays have become the perfect tools. Unlike traditional static posters, your digital signage system will help you to be remembered.
3Dynamic Content
This is undoubtedly one of the most obvious benefits of digital signage. When you provide static images or maps in your business, you only have a few options to customize or update them in real-time, and customers often get bored. However, by using digital signage in your business, you can customize and edit content at any time, and at the moment, you need it to inform and engage your audience.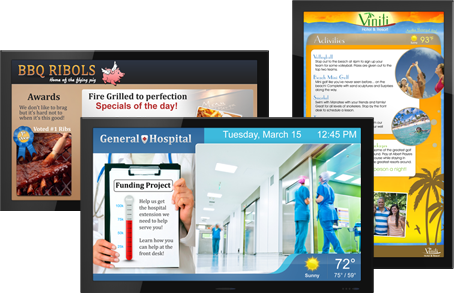 4Improve satisfaction
It enables personalization and segmentation of content: audiences are likelier to engage with segmented content that matches their needs and desires. Using day, time, and weather scheduling options in digital signage, playlists automatically adjust to suit different audiences, timely events, and even outdoor conditions. It ensures that your content is always relevant and valuable based on timing, offers, discounts, new products, access routes, how to get there, etc.
5Impulse Purchase
It is ideal for promoting your products and services as digital signage content on screens. For example, it can be used to entertain the user and for marketing purposes to raise awareness of the products and services you offer and guide potential customers on their buying journey. Digital signage is a fantastic chance to showcase new or lesser-known offerings and highlight upcoming special offers and promotions.
6Better Customer Experience
One big plus point of implementing digital signage in your business is that it allows you to give control to your customers, as users can choose the content they want to display. Your business increases engagement since you are establishing a direct relationship with your user.
In addition, Digital Signage allows the customer to make their own purchasing decisions without any salesperson having to "impose" anything on them. By having videos, photos, infographics, and any other content at their disposal, the customer can decide what they want.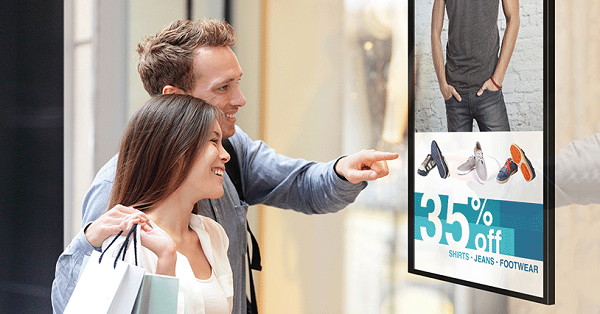 7Increase Brand Visually
Placing a digital signage system in your business, store, hotel, or office will improve the image of the establishment and your brand considerably. A good multi-dynamic display shows your customer that you are not only a business that tries to implement the latest digital technology every day but that you care enough about the customer to offer the best user experience that can be provided.
8Reduced Operational Costs
Digital Signage provides much more than just a good impression. It also allows you to use better and more efficient communication channels, so you can change your content strategies quickly as your business actions change, depending on the landscape or market. You can modify the message you want to send in a short time. All this without investing in printing large billboards, posters, or brochures.
9Easy Management
Digital signage gives you the advantage of quickly and efficiently changing all signs, messages, and information to display images that attract the eye of your customers. Both the software and the devices are easy to install and use. Most importantly, they are easy to maintain and offer excellent image quality.
Conclusion
Digital signage is a centralized controlled content distribution platform connected to one or more screens. Deployment within businesses has multiple benefits, such as broader exposure, ease of management, and dynamic content delivery to engage customers and drive sales.
Digital signage solutions like AirDroid Business allow businesses to take it to the next level to send messages more strongly. If you enjoyed this article, stay tuned for more updates!
FAQs About Digital Signage
How Does Digital Signage Work?
Digital signage works by electronically playing videos, images, web pages, menus, addresses, etc., through LED or LCD screens to send customers a dynamic, attractive, and interactive message. These have as quality the informatic character that processes the content and projects it on the device.
How Much Does Digital Signage Cost?
The cost of digital signage varies depending on the software and types of devices used to deliver the message to the consumer. Factors such as the type of screens, size, brand, and whether it includes touch sensors, facial recognition, or voice recognition can vary the pricing from $199.99 to $19,000.
Which Digital Signage is Best?
There are different options in the market; however, for its ease of implementation, use, and maintenance, AirDroid Business is one of the most outstanding options in the market. The simplified management allows 360º business connectivity and saves unnecessary operational costs, so you can focus on investing time and money in your customers.
Was This Page Helpful?