MSP Must-Have Remote Management Software: Top Picks
The demand for managed service providers is on the rise. Remote management software plays a major role for any managed service provider(MSP). Apart from operational efficiency with better remote monitoring and maintenance, remote management software is important for the rapid scalability of the business.
If you want to get an edge over your competitors, you need to have the best remote management tools in your possession. We have discussed in detail everything you need to know about remote management software for MSP. We have handpicked the must-have remote management software for MSP to take your business to the next level.
Part 1. What is Remote Management Software for MSP?
Remote monitoring and management(RMM) tools have become indispensible for every managed service provider(MSP). Let us begin by understanding these two terms in detail.
1. Understanding MSP (Managed Service Providers)
An organization that delivers management services to another organization as per their business requirements is referred to as managed service provider(MSP). MSPs improve the operational efficiency for businesses as certain regular business processes are outsourced to MSPs.
Here, we are referring to MSPs that provide IT-based services. Such managed services include software updates, device health monitoring, tech remote support and maintenance, networking and security services, data backups, user management, and much more.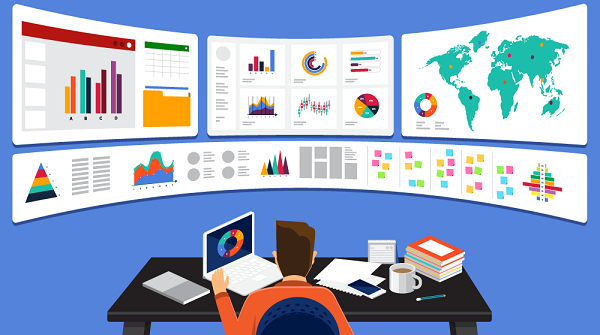 2. What is Remote Management Software for MSP?
Remote management software for MSPs is a specialized application that is designed to assist MSPs in offering better remote services to their clients. There are advanced remote management options available, starting from remote monitoring devices and managing users to automating processes and controlling devices.
Monitoring and management can be optimized based on data-driven reports. The productivity of the users can be improved by automating complex tasks.
Security can be enhanced by implementing robust corporate policies effectively. Remote management software provides a systematic approach to certain aspects of management for the betterment of the business.
Part 2. How Remote Management Software Benefits MSP?
Remote management software is highly beneficial for MSPs as they cater to the different requirements in providing managed services to clients. Here are the specific benefits of a remote management application that make it absolutely essential for MSPs.
1Increased Efficiency
With remote management software, MSPs can quickly find and fix issues, ensuring optimal performance and minimizing downtime and disruptions to business operations.
Also, remote management software eliminates manual processes to some extent as well as automates certain operations to enhance MSPs' efficiency.
2Enhanced Visibility & Remote Control
Remote management software can better monitor the connected devices and user activities. Data-driven analytics and reports are generated for better visibility of the overall business operations.
Moreover, MSP remote access software allows team members to control the devices of the clients remotely and offer support and maintenance services instantly. This cuts out the travel expenses as well as satisfies the clients due to faster services.
3Improved Security
Security has become a growing concern for any business that is based on IT infrastructure. That is why companies hire managed service providers to tighten security protocols and implement better security policies.
Remote management software allows MSPs to actively monitor the devices and activities and get early signs for security infringement. Besides, MSPs can manage device access permissions, encrypt data transfer activities, secure remote connections and implement multi-layer security policies.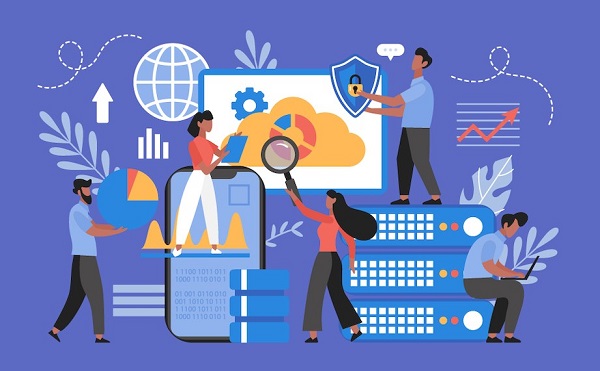 4Increased Scalability
Remote management is crucial in the scalability of MSPs. An employee can monitor and manage multiple devices at the same time which might not have been possible in on-site management. Automation of certain complex tasks through MSP remote management application enhances scalability.
Besides, MSPs can set alerts and avoid active monitoring so that the employees can provide remote support to devices and users who need them instantly. Training employee about a central remote management application is easy, and hence, scalability can be easier without degradation in the quality of service.
5Improved Maintenance Process
Timely maintenance of devices prevents their sudden breakdown. This could be updating operating systems and apps, scanning the device health indicators and detecting abnormalities, taking appropriate steps to address abnormalities, and likewise.
Remote management software helps you to automate the maintenance process to a greater extent. You can schedule maintenance during non-working hours so that the business operations do not get hampered for your clients.
Part 3. What are the Must-Have Features for Remote Management Software for MSP
When you are choosing remote management software MSP, there are certain features that are absolutely necessary for the software to possess. These features are designed to assist MSPs in offering better services to their clients with better productivity and efficiency.
Here are the essential features of the MSP remote management application.
1Remote Control:
The MSP team needs to get control of the target devices of the client from time to time. This could be for providing remote support, performing routine maintenance, installing new apps, and changing settings. Therefore, MSP remote access is a must-have feature in any remote management software.
2Reporting:
Businesses that are data-driven perform more efficiently. The same applies to managed service, and hence, the remote management application must-have reporting option.
Reports can be on the device's health, device usage, user activities, recent changes, and much more. There must be flexible options to generate customized reports as per requirements and take action accordingly.
3User Management:
Remote management software must have a user management option. This means you can set different permissions for different team members to assign dedicated roles and ensure the security of the system. With user management options, you can control the activities of the users as well as the target devices for better productivity and performance.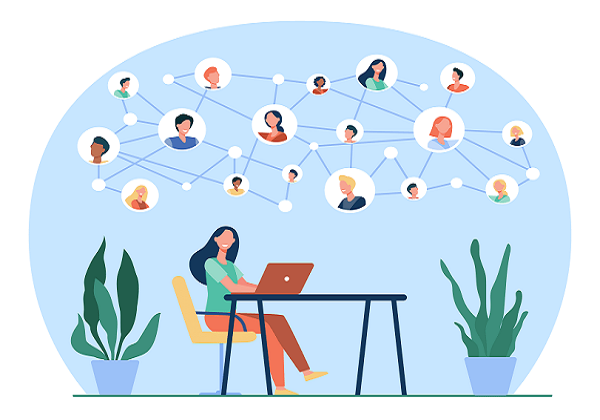 4Automation:
Automation is a game-changer in any remote management application for MSP. Automating certain tasks saves time and increases the efficiency of operations. For example, automation of maintenance works in scheduled time is highly useful.
Proactive monitoring devices and generating alerts based on preset criteria are a part of automation that can help MSP teams concentrate on high-tier tasks.
5Security:
The remote management application needs to ensure that the remote sessions are totally protected to prevent hijacking of sessions. The application should have a multi-level security setup to prevent unauthorized access and prevent data theft.
Moreover, there should be additional security features for real-time monitoring and implementing customized corporate security policies effortlessly.
6Compatibility:
Last but most importantly, the remote management software should be compatible with the devices of the clients. The compatibility is based on the operating system of the target devices.
There are generally separate remote management applications that are compatible with computers and mobile devices. Depending on the operating system of your client's devices, you should choose a remote management application accordingly.
Part 4. Top 2 Picks of Remote Management Tools for MSP
We believe you you might be looking for the most reliable remote management software. Here we have handpicked the best remote management tools for MSP to offer remote management as well as remote support services perfectly.
1AirDroid Business MDM
AirDroid Business Mobile Device Management(MDM) is the best remote management tool for MSPs that are dealing with Android devices. Here are the key features of AirDroid Business MDM that MSPs will find useful.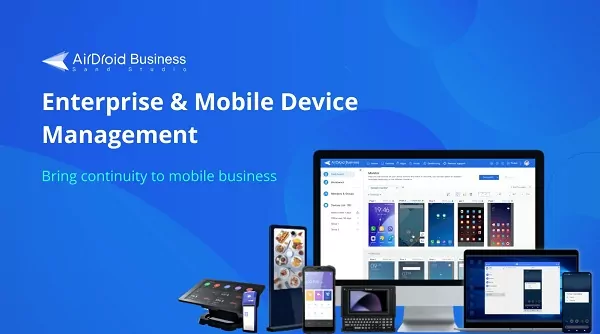 Remote Access & Control:
You can remotely access any connected Android device for enterprises in attended as well as unattended states. You can offer remote support and maintenance services and prevent long device downtime.
There is an option for voice chat to instruct and train the on-site staff as well. Therefore, you can offer timely services and reduce travel expenses.
Black Screen:
Privacy is crucial for any business device when you are performing any internal activity, such as remotely accessing business data. AirDroid Business MDM comes with a unique Black Screen Mode that blacks out the remote screen so that the operations performed on the device remotely are not visible to anyone around the device. That is how you can hide sensitive data from others.
Remote Monitoring & Alert:
Real-time remote monitoring of devices is important to detect abnormalities and take proper steps before the devices breakdown. You can check the device's health parameters, device's location, device's data usage, and much more.
Remote monitoring can be done from a centralized dashboard where all the devices can be monitored at once. You can set alerts and workflows based on different parameters so that they get triggered, and you get instant notifications to take proper actions.
Policy:
AirDroid Business MDM allows MSPs to implement comprehensive corporate security policies to protect sensitive data as well as devices. The application enforces multi-level security authentication for devices so that no one can gain unauthorized access.
Besides, you can restrict installations in devices, blacklist apps, and even disable factory reset to protect device data. Moreover, you can prevent sharing and transfer of data via USB devices to stop data theft.
2AirDroid Remote Support
If you are a managed service provider aimed at providing remote support, maintenance, and lightweight management services to Android devices, AirDroid Remote Support is the best tool for you.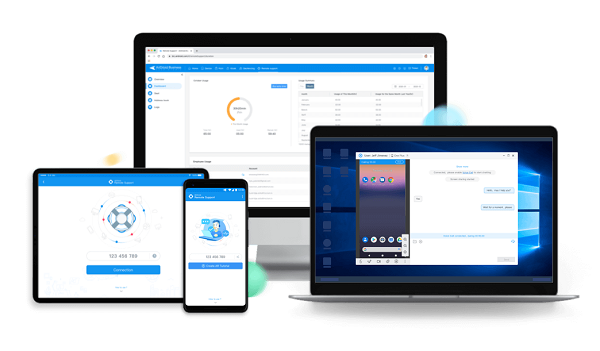 Here are the key features of AirDroid remote support that MSPs are likely to find extremely useful.
Remote Assistance & Control
You can establish an encrypted remote connection and offer instant support to your client. The connection can be established with a dynamic connection code to avoid unauthorized access. You can even get remote control of unattended Android devices and offer the required assistance as per the demand of the clients.
Lightweight Management
There are certain lightweight management options available such as assigning roles to team members with different permissions. You can go for batch installation of apps across devices, including the ones that are unattended. You can check the status of devices as well as usage summary and take appropriate actions as required.
Real-Time Screen Share
You can view the client's screen on your device in real-time and understand any issue with the device. There are options for voice messages, voice call and text messages, along with real-time screen sharing for instructing the on-site staff. There is also an option to get remote access to the device camera for viewing the on-site situation.
Tutorial Gestures
Instead of taking direct control of the client, you can show on-screen gestures that the on-site staff can follow and perform the desired activity. This also helps in improving privacy as you do not have to remote control and perform everything yourself.
Conclusion
Remote management software is the backbone for MSPs that offer IT services. Therefore, it is important to choose the best MSP remote access software for proper management and better service. AirDroid Business MDM and AirDroid Remote Support would be MSP's great choices!
Frequently Asked Questions
Is TeamViewer an RMM?
TeamViewer is a remote access and support tool, while there is a dedicated TeamViewer Remote Management tool available for comprehensive MSP services. Therefore, instead of TeamViewer standalone application, you should consider TeamViewer Remote Management as an RMM.
Does Microsoft have an RMM tool?
Microsoft 365 Lighthouse is a dedicated remote monitoring and management tool that is suitable for MSPs. MSPs can secure devices and handle user accounts. MSPs with small and medium-sized businesses as their clients, will find the tool handy.
What is the difference between RMM and MDM?
MDM is a part of RMM. The main objective of MDM is to manage mobile devices only. RMM is not restricted to mobile devices as they can be used for managing computers as well. RMM offers more comprehensive features for diversified services of MSPs.
Was This Page Helpful?