POS Support: Best Way to Solve POS Problems Quickly
Point of Sale (POS) system has been a game-changer for businesses. POS system has replaced the old cash registers for faster transactions and better customer experience. Naturally, POS systems are directly responsible for boosting sales and scaling up businesses. When you have POS systems for your business, you need to get POS support.
POS systems can face technical issues due to which they can stop working. The longer its downtime continues, the more the business will suffer. That is where POS support comes in to solve the issue timely so that there is minimum downtime. We will discuss every aspect of point of sale support starting from the problems it can solve to the best POS support system that you can avail to boost your business.
Part 1. What is POS Support?
POS support refers to the act of repairing POS terminal, like hardware problems, solving technical issues as well as maintaining POS systems. It can also include installation and configuration of POS systems as well as training the staff for proper handling of POS systems.
Hardware failure is common in any POS system, and the support team needs to physically solve the problem. Technical issues include software and app problems as well as connectivity or security issues. Technical issues can be solved remotely by the support team so that the system does not stay down for long.
Regular maintenance is an integral part of POS support. The support team needs to update POS software and apps as and when available. Similarly, the management team can keep an eye on the performance of the POS systems and take necessary steps based on the monitoring parameters.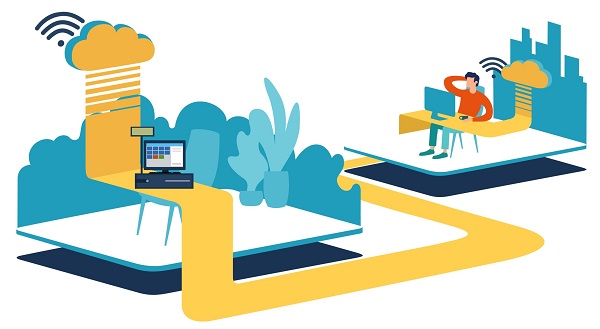 Part 2. Why POS Support is Needed?
Once your business becomes heavily dependent on POS systems, you cannot afford the systems to have long downtime. There are certain common problems of point of sale that you have to face from time to time. To overcome the problems in a short time, point of sale support is a necessity.
1Common Problems of Point of Sale
Here are some common problems you are likely to face once you have installed POS systems for your business.
POS is Down
POS can malfunction due to technical issues. The software could be outdated or the software could stop working. Technical issues can be solved immediately by the support team remotely. This is where you need POS remote support software so that the issue can be solved seamlessly and the system can get up and running again.
Internet Issues
Almost every modern POS system needs an internet connection to function properly. However, there could be internet issues you could be facing that can render the POS stop working. You should have an alternate internet connection arrangement.
You can get the POS support team to train your staff to switch from one internet connection to another for the available POS system.
POS Security
POS system stays connected to the internet for data processing and storage as well as remote monitoring and management. Whenever a device is connected to the internet, there is a risk of security infringement.
That is where the POS support team can help by setting up a security firewall as well as resolving security issues as quickly as possible.
Power Outages
POS system is an electronic device that runs on electricity. Naturally, when there is a power outage in your area, the POS system will not work. Therefore, you need to have a backup plan such as a battery backup or a generator. This will ensure the POS can run smoothly for a few hours during power outages.
Hardware Failure
No matter how expensive your POS system may be, hardware failure may occur anytime. Hardware failure is likely to take more time to resolve, and hence, you should have a backup POS system so that your business does not get hampered.
At the same time, you should have a proper backup of data so that you can retrieve them immediately on the new system.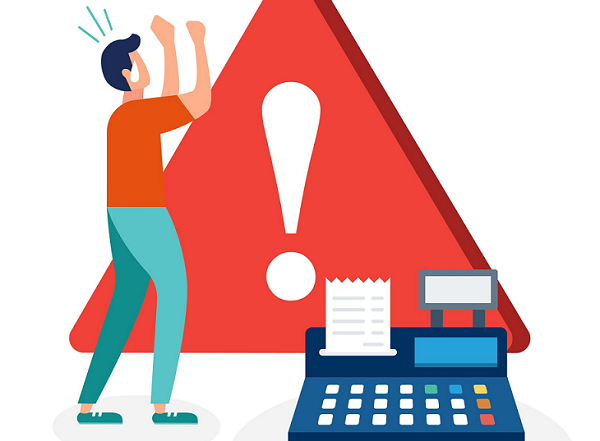 2Benefits of Having POS Support
It is pretty obvious that when you have POS system, you will face common issues. In order to overcome the problems, you will need POS system support. Here are the benefits of having point of sale support service at your disposal.
Timely Troubleshooting
The longer POS stays down, the more sales will get negatively affected. That is why you should have POS support so that the troubleshooting of the issue can be done quickly and timely. This will ensure minimum downtime for your POS.
Proper Monitoring
Point of sale support is useful in the constant monitoring of POS from hardware as well as software standpoint. Proper monitoring helps in recognizing internal issues at an early stage so that troubleshooting can be done timely.
Convenient Maintenance
POS support offers timely maintenance to ensure proper security as well as smooth operation of the system. Maintenance can be done during the off hours so that the business operation does not get affected. Timely update of the software is important so that software does not malfunction or get outdated.
Part 3. Best POS Support & Problem Solution
Now the question boils down to finding the best POS support & solution application. Through the software, the remote support team can solve any technical issues instantly.
There are several point of sale support & solution applications you will come across but you need to choose the one that has all the essential features.
1. What is AirDroid Business POS Support?
We recommend AirDroid Business as the best POS support & solution application. AirDroid business provides an all-in-one platform for Android-based POS monitoring, support, and maintenance.
Except for POS, the application is also suitable for other Android-based devices, like self-service kiosks, phones, tablets, vending machines, digital signage, rugged device, and more.
You can reduce the downtime of your POS systems by constant monitoring of device health and resource usage as well as remote controlling the device for troubleshooting technical issues. Besides, you can set up the automatic rollout of updates in a staggered way to minimize the malfunctioning of POS.
2. Why AirDroid Business is Best POS Support & Solution?
Here are the features of AirDroid Business that make the application the best choice for POS support.
1Identify Incidents in Early
You can monitor POS remotely from the centralized dashboard of AirDroid Business. Starting from device screen and device status to resource usage, you can monitor all the required parameters. Most importantly, you can set up alerts so that you can get notified whenever there are abnormalities in monitoring parameters.
That is how you can identify incident earlier and reach out to solve them instantly before it gets out of hand. Moreover, the application generates reports on the device usage that you can download and review for improvements.
2Fast Respond to & Solve Issues
AirDroid Business allows you to remotely control the POS system that has technical issues. You do not have to be physically accessing the device as you can access it from anywhere. Hence, the response to troubleshoot the problem will be faster.
In fact, you can communicate with the on-site staff to perform certain steps through voice chat. Moreover, you can access a nearby Android device camera and inspect any hardware issue.
3End-to-End Security
AirDroid Business has a series of security measures to provide complete safety to POS. The application uses advanced encryption during remote sessions. There are two-step verifications and user access rights to ensure that accessing POS remotely is not a cakewalk for everyone. Besides, you can permit only a few devices to remotely access POS for support and maintenance.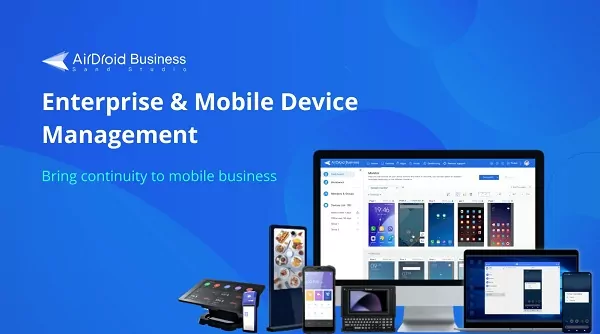 4Streamline Management
When you are handling multiple POS devices on an enterprise level, it is important to streamline management for daily tasks. AirDroid Business makes it easy for you as you can create different groups for POS devices. Thereafter, you can bulk transfer files to remote POS groups, send custom notifications as well as edit device details as and when required.
5Keep POS System Updated
You can streamline and automate the rolling out of updates for apps on POS collectively as well as selectively. You can schedule these updates during off hours so that the business process does not get affected. The systems can stay updated without any physical involvement of the staff. You can check the update process from the centralized dashboard.
6Simplify Using Experience
The ultimate aim of POS is to simplify user experience, and AirDroid Business comes with Kiosk mode to achieve that objective.
Through kiosk mode, you can lock your device into single/multiple app mode. Users cannot switch apps, access websites, or change settings by mistake. You can also customize the interface of the device for branding.
Just want to access Android-based POS device with lightweight management?
If you just want to support and control your Android POS devices, but no need lots of management features, then we recommend AirDroid Remote Support here for you. AirDroid Remote Support for Business is a professional remote support software. With it, you can easily access and control your Android-based POS devices, providing on-screen tutorials and troubleshooting from your computer or mobile device.
Part 4. Final Words
POS support is something you should consider as soon as you purchase POS terminals for your business. Through proper point of sale support, you can detect issues in the system early and troubleshoot the problem instantly.
If you have Android-based POS and kiosk devices, AirDroid Business is the best POS support & solution application for remote troubleshooting, proper monitoring, and timely maintenance.
FAQs about Point of Sale
How to maintain a POS terminal?
You need to clean the POS terminal regularly so that dirt does not settle and hamper the hardware components. Restarting the POS terminal regularly should be a part of maintenance. From software perspective, you can check for updates and rollout updates in phases during non-business hours. Therefore, you can use AirDroid Business to help you maintain your POS. Besides, backing up data regularly is a part of the maintenance of POS terminal.
Can POS work offline?
The modern POS does come with an offline mode when internet connectivity is unreachable. This ensures the smooth operation of the business. When the internet connection gets back, data from the offline database are transferred to the cloud database.
How long should a POS system last?
It is difficult to predict the lifespan of POS because it depends on the manufacturer as well as the usage. On average, POS should last five to seven years. After five years, you should consider replacing POS for uninterrupted service.
How to clean a POS?
You need to use a cleaning solution on a water-dampened cloth to clean the POS system. Do not apply water or cleaning solution directly on the terminal. Gently wipe the display and the keyboard. You can always use a microfiber cloth to wipe off the dust and dirt on the device.
Was This Page Helpful?