BYOD in Healthcare: How to Secure Personal Device Uses
Mobile devices, such as smartphones and tablets, are becoming more prevalent in the healthcare industry. Doctors and nurses are utilizing Bring-Your-Own-Device (BYOD) for tasks like email and accessing lab results, leading to benefits like better communication, workflow efficiencies, and cost savings.
Despite the advantages, BYOD also presents challenges and potential risks. In this article, we will cover what BYOD is, its benefits and risks, and how to ensure mobile device security through BYOD policy and healthcare MDM.
Part 1. What is BYOD?
BYOD, or Bring Your Own Device, refers to employees using their personal smartphones, tablets, laptops, and USB drives to access enterprise systems and data.
The idea of BYOD gained popularity in the early 2010s due to the increasing availability of smartphones, particularly since the launch of the iPhone in 2007. As more people began using their personal devices for work purposes, IT departments started allowing employees to bring their own devices without offering much assistance.
In response to this trend, the first official BYOD programs were introduced in 2011, providing employees with clear guidelines and support for using their own devices in the workplace.
BYOD has since transformed how businesses provide access to computer networks. Today, nearly 80% of organizations support BYOD, and a recent survey found that about 95% of employees use at least one personal device for work.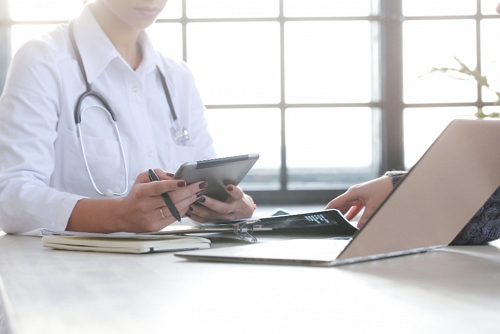 Part 2. BYOD in Healthcare: Applications and Benefits
A 2020 study by Conduct Science found that 80% of healthcare workers use tablets in their practice, followed by 42% who use smartphones.
As mobile health technologies developed and the need for remote patient care increased, BYOD became even more widespread in healthcare. Some common advantages of BYOD in healthcare include:
1Productivity
With BYOD, medical staff can access patient information through electronic health records (EHRs) and communicate with other healthcare providers from anywhere, at any time. This allows them to quickly respond to patient needs and collaborate with colleagues more efficiently, leading to better patient care.
2Improved Communication
Let's say a nurse is working on a patient's care plan and needs to consult with a physician. With BYOD, the nurse can quickly and securely communicate with the physician in real-time using their personal device. They can use messaging apps or video conferencing to discuss the patient's condition, review test results, and collaborate on the best course of treatment.
This can help to streamline communication and reduce the time and resources needed to coordinate care among multiple providers.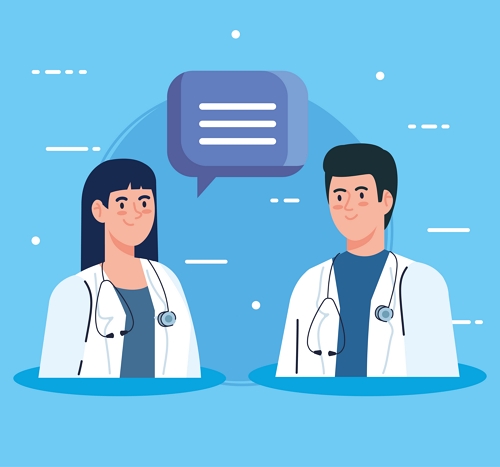 3Reduced Operational Costs
Healthcare organizations often have to purchase and maintain work devices for their staff, which can be expensive. By adopting a BYOD program, healthcare organizations can save on these costs and avoid expenses such as purchasing devices and training employees on how to use them.
This is especially beneficial for smaller organizations with limited resources that may not have the budget to provide work devices to all their employees.
Part 3. Risks and Challenges Associated with BYOD in Healthcare
While BYOD in healthcare has several advantages, it also presents certain risks and challenges that must be addressed. For instance:
1Data Leakage
Malware
It's important to note that healthcare organizations are a prime target for ransomware attacks. According to FBI data, in 2022, 25 percent of all ransomware attacks were focused on healthcare organizations. In 2021, the private and public health sectors had the highest number of ransomware reports compared to any of the 14 critical infrastructure industries, with 148 out of 649 attacks.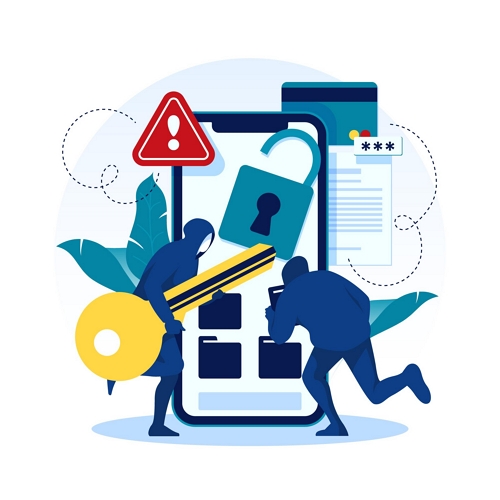 Data Theft
Hackers often target corporate data, and they view employee-owned devices as an easy entry point for security breaches. Unfortunately, in 2021, almost 45 million healthcare records were stolen or compromised, making it the second-worst year in terms of breached healthcare records.
2Breach of HIPAA Standards
BYOD devices are vulnerable to hacking and cyber-attacks, resulting in unauthorized access to patient data. It can be hard to monitor the flow of sensitive information when employees use their own devices. This can lead to accidental or intentional breaches of patient confidentiality, which can cause severe penalties for healthcare organizations.
3Difficult Device Management
Adopting BYOD in healthcare can pose challenges for IT departments, mainly in managing and securing personal devices that are not under their direct control. One major concern is ensuring that all devices have up-to-date security patches, antivirus software, and are not used to access sensitive data over unsecured networks or from unauthorized locations.
Meeting HIPAA compliance regulations also requires monitoring and tracking all data accessed or transmitted on these devices, which can be time-consuming and complicated. Moreover, the use of different devices can lead to confusion and errors that compromise security and increase the risk of data breaches.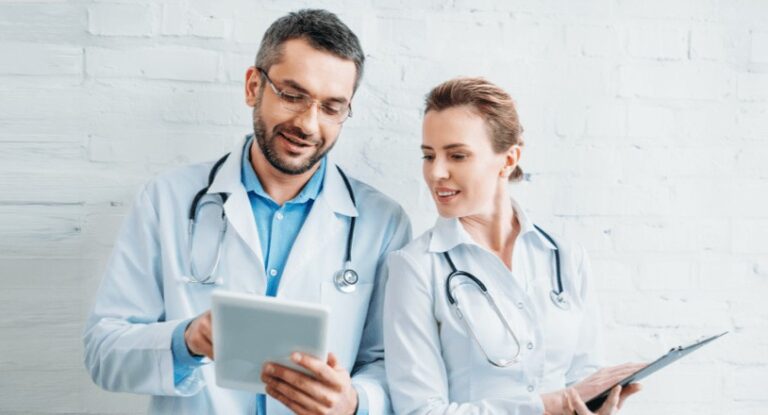 AirDroid Business MDM For Healthcare
Download free whitepaper
To address these security challenges, IT administrators can use Mobile Device Management (MDM) applications to secure mobile devices within the healthcare organization. MDM allows IT teams to remotely manage, secure, and implement policies on various BYOD endpoints, which can help maintain consistency and prevent security breaches.
Part 4. BYOD Policy: Secure Device Uses in Healthcare
To deal with the risks and challenges mentioned earlier, healthcare organizations can implement a BYOD policy combined with MDM software.
BYOD Policy: Defines acceptable use of technology, protects against cyber threats, and ensures that patient information remains secure on personal devices.
MDM software: Provides IT administrators with useful tools, such as enforcing security policies, tracking device usage, and remotely wiping data if needed.
Furthermore, healthcare organizations should also deploy specific apps to all devices, manage devices to ensure compliance with legislative policies, control third-party app usage on the facility and network, and maintain open communication with staff members. These apps may include secure messaging apps, electronic health records, telehealth apps, prescription management apps, among others.
Lastly, a clear and comprehensive BYOD policy and MDM application are essential for protecting sensitive patient information and complying with regulations in the healthcare industry. As mobile device use continues to grow in healthcare, organizations should proactively manage and secure these devices to prevent cyber threats and safeguard patient data.
How to Implement a BYOD Policy in Healthcare?
Implementing a BYOD policy in healthcare requires careful planning and preparation to ensure that patient data remains secure. Here are some key steps to follow when implementing a BYOD policy in healthcare:
Create a clear BYOD policy
Developing a clear and concise BYOD policy is essential to ensure that all team members understand what is expected of them. The policy should outline who can use their own devices and for what purposes, as well as what types of data can be accessed from personal devices and what is off-limits.
Identify potential security risks
Healthcare organizations must be watchful in detecting and reducing possible security risks linked to BYOD. This involves recognizing rogue mobile devices and securing wireless networks, data, and internal networks from inbound attacks. Administrative systems must also be protected and kept separate from end-users who do not need data access.
Implement an MDM system
Implementing an MDM system can help healthcare organizations manage and safeguard data and applications on network-connected devices. It enables IT teams to implement safety measures and software settings on all network-connected devices and prevents the use of blacklisted sites or apps from the company's network.
Educate Employees
According to the 2021 Verizon Data Breach Investigations Report (DBIR), employee negligence is a major cause of data breaches in healthcare, with over 50% of data leaks resulting from employee actions.
Therefore, it's crucial for healthcare organizations to invest in ongoing security training to minimize these risks and protect sensitive patient data.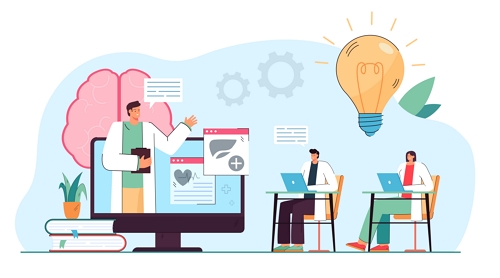 Password Protection
All employees should be required to use secure passwords on all electronic devices, including those used for personal or non-work-related websites and apps. Also, ensure a system that includes functionality that prevents users from creating passwords that do not meet safety requirements.
AirDroid Business MDM for Healthcare
As healthcare organizations continue to adopt BYOD, Mobile Device Management (MDM) solutions become increasingly important to manage and secure these devices. Data leakage, malware infections, theft of data, and breaches of HIPAA standards are significant concerns for these organizations. Therefore, effective MDM solutions are essential to mitigate these risks and challenges.
AirDroid Business MDM features:
Enforcing security policies: IT administrators can create and enforce security policies on mobile devices used by employees. These policies include requiring strong passwords, enforcing device encryption, and limiting access to certain apps or data.
Remote wipe: If a device is lost or stolen, administrators can remotely wipe all data from the device, protecting sensitive healthcare data from potential breaches. This feature is particularly crucial in healthcare organizations where patient data privacy is paramount.
Application management: administrators can ensure that only approved applications are used to access healthcare data. This feature reduces the risk of malware infections and data leaks, protecting sensitive data from unauthorized access.
Monitoring and reporting: AirDroid Business MDM provides IT administrators with real-time data visualization and reporting features. These features help detect potential security issues and take action to prevent them. Administrators can view device usage statistics, monitor network activity, and generate custom reports to track compliance with security policies.
Key Takeaway
In conclusion, the adoption of mobile devices by healthcare professionals and the use of BYOD in healthcare have brought positive changes to the industry, including increased productivity and workflow efficiency. However, these benefits come with security risks and management challenges.
To protect sensitive healthcare data, it is crucial to implement a Mobile Device Management system that enforces security policies, provides remote wiping, manages applications, and monitors device usage. Healthcare organizations should develop clear policies, educate employees, and take necessary precautions to ensure a secure and efficient BYOD healthcare program.
By implementing these measures, healthcare professionals can continue to utilize mobile devices for providing better healthcare services, all while ensuring the privacy and security of patient data.
FAQs
How does a BYOD policy ensure the security of patient information?
A BYOD policy ensures the security of patient information by outlining how technology should be used and safeguarding the company from cyber threats like ransomware, hacking, and data breaches.
Can personal devices be used to communicate with patients?
Yes, a BYOD policy allows healthcare professionals to use their personal devices to communicate with patients, providing a cost-effective and convenient method of communication while maintaining security measures.
Is BYOD HIPAA compliant?
Yes, personal devices can be used to communicate with patients. The implementation of a BYOD policy allows healthcare professionals to use their own devices to communicate with both hospital facilities and patients, which can increase cost savings and ease of access.
What are some BYOD policy samples for healthcare organizations?
BYOD policy samples for healthcare organizations may include guidelines on acceptable device usage, password protection, data encryption, and remote wiping in case of lost or stolen devices. The policy should also include information on the use of personal devices for communication and data access, as well as potential consequences for non-compliance.
Was This Page Helpful?