[3 Methods] How to Play Pokémon GO on Your Computer in 2023?
Q: Can you play Pokémon GO on PC?
Officially Pokémon GO is only available for Android and iOS devices as it is categorized as a mobile game but we are very clever to find solutions to every problem and enjoy doing something unique, similarly, we have also found some ways to play the Pokémon GO on PC using some methods.
If you are here to know how to play Pokémon GO on PC, fortunately, you are in right place. In this article, we will let you know about three different methods to play Pokémon GO on PC with the best controls and without any interruption.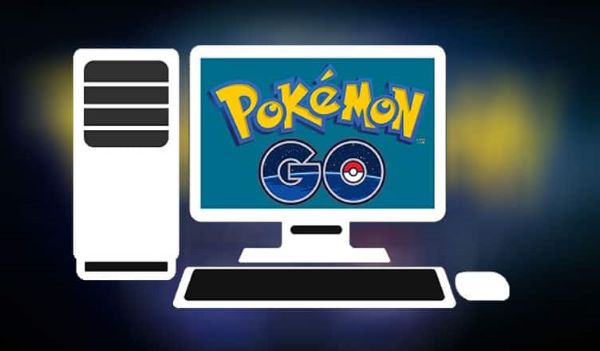 Part 1. The Benefits & Risks of Play Pokémon GO on PC
Benefits:
Best control
You can have the best control over your game using a PC as compared to a mobile device. Using a mouse and keyboard adds extra fun to gaming.
Screen Size
The screen size matters a lot in gaming. To enjoy more Pokémon GO, the PC is more appropriate because of the large screen size in comparison with the small screen mobile devices.
Phone Battery Issues
On mobile devices, the common issue that most people face while playing Pokémon GO is the battery issue that gets low very often. On PC, this issue is not faced and you can play the game continuously.
Risks:
ID blocking issue
Emulators are famous for running mobile games on PC and vice versa. The specific emulator will allow you access the Pokémon GO on the PC but, there will be a great risk that if they recognize that you are using an emulator for playing this game, your ID will be permanently blocked. You must not use an emulator all the time to avoid blocking your account. Play it on your PC with emulators and sometimes also play it on your mobile phone to avoid interruption.
Part 2. 3 Effective Methods to Play Pokémon GO on PC
There are three best methods you can use to play Pokémon GO on PC. Let's discuss all of them in detail and then you can decIDe which one is best suited for you.
Method 1. Play Pokémon GO on PC/Mac via AirDroid Cast
AirDroid Cast is the best application to screen mirror your mobile devices to Windows or Mac OS. Its amazing feature is that you can not only mirror your screen but also you can control your mobile device from your PC and that is the reason it is the best option to run Pokémon GO on a PC.
How to Play Pokémon GO on PC/Mac via AirDroid Cast?
Step 1. Install the Application

Firstly, install the application on your mobile and the PC by click the download button below and launch it.
Step 2. Connection Both the Devices

There are 3 connection methods that allow you to cast your iPhone/Android to PC/Mac. Each method has its own advantages. You can choose one which is suitable for your needs.
1. Wireless
You can see the QR code and cast code which are displayed on your PC. Open AirDroid Cast to scan the QR code or enter the cast code number. This connection allows you to mirror your mobile phone screen through the same network or remotely.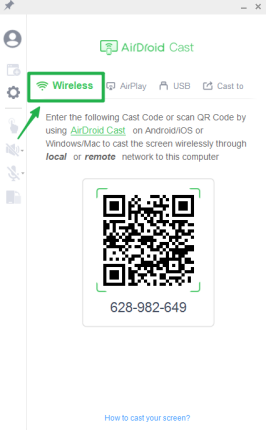 2. AirPlay
Tap "Screen Mirroring" in the control center of your iOS device and select "AirDroid Cast - XXX". Your PC and iOS device should connect to the same network.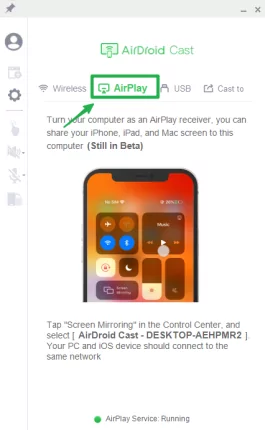 3. USB
Please connect your iOS/Android device to your computer via a USB cable. Click on allow access to give access to your computer.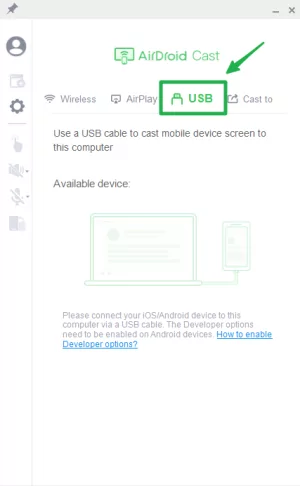 Step 3. Allow Access and Start Play Pokémon GO on PC

You will be asked if you are willing to share the screen on both your devices and you have to click on allow to start sharing the screen. After the screen is shared, you can click on the hand icon to start control your phone to play game. You can also manage the microphone and speaker.
Method 2. Play Pokémon GO on the Computer with Virtual Location Tool
What You Need
To play Pokémon GO on a computer with a Virtual location you need to have the following things ready:
1. A VPN: Download and install a VPN to choose your location for starting the game and getting the Pokemon at a new location.
2. A GPS spoofing app: Download the spoofing app, such as "Mock Mock Locations".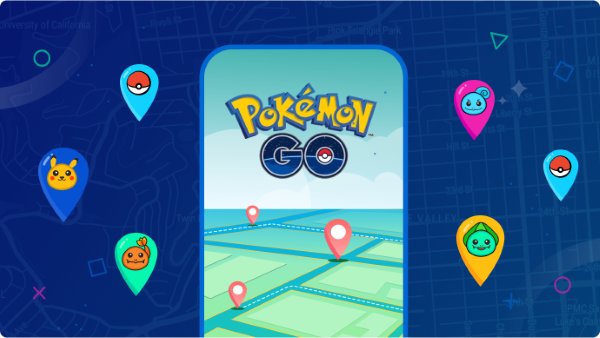 3. VPN server location: Set the VPN server location to a place where you want to play and get more Pokémon GO games. You can also change the location many times.
But the only thing is to make the system unable to catch you while using emulators. A detailed description is given above of how to save yourself from blocking.
4. Pokémon GO game: Download and install the Pokémon GO game on your mobile device and follow the complete guidelines to play it in a much better way.
Using Steps:
Step 1.Choose and download VPN

Choose a VPN and launch it after complete downloading. Go to Play Store and also download the Fake GPS Location App.
Step 2. Finish settings

Go to the settings option on your phone and open the "About Phone" tab. Then turn on developer mode and move to settings again to select the "Developer" option.
Step 3. Root your device

Root your mobile device. Then install and turn on "Mock Mock Locations".
Step 4. Start playing game

Turn on your mobile VPN and select the specific server of an area where you would like to play Pokémon GO. Also, make sure your Spoofing app is working, and then play the Pokémon GO freely.
Limitations:
You need to be very clever about this. If you are found using it, you will be banned.
A fully technical person who is aware of all these terms and conditions can handle this.
Method 3. Play Pokémon GO on a Computer with Best Android Emulator
What You Need
1. An emulator: Install an emulator. The best emulator for playing Pokémon GO that we recommend is BlueStacks.
2. An email account: You have to sign up or log in to your email account for verification and some other purposes.
3. Pokémon GO game: Download and install the Pokémon GO game on your computer.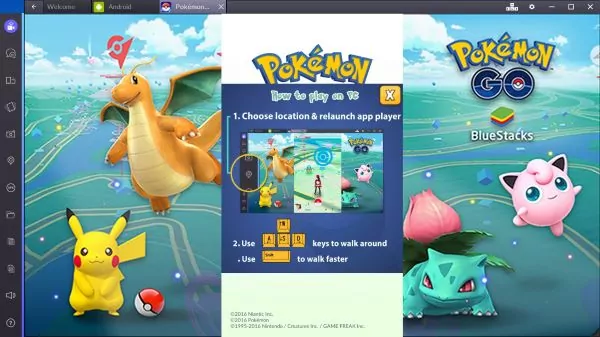 Using Steps
Step 1.Download BlueStack

Open the web browser and download the BlueStacks. Sign in to your account after launching it.
Step 2. Install Pokémon GO

Form your Android device, click on the Google Play Store and install Pokémon GO. After installing, you can enjoy playing this game and this is the way, you can play the game using this Pokémon GO emulator.
Limitations:
Permanent account blocking
According to the terms and conditions for playing Pokémon GO, emulators are not allowed. SO, you need to be very careful while using it. If you are caught, they will block your account permanently.
Part 3. Why AirDroid Cast is the Best Method?
As mentioned earlier, AirDroid Cast is the best method because it is safe and the quality of the result is also very good. Other methods like using emulators and VPNs are just failed because of security concerns.
You can only prefer them if you are an expert in this and can handle it with great care not to get banned. AirDroid Cast is free from all such issues and there is no risk in using it. The connection methods are also very flexible and you can easily connect through various modes it supports.
You can also perform many other functions using AirDroid Cast other than playing Pokémon GO on your PC.
Part 4. Tips: How to Play with and Feed Your Buddy in Pokémon GO?
If you are worried about how to play with your buddy in Pokémon GO, then don't worry we will clear this out now. Let's start with the fundamentals.
To play with your Buddy in Pokémon GO, reach Trainer Level 2 and assign a Buddy, then hit the Buddy symbol in the lower-left corner of the screen, near your Trainer Profile.
Then, simply click the "Play" button. The camera on your phone will then turn on. You must locate a level surface if you are in AR mode.
Tap after pointing towards it until yellow footprints emerge.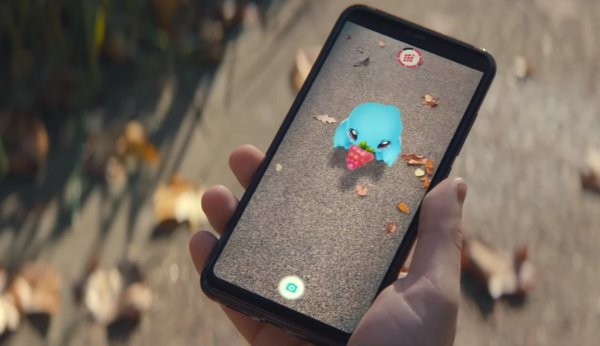 If it indicates you're too close to your Buddy, back up a few steps and it should display.
If you're having trouble, remember that you can disable AR mode in the Settings to have the Pokemon just display on the screen.
You may play by rubbing the Pokemon when it is visible. By tapping the Berry symbol, you can also feed it.
Unlike during the capture phase, where berries are easily touched, berries on the Buddy screen must be tossed to your Buddy's mouth like a Poke Ball. If you miss, you don't lose your Berry, so keep trying!
Part 5. Conclusion
This article is all about Pokémon GO that what kind of game is it. Then we discussed Can you play Pokémon GO on PC? It is a mobile application game but we can also play it on our PC using several methods. Screen mirroring is the best method for playing Pokémon GO on PC.
AirDroid Cast is the best application for screen mirroring and controlling as it has no risk of blocking the account while other methods that include the emulators and VPN for location change may have high-security risks and a minor mistake can lead to blocking of your account.
Was This Page Helpful?