[2023] Top 6 Remote IT Support Software for Business
Have you and your team ever met some tech problems on the devices and wanted to ask the IT technicians for help? Or received the IT support needs from your customers?
However, due to the distance problem, IT technicians might not be able to help you solve the problem on-site, especially during this COVID-19 period. Therefore, remote IT support software would be the best solution.
If you are looking for remote IT support solutions for your business, stick to this article to learn some interesting facts about this software.
Part 1. What Is Remote IT Support Software?
What is remote IT support software? Remote IT support software is a tool that can provide tech support to someone else's devices, like computers, mobile devices, etc, without going on-site.
Types of Remote Support Software:
Generally, remote support software can be classified into two types:
● Unattended Remote Support
● Attended Remote Support
If an end user is present on the remote device when an IT technician is providing remote help, it is the primary difference between attended and unattended support.
1Attended Remote Support
Attended remote support is also famous with the name on-demand support. When an end-user requests assistance, attended support enables technicians to access a device. Once connected, the technician can assist in resolving the problem.
One feature of attended remote support is attendant access requires no setup in advance. Because the end user is there, they can assist the technician in connecting to their devices remotely. The typical approach is to have the end-user use the app for the remote support tool and create a connect code, then give it to the technician so they can connect to the devices and take over.
2Unattended Remote Support
Unlike attended remote support, unattended remote support is the opposite of attended remote support. Unattended access permits the technician to connect to the endpoint device remotely even if the end user isn't there and doesn't need anyone's approval to process it. Also, IT technicians can access remote devices at any time, whether users are using devices or not.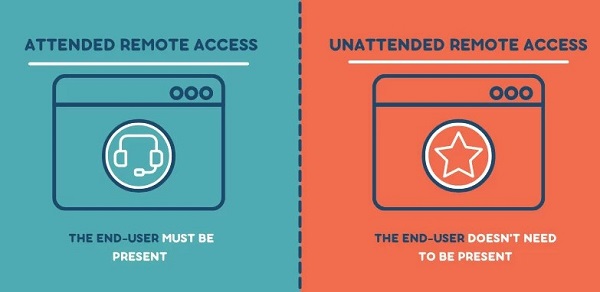 Part 2. Who Uses Remote IT Support Software?
There are many scenarios for using remote support software. In simple terms, we can divide it into internal use - for your own company and the use of external - for your customers.
1For Internal Tech Support
Your IT department could support your other employees internally by helping them with technological problems. This is especially useful for workplaces with large numbers of remote employees when IT cannot just go to the person's desk to fix the problem.
2For External Tech Support
Generally speaking, external use refers to assisting your customers on their own devices and is primarily used by software providers. With the use of remote assistance software, you may control your customers' devices and speak with them directly to address issues.
Part 3. Best Remote IT Support Software to Take Business to the Next Level
We all know IT support is vital for any business. Different enterprises require different IT support for different devices. Here we will introduce the best remote support tools for various devices.
1AirDroid Remote Support
If you're the one who is looking for the best remote IT support specialist for Android-based devices, then consider visiting AirDroid Remote Support for Business, as it ranks at the top for offering powerful support features at comparatively low cost.
Some of the key features of this solution include:
Remote access & support: AirDroid Remote Support provides attended and unattended support for mobile devices like phones, tablets, kiosks, digital signage, etc. With it, you can fully access and control to provide tech support for remote devices.
Real-time chat and screen share: When giving instructions to a customer or employee to remedy a problem, you can view their screen and speak to them directly.
Messaging & file transfer: You can send messages, manual guides, or screenshots when voice communication isn't available.
AR Camera: It can connect to a device's camera and place 3D markers onto real-life objects to troubleshoot physical equipment.
Gestures & Markup: You can slide and click on your screen while screen sharing is enabled, and the end user will see your actions. To help with the tutorial, annotate a screenshot with text or markup.
RMM feature: A highlight of AirDroid Remote Support is it can provide lightweight management. For example, supporting viewing the status of devices on a list and adding notes and group management for devices; setting different roles and permissions for orderly, hierarchical management within the company.
Black Screen Mode: IT admins have the ability to activate Black Screen Mode which conceals the screen of the controlled device and displays a black screen. This feature helps protect the privacy of the company.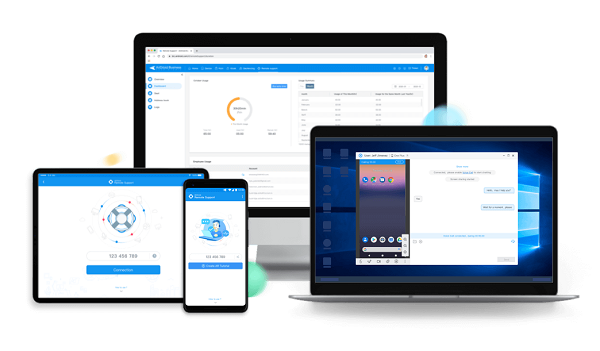 2TeamViewer
TeamViewer is a popular remote desktop and online collaboration software that allows users to connect and control other devices or computers from a remote location.
Some of the key features of this solution include:
Remote control: TeamViewer allows you to remotely access, control, and support computers, tablets, and other devices from anywhere in the world.
File transfer: With TeamViewer, you can easily and securely transfer files between devices.
Meetings & webinars: TeamViewer offers features such as video conferencing, screen sharing, and whiteboard tools for more effective meetings and presentations.
Remote printing: You can print documents from their remote computer to a local printer.
3AnyDesk
AnyDesk is another popular remote desktop software that allows users to access and control a computer from a remote location over the internet. It is commonly used for remote technical support, remote work and collaboration, and accessing files and programs from a remote computer.
Some of the key features of this solution include:
Remote control: With it, you can control their remote computer as if you were physically present in front of it.
File transfer: You can transfer files between the local and remote computers securely.
Session recording: AnyDesk helps you record their remote sessions for future reference.
Audio and video transmission: It can provide high-quality audio and video transmission between the local and remote computers.
Multi-user collaboration: It enables multiple users to collaborate on a single remote computer.
4GoTo Resolve
GoTo Resolve (formly GoToAssist) is a remote support software that allows support professionals to remotely access and troubleshoot clients' computers or devices from anywhere. It provides tools for screen sharing, remote control, file transfers, and chat support. It is widely used for technical support, IT helpdesk, and customer service.
Some of the key features of this solution include:
Remote access: GotoAssist allows IT admins to remotely access and control users' computers and devices from a distance.
File transfer: With it, you can transfer files between the remote computers and their own computers without the need for email or other file sharing platforms.
Chatting & voice support: With GotoAssist, users can chat with their clients or colleagues online while they provide remote support. They can also have real-time conversations with clients using voice support.
Session recording: GotoAssist makes it easy to record remote sessions and save them for future reference or training purposes.
5Zoho Assist
Zoho Assist is a remote support and access software that allows users to remotely access and control customers' computers in order to provide technical support or troubleshoot issues. It offers features such as file transfer, chat, and screen sharing to facilitate remote support sessions.
Some of the key features of this solution include:
Remote desktop access: With Zoho Assist, you can access a remote computer and work on it as if you were sitting in front of it.
File transfer: You can transfer files between the local and remote computers with ease.
Chat support: Zoho Assist offers a built-in chat feature, allowing you to communicate with the user on the remote computer.
Unattended access: Zoho Assist enables you to access and manage unattended computers. This means that you can remotely manage servers, kiosks, and other endpoints.
Voice & video conferencing: You can make voice and video calls directly from the application, enabling easy collaboration during remote sessions.
6ConnectWise Control
ConnectWise Control is a remote support and remote access software that allows users to take control of a remote computer or share their screen with someone on another computer. It is commonly used by IT professionals and customer support teams to provide technical assistance to clients.
Some of the key features of this solution include:
Collaborative troubleshooting: ConnectWise Control allows teams to collaborate on troubleshooting, increasing the efficiency of support and resolution times.
Remote Access: ConnectWise Control allows service professionals to remotely access and control devices, desktops, servers, and mobile devices from anywhere in the world.
Custom Branding: ConnectWise Control allows users to customize the user interface and apply custom branding to the software.
Session Recording: ConnectWise Control allows users to record remote sessions for training, auditing and quality control purposes.
Part 4. What Are the Benefits of Remote Support Software?
Remote tech support software's primary purpose is to solve the tech issue in real-time without giving them extra trouble. This software will not only save time but will also make the process smarter.
This is the best way to solve tech problems in a short time. Here are some additional advantages of this type of software that might help you grow your business.
1. Flexibility
Remote IT support software is very flexible and doesn't require IT technicians to be on-site. IT technicians can access devices anywhere and anytime without any limitations. More important is the device problems can be fixed quickly.
2. Reduce cost
You can get the same level of service for less money by using a remote technical support provider than by hiring more full-time employees locally. Techs can work remotely by using remote IT support software.
By promptly responding to a support request, it also removes the cost of travel—both the time it takes to get to the customer's location and the transportation costs.
3. Extend global customers
In this era of globalization, many companies are developing overseas businesses. In the past, entrepreneurs had concerns about overseas businesses, because compared with local businesses, they could give less on-site tech support to overseas clients.
However, with remote support software's appearance, you can provide technology online to your overseas clients anytime, anywhere, and solve their product doubts in a timely manner, which is very helpful to expand overseas markets.
4. 24/7 access
With the help of Remote IT support software, both parties can interact with each other and exchange essential information in a simple way. A client can connect with the solution team anytime without hesitation, and one can get 24/7 services from this solution. The 24/7 services fix clients' problems in time, which can also increase the satisfaction of clients.
5. Increase customer satisfaction
When your customers encounter a technical glitch, I believe their first instinct is to fix the problem. If your technical engineers cannot go to the site to troubleshoot problems for your customers due to distance, especially for your overseas customers, then remote support software is very important.
With remote support software, you can immediately connect to problem devices, communicate with customers in a timely manner, and solve device problems for them. Timely and perfect problem-solving will win the favor of customers and increase their satisfaction with your company.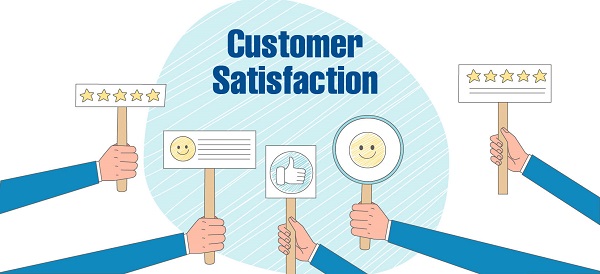 Part 5. What Features Should I Look for in Remote Support Software?
Before we shift to things one should get in their remote IT support services, it is essential to the capabilities of remote IT support software before making a purchase decision. With excellent remote IT support software for your customer and employees, it might boost your business. On the contrary, inferior remote IT assistance software might harm your business.
There are thousands of features that one can use and grow their business, and what attracts people to use this software is that this software's primary concern is safety and security. Some of the features that your IT support services should include
1. Remote Control/Assistance
As remote IT support software, the ability to perform remote control and assistance is the most basic and important function. Only in this way, you can completely access and control your customers' devices, then troubleshoot and fix device problems for your customers in time.
2. Real-time Screen Share
One of the main components of remote support software. To completely engage with the remote computer, it enables your technician to view and control it. Here, you can browse attached monitors and share your screen with other users while managing numerous displays.
3. Real-time Chat (Message & Voice)
Every remote session is significantly more productive when there is real-time message exchange, voice communication, or audio feedback. Even if your technicians are not on-site, they can have a better understanding of the issues and give a comprehensive solution to your customer in a quicker and more accurate way.
4. File Transfer
This essential feature is used to resolve a common issue which is keeping files updated and organizing files and docs on remote devices regularly and safely.
This feature not just enables easy updates and file transfer but also ensures a secure process with strong encryption on various devices.
5. Alerts & Monitor
With it, you may increase efficiency and lower maintenance costs for your customer's or your own devices by receiving prompt warnings when the system identifies odd occurrences and launching automated workflows to fix issues right away.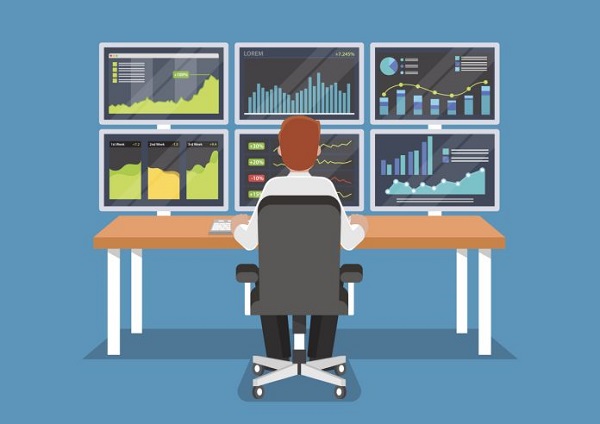 Part 6. Other Important Considerations in Choosing a Remote Support Software
Just like everything, you also need to check whether the services you choose will be successful in the long run. So, to prevent that make sure your remote IT support companies have all these features so that you don't face any issues.
1. Compatibility
Whenever you choose software, ensure it is compatible with all devices, including Mac, iOS, Android, etc. It is only sometimes necessary for all the employees to have Windows; some can even have Mac, so it's would be better if the software opened to all devices.
2. Easy to Use
You want a system that is simple to use even if your IT specialists should have a reasonable level of technical competence. Less training is required and your team may start using it more quickly the less difficult it is to learn. It may speed up the resolution of customer issues.
3. Fast Connectivity
The services you choose should have fast connectivity to get a quick solution to your issues. A slow connection means a slow process; it can also take a long time to solve a simple bug.
4. Security
No matter what security measures you take, remotely accessing someone's device poses a security risk. One client would not be the only one impacted by a data breach. Therefore, look for a safe remote system that has features like two-factor authentication, superior encryption, and granular permissions.
5. Cost
It is natural that you will get only some of these advanced features for free, so before you choose any company, ensure you tally the price and get one for yourself.
6. Instant support
Many situations arise where you may need a quick solution to your issue so that you can get through the issue immediately. So, you first need to check whether your solution offers quick and instant support.
Conclusion
Now, we believe that you have a clear understanding of remote IT support and how it can boost your business. If you are also looking for remote access and support software for your business, you should go for AirDroid solutions. It can help you easily solve your internal and external tech problems.
FAQs about Remote IT Support
How do I provide remote technical support?
You can provide remote technical support by using some tools like remote access and support tools, online chat, phone support or like video conferencing tools. But the most easy way is using remote support software.
Does Microsoft have a remote support tool?
Yes, Microsoft has a remote support tool called "Quick Assist" that allows a support agent or technician to remotely access and control a user's computer to assist with troubleshooting and issue resolution.
How can I remotely access a computer without permission?
Generally, you can use remote support tools that provide unattended access features. By enabling this feature, you can access computers and other mobile devices without permission.
Was This Page Helpful?