10 Best Parental Monitoring Apps to Monitor Kid's Phone
According to studies, 75 percent of children under the age of eight use mobile devices, and the number is growing. Apps can be informative and entertaining (for example, keeping their children occupied while waiting at the doctor's office), but some can also be destructive.
The best parental monitoring app can protect minors from content that is improper for their age. Pornography, websites involving violence, and websites advertising the sale of alcoholic beverages are all examples of website content that parental control software may normally ban.
This piece provides the 10 best parental monitoring apps for parents to monitor their kid's phones. All of them are listed below: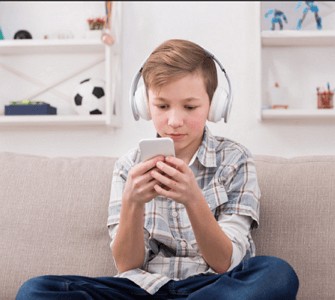 Part 1 : What Should You Consider before Purchasing a Parental Monitoring App
Privacy Policy
The best app to monitor kids' phones should clearly define their privacy policy. Since the app will have access to your child's privacy, you need to be sure that the collected data has not been stored or sold. Also, it should be encrypted from prying eyes, even the company. The privacy policy should also define who shall be responsible for my data breach, you or them.
Customer Service
Customer service is another factor to consider before choosing a parental control app. Customer service should always be available round the clock if you have an app issue. It could be live agents, calls, or emails.
Free Trial
Another criterion is the free trial. If the app is expensive, you must be sure it's worth it. Ensure that the app has free trials, demo versions, or free plans. After testing the app, you can judge if it has value for money. The app should have a good price-to-feature ratio.
Money Back Guarantee
Another factor to consider is the money-back guarantee before purchasing a parental control app. If the subscription is on the high side, ensure a money-back guarantee, especially if there are no free trials or demo versions to test the app.
Compatibility
It would help if you also considered the app's compatibility with your device or your kid's device. Some apps are exclusively for Android devices. Some are supported by iOS and Android.
Also, suppose your child uses a smartphone and computer. In that case, you need to be sure that the monitoring app is compatible with all their devices, computer included.
Part 2 : 10 Best Parental Monitoring Apps to Monitor Kid's Phone
AirDroid Parental Monitoring App: Best for Monitor Kid's Live Screen
AirDroid Parental Monitoring App is the best all-in-one parental control program for families. It enables parents to remotely monitor their child's phone activities and manage their device usage.
This child monitoring app helps parents to limit phone screen time, and app usage, locate their kid's real-time location, and more. Also, some excellent monitoring features make it stand out in the market, like sync app notifications, screen mirroring, remote camera monitor, one-way audio listening, etc.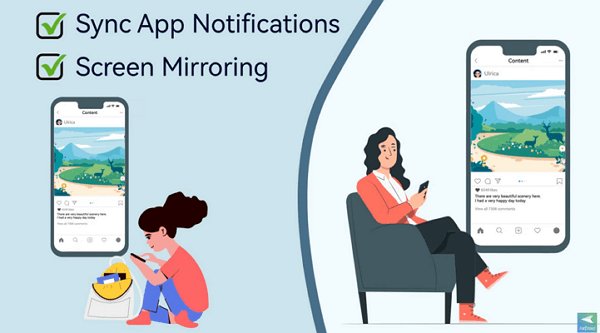 Remarkable Features
Mirror kid's phone screen on parent's in real-time
Monitor online activities remotely, including messages from social apps
Check what apps kid's phones have installed and the details of the apps
Schedule how long and when your kids can use their phone
Know where your kids are anytime and monitor what is happening around them
Bark Parent Monitoring App: Best for Account Monitoring
The Bark Parent Monitoring App is an Internet security solution for both parents and schools.
Bark notifies parents and school administration when Bark detects possible risks and signs of danger, such as cyberbullying, internet predators, depression, suicidal tendencies, and sexting. Parents can see problems without intruding into their children's personal lives. The software costs $14.00 per month for parents, and children under 13 cannot use it without written permission from their guardians.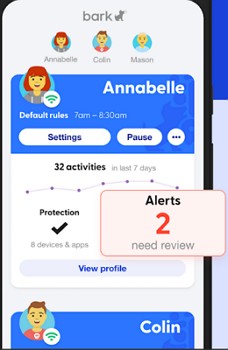 Remarkable Features
Monitor text messages of email, social media apps and sent alerts
Filter inappropriate website and block
Monitor content of some apps via account
Net Nanny Phone Monitoring Apps for Parents: Best for Internet Filter
Net Nanny, the best parental control program, features a modern, accessible design and excellent web-filtering technology that analyzes pages rather than merely blocking them and allows you to develop your filters.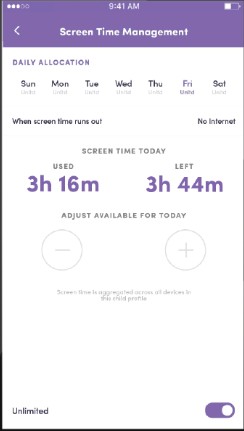 Remarkable Features
Automatic content and website filtering on the internet.
Filter inappropriate website and block.
Monitor content of some apps via account
Pro
It can track your child's whereabouts, display their location history, and establish time allowances and schedules. Instead of blocking or enabling social media apps and services entirely, Net Nanny adds content screening that works within them, such as Instagram, TikTok, and YouTube.
Con
On a smartphone, the one thing Net Nanny can't do is monitor calls or messages.
Webwatcher Parent Monitor App: Best for Social Media
Standard parental monitor options include text message monitoring, internet tracking, and social media chat monitoring in the WebWatcher app. You can monitor what your child is doing on TikTok, Facebook Messenger, Instagram, WhatsApp, Kik, Snapchat, and Tinder. Webwatcher sends rapid alerts to their parents' phones when children get around the controls.
GPS tracking, app usage monitoring, and audio recording monitoring are valuable advanced aspects of the app.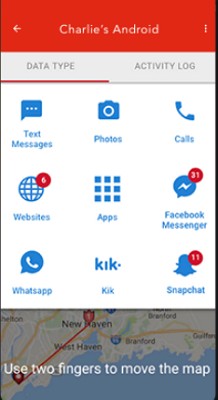 Cons
At $39.95 per month and $59.95 per 3 months, WebWatcher is very much on the expensive side of the scale.
Google Family Link: Best for Android Monitoring
Google Family Link allows parents control over which apps have system rights on their child's Android device. That's a feature that no other parental-control tool we've tested provides. It also allows you to control which apps your child can download from Google Play.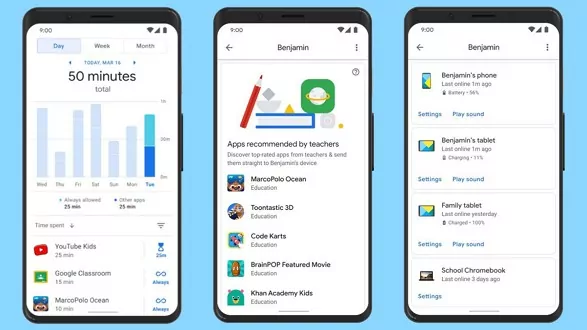 Google Family Link may be all you need if you're primarily concerned about your children's apps. If you want a more versatile app, Google Family Link will complement one of the other solutions on this page.
Pro
It is entirely FREE is Google Family Link. If your children have Android phones or tablets, you may be pleasantly surprised by how powerful and valuable they can be.
Con
Google Family Link only provides one web filter, which blocks "adult sites," It isn't foolproof. For YouTube, the same single filter is offered. There is no geofencing, and location tracking is a bit rudimentary. The time-management features, on the other hand, are excellent.
MamaBear Parental Monitoring App: Best for Restricting Content
This app has a variety of essential functions such as social media monitoring, location tracking and notifications, and more. It's recognized as a worry-free all-in-one app. One of the most valuable tools is social media monitoring. MamaBear Parental Monitoring App allows you to track the activity on Instagram, Twitter, and Facebook to see when users add new tags, check-ins, or upload photos.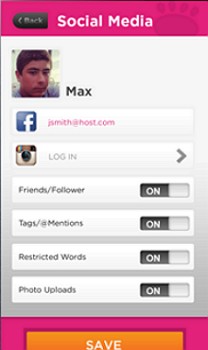 By creating a restricted terms list, you can also be alerted when inappropriate language or signs of bullying are uploaded to their profiles. You can also receive reminders if your teen exceeds your specific speed limit.
Norton Family Parent Monitoring App: Best Budget
The power and capabilities of Norton Family Parent Monitoring App are significant for Android (and Windows) families with many children, featuring practically every feature a parent could want from one of the top parental control apps, including the recently added geofencing.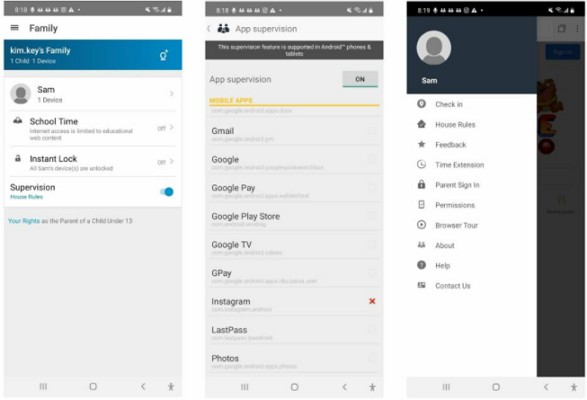 Remarkable Features
Supervise the use of an app for remote learning.
Instantaneous lock your kid's phone.
Pro Tip: If you purchase Norton's more expensive antivirus suites, such as Norton 360 Deluxe, frequently discounted to as low as $50 a year, you'll get Norton Family. Unless your children use Macs, having Norton Family combined with Norton's outstanding malware protection is a no-brainer at that price.
Kaspersky Phone Monitoring Apps for Parents: Best for Kid's Protection
Kaspersky Safe Kids allows you to monitor and control your children's activities on PCs, Macs, and cellphones. The subscription plan monitors social media and includes location tracking and geofencing for iOS and Android and Kaspersky web monitoring and device scheduling.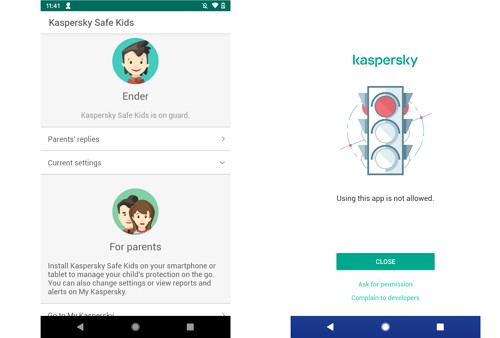 If you're a premium user, a tool that lets you block specific types of YouTube searches and examine your YouTube search history works on Windows, iOS, and Android, including the YouTube Android app - but not on Macs.
Remarkable Features
Set a screen size restriction.
Keep an eye on your surroundings.
Pro
Kaspersky's subscription tier is only $15 per year for an unlimited number of child devices (with a 7-day free trial), and its free plan lets you set screentime limits, filter websites, and control other apps.
Con
The mobile apps are poorly built, the web portal can be slow, and the web filters may not operate with lesser-known browsers, although these are minor flaws. Still, if you don't need to see your children's text messages, Kaspersky Safe Kids is a good option.
Canopy Parental Monitoring App: Best for Older Kids
It can be challenging to parent of teenagers, especially when it comes to social media and the internet. You want to give children autonomy while keeping them protected from lousy content. As a result, we advise parents of adolescent children to use Canopy parental monitoring app.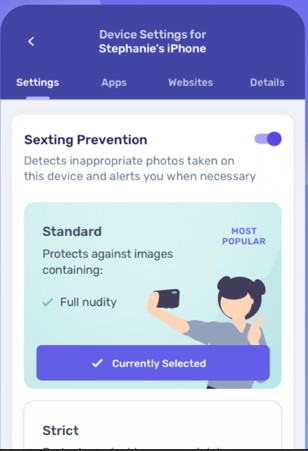 It doesn't limit or invade their privacy excessively—you can't read the substance of their texts, for example—but it does watch them during virtual interactions. If necessary, inappropriate content such as "sexted" photos, pornography, and other types of visual data is flagged to your device. You, as the parent, can choose whether or not your child has access to the images or videos.
Remarkable Features
It concentrates on removing nudity and pornography.
Sexting is detected and prevented by analyzing photographs.
You can pick which apps are authorized on different devices.
Cons
It doesn't have screen time limits and can't filter or block content within apps
OurPact Parental Monitor App: Best for Managing Screen Time
OurPact is yet another excellent parental monitor tool with a wealth of options. Block texting, online filtering, and screen time-out are all included in the app. It enables you to restrict or prohibit app access. You can track your child's position using the family finder feature on your phone.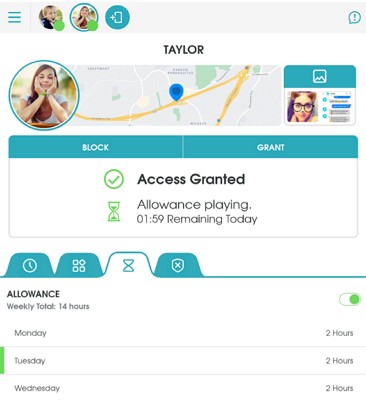 Remarkable Features
Texting is prohibited.
The Family Locator App is great.
OurPact is helpful software for keeping track of and controlling your child's mobile device activity. On the other hand, the free version has restricted features that may not be enough to manage and monitor your child's mobile screen usage.
Part 3 : How We Test and Choose the Best Parental Monitoring App
We reviewed several parental control apps but only considered only a few. Each app was chosen based on its features, performance, setup, and review from parents. The apps were then ranked from the overall best down to the least good.
Main Features
Each parental monitoring app has features that are in demand by parents/guardians. These features include web filtering, browsing history reports, activity reports, social media monitoring, geofencing, location tracking, and message and call monitoring. Some of these apps offer screen mirror features and remote camera recording.
User-Friendly
The app should be user-friendly and easy to use, so someone who is not tech-savvy will have no issues navigating through the app. Also, the user interface should be simple, not cumbersome. The settings and options will get confusing if the interface is too cluttered.
Setup And Installation
We also judged how easy it was to set up the apps on smartphones, tablets, and computers, whether it was difficult or not. The best apps to monitor kids took less than 10 minutes to install and link with the child's phone. The setup process is easy enough; even a non-tech person will understand it.
Reviews From Parents
Our best apps for monitoring kids were also ranked based on parents' reviews. We considered the pros and cons highlighted by parents who have used the app. Those with good reviews come after those with good reviews. We also judged their review with ours to pick the best parent monitoring app.
Performance
We also considered the performance. Each best parental monitoring app can do what it claims it can do. In other words, the features were perfect enough. The app response was fast and not easy for kids to bypass. The app truly runs in stealth mode in the device background without interference or the target Person knowing.
Part 4 : Why Should We Monitor Kid's Phone
Digital Predators
These are people that take advantage of kids and teenagers. They form fake friendships with unsuspecting kids to extort them or make them do things conflicting with their upbringing. You need to keep such people away from your kids. Start by monitoring their phone.
Control The Device Usage
Another reason why you should monitor your kid's phone is to control device usage. Kids get addicted to their phones easily. When you control device usage, you set screen time, app usage, and screen limit to prevent getting addicted.
Cyberbullying/Digitalbullying
Cyberbullying is the norm among kids and teenagers. It could be in the form of text, calls, or on social media. Most kids experiencing this find it difficult to open up and are always troubled. It is up to you to find out.
Filter Web Contents
The internet is full of inappropriate and harmful content you don't want your kids exposed to. Monitoring their phone will help to filter and restrict certain websites.
Track Their Location
Most parental monitoring apps use GPS to track the live location of kids. It lets you know that you're safe and in the right places. You can also set geofenced to alert you if they move in and out of restricted places.
Extra Tips: 6 Tips to Keep Your Child Safe Online
1. Set Up Family Sharing/Family Link
If you give your child a phone, be sure to enable Family Sharing (for iOS) or Family Link (for Android) before giving it out. The Family feature allows parents to track their child's live location and limit phone usage.
2. Limit Cell Phone Use
You can set restrictions on your child's cell phone usage—for example, screen time limit, app limits, web filter, safe search, etc. A properly set phone will prevent your child from indulging in the Internet and opening other inappropriate content out of curiosity.
3. Monitor Text Messages
Not sure who your child is messaging with? Want to know what message your child sent or received? A reliable parental control app can help you track who is talking to your child and monitor your child's text messages, including SMS and messages from social media, such as WhatsApp, Twitter, TikTok, and more.
4. Avoid Casually Chatting with Strangers Online
As children cannot yet think rationally and vigilantly in the complex online world, they can easily drop their defenses and tell everything to their online friends. They are at risk if they are approached by someone who pretends to be their peers and scams or abducts them.
Hence, parents should caution their children against casually chatting with strangers online. If parents find that their children have online friends, they should also remind them not to be too trusting and talk about anything about themselves.
5. Do Not Share Personal Information Online
More and more children and teenagers have been using popular social media platforms like Instagram, Twitter, Snapchat, and TikTok in recent years. They share their feelings, lives, and experiences like what we do.
Suppose parents have paid attention to the content of such accounts. They may be surprised to find that some children post everything publicly to the platform without any precautions, and some content even contains their personal information, like text or pictures that reveal their name, location, or address.
Therefore, to protect your child's online safety, remind your child not to share anything that may expose their privacy if your child has a social media account.
6. Guide Your Child to Share Their Online Experience
Merely reminding your child to be cautious online is not enough. They may do something online without realizing the consequences. In this case, having open conversations with your child and encouraging them to talk about their online experiences can help you determine whether they are surfing the internet safely and address any issues.
Remember to avoid a lecturing or scolding tone when talking to your kids; instead, be their friend so you can gain more trust.
Conclusion
We looked for apps that will help youngsters maintain a healthy balance of screen time and off-screen time by blocking harmful or graphic content. Finally, we looked at customization, focusing on apps that offered numerous plans for various numbers of devices, as well as tier-based pricing. So far, the AirDroid Parental Control is our favorite. I hope this helps!
FAQs about Parental Monitoring
Can I Monitor My Child's Phone without Them Knowing for Free?
Yes, you can. Some monitoring apps like AirDroid and mSpy are great. However, always research to find the best for you. How to track your child's android phone? There are numerous ways to track a phone, but the type of phone plays a huge role. E.g., With Google Maps, you can see the position of the other phone using Google Maps.
Can You Put a GPS Tracker on Your Child?
The short answer is yes, you can. You can used phone build-in GPS function to track your child easily. There are many free tracking apps for Android and iPhone. Try anyone as you like.
Can I Monitor My Child's Android from My iPhone?
Parents with an iPhone can manage their child's Android phone; the opposite is impossible (i.e., a parent with an Android phone can't monitor their child's iPhone).
Can I Monitor My Child's Phone without Installing Software?
The only way to eavesdrop on text messages is to install a gadget through software. You can only remotely access someone's Android text messages if you download and install an app on their phone.
Was This Page Helpful?