How to Monitor Child's Phone Activity Remotely (Android & iPhone)
A concerned parent once asked on Quora: How do I monitor my child's activities online?
The internet world is very vast. There are well over 6 billion indexed web pages online as of 2021. The number keeps growing, with an average of 252,000 websites being created globally daily. A large percentage of these pages do not have restrictions. Hence, internet users are exposed to the dangers and benefits of cyberspace.
As a parent, it is okay to worry about what your child is doing on their phone because of the vastness of daily activities on the internet. Hence, this article will give you tips on monitoring cell phone activity remotely for free.
Part 1. How to Monitor a Child's Phone Activity on Android
You can use a monitoring app to stay informed about your child's phone activity online and offline. Our highly recommended option is AirDroid Parental Control. It is a complete feature tracking tool for parents to stay abreast of their child's activities remotely.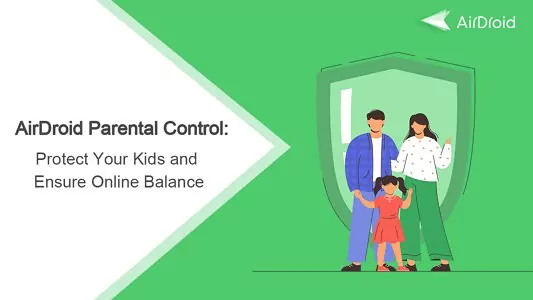 Parents can use it to protect their children from physical and online harm. It has an easy-to-use interface that makes it easy for parents that are not tech-savvy to track their children. Itl relays all the actions on your child's Android phone to you.
Key Features of AirDroid
Screen mirroring child's Android screen on parents' mobile
Monitor incoming text messages via syncing app notifications
Receive alerts by setting keywords to monitor your child's activity on social media apps.
Remotely watch and hear your child's phone surroundings
Manage screen time and app usage and view daily report
Track real-time location and get alerts of geo-fenced zones
Part 2. How to Monitor a Child's iPhone Activity
If your child is using an iPhone, you can still monitor what they are doing on their phone. Family Sharing is an Apple software that allows up to 6 family members to share Apple services like music, movies, TV shows, apps, books, subscriptions including iCloud+, and more. You can share these services without sharing your Apple IDs.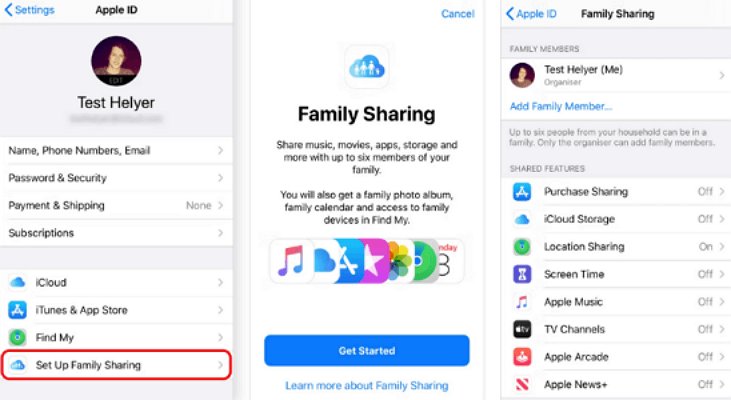 The family organizer controls how the Family Sharing arrangement will work. For instance, you can grant your child permission for screen time, purchasing, downloads, etc., remotely. You can use this feature on your iPhone or Mac.
Part 3. Parenting Tips for Kids Online Safety
Parents must stay informed to catch up with their child's online manipulations because their kids are more tech-savvy. They should be aware of some of the few things to ensure their kids' online safety.
Your child might be better informed about being online but do not stop educating them about the tool's importance and disadvantages.
Get involved in their online activities by following them on social media platforms. Ensure it does not make them feel like you are stocking them.
Avoid apps that require rooting/jailbreaking your child's phone; you will only leave them to be more vulnerable to cyberattacks. You are also granting the app permission to the phone's subsystem.
Ensure they are not spending long hours online, especially at night.
Watch out for unsolicited gifts in the mail or appearing in their room.
Part 4. Why Do We Need to Monitor Child's Phone Activity?
We need to monitor child's phone activities because it is harmful. The first harm that phone usage causes are that it can make users addicted. They are also susceptible to harm from third-party individuals to sexually or financially exploit them. Most children are not aware of these dangers. Hence, we need to monitor child's phone activity to ensure they are not in danger caused by the phone, themselves, and dangerous individuals.
Part 5. Top Online Dangers Parents Should Be Aware of
In this section, we will be considering some of the most prevalent dangers that children are exposed to online that parents need to curtail.
Cyberbullying: Chances are your child is in many group chats and also chatting with several people. It is common for classmates, neighbors, strangers, etc., are harassing them.
Online Predators: Sexual exploitation is bred through the internet. An unsuspecting child is likely to fall victim to sexual harassment.
Scam: Fraudulent transactions are best orchestrated online so the perpetrators can maintain anonymity.
Abduction: Numerous strategic abductions were arranged online through party invitations and similar vices.
Addiction (Drug, Alcohol, Movie, Gaming, and Chatting): There are several activities online, and each one is capable of getting a child glued to their phone.
Malware: Children need protection from hackers and malicious bugs.
Bonus: How Do I Check Recent Activity on My Kid's Phone
Every mobile device leaves a digital blueprint. With a digital blueprint, you can find out what recent activities have taken place on your kid's phone.
For Android Users
A parent can check their kid's Google activity to know what recent activity has been done if the child is an Android user. Google Activity lists every Google app activity your child performed and the time they did it. All the apps, web searches, YouTube videos, apps downloaded, etc., can be checked.
For iPhone Users
There are three options below to know what your kid is doing on their iPhone.
App Activity with Screen Time
This feature allows you to monitor the real-time report of your kid's iPhone, iPad, or iPod touch. You can monitor and even set limits on apps and websites. You can add an extra layer of security to it to ensure you are the only one who can adjust set limits.
Web Activity with Safari History
If you want to check Web activities on your child's phone, you can go to the history menu of their favorite browser. Since Safari is the predominant browser on iPhone, you can check its history to know what websites have been visited.
Purchase History in App Store
Apple has a feature to help users keep track of all their purchases. Once a user makes an online purchase with their Apple ID, you can reload their purchase record with the Purchase History feature. Hence, you can check what your child has recently bought.
Final Thought
Knowing your child's phone activity is not out of place. Phones are as beneficial as they are harmful. And the parent's role is to guide them against cyberbullying, online predators, scams, addiction, viruses, malware, etc. Hence, there are many software to monitor cell phone activity. You can use the AirDroid Parental Control app for your Android phone. At the same time, Apple's Family Share feature works fine on their iPhones. Additionally, you can use other tools like Google Activity, Screen Time, Purchase History, Browser History, etc., to know their recent activities.
Was This Page Helpful?