4 Ways to See Deleted Messages on WhatsApp
AirDroid Parental Control & Text Messages Monitoring
See incoming WhatsApp messages on kids' phones; screen mirroring kid's Android phone
Schedule how long and when your kids can use their mobile and manage app usage
Find your loved ones in real-time and set geofencing; see and hear their mobile surroundings remotely
You've probably seen other WhatsApp users delete messages they sent because afterwards, they decided you shouldn't view them for whatever reason. Like many others, you want to know what they conveyed that erased communication, which can be frustrating. There are some ways you can use to see a deleted WhatsApp message, even if the other user who sent it to you doesn't want you to.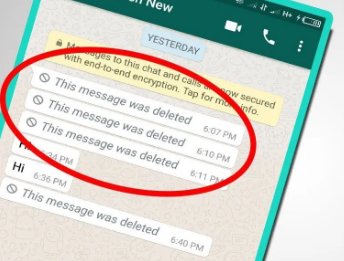 If you find yourself in this predicament but don't want to deal with the trouble of downloading an application to recover deleted WhatsApp conversations, then you're in luck today.
In this article, we'll look at a few quick and easy methods for how to read deleted messages on WhatsApp without the aid of an app. To understand everything there is to learn about this topic, keep reading till the end.
Part 1: How to See Deleted Messages on WhatsApp (Android)
After sending a message, you have roughly an hour to ask to Delete for Everyone. You can ask for messages to be deleted for all recipients or only for yourself. However, if you deleted WhatsApp messages by mistake, there are three ways to see the deleted messages.
1Android Notification History
You can view all deleted WhatsApp messages on any Android smartphone running the Android 11 operating system or above without installing a third-party application. The feature to keep a log of every message received through WhatsApp is available thanks to the built-in notification system of this operating system in particular. This log is still present even if another user deletes a message, so you can still find the original message in your notification log.
To set up the notification history option on your Android 11 smartphone, follow the instructions listed below:
Step 1. Go to Settings > Apps and Notifications > Notifications.
Step 2. Locate and choose the "Notification History" option. Tap the button next to "Use Notification History."
Step 3. Once the previous stages have been completed, this page will display all upcoming notifications.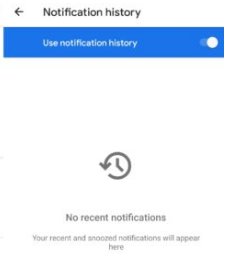 You should be able to view all original messages received on your WhatsApp after taking the steps above, even if the sender of those messages deleted them. Remember where you can find this section of your settings since you'll need to return there to view deleted messages.
2Via Notification History App
If your phone is using Android 10 or below, or your want to see your kid's WhatsApp messages even if they are deleted, a third-party app that monitors the phone's notifications must be downloaded. Undoubtedly among the most excellent and most popular parental control apps is AirDroid Parental Control. If the incoming WhatsApp messages have been synced to the app before kids deleted them, you can still see them from Notificaiton of the dashboard.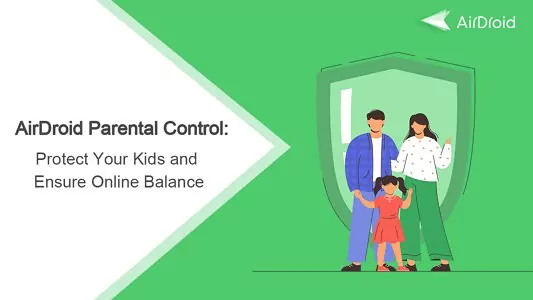 It is intended to provide users with an easy way to ensure online safety. It is pretty easy to use and compatible with several Android devices. The following are some more outstanding qualities of AirDroid:
Sync app notifications and show kid's live screen on parent's
Provide daily usage reports and manage app & screen time usage
Track real-time location and get instant alerts if kids get in or leave specific zones
Remotely watch and hear what is going on around kids
It's important to note that the message should cause the app to send a notification so it can be recorded. Remember that this might not be possible if you are online when the message is sent or the conversation is open. In this situation, a specialized tool is the only way to recover your deleted WhatsApp messages.
3Restore WhatsApp Database on Android
iOS users cannot use this method; it is only available for Android users.
Step 1. On your device, launch the file browser.
Step 2. Open your WhatsApp folder > Database. All locally saved backup files for WhatsApp are present in the database.
Step 3. Long-press the "msgstore.db.crypt12" file to select it, then tap "Edit name." Change its name to "msgstore backup.db.crypt12". To stop it from being overwritten, the file has been renamed.
Step 4. Then, choose the most recent backup file and change its name to "msgstore.db.crypt12".
Step 5. Open Google Drive on your smartphone now and then tap the menu with three vertical lines on the upper right side.
Step 6. Click on "Backups" and erase your WhatsApp backup.
Step 7. Delete WhatsApp and then install it again. You will be prompted to recover WhatsApp from a local backup during installation because you no longer have a cloud backup.
Step 8. When prompted, choose the "msgstore.db.crypt12" file and click "Restore."
Part 2. How to See Deleted WhatsApp Messages on iPhone
If you have backed up your WhatsApp messages to iCloud, you can see the deleted WhatsApp message by restoring the backup.
Notes
You must have iCloud Drive turned on and be logged in with the Apple ID you use to access iCloud.
Your iPhone and iCloud must both have enough space available. You must have at least 2.05 times as much space on your phone and in your iCloud account as the overall size of your backup.
It is necessary to use the same phone number for backup and restoration. You cannot restore the conversation history from another WhatsApp account.
Multiple WhatsApp accounts may have backups stored in the same iCloud account since backups are linked to individual phone numbers.
Here are the steps;
Step 1. Confirm the presence of an iCloud backup in WhatsApp > Settings > Chats > Chat Backup.
Step 2. Delete and reinstall WhatsApp if you can determine when the most recent backup was made.
Step 3. To restore your conversation history, follow the prompts once you have confirmed your phone number.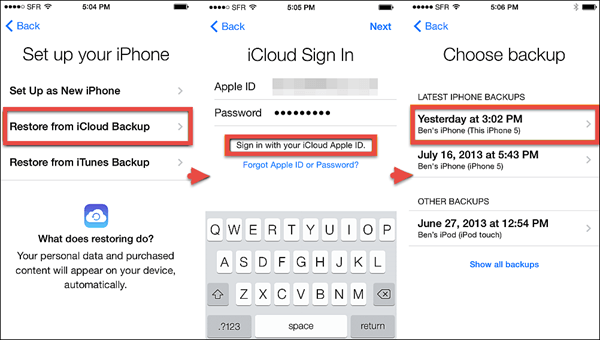 Part 3. How to See Archived Chats on WhatsApp
If you archive the chats unintentionally, you may think the chats have been deleted. Follow the below steps to find archived chats.
For Android Smartphones
Scroll to the bottom of the chats on WhatsApp.
A tab labelled "Archived" will appear. You may view the chats you've archived by clicking this.
After long pressing the chat that you wish to delete, click the "Unarchive chat" button in the upper right corner.
For iPhones
Navigate to the top of the chat list in WhatsApp.
Next, pull down, and you will see the option for "Archived Chats."
Select "Archived Chats" from the menu, then swipe right to select the chat you want to restore.
Now click "Unarchive."
It should be noted that if a message is received after the chat has been archived, it will become unarchived and reappear in the chat list.
Final thoughts
Using an app to recover deleted messages on any messaging service, including WhatsApp, can be a hassle. Fortunately, if you follow the directions above, you should be able to retrieve deleted WhatsApp conversations without using an app.
We hope that the information provided in this article has assisted you in resolving your problem and has shown you how to see deleted messages on WhatsApp. Check out our other posts for further tips on apps and data recovery.
Was This Page Helpful?