5 Effective Ways to Read Instagram Messages Without Being Seen [2023]
AirDroid Parental Control & Text Messages Monitoring
See kids' Instagram messages without being seen, and show kids' live screens on parents'
Track your loved ones in real-time, set geofencing,and see & hear kids' surroundings remotely
Every messaging app indicates when you have a new message. If the notification for the app is even enabled, you will get a beep on your phone. However, that does not mean you want to open every message at the first beep. You will not want to open some chats, especially if that means you have to reply to them.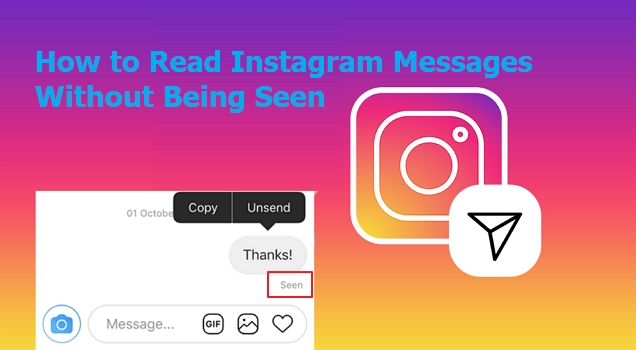 Like every other fast chatting app, Instagram has chats you do not want to open immediately. That is why users would like to know if they can elude their senders by reading a message without being seen. Below are some methods to read Instagram messages without being seen.
1 Can You Turn off Read Receipts on Instagram?
No, Instagram does not have an official way for users to turn off read receipts. After sending a message, you will see the word Seen written under your message. The read receipt sign helps you recognize a message its recipient has read. This instant messaging and photo-sharing app has a different alternative to this feature. By restricting a sender on your Instagram account, you can read their message, and the read receipt feature will not be triggered. (More on this will be discussed later on in this article.)
2 How to Read Instagram Messages Without Being Seen
If you cannot turn off read receipts, how do you read Instagram messages without being seen? Unlike Facebook and WhatsApp, Instagram does not let you hide seen or turn off read receipts. In this section, we want to consider other methods of keeping your sender in the blind spot on Instagram after reading their message.
Read the Messages from DM Notifications
The first solution is to watch out for the notification that Instagram will send you. Once the notification appears on your phone screen, you can swipe down over it to read it. You have to be careful not to click on it. If you click on it, the message inbox will be opened, and the seen receipt will be triggered.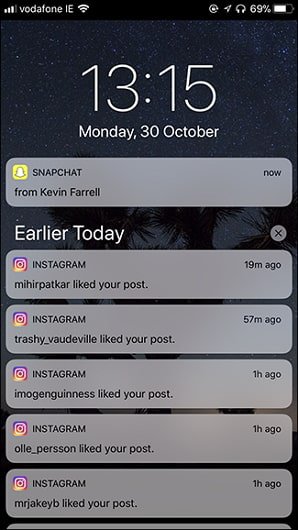 This method is not popular because you cannot fully read long messages through notification. Hence, if your phone has a notification history/log, you can better see Instagram messages without being seen. Also, the notification center is another place on your phone to check Instagram messages.
Step 1.Launch the Settings app on your android phone.
Step 2.Select the Apps & Notifications option.
Step 3.Then, click on Notification History.
Step 4.On the options screen, turn on your notification log.
Read the DM without Internet and then Log out
If you are considering another method besides the notification, you can try this method. Once you put on your data, you will receive the message on your phone. Immediately you turn off your mobile data, and it will not be able to send the read receipt command. This method is not popular because the read receipt command will be sent immediately after your data is back on. However, it is worth a try.
Step 1.Launch the Instagram app on your device. Open your direct messages page to see your chat list but do not open the conversation you intend to read.
Step 2.Close the app entirely and turn off your mobile data or Wi-Fi connection.

Step 3.Reopen the app on your device.
Step 4.Navigate to your direct messages by clicking on the arrow icon on the top right corner of your screen.
Step 5.Keep your internet disconnected and open any conversation you want to read without being seen.
Step 6.Go to Setting to log out your account after reading.
Restrict the Sender on Your Instagram Account
A restricted account will become invisible to you by design. In other words, their stores, post, comments, etc., will not be seen. In the restrict mode, you can make the account's comment public; that is visible for others to see on your page. However, your conversation with them will still be accessible through message requests.
Message requests do not have seen receipt.
It means you can read a person's Instagram messages without being seen in message requests. To reply to message requests, you have to un-restrict the account. Below is how to restrict an account.
Step 1.Launch the Instagram app on your device.
Step 2.Navigate to the desired account profile on your app.
Step 3.Click on the three dots at the top right corner of the profile screen.
Step 4.Pick Restrict from the options listed and confirm by tapping Dismiss.
Read the Message from Another Phone
You can use a third-party app to read messages from another phone without being seen. Hence, you have to link your phone to another device. AirDroid Parental Control is a reliable tool for reading messages from another phone. It gives you an oversight of your Instagram activities from another device.
For instance, parents can use the app to read their kids' messages on Instagram without being seen by the kid or the sender. Furthermore, you can control how much time the kid spends on Instagram. More features about the app are discussed below.
Remotely monitor their Instagram activities in real-time by screen mirror.
Monitor Instagram notifications to intercept cyberbullying and online fraud.
Schedule the time you want your kid to access Instagram.
Learn if your child has used Instagram and for how long.
Remotely monitor your kid's phone surroundings
Steps to use AirDroid Parental Control
Step 1.Download and Install AirDroid Parental Control on your device. You can also visit the web version at webparent.airdroid.com directly.
Step 2.Open the app on your phone, and AirDroid will direct you to the sign-up page.
Step 3.Create an account and log in.
Step 4.Download AirDroid Kids on your kid's Android phone and open the app.
Step 5.Enter the pairing code to bind the devices.
Step 6.Now, you can see what your kid does on Instagram.
View Instagram Messages in Email
Another vibrant method of reading Instagram messages without being seen is to use your email. If you have the mail notification turned on, Instagram will send notifications to your mail inbox (social). You will see the message sent to you and the sender's username in the notification.
3 How to Unread a Message on Instagram
Regular Instagram accounts cannot unread a message. However, Instagram business accounts can be unread their messages. Follow the steps below to unread a message on your Instagram business account.
Step 1.Launch the Instagram app on your device.
Step 2.Login to your business account.
Step 3.Navigate to your direct messages screen.
Step 4.Choose the conversation you want to unread and click on the select icon.
Step 5.Select More to get options for that conversation.
Step 6.Click on Mark as Unread.
The Bottom Line
The bottom line is that you can read Instagram messages without being seen, even though Instagram does not have an official provision for users to turn off seen receipts. You can read it through notifications, message requests, mail inbox, third-party apps, and by turning off your internet. Additionally, you can use the unread a message feature if you have a business account. Hence, you can read a message without being questioned about reading but not replying because the sender will not even know you have read it.
Was This Page Helpful?