Geofencing Software: How It Manages Your Workforce Like a Breeze
What is Geofencing Software?
Geofencing software is a technology that allows organizations to create virtual boundaries around a physical location, receiving notifications or triggering actions when devices enter or exit the boundaries.
Due to the growing need for real-time tracking and automation, geofencing has become increasingly popular in businesses, especially in industries such as transportation and logistics. Geofence technology is also widely applied in workforce management, with businesses using it to track employee locations, attendance, and improve field operations.
In this article, we will guide you through all you need to know about geofencing software, covering the following topics:
1 Types of Geofencing Software
Geofencing software is available in different types, each with its unique features and applications that meet specific business needs. We have listed out 6 most commonly used types of geofencing software as below:
Asset Tracking Software
This type of software is specifically designed for organizations looking to monitor the location and safety of valuable assets. Asset tracking software includes geofence alerts, real-time location tracking, and remote data wiping to ensure the safety and security of the organization's assets.
Field Service Management Software
This software is tailored to organizations that manage field operations, such as service companies, utilities, or maintenance departments. It provides real-time job scheduling, route optimization, and location-based tracking of field workers, helping organizations optimize their field operations, improve productivity and customer service.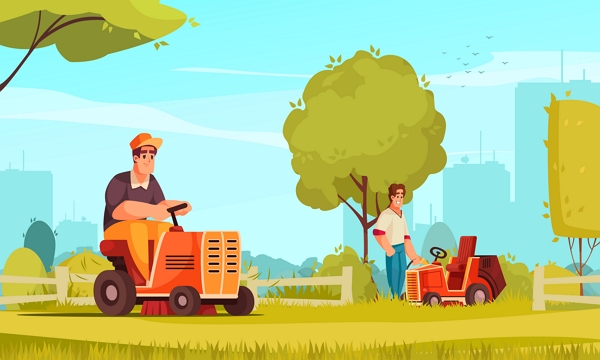 Fleet Management Software
Designed for transportation and logistics businesses, this type of software provides real-time monitoring of vehicles, path tracking, and route optimization. These features enable organizations to optimize their fleet operations, reduce costs, and increase efficiency.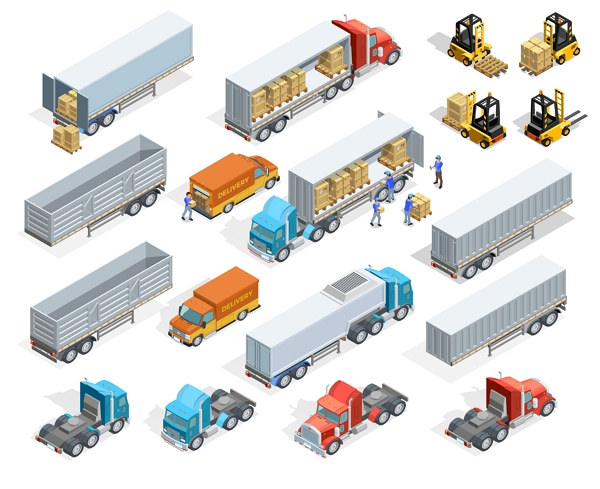 Location-based Marketing Software
This software helps businesses to send targeted push notifications, advertisements, or offers to customers within a specific geographical area. It is considered a very useful tactic for businesses to increase customer engagement, drive sales, and enhance the overall customer experience.
Time and Attendance Software
This software is designed to help organizations track and manage employee attendance and work hours. With geofence-based clock-in and clock-out features, real-time employee location tracking, and automatic time tracking, businesses can ensure accurate timekeeping, improve payroll management, and reduce employee time theft.
Retail Analytics Software
Retail analytics software helps retailers gather data and insights about in-store customer behavior. It provides features such as foot traffic tracking, heat mapping, and queue management, helping retailers to make data-driven decisions and improve their in-store operations.
2 Different Uses & Applications of Geofencing
In recent years, geofence technology has become a popular business tool, because it provides a more comprehensive view of workforce management and resource allocation. In fact, the geofencing market is expected to grow at a compound annual growth rate of over 27% according to report by MarketsandMarkets.
Here are some geofencing examples and the benefits they offer:
1. Logistics and Transportation
Geofencing is a valuable tool for organizations in the logistics and transportation industry, helping to monitor vehicle movements, optimize routes, and reduce costs. By setting up geofences around specific locations, organizations can receive real-time alerts when vehicles enter or exit certain areas. This information can then be used to optimize routes, reduce fuel consumption, and improve driver performance.
A study from National Institute for Occupational Safety and Health found that the use of geofencing in the transportation industry has reduced accidents and incidents by up to 40%, resulting in significant cost savings and improved safety for workers and the general public.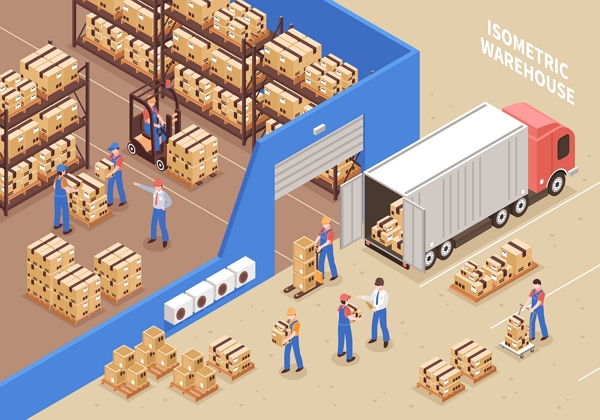 2. Human Resources
In the human resources industry, geofencing can be used to track employee attendance and improve timekeeping accuracy. By setting up geofences around the workplace, organizations can monitor when employees arrive and leave, making it easier to manage payroll and reduce timekeeping errors.
3. Retail and Hospitality
Geofencing software has proven to be a great tool for retail and hospitality businesses. By setting up geofences, organizations can monitor the locations of their devices in real-time, prevent theft, and track lost or stolen devices in key locations.
Geofencing software has proven to be a great tool for retail and hospitality businesses. It helps them to manage company-owned devices, prevent device theft, and implement location-based marketing campaigns. By setting up geofences, organizations can monitor the locations of their devices in real-time, prevent theft, and track lost or stolen devices in key locations.
Besides its security benefits, geofence technology is also being used to deliver personalized marketing campaigns based on a customer's location, such as sending relevant promotions and offers to customers who are nearby. This method helps businesses increase foot traffic and drive sales. According to a recent study by Accenture, the use of geofencing in the retail industry alone has increased to 58% and is predicted to grow further by the end of 2030.
3. Healthcare
In the healthcare industry, organizations can leverage geofencing to monitor the locations of patients' wearable devices. By creating geofences around key locations, healthcare providers can keep a close eye on patients' movements and ensure they are receiving the necessary care and attention. Moreover, by tracking patients' movements, healthcare providers can gather data to evaluate the effectiveness of care plans and make data-driven decisions that lead to improved patient outcomes.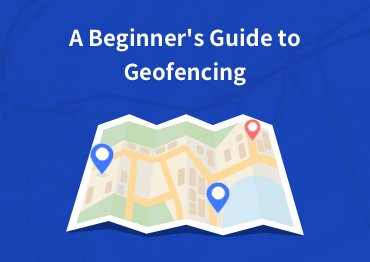 The Beginner's Guide to Android Geofencing
Download Free Whitepaper
Get to know more about geofencing features that can help you grow your business.
3 Recommended Geofencing Software for Workforce Management
Geofencing software has revolutionized how organizations manage their workforce by providing real-time location tracking, geofencing capabilities, and detailed reporting. Below are some of the best geofencing software options available on the market for fleet management, field service management, and asset tracking:
1. Fleet Management
• GPSWOX:
This fleet management solution offers real-time tracking, alerts, and detailed reporting for organizations to monitor their fleet effectively. It also offers powerful geofencing capabilities, such as creating virtual fences and generating replays for better visibility.

• Geotab:
A cloud-based fleet management platform that provides real-time GPS tracking, fuel usage monitoring, and driver performance analysis to optimize fleet operations. Moreover, its geofencing feature allows users to set up virtual zones and receive instant alerts when drivers enter or exit those areas.

• Verizon Connect:
This powerful fleet management solution includes real-time tracking, route optimization, and safety monitoring to ensure the efficient operation of an organization's fleet. Also, its geofencing capabilities allow organizations to monitor their field staff in real time and receive instant alerts when they enter or leave a predetermined area.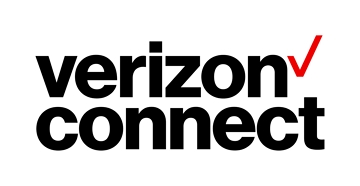 2. Field Service Management
• Skedulo:
Skedulo is a deskless productivity software built for businesses that manage global workers out in the field. It helps various industries to simplify workforce scheduling, gain visibility into workforce utilization, and provide actionable analytics on their workforce.

• ProntoForms:
This mobile geofencing forms solution enables organizations to create, send, and track custom forms for their field workers in real time. Plus, its geofencing functionality enables users to automatically trigger forms based on the location of their workers.
• Housecall Pro:
This field service management solution provides real-time job scheduling, GPS tracking, and invoicing capabilities to streamline field operations. Also, its geofencing feature helps users to manage job locations, assign jobs based on worker location, and set geo-based alerts.
3. Asset Tracking
• Linxup:
Linxup provides a GPS asset tracking solution that is ideal for companies that rent out equipment or deploy expensive assets across job sites. Whether it's heavy equipment, containers, trailers, towables, or power equipment and tools, Linxup's asset tracking feature allows you to monitor the location of your assets in real-time, view their current status and usage, and get alerts if they move or leave designated areas.

• Samsara:
This IoT platform offers real-time monitoring, analytics, and reporting for a wide range of assets, making it a comprehensive asset-tracking solution. Also, its geofencing feature allows users to monitor the location of their assets with precision. With these robust geofencing software solutions, organizations can quickly and effectively manage their workforce and assets.

• TrakIT:
This comprehensive asset-tracking solution includes real-time GPS tracking, geofencing, and detailed reporting to help organizations monitor their assets. Plus, its geofence feature can be used to create virtual perimeters and automate asset monitoring processes. With its powerful features, Trakit enables organizations to monitor their assets accurately.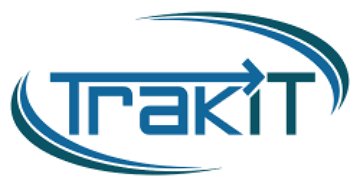 4 How to Set Up Geofencing with AirDroid Business?
Here are the steps to set up geofencing with AirDroid Business:
1. To get started, click on the free trial and create an AirDroid Business account by filling out basic information.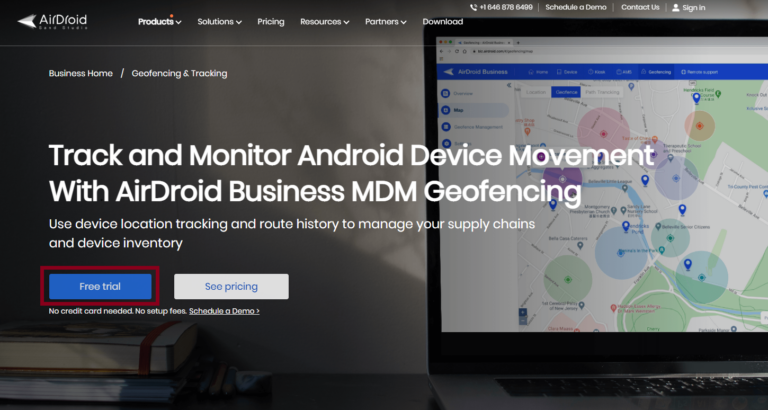 2. Login to AirDroid Business Admin Console and enroll your Android devices (guide).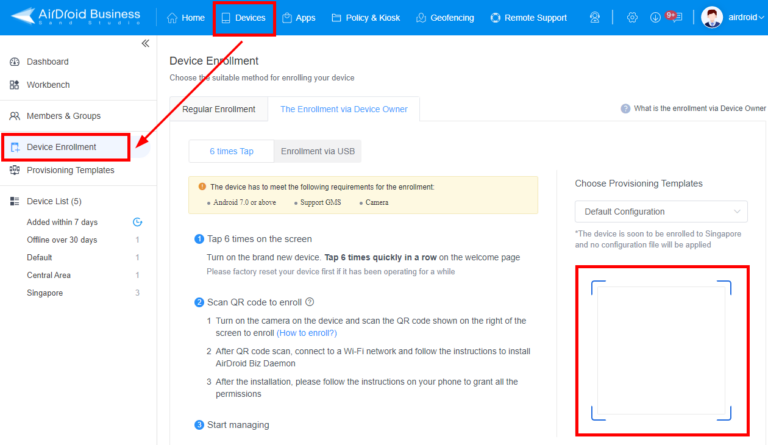 3. Go to the "Geofencing" tab in the platform and click on Geofence Mgmt. You can create new geofences from here by clicking on the "New Geofence" button.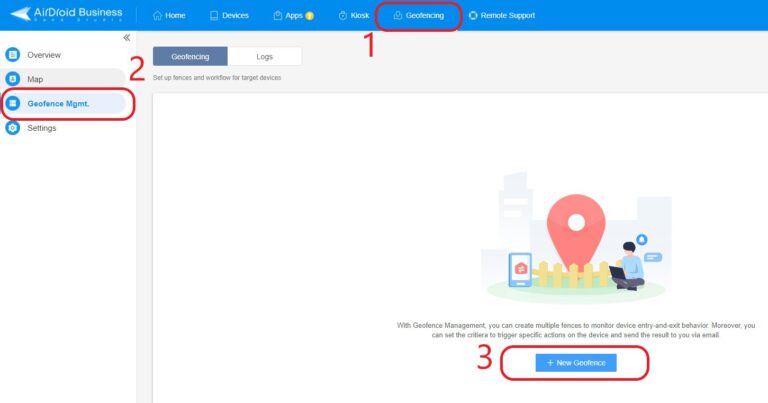 4. Drag the fence to the location you wish to set up virtual boundaries. You can either insert the longitude and latitude of the location or put down the location keyword.
5. Decide the name and the radius of the Geofence and click save.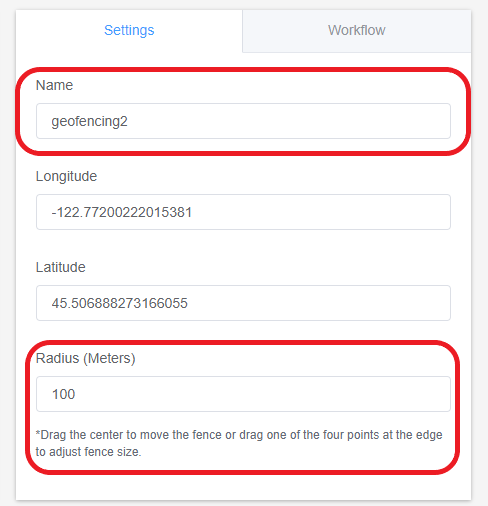 Then voilà, you are good to go!
5 AirDroid Business MDM Geofencing
For organizations seeking a one-stop solution for tracking their mobile devices and fleets, AirDroid Business MDM Geofencing is an excellent option. It offers a centralized platform that businesses can use to monitor device movement, track and secure devices, and improve route efficiency.
Its features include:
Device location tracking
Geofence alerts
Remote data wipe
Route history records
Configured security measures
Logs and reports
With these powerful geofencing software features, organizations can efficiently manage their workforce and assets while improving productivity and profitability.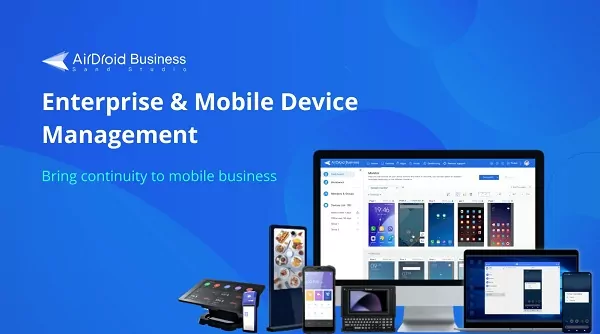 FAQs about Geofencing Software
What are the benefits of geofencing?
Geofencing allows you to track the location of employees, customers, or other entities within predefined geographic boundaries. It can also be used to improve customer service and marketing campaigns, enhance asset protection and security, and reduce costs associated with employee time.
Does geofencing work if the location is off?
Yes, geofencing works even when the location of the person or asset is off. A geofence is defined by a virtual perimeter that can still be tracked, whether the location services are enabled or not.
Can geofencing work without the internet?
The short answer is yes. Geofencing can still function even if the device doesn't have access to an internet connection. This is because geofences are based on GPS location data, which does not require internet connection to work. However, the accuracy and reliability of geofencing can be affected and may not be able to send alerts or notifications.
Does geofencing have privacy concerns?
Yes, there are definitely some privacy concerns to be aware. While geofence technology can greatly benefit businesses and individuals, some may feel uncomfortable with the idea of their movements and whereabouts being tracked. To ensure that data privacy is maintained, geofencing should be used responsibly and only for legitimate purposes.
How much does geofencing cost?
The cost of geofencing really depends on the features you need and your usage levels. For instance, AirDroid Business Geofencing offers a basic plan that charges $3 per device and a standard plan that costs $5 per device. If you need geofencing for targeted advertising campaigns, the cost can range from $5 to $15 per thousand ads displayed. You may want to consider the cost of any additional services, such as geofence management and analytics.
Was This Page Helpful?