[2023 Updated] 8 Valuable Strategies for Businesses to Secure Kiosks
As technology advances, businesses increasingly rely on digital products. As a result, many types of Kiosks are used in every industry to maintain client interest in their operations. On the other hand, cyber risks continue to increase daily. According to a study, nearly five million data are lost daily; since Kiosks are essential assets, every firm allocates a particular budget for its IT system to handle safe transactions and the database. Several techniques are used in Kiosk-related enterprises to protect the security of data and assets.
1 Security Factors to Care
Depending on the sort of Kiosk being utilized, many considerations must be made while designing Kiosk security. It would not be incorrect to state that certain security concerns have good or negative effects on any organization. Therefore, it is essential to understand fundamental security considerations to strengthen and assist enterprises. Let's analyze the three most crucial factors:
1. Cyber Security
Criminals also exist in a digital world that attacks devices using malicious content to breach businesses' privacy and control transactions. Thus, Cyber security is one of the critical problems every digital business faces, and the success of every business depends on security measures.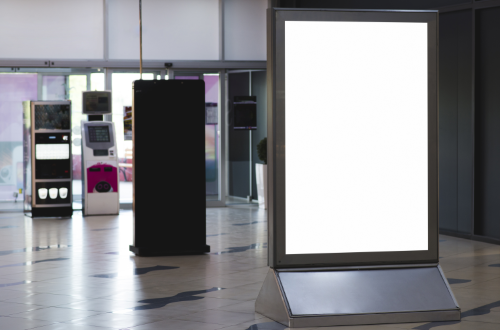 Those who strategically plan the security measures for Kiosks and invest some cost on it keep themselves safe from cyber-attacks. Others who neglect security have to pay a huge cost for it even they may lose their business with a great loss.
Many businesses get shut down just because no one pays attention to security measures, and hackers attack the business. If the security system is inappropriate, the hackers will easily attack the Kiosk devices and control the whole system as they want. So, before starting any business, keep aware of various cyber threats and the precautionary measures to adapt for the security of the business.
2. Consumer Security
While providing self-service Kiosks in any industry, for example, ATMs, consumer security must be the highest priority. The reason is that they rely on the Kiosk services as they have to manage transactions with the Kiosk device, and all personal information is entered into those devices.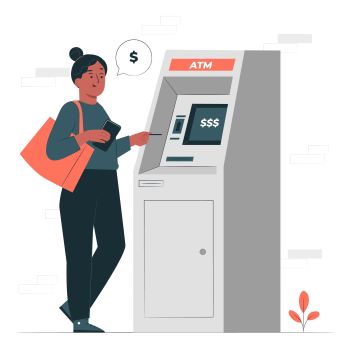 If the Kiosk device is not secure, the consumer's information can be breached, leading to a great financial loss. The best way is to hire an expert security team and prefer any Kiosk software that is authorized and provides a shield to the business. Also, let the customers know what security measures are adapted to keep their personal information hidden, so they can rest assured to use the services.
3. Hardware Security
Hardware security includes various kinds of pilferage that are done using various fraudulent ways like changing the bar code with the bar code of an item of low cost, putting the things over large items to avoid its billing.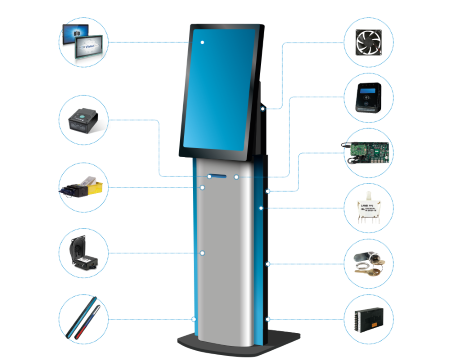 Install the devices in a secure place to avoid damage like rain saturation that can spoil the system and the device may stop functioning. It will disturb people in performing their transactions. Security cameras must be installed and monitored all the time to keep the Kiosk devices safe where they are installed.
Moreover, the Kiosk hardware devices must block all external devices to access like USB drives. Using a USB drive, data stored in Kiosk devices can easily be breached by hackers and can lead to a great financial loss.
2 8 Valuable Strategies for Businesses to Secure Kiosks
We have already discussed the important concerns with the Kiosks devices in any business. Now we will discuss some strategies to help safeguard the business with a secure Kiosk device.
1. Lockdown Kiosk into Single-app/Multi-app Mode
With the help of Kiosk MDM software, lockdown of the Kiosk devices into a single-app or multi-app Kiosk mode so that the consumers can only access those specific apps for which Kiosk devices are installed. It also makes the devices purpose-built and saves time to manage more transactions in less time. Kiosk mode also enables business owners to whitelist some useful websites or blacklist some dangerous websites as per needs. This feature is also helpful in offices to restrict employees to some specific platforms.
2. Remote Monitoring to Protect Cyber Security
Remote monitoring is one of the most important strategies to protect cyber security as it allows one to monitor device usage and its performance remotely. It is a secret way to examine things without letting others know that the device is being monitored. A regular check of device usage is essential to work to be done. Various alerts and geo-fencing feature also helps monitor the Kiosk device remotely.
3. Real-time Support
Public-facing Kiosks are found where they are needed every second, like hotel check-in and outs, booking tickets, and ATMs. So their chance of being stuck due to technical error is high. Hence, it is mandatory to provide real-time support to the Kiosk devices. The remote support feature of the AirDroid Business MDM solution is a good choice to resolve technical errors of the Kiosks devices remotely.
Note : No matter it is a public-facing Kiosk or a company-owned Kiosk device being used as a self-service Kiosk, use MDM software to manage things with safety Kiosks.
4. Keep Application and System Updated
Running a large business is hard, and it's difficult to keep everything in mind, which wastes much time. So, automatically updating software and applications at night is necessary. With the help of MDM software, businesses can use workflow feature that enables them to keep the applications and the devices updated. Workflow allows users to have a pre-set workflow that automatically updates the applications and devices when needed.
5. Reinforcing the Security Policy
Numerous security policies can be remotely defined and pushed to different Kiosks in diverse locations to utilize for businesses with the help of MDM software. VPN and firewall configurations can strengthen network security. Additionally, Workflows are configured to detect compliance violations on the Kiosk devices. Your Kiosks' hardware buttons and peripherals are disabled to prevent security risks and stop consumers from misusing them.
6. Keep Regular Maintenance
It is not easy to maintain all the Kiosk devices in a large business manually. With MDM software, you have a remote support feature for regular maintenance of all the Kiosk devices. Workflow features are also helpful in it. Other than that, cleaning is another factor that Kiosk devices need to function properly and keep safe from dust and other harmful things.
7. Video Surveillance
For the best security of Kiosk devices, monitoring them using video surveillance is mandatory. Although it seems challenging, with MDM software, cameras of Kiosk devices are controlled remotely to monitor the surrounding areas with the device camera. There are many threats to Kiosk devices that can easily manage with video surveillance. Kiosk devices providing this feature are the safest ones to use.
8. Purchase the Hardware with Quality Guaranteed
We already know that Kiosks are a combination of hardware and software. So, to make it completely functional, choose both elements of high quality. Compromising on hardware quality can be dangerous for any business having Kiosks.
Always use high-quality hardware components that are reliable and able to work for the long term. Some important factors to keep in mind while selecting the hardware are: waterproof, wear proof, anti-septic, dustproof, and rust protection. These are common things that make a public-facing Kiosk device best in operation, as several things happen with these devices.
3 How Vulnerable are Kiosks to Hacking?
No computer is fully secure from hacking attacks. Security Kiosks were observed to be safe, but some recent incidents have revealed that it is very important to keep the Kiosk devices secure from hackers. A touchscreen Kiosk was hacked in the US and used to play anything the hacker wanted. No doubt, it was again restored by the software developer, but the threat is clear to everyone.
Another incident happened in Australia where the self-service Kiosk of McDonald's was hacked to lower the price to buy some food. It is very dangerous for businesses. Kiosk devices include many customers' data, and such data breaches could harm many people. This problem does not fail Kiosks software, but it is the failure of a company providing it when they compromise on the security risks. If an authentic solution is used to get a Kiosk service with high-security features, Kiosks will remain safe from hackers.
4 Tips to Prevent Kiosk Hacking
Recent attacks on Kiosks have created a space for everyone to think about various security measures to prevent Kiosk hacking. We can do various things with our Kiosk devices to make them secure. We must also need developers, as many tasks include functional changes. Let's discuss five things that are perfect for Kiosk security:
Disable USB Ports
Inserting a USB drive and having malicious files on the Kiosk device can harm the data. It is crucial to disable all the USB ports available on the Kiosk device to make it secure. Hackers can control the Kiosk device with the help of the file opened in the Kiosk device.
Restrict Access to Websites
Another tip to secure the Kiosk device is to restrict internet access on the Kiosk devices. Mostly hackers attack the devices using any website link. All the Kiosk devices must be made limited to some specific web pages that are required to use for performing work-related operations. It is important to block all unnecessary web pages. The whitelist feature of MDM software helps select only a few web pages to access by users on Kiosk devices.
Watchdog
Watchdog is a very important feature related to Kiosk's security. It operates at the backend silently on Kiosk devices, and whenever any uncertain operation is performed on the Kiosk, the watchdog restarts the device to keep it secure from hackers. It restarts on various actions like crashing the Kiosk application, too much memory usage or if the Kiosk stops working. Watchdog is uniquely implemented on all Kiosk devices depending upon the OS installed, but the function is the same on all OS.
Disable the Use of the Mouse-right-click Button
Everyone knows computers provide many options to operate the system using the mouse right-click button. Thus there is a risk that hackers can close the Kiosk application on the device using the right-click button and collect all the information from the device. To keep your Kiosk application working uninterruptedly, disable the mouse right-click button on the Kiosk devices.
Restrict Keyboard Usage
Various shortcut keys are used to perform several operations on the computers. The same is the risk on Kiosk devices: someone can use any shortcut key to close the Kiosk application and access the system files. Hence, to reduce the risk of hacking, it is essential to restrict keyboard usage in Kiosk mode.
5 AirDroid Business MDM Solution for Kiosk Security
AirDroid Business MDM solution meets all the endpoints for secure and successful mobile business continuity. It is also preferable as it answers almost all the questions that business administration needs.
Undoubtedly, its features make the business a lot of cost saving and reduce theft threats. AirDroid Business provides remote monitoring and troubleshooting facility on Android devices without being onsite. Data is protected on a mobile device by setting the device policy settings and keeping the device up-to-date.
Centralized Management
AirDroid Business MDM solution provides a centralized way to manage all the endpoints of a mobile business. It manages and secures the devices in Kiosk mode remotely with its various features like using the tags on the devices and creating groups when needed.
You can remotely factory reset the devices under Kiosk mode from the Dashboard provided by this software. From the Dashboard, bulk editing is also possible like the device name, changing the groups of devices and adding notes for a device.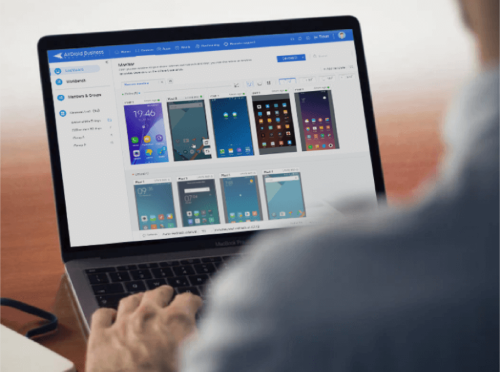 It provides support to businesses to remotely lock down and unlock devices in Kiosk mode whenever needed. Checking out the list of apps working on the device and removing unwanted apps remotely is also one of the best features that the AirDroid Business provides.
Lockdown User Interface
AirDroid Business provides a secure interface for Kiosks. Admins can use single app, or multi-app Kiosk mode on the Kiosk enabled devices that let the devices run only a specific interface. Single app Kiosk mode restricts the users to a single application and cannot use the device for any other purpose. It also allows customizing the Kiosk interface with the brand logo and theme.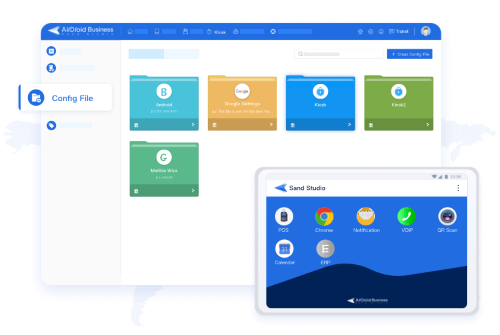 Remote Patching Ability
Remote patching allows admins to install patches and updates on Android devices in bulk. Workflow allows the admins to schedule pre-set workflows, and the system automatically updates them at the set time. For example, most devices are updated at night when devices are not in official use.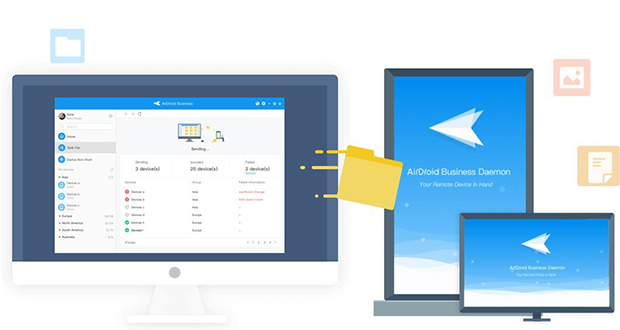 6 How to Choose the Correct Kiosk Software?
Selecting a Kiosk software for business is a complicated process. There are some important questions to be kept in mind while searching for the right Kiosk software, as it will help you find the right software for the Kiosk service you need.
Ask the Kiosk software providers for their support services because their support is necessary to run the operations smoothly all the time. Ask for their email or contact number and cross-check by calling the phone number if their customer support team responds. Also, check the common solutions to your problems in their documentation.
Verify the business's technological structure and what OS the software supports. Either their software supports the devices being used in industries or not. Check whether the software supports the necessary features needed for the business.
Check out the features of all software companies and finalize which one meets the requirements of your Kiosk services. Collect all the information related to the software, like the features, update time of the software and how they will manage the Kiosk software in future for further needs.
7 Final Thoughts
In this article, we covered the Kiosk system and the security aspects that are essential to a successful and safe Kiosk business. The essential section of this article is the eight methods for securing a Kiosk, including remote monitoring and using single or multiple-app Kiosk modes. It is also vital to maintain the quality of the hardware for its long-term processing. Always consider a number of considerations when picking Kiosk services software. AirDroid MDM is an excellent piece of software that offers exceptional functionality for Android devices in Kiosk mode. It also delivers effective and efficient technical customer support service. If you want to know more about Kiosk mode or AirDroid Business in general, get in touch with us or start a free trial.
INFOGRAPHIC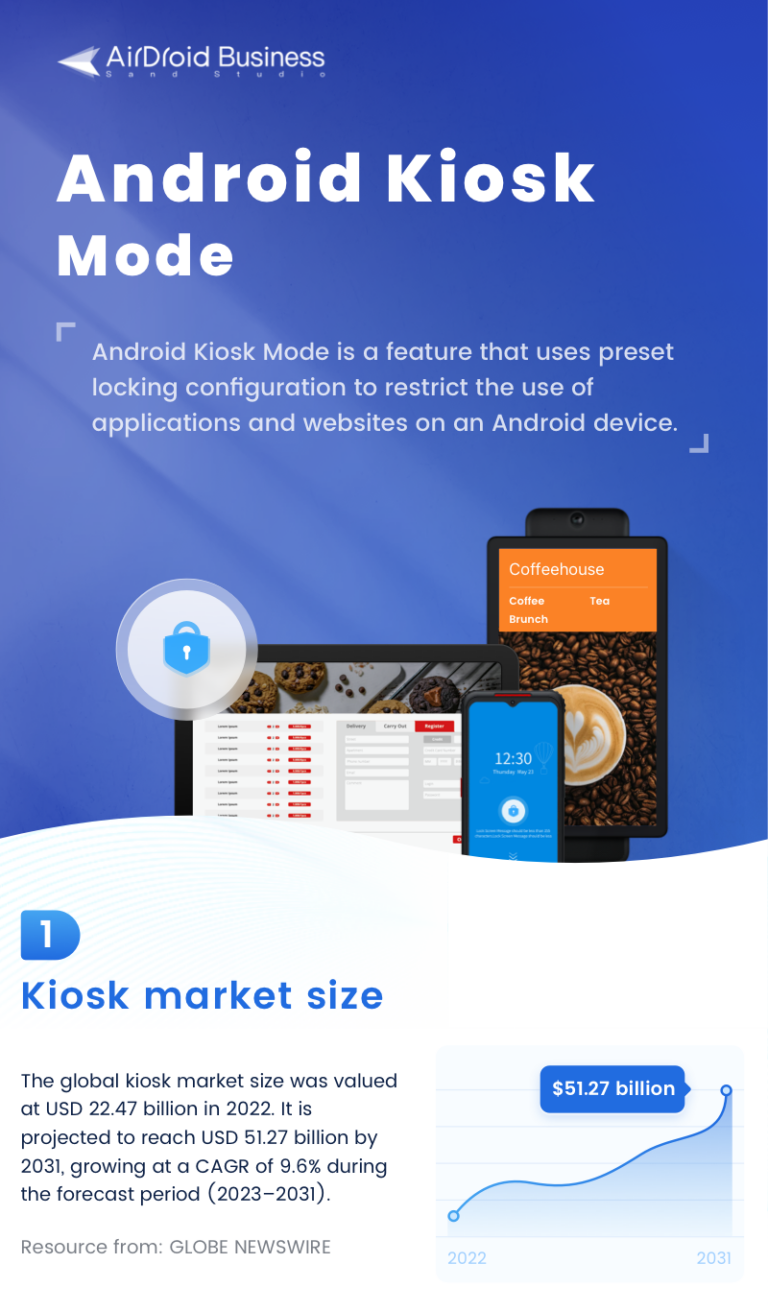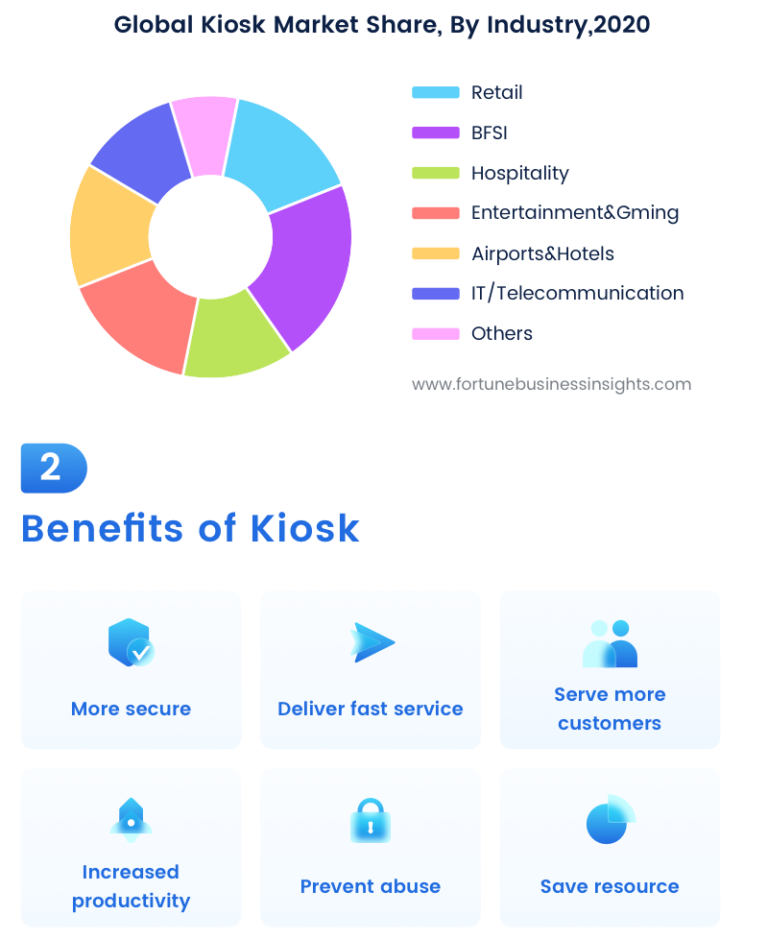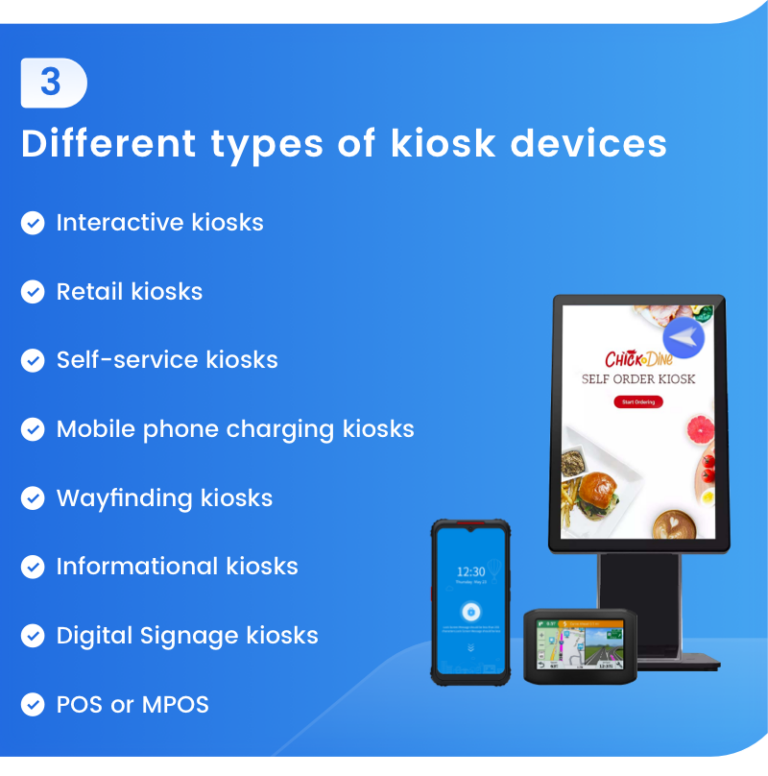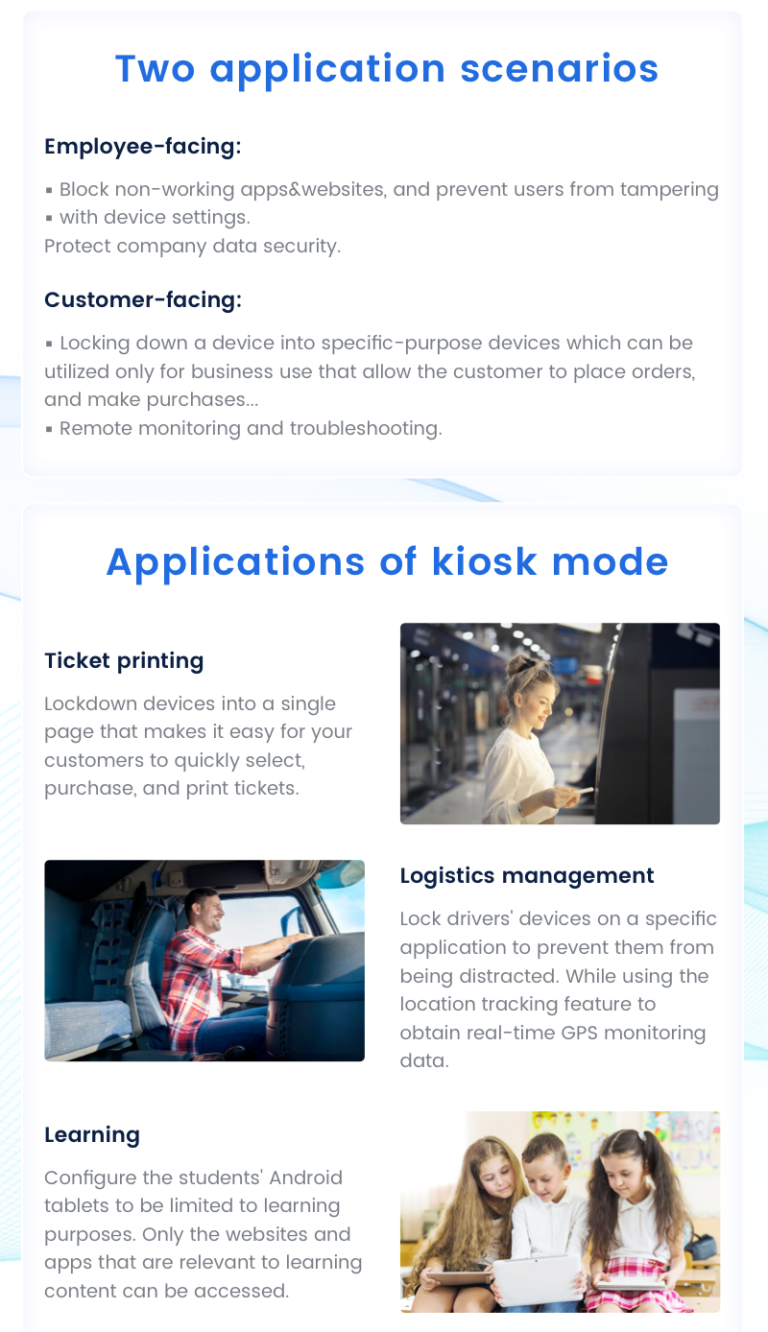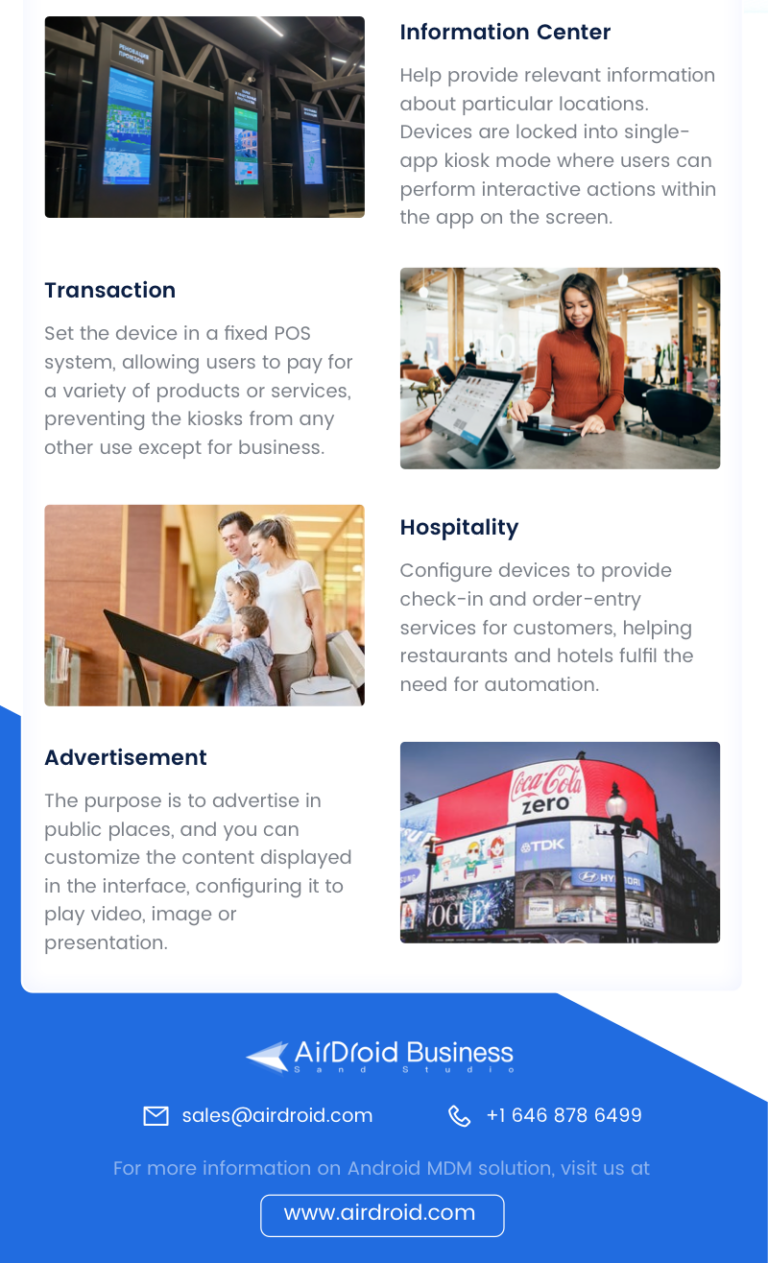 FAQs about Kiosk Security
Is Kiosk Mode Secure?
Yes, Kiosk mode is secure, but only if authorized software is used for Kiosk mode with a secure system to manage the Kiosk security. Organizations that save a little security cost often get a failure is working with Kiosks.
How Does A Kiosk System Work?
The Kiosk system works uniquely to perform various transactions and other operations. It comprises hardware and software that allows people to access information and get various services without interacting with any physical person.
How Do Self-service Kiosks Prevent Theft?
Your Self-service Kiosks should support high-security systems like specific pin codes to access personal data and perform transactions safely. Use Kiosk cameras at self-service Kiosk devices to monitor them and prevent theft. Self-service Kiosks block the mouse right-click button and keyboard to operate on the Kiosk devices as they increase the security risks. It also blocks all the ports so that no USB drive or any other external hard drive can connect to the Kiosk device.
Was This Page Helpful?