Monitor IoT Devices Remotely and Securely from Anywhere
The introduction of IoT devices has led to a revolution in different industries across the globe. The IoT devices stay connected to an active internet connection, and this enables businesses to connect to them from anywhere in the world.
To keep IoT devices running well, IoT remote monitoring becomes essential. Therefore, here we will discuss in detail IoT remote monitoring along with the best remote IoT device monitoring solution.
Part 1. What is IoT Remote Monitoring?
Let us begin by understanding the basics of remote IoT monitoring with real-life examples before moving on to its applications and benefits.
1. What is IoT Remote Monitoring?
IoT remote monitoring refers to a system that allows users to remotely monitor and control devices and sensors that are connected to the Internet of Things (IoT) network.
This technology enables users to access and analyze data from these devices in real-time, allowing for improved decision-making and enhanced efficiency in various industries such as agriculture, healthcare, and manufacturing.
With IoT remote monitoring, users can monitor the performance of connected devices, detect issues or irregularities, and respond quickly to prevent potential problems.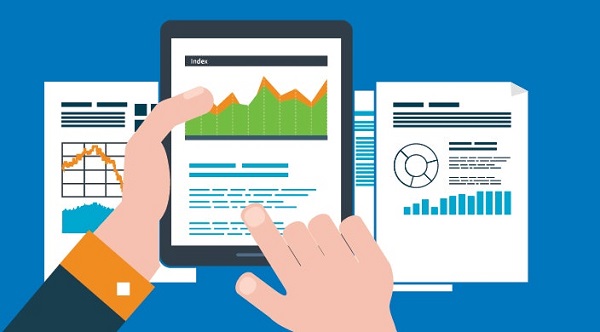 2. Examples of Remote Monitoring Parameters:
Here are some real-life examples of remote monitoring of different parameters using IoT devices.
Temperature
For any manufacturing unit, temperature plays a major role in determining the efficiency of the equipment and machinery. When the temperature crosses the critical level, you can take the necessary actions to prevent breakdown of the machinery.
Power Usage
Monitoring power usage is essential, for instance, unexpected power off or unnecessary power expenditure of IoT devices can take a toll on the company's revenue.
Security
Security surveillance through IoT devices is quite common. There are IoT devices available with sensors that can detect intrusions and abnormalities as per security protocol.
You can remotely monitor such devices to take instant action. Security infringement in corporate devices can also be detected timely through remote IoT device monitoring.
Location
If you have mobile employees who need to go from place to place as a daily routine, like in the logistics sector, you can monitor their locations through IoT monitoring. You can monitor if they are in proper locations as expected from your location remotely and take action depending on the location status.
Humidity
Just like temperature, humidity plays a major role in the manufacturing and agricultural industry. You can keep track of the humidity level through IoT devices that can measure the humidity around it. Based on the humidity level, you can take decisions for further advancement in the overall process.
Part 2. Some Applications of IoT Remote Monitoring
Here are some of the different industries where remote IoT device monitoring finds useful applications.
1Manufacturing
In the manufacturing industry, companies are using remote IoT monitoring to keep track of the performance of their important machines and equipment items. They can identify abnormalities in monitored parameters at the earliest and take timely action to prevent breakdown and downtime.
Naturally, this enhances productivity as well as efficiency in the manufacturing process. Besides, remote IoT monitoring ensures a safe environment for employees in the manufacturing unit. You can ensure quality control and assurance by keeping an eye on parameters like temperature, humidity, air quality and pressure.
2Healthcare
Patients can be monitored remotely if patients are using wearable IoT devices that track their vital signs. The doctors can monitor the data in real-time and detect early signs of abnormalities and take timely actions accordingly.
IoT remote monitoring is literally changing the lives of elderly patients with proactive monitoring along with alert mechanisms. Remote IoT device monitoring is equally useful for hospitals in tracking medical equipment and asset management.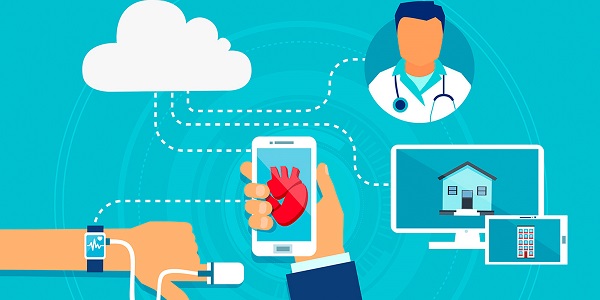 3Transportation
IoT remote monitoring solution has become essential for the transportation and logistics industry. It is helpful in efficient driver management, proper delivery tracking as well as employee safety. You can monitor the movement of the drivers in real-time and ensure that they are moving as per the route planned beforehand. The customers can get the status of their products and track the delivery in real-time on the map.
4Agriculture
Remote sensing has been a revolution in the agricultural industry. You can monitor the crop, keep an eye on the weather conditions, as well as analyze soil health with IoT sensors from anywhere and anytime. The use of advanced IoT devices like robotics and drones is on the rise, and monitoring and managing them remotely is becoming a norm.
Part 3. Benefits & Concerns of IoT Remote Monitoring
Benefits and concerns go hand in hand with every technology and you have to be aware of them before you implement the technology in your business.
1Benefits:
Here are endless benefits of remote IoT device monitoring due to its wide variety of application. But here are the key benefits that you should know about.
Real-time Issue Detection
IoT monitoring enables you to detect the early signs of issues building up in the equipment or working space as a whole. Since IoT monitoring is done in real-time and you can detect the issues and take timely steps to prevent downtime as well as maintain the safety of the equipment and on-site staff.
Analyze Device Performance
You can monitor and analyze the IoT device performance, and this is highly useful for businesses whose operations are based on equipment. The performance of the equipment should be consistent for optimal productivity, and any downfall in performance can be linked to potential issues.
The analysis of the device performance parameters can indicate the reason behind the downfall, and it can be fixed to uplift the performance parameters.
Reduced Maintenance Costs
Remote IoT monitoring cuts the operational cost for businesses as there is no need for dedicated on-site staff for support and maintenance of different devices. Since you can detect the need for support and maintenance at an early stage for the connected IoT devices, the mobile support team can be proactive as and when required. As a matter of fact, remote troubleshooting is also an option that can be explored along with remote monitoring.
Improved Safety
IoT monitoring is useful in ensuring the safety of equipment, the working environment, as well as employees. In the transportation industry, real-time monitoring of the location of the employees can ensure the safety of the products as well as the persons.
In the healthcare sector, remote IoT monitoring can ensure the safety of patients as well as medical equipment by monitoring the surrounding temperature. Similarly, you can monitor the temperature, pressure, humidity, etc in the working environment in the manufacturing industry to ensure safety in the unit.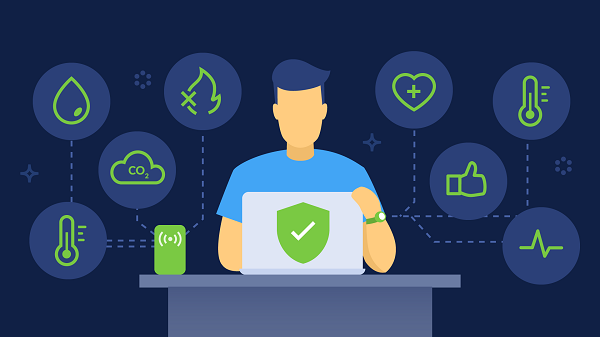 2Concerns:
When you monitor remote IoT devices, there are some concerns you can come across. But these concerns can be managed, and they are not as significant as the benefits.
Operational Complexity:
If you already have operational complexities, adding remote IoT monitoring will add further complexities. This is because there are new IoT devices you have to install, and the remote monitoring team needs to have specific skill sets.
Cost for Remote Monitoring:
Implementing IoT remote monitoring needs additional expenses that businesses need to incur. There might be a need to upgrade some normal devices to IoT devices so that remote monitoring can be effective and complete in all senses.
Security Concerns:
Whenever devices are connected to an internet connection with the permission of remote connection, there is always a security concern. Hackers can hack into remote sessions and hijack business data. But with a strong security policy, authentication, and encryption, security concerns can be eliminated.
Connectivity Stability:
The stability of connectivity is the key to remote monitoring of IoT devices and for devices to interact with one another. If there are connectivity issues, the connection will not be stable and remote sessions can get disconnected.
Part 4. Secure IoT Remote Monitoring Solution - AirDroid Business MDM
We recommend AirDroid Business MDM as the most reliable IoT remote monitoring solution. You can monitor and manage Android-based IoT devices remotely and securely from anywhere.
AirDroid Business MDM is one of the most affordable IoT remote monitoring solutions in the market. There are three annual price plans available, and every business can afford them as per their budget and requirement. Here are the plans that are meant for per device for a year.
Basic: $12 per device/year
Standard: $21 per device/year
Enterprise: $33 per device/year
The standard plan is the most popular, but for businesses, we recommend the Enterprise plan that comes with added enterprise-level customized services along with training and consultation.
How AirDroid Business Help in IoT Remote Monitoring:
Here are the key features of AirDroid Business that are useful in IoT remote monitoring.
Automatic Alerts & Workflow
You can set alerts on critical parameters like low battery and excessive data usage so that you get timely warnings and take instant actions. There are options to automate device configuration by using a preset template. Thereafter, grouping, applying restrictions, and installing apps can be automatic for efficient device management.
Monitor Device Health
You can create groups of similar devices and monitor health parameters from a centralized dashboard. You can check the battery status, data usage, and several useful parameters. Besides, you can check the reports of device inventory and account activities to detect any abnormality.
Remote Troubleshooting
Remote troubleshooting of the connected Android devices is possible through AirDroid Business. Once you detect abnormalities in device health, you can take control of the device remotely and fix them instantly.
You can troubleshoot unattended devices as well. There are options for voice chats to instruct the on-site staff if required.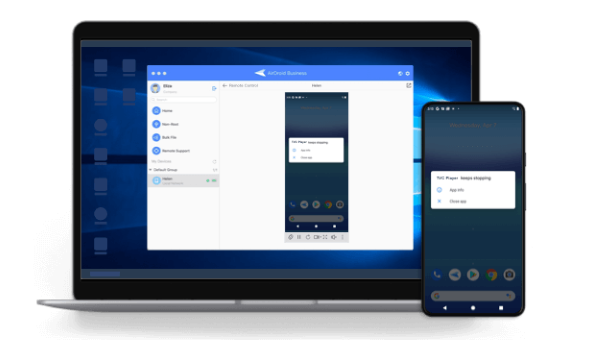 Management & Security
Since security is a prime concern in IoT remote monitoring solutions, AirDroid Business has strong features to ensure ultimate security. You can blacklist apps, prevent the installation from external sources as well as disable the factory reset option.
There is a multi-level authentication process to establish remote connections and end-to-end encryption for the connection to be fully secured. Moreover, you can ensure a safe browsing experience.
App Management
You can create a private app market with whitelisted apps to install as and when required. There are options to publish apps based on device type and device group. You can do staged rollouts to mitigate of risk of devices malfunctioning due to new updates.
You can remotely install apps on the connected devices without anyone physically accessing the devices. You can also schedule automatic app updates and monitor the progress of the process.
Location
You can monitor the connected Android devices remotely, and this is helpful when you have mobile employees working in the field. You can also set Geofencing so that you get alerts when the devices cross the permissible area.
Device tracking, monitoring, and analyzing activities can be done from one interface conveniently. You can check route history, make better route selections and find out idle time to take actions accordingly.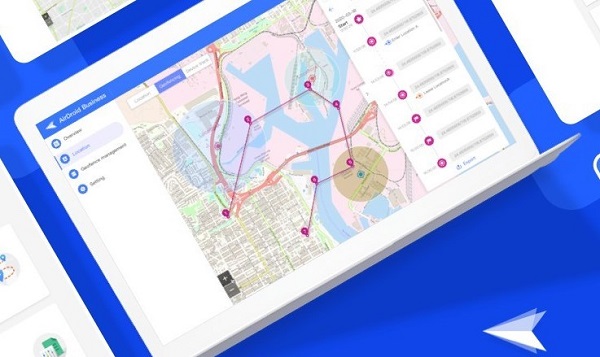 Part 5. IoT in the Future
With industries upgrading their regular devices, machines, and equipment to smart devices and machines, they can harness the benefits of IoT to the maximum extent. IoT is making businesses more efficient in operation while enhancing security and cutting down operational costs. IoT remote monitoring of mobile devices has become quite usual, and we recommend AirDroid Business for the best remote monitoring of Android corporate devices.
FAQs
How IoT can be used in health monitoring?
IoT can be used in remote patient monitoring by physicians. There are wearable IoT devices available that can get the vital signs of the patients, and the doctors can monitor them with the alert mechanism. IoT is also useful for hospitals in asset management and tracking medical equipment.
What is the most used sensor in IoT?
The temperature, pressure, and humidity sensors are mostly used in IoT-related manufacturing units. Accelerometers, gyroscopes, and proximity sensors are commonly used in IoT devices. Some advanced sensors like optical sensors, motion detection sensors, and gas sensors are used in IoT devices as well.
Can IoT be remotely controlled?
Yes, IoT devices can be remotely controlled, but the devices must have the necessary arrangements. For example, an IoT robotics device can be remotely controlled as it comes with remote control software to establish a connection remotely through an app on your smartphone or computer.
Was This Page Helpful?