Top 10 Examples of Internet of Things Applications in Business
Q: What is the Internet of Things (IoT)?
IoT, or the Internet of Things, is a new technology changing how we live. It connects everyday devices, like phones and appliances, to the internet. This allows for better communication and control of these devices, making life easier and more efficient.
One of the most convenient IoT application examples in daily life is the ability to turn on your coffee maker from your phone before even getting out of bed. This feature alone can greatly improve the efficiency and productivity of your morning routine.
This technology is used in many industries, such as healthcare, agriculture, and manufacturing, to improve efficiency and productivity. The IoT is at the forefront of a technological revolution that is making our world more connected every day.
1 Why Does IoT Matter for Business?
IoT is changing how businesses work by connecting devices to the internet and collecting data. This leads to better efficiency, cost savings, and new ways to make money.
IoT helps with operations, making better decisions with data and giving customers a personalized experience. It's important for businesses to have IoT to be successful today.
It also creates new ways to earn money by connecting businesses to customers with IoT devices, giving personalized experiences, and creating new forms of data.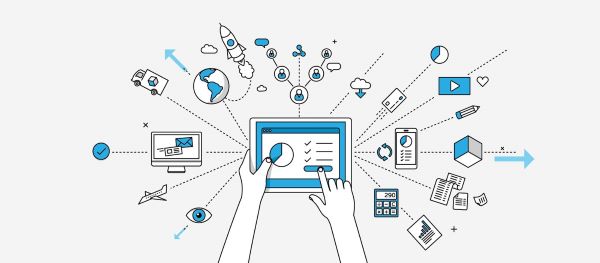 2 Top 10 Examples of IoT Applications in Business
1. Smart Homes Industry
The Internet of Things (IoT) has a wide range of applications in the smart homes industry. IoT technology allows for the automation and control of various household functions, from smart thermostats to smart security systems.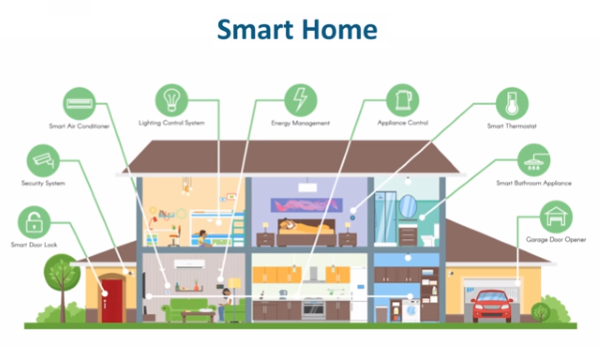 Benefits of IoT in Smart Homes
One important benefit of IoT in smart homes is the ability it gives homeowners to automate and control various aspects of their homes. It can allow them to adjust the thermostat, check security cameras, and turn off appliances.
This not only improves the convenience and comfort of living in a smart home, but it also helps to save energy and money.
Use Case
A well-known example of IoT in smart homes is Nest. This company offers a range of smart home products such as thermostats, security cameras, and smoke detectors.
These devices can be controlled and monitored through a single app on a smartphone. This makes it easy for homeowners to keep an eye on their homes and make changes, even when they're not there. This is just one of the many Internet of things examples in daily life that are making a difference in how we live.
2. Assets Management
The Internet of Things (IoT) has changed a lot in the asset management sector by offering real-time monitoring and tracking of assets. This can help increase utilization and decrease downtime.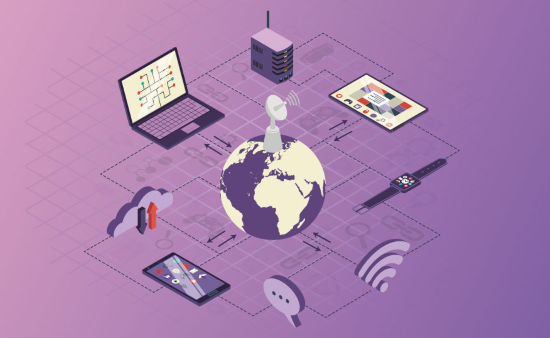 Benefits of IoT in Assets Management
Predictive Maintenance: IoT devices gather data on the utilization and performance of assets, which can be evaluated to predict maintenance needs, thereby reducing the possibility of unplanned downtime.
Inventory Management: IoT-enabled devices attached to assets can help in real-time tracking and visibility. This can reduce the need for manual inventory management and reduce the likelihood of lost or stolen assets.
Asset Monitoring: IoT technology can be used to keep tabs on assets in real time. This can help alert any unusual activity and allow for prompt response to potential problems.
Use Case
AirDroid Business is an example of an IoT application in Asset Management. By utilizing Android devices, the software provides real-time monitoring and management capabilities for devices, enabling organizations to track and monitor their Android mobile devices effectively.
The features, such as multi-level subgrouping, tagging, bulk editing, remote lock and factory reset, app list and remote uninstall, demonstrate how IoT can be used to improve the efficiency and security of asset management.
3. Transportation & Freight Monitoring
The Internet of Things (IoT) revolutionizes transportation and freight. It allows real-time tracking and monitoring of vehicles and cargo. This provide valuable insights on transportation routes, traffic patterns, and delivery times. Logistics and costs are also reduced.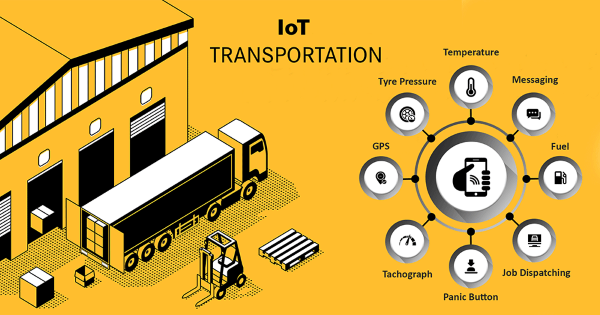 Benefits of IoT in Transport & Freight
IoT brings many benefits to the transportation and freight industry, including:
-Optimizing logistics and increasing efficiency
-Real-time monitoring of cargo and vehicles
-Reducing the risk of theft or loss
-Improving safety through monitoring and controlling the movement of vehicles and cargo
Use Case
IoT software examples can be found in various industries, including transportation. DHL, a global logistics and transportation company, has implemented IoT technology in the form of smart sensors to monitor the temperature, humidity, and location of their cargo in real-time.
This has allowed DHL to improve the accuracy of delivery times, ensure the safety of perishable goods, and optimize logistics. IoT software examples and solutions have also led to a reduction in customer costs.
4. Agriculture
IoT technology has been used in agriculture to enhance the growth of crop yields, improve efficiency, and reduce costs. Some examples of IoT applications in agriculture include precision farming, soil monitoring, and weather forecasting.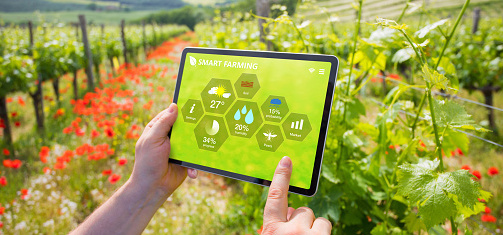 Benefits of IoT in Agriculture
IoT in agriculture can help farmers make data-driven decisions, better the quality of crops optimize irrigation and fertilization, and increase crop yields.
Use Case
Companies like John Deere, a leading agricultural equipment manufacturer, have implemented IoT. Their utilization has helped farmers increase their equipment's work rate and productivity. This IoT application is a prime example of how technology can be used to improve the agriculture industry.
5. Manufacturing
IoT technology is revolutionizing the manufacturing industry! It improves efficiency, reduces costs, and increases productivity. IoT can be applied in various areas of the manufacturing process, including supply chain management, inventory control, predictive maintenance, and quality control.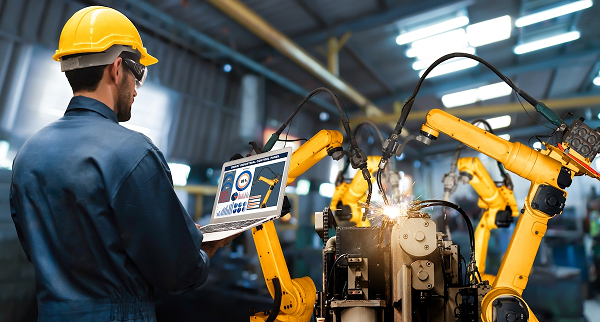 Benefits brought by IoT in Manufacturing
By integrating IoT into the manufacturing process, companies can gain real-time visibility into their operations, enabling them to make data-driven decisions and improve overall performance. IoT can also help to reduce downtime and increase safety on the factory floor.
Use Case
In the manufacturing industry, one of the most notable Internet of things examples is GE Appliances. The company successfully implemented IoT to optimize its supply chain and improve inventory management, resulting in reduced inventory costs and increased efficiency in the production process. This ultimately led to higher profits for the company.
6. Healthcare
IoT, or the Internet of Things, is a technology that is making big changes in the healthcare industry. It helps improve patient care and lower costs. IoT can be used in different areas of healthcare like checking on patients from far away, using technology for doctor appointments, and connecting medical devices.
This way, doctors can see important information quickly. It also helps healthcare providers make better decisions and take better care of patients.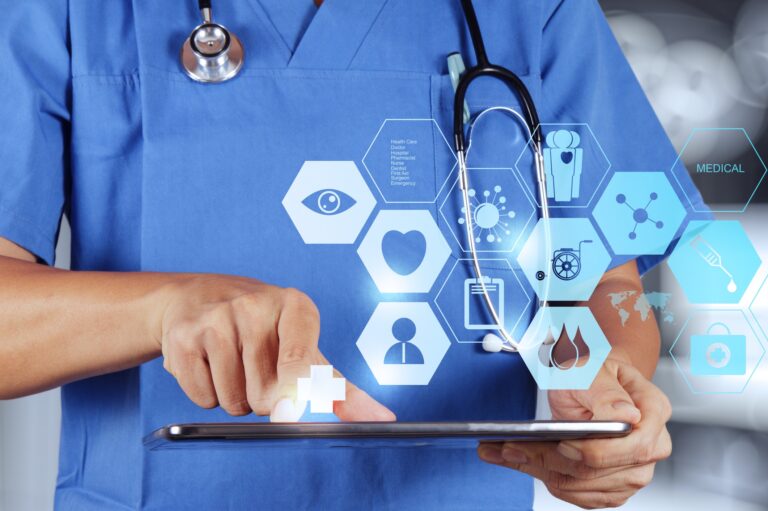 Benefits of IoT in Healthcare
Allowing patients to receive better care while spending less time in the hospital.

Helping prevent illnesses and improve the overall health.

Lowering healthcare costs by catching diseases early, reducing the number of times patients have to go back to the hospital, and making the healthcare system more efficient.
Use Case
One example is Medtronic, a company that successfully implemented IoT in the healthcare sector. They developed an IoT-enabled diabetes management system that allows patients to monitor their glucose levels in real-time and receive personalized insulin dosing recommendations. This has helped to improve the health outcomes of patients with diabetes and reduce the burden on healthcare systems.
7. Retail
The Internet of Things (IoT) revolutionizes the retail industry by connecting various devices and systems to improve customer experience and optimize operations. Some examples of IoT applications in retail include:
Smart shelves that track inventory levels and automatically reorder products.

Electronic price tags that can be updated remotely.

RFID-enabled shopping carts that track customer movements in the store.

Digital kiosks that provide product information and recommendations.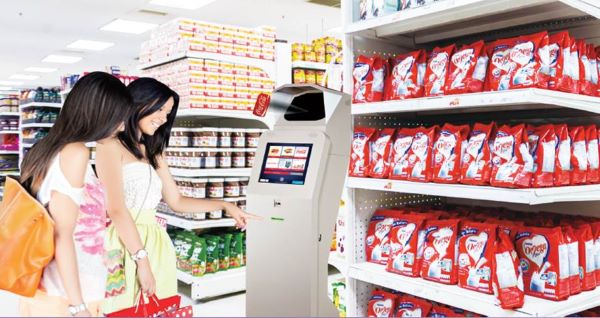 Benefits of IoT in Retail
IoT in retail brings several benefits, including:
Improved customer service and experience.

Increased efficiency and cost savings.

Better inventory management and restocking.

Enhanced security and loss prevention.
Use Case
IoT application examples can be found in various industries, including retail. One such example is the implementation of RFID technology by companies like Walmart.
This technology allows Walmart to track inventory levels in real-time. By using RFID, Walmart can also more accurately track the movement of products through their supply chain, helping to identify areas where they can improve efficiency.
8. Wearables
The Internet of Things (IoT) is expanding the capabilities of wearable technology. There are modern devices now like smartwatches and fitness trackers.
By connecting these devices to the internet and other devices, IoT enables real-time tracking of fitness and health data and remote control of other devices.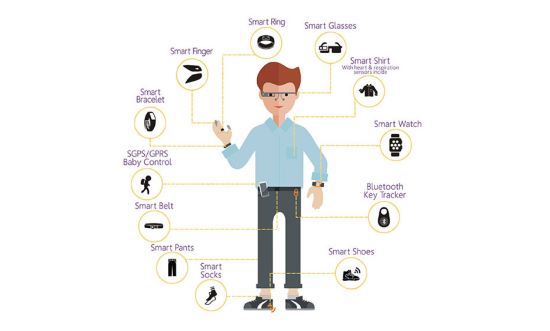 Benefits of IoT in the Wearables Industry
IoT wearables bring many benefits, including:
-Improved health and fitness tracking
-Better communication with friends and family
-Remote control of other devices
Use Case
IoT technology also helps the wearables industry. Fitbit, a fitness tracker company, uses sensors to collect data on a person's health and fitness. This data can be sent to a phone app and analyzed using IoT software.
This helps people understand and improve their activity, sleep and other health habits. This is just one of the many IoT examples in daily life that are making a difference in how we live.
9. Smart City
The Internet of Things (IoT) is playing a key role in creating smart cities that are more efficient, sustainable, and livable. One example is IoT in smart lighting, where street lights are connected to the internet, allowing cities to monitor and control lighting levels in real-time, reducing energy consumption and costs. Other applications of IoT in smart cities include traffic management, waste management, and air quality monitoring.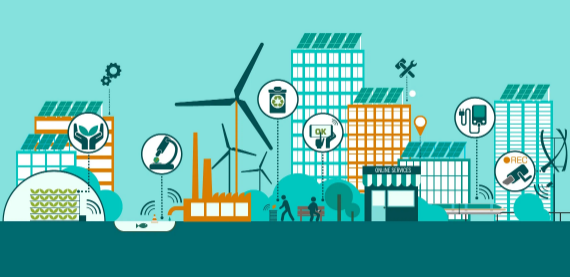 Benefits of IoT in Smart Cities
IoT-enabled smart cities offer a variety of benefits such as:
Improved energy efficiency

Better traffic management

Improved air quality
Use Case
IoT application examples can be found in various industries, including smart city technology. One such example is the IoT platform called CityIQ developed by Siemens.
This platform allows cities to collect and analyze data from various sensors, such as traffic cameras, weather stations, and air quality monitors. This data is then used to improve traffic flow, reduce energy consumption, and improve overall livability in the city.
10. Smart Supply Chain
IoT is making supply chains smarter and more efficient. Companies can see and control their products, assets, and shipments by connecting devices and systems to the internet.
This helps them in keeping track of inventory, logistics and transportation, and making their supply chain operations better. This is one of the many IoT examples in daily life that are making a difference in how we live.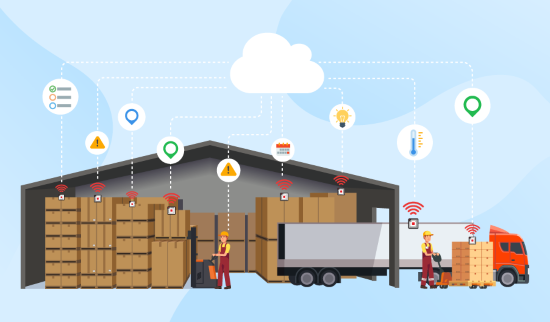 Benefits of IoT in Smart Supply Chain
IoT in supply chains can also help with better inventory management, shipment tracking and optimized supply chain operations.
Real-time monitoring can prevent stockouts and overstocking, saving money and making customers happier. Improved logistics and faster deliveries are other benefits of IoT in supply chains.
Use Case
IoT software examples can help different industries, like the Smart Supply Chain. GE Transportation uses software called Predix to track their trains in real time, making their use more efficient and reducing downtime.
This helps their clients improve their supply chain. This is one of the internet of things examples we can observe in the smart supply industry.
3 The History and Prospect of IoT
Kevin Ashton, a researcher at MIT, was the first man to imagine a world with IoT. He pictured a world where everyday objects could be connected to the internet and communicate with each other, Thus, IoT started in the late 90s and has massively grown over the last 20 years.
Since then, IoT has been applied in various industries, including healthcare, transportation, and manufacturing. A study by the International Data Corporation (IDC) predicts the global IoT market will reach $1.1 trillion by 2023.
IoT Impact on Industries
IoT is poised to significantly impact various industries as more IoT software and applications are being used by various sectors. The Smart Cities industries use IoT to increase energy efficiency and decrease pollution. Healthcare systems can use IoT to enhance patient outcomes and decrease costs. IoT also holds the potential to transform agriculture, transportation, and energy.
Future of IoT
Examples of IoT in everyday life are becoming more common. The adoption of its devices and services expands further. Smart homes and connected cars are some common examples of how IoT is changing how we interact with technology.
With technological advancements, we should expect more innovative IoT applications that will make our lives more efficient and convenient. The future of IoT is certainly bright and is likely to play an important role in our daily lives.
10 Most Impactful IoT Trends
Gartner's recent report titled "Top Strategic IoT Trends and Technologies Through 2023" identified the following as the 10 most impactful IoT trends that will shape the IoT landscape from 2019 to 2023:
Artificial Intelligence (AI)

Social, legal, and ethical implications of IoT

Infonomics and data brokering

The shift from intelligent edge to intelligent mesh

IoT governance

Sensor innovation

Trusted hardware and operating systems

New IoT user experiences

Innovation on the chip

New wireless networking technologies for IoT

These trends are expected to drive the growth and development of IoT in various industries and domains.
(Source: https://www.gartner.com/en/documents/3890506)
4 The 7 Layers of IoT Architecture
The Internet of Things (IoT) is a system made up of different parts, each with a special job. These parts work together to make sure that all the devices and systems in the IoT can talk to each other easily. There are 7 parts to the IoT architecture:
1. Device Layer
This is the bottom part and it has all the real-life things and sensors that make up the IoT. These can be simple or complex.
2. Communication Layer
This part makes sure that all the devices and systems can talk to each other. It uses special ways of sending information and connecting.
3. Network Layer
This part takes care of keeping, working on, and managing the data that the IoT devices and systems make.
4. Data Processing Layer
This part looks at the data and figures out what it means. It uses special computer programs and tools to do this.
5. Application Layer
This part has all the apps and services built on top of the platform part. Some examples are monitoring and controlling things and using data to predict when things need fixing.
6. Business Layer
This part talks about how the IoT can make money and what value it brings.
7. Security Layer
This is the top part and it makes sure that the data, devices, and network are safe from bad people trying to break in.
5 4 Major Expenditures on IoT in the Past Few Years
The implementation of IoT technology can be costly for businesses. In recent years, businesses have mostly expended funds in four main areas:
Hardware: The purchase and maintenance of IoT devices, sensors, and other equipment can be somewhat expensive.
Network: Setting up and maintaining a strong internet connection for IoT devices can also cost a lot.
Data: The storage and analysis of large amounts of data generated by IoT devices can be stressful and pricey for businesses that handle a lot of data.
Security: With the increased use of IoT devices, cybersecurity has become a major concern for businesses, leading to increased investments in security measures to protect devices and data from cyberattacks. As more businesses adopt IoT technology, these expenses are likely to continue to rise.
6 Barriers to the Adoption of IoT Technology
Adopting IoT technology can be tough because of the following factors:
Security and Privacy: Collecting and sending lots of data through IoT devices can make it easy for cyberattacks. So, keeping this data safe can be costly and difficult.

Interoperability: IoT devices from different companies may not communicate well with each other. This makes it hard for organizations to combine the usage of different devices.

These problems can make it hard for businesses to use IoT technology fully. But, it is certain that technology will get better. Thus, it's expected that these problems will be solved in the future.
7 Conclusion
In summary, the Internet of Things (IoT) is a technology that's growing fast and has lots of potentials to help different industries. But, there are some challenges to using it like it being hard to understand, expensive, and not secure enough. To fix these problems, companies need to invest in new solutions, training and hiring the right people.
One such IoT application example is a program called AirDroid Business. This MDM solution helps companies manage and keep track of their Android devices from far away to make sure they are safe and following rules. If you want to know more about Kiosk mode or AirDroid Business in general, get in touch with us or start a free trial.
Was This Page Helpful?