[Newest] Application Management Services and Solutions
What Are Application Management Services?
Application management services and solutions are also known as AMS. AMS outsources the job of giving your apps ongoing support to a third-party company that specializes in this kind of maintenance and monitoring.
Applications are becoming an essential part of how we interact and operate. They are constructed and created to function on a variety of platforms, including hardware, cloud computing, and desktop and mobile operating systems.
They have also been utilized by large industries to manage internal and customer-facing corporate activities. Application Management Services (AMS) help users navigate and maintain the ever-more complicated systems of today. In the current world, where technologies are at their peak of development, AMS services can be very useful and essential.
1 Why Does Your Business Need AMS?
Your business will benefit more from your HRIS if you work with an AMS partner. This is achieved by your AMS partner becoming an extension of your business and putting more of an emphasis on other things than just maintaining the functionality of your HRIS.
Technology is always evolving, and as a result, applications have become more sophisticated and challenging to maintain continuously. When you don't have access to the internal IT resources required for speedy solutions, a defect might already be problematic.

This might put your entire company at risk or drain crucial operational resources due to the significant backlog of jobs that require quick attention. No matter how big or small the company is, AMS can help it to enhance internal productivity and user happiness. It also frees up the internal IT team to concentrate on developing new technologies rather than falling back on outdated ones.
2 Benefits Your Business Will Gain from AMS
Cut Operating Costs and Expenses
The usage of AMS suppliers may be advantageous for both large and small enterprises. Even though a small firm might not have the same financial resources as an enterprise-level organization, the advantages are the same for both. This can have an impact on the amount they can spend on AMS solutions.
You may save money by outsourcing your AMS requirements because you are only paying for the services that are provided. Additionally, it enables you to cut back on hard expenses like PCs, software licensing, updates, and networking hardware.
Scalability
The company needs a partner that can expand alongside it as develops. Typically, AMS providers and companies have contracts that allow for modifications as your company evolves. Additionally, the AMS supplier has the staff to meet more demanding application solutions requirements.
Ensure Quick Response
AMS suppliers offer organizations the customer care required to keep systems running properly by offering round-the-clock assistance. A business owner may feel secure knowing that downtime is minimal and that resources are working round-the-clock to address issues.
Internal Flexibility
Application Management Services shorten the time needed to develop and execute applications, increasing internal flexibility. By using an approach to application management that prioritizes the end-user experience, IT teams are better equipped to handle problems with fewer IT staff members, which results in lower operating expenses as a result of a decline in the number of issues and escalations.
3 AirDroid Business AMS Provider
AirDroid Business comes with very useful features that all, large and small companies will benefit from. It comes with features such as remote control and access, device management, Kiosk mode, bulk transfer, alerts & workflow monitoring, geofencing, and security policies.
AirDroid Business application managed services are the functions that make the process of app releases, updates, and maintenance much easier and simpler. The user of this application-managed services can schedule updates, create updates and tests, and do other important activities before releasing the app to the App Library.
What Features Does AirDroid Business AMS Include?
Staged Rollout
This function makes it possible to define the updates and releases by percentage, device groups, or countries. This grouping makes the process of updating or app release much simpler and easier. As a result, the IT workload is minimized and the negative impact of those processes on business is minimized.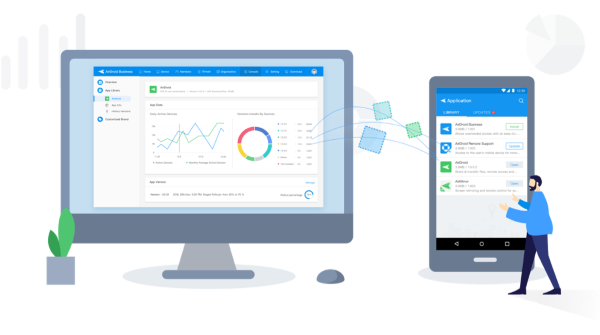 Force Installation
This feature makes it possible to install the app release in the App Library with just one click. You can put the app in the App Library and after that, the employees download and install it. However, force installation makes it possible to do this process remotely. The Installation can be done on unattended devices. The great benefit of the force installation feature is reduced labor costs and reduced device downtime.
In-house App Library
In order to make the app management processes much easier, the in-house app library function is very useful for large and small companies. With the use of AMS, remote app installation, app update distribution, and many other actions can be done easily and remotely. The in-house library gives the possibility to do the app library that is company-owned.
Customize App Details
Android Business AMS offers app detail customization for better brand cohesiveness. With the use of this feature, Admins of the specific app have the possibility to customize the icon, name, launching page, and images.
How Does AirDroid Business AMS Make Differences to Your Business?
AirDroid Business AMS comes with numerous benefits that can be very useful for your business:
First of all, it allows IT admins to remotely push security updates and new features.

Additionally, with the use, of AirDroid Business AMS, the device downtime decreases. This also affects customer satisfaction positively.

Another great benefit of AirDroid Business AMS is that it lets IT managers update or install applications in bulk.
To conclude, the tool can be very useful for numerous Industries and is especially helpful for health care, Digital signage, and IT services.
4 Reasons to Use Application Management Service
Application management services help companies to save money, and time and do the work effectively. This is also a great way to use human recourses wisely by not assigning the tasks that the application management services can do to employees.
Another important aspect of why application management services are essential for every company is that the specialists are actually working on the tasks. So, the company does not have to hire specialists full-time. In such services, the specialists are included in the package when a company purchases one.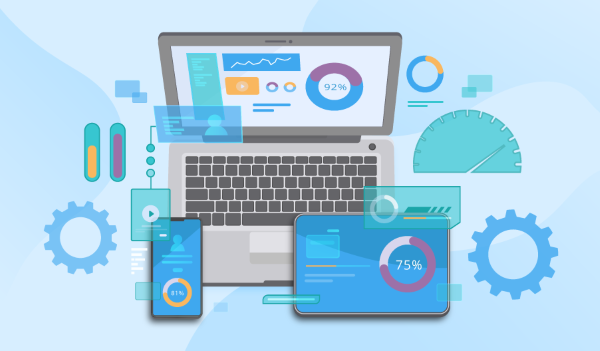 Application management services give the company reliability and coherence. It also helps to have information regarding storage, performance, and any other factors that require careful measurement. And finally, cloud computing is included in such AMS, which for companies is fewer limits and higher quality service.
5 How Do Application Management Services Work?
Regardless matter how important a particular app may be, application administration makes ensuring it functions efficiently, predictably, and securely from the time it is deployed in production until it is no longer needed.
Because end users rely on a range of business applications to carry out their everyday tasks, productivity decreases and irritation rises when apps don't work as intended. The complete application lifespan is within the control of the application owners.
Application management, in the eyes of these executive-level people, entails consistently ensuring that those apps provide genuine business advantages, such as productivity or income.
6 Application Management Services vs. Managed IT Services?
AMS application management services frequently cause misunderstandings, some people mistake it for managed IT services. It's crucial to separate application management from other fields for which people wrongly swap its use, regardless of whether acronym saturation or bad communication is to blame:
To guarantee applications are available, AMS application management services keep an eye on each of their constituent parts. Even while system-based monitoring is crucial, application management goes beyond availability. An application management service simply contracts out to a third-party expert the upkeep, monitoring, and some security facets of application administration. The third-party supplier may be in charge of overseeing all or a portion of your apps.
Managed IT services are used when you have reported problems with broken hardware or software. In this case, either an internal or external IT support team is needed. Software is also kept up to date by IT support staff. Application management is much more proactive and has a wider reach.
7 FAQs about AMS
What Are the Application Management Processes?
Application management processes are all the activities that happen throughout the software app lifecycle. It includes maintenance, upgrades, version control, and application operation.
Which is an Objective of Application Management?
Application management's goal is to support an organization's business operations by assisting in the identification of the functional needs for application software, as well as in the design, deployment, and continuing maintenance of such applications.
How Does AMS Help My Business?
AMS suppliers offer organizations the customer care required to keep systems running properly by offering round-the-clock assistance. A business owner may feel secure knowing that downtime is minimal and that resources are working round-the-clock to address issues.
Who Are the Key AM Stakeholders?
Key stakeholders of AM are Business unit owners, Application analysts, Developers, and Users.
What Does an Application Manager Do?
An application manager is a code that controls how software programs are installed, patched and updated, and maybe even accessed. A software program's performance may be tracked by an application manager, which can also notify administrators of any issues.
8 Final Verdict: Do I Really Need an AMS Provider?
The capacity of your firm to effectively manage the business applications for service users, whether they are customers or workers, is significantly connected with your ability to successfully navigate the software-driven world of today. The main issues that application management deals with include facilitating ongoing productivity, minimizing downtime, improving performance, and ensuring that applications develop in line with broader company or industry changes.
An alternative to AMS providers is in-house support, which requires both additional human and material recourses. So, if you need specialist knowledge, want to be cost-effective, save time, adapt to changes, and anticipate ongoing changes that happen in the business, then yes, you definitely need the AMS provider.
Was This Page Helpful?