What Are the Best Free Music Downloaders for Android in 2023
Our life seems incomplete without music. With the advent of free music sites coupled with Wi-Fi, one can hear music anytime they want. But you don't always have access to the internet.
So, what if you want to hear your favorite songs or tunes on Android offline?
Luckily, all you need is a credible Android music downloader to save music directly to your site. That's why we have handpicked the best free music downloaders for Android that work for all music sites.
Have a look at their key features and pros and cons, and decide what's best for you.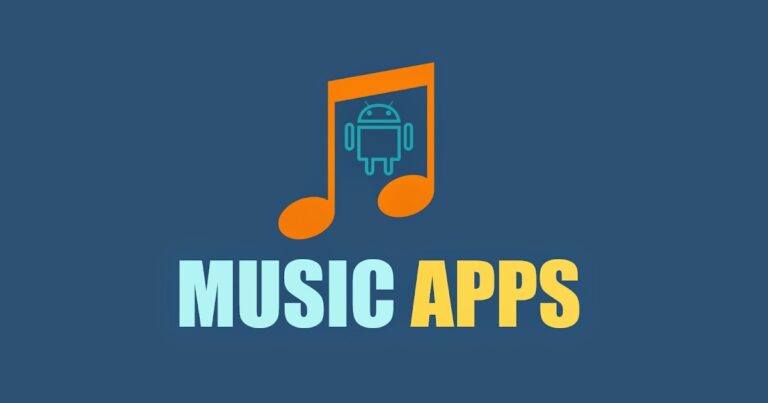 Part 1: Things to Consider While Using Free Music Downloaders for Android
One of the biggest downsides of using a free music download app for Android is they can come with malware. Unsurprisingly, many free apps contain adware that can harm your device or compromise the data.
Here are a few important considerations to keep in mind when using free music downloaders for Android.
1. Be sure the app is legal in your country or region. Often, Google blocks certain apps in a specific region for security purposes. While you can download these programs from third-party sources, double check the reliability of the program.
2. Many free music downloaders for Android allow you to save music illegally. It's recommended to check if you're allowed to download songs from certain websites or platforms or not.
Part 2: 5 Best Free Music Downloaders for Android in 2023
Here is our collection of most sought-after Android music downloaders for all users.
1YMusic
When it comes to the best free music downloader app for Android 2020, YMusic stands out. This program is developed to allow users to extract audio from YouTube videos. This saves the issue of listening YouTube music on slow internet speed or avoiding high data costs.
Thanks to YMusic download, you can save the audio of your favorite YouTube video in any format including MP3 your Android phone. All you need to do is search for the song and voila, you can have it on your phone.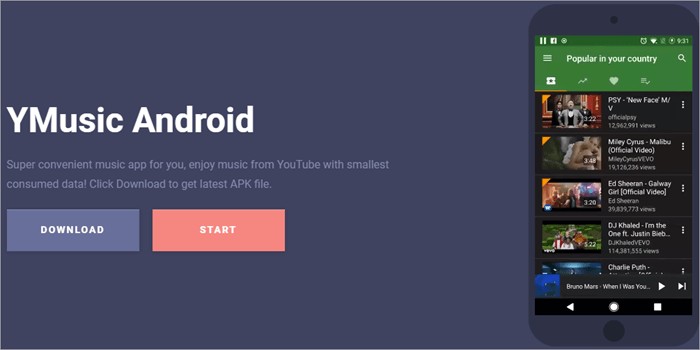 What makes YMusic so popular is the integrated jockey player that lets you customize your screen or enjoy gapless playback.
Pros
Comes with an integrated Jockey player
Quick search results
Users can customize the interface
Runs on slow internet as well
Cons
It has inferior collection of tracks
Device connectivity is not satisfactory
2SoundCloud
Having millions of active users, SoundCloud is arguably the most popular download music downloader app for Android. It comes with an easy-to-use interface to help users search and save their favorite music.
The platform offers a huge collection of contemporary songs from various genres. you can pause, play, or skips the songs on the locked screen as well. All you need to do is play the song and the platform itself saves it for offline listening.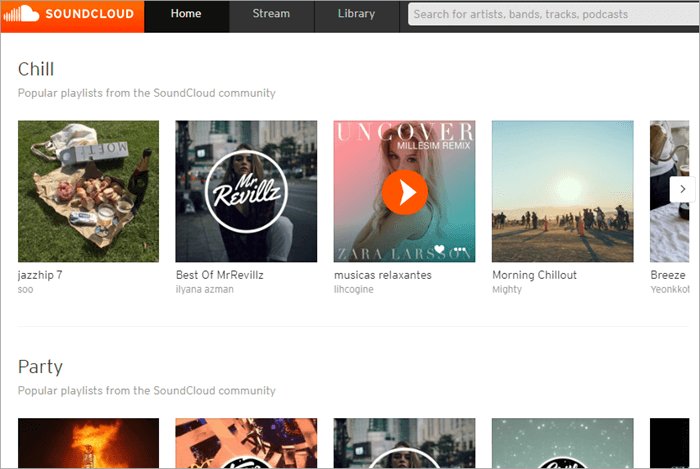 More strikingly, it allows you to create your own playlist of your favorite songs or get an endless supply of music anytime you want. Users can also follow their friends or other artists to stay updated on their new songs.
Pros
Find all popular genres of music like hip-hop, rock, and jazz.
You can see and listen the most recent music uploaded on SoundCloud.
Offers many customization features to enhance user experience.
You can upload and share music with your friends or fans.
Build custom playlists of music
It also gives music suggestions based on your listening history.
Cons
Very difficult to get the original version of a song.
Many fake profile bots.
3Tubidy
Want to download music to phone for free Samsung? Look no further and get Tubidy on your phone. This app offers a simple way to all Android users to save music directly on their devices. The program claims to download your favorite music without compromising its quality – which is a big positive point.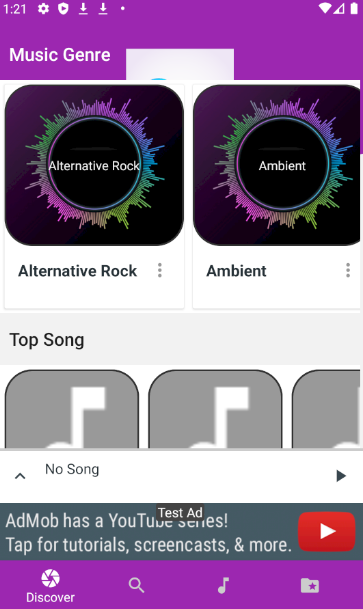 To Tubidy app download songs, you can either search the file in the app or just copy and paste the video URL. It also lets you choose the quality and format of the music file you want to download. Thanks to its fast download speed, you can save loads of music files without any hassles.
However, don't get surprised if you face irritating ads and annoying pop-ups when using the free version of Tubidy.
Pros
The app is free and easy to use.
Gives you recommendations from top songs and top searches.
Play the music and download it in both MP3 and MP4 formats.
Cons
Too many ads in the app.
Often, it freezes during downloading a song.
4Fildo
This tool has made to the list of free music downloaders for Android because of its sleek interface and compatibility with all Android phones. It arms listeners with ability to get any music they like on the phone with just a few clicks.
The is free and is constantly updated to fix bugs and stay relevant to changing times. Once installed, it brings you directly to the main screen to search for specific songs or albums. If you wish to download a song, just tap the three-dot icon next to it and select "Download."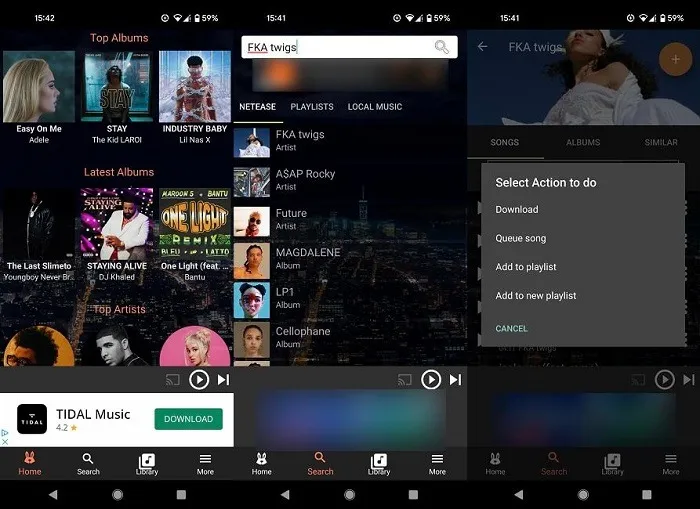 It boasts of streaming and downloading high-quality music files. Fildo also acts as an intermediary to a plethora of music hosting platforms online. All these features justify why Fildo is considered the best music downloader for Android by many users.
Pros
Stream and download high-quality files
Fast search and download
Clean interface
Shows artist recommendations
Cons
The app is available in the Fildo lite version for Windows and iOS devices.
Doesn't have the license to host any music on its platform.
5SONGily
With over 10M downloads on the Google Play Store, SONGily is one of the most popular music downloaders for Android. Its free version offers access to a huge library of music – new and old songs and artists.
Next to each song, you get the options to play and download the songs you listen. To get access to its advanced features, get the APK version on your Android.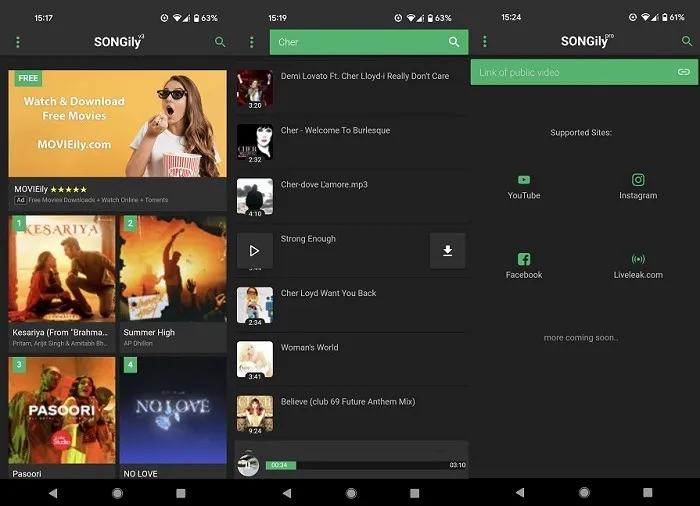 Pros
Background playback
It does not save music within the app, but on a folder on your mobile phone.
Offers many versions of the same song.
Cons
Many times, the app fails to download a song.
It takes quite some time to load the music for streaming.
Part 3: Bonus Tip: How to Listen your Android's Music on PC Wirelessly?
Have you just bought your favorite speakers and want to enjoy your music playlist from Android on a PC? You're in luck as AirDroid Personal is there to help you out.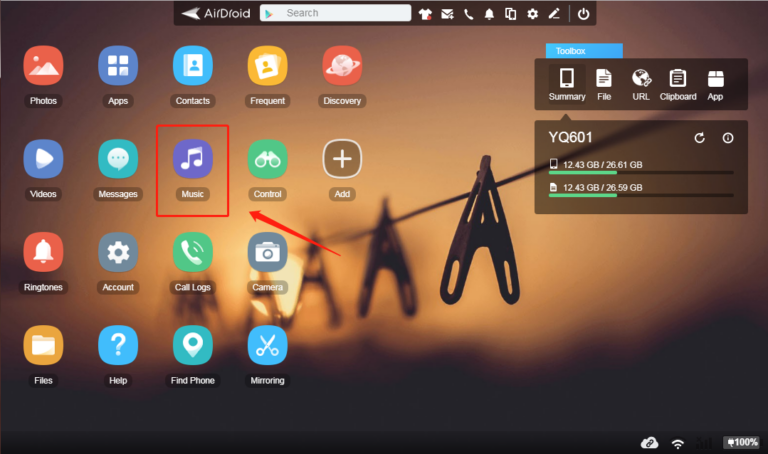 This versatile program empowers you to connect your Android and PC wirelessly. After that, you can view and listen all the songs or music from your phone with just a single click. Compared to similar tools, AirDroid guarantees consistent connection to give you seamless listening experience.
Some of its key features include:
Listen Android music on PC.
Lag-free listening experience.
Move files between phone and PC quickly and effortlessly.
Manage Android files from your computer.
Here's how to use this program:
Step 1. First, install AirDroid Personal mobile app on your Android phone and login.
Step 2. Now, go to "My Devices" and tap the AirDroid Web Scan icon. A QR code will appear on the screen.
Step 3. Head to web.airdroid.com from your PC and scan the mobile app code to remotely connect both devices.
Step 4. Next, hit the Music icon on your web screen and play the music you like.
Final Remarks
This article has walked you through some of the best free music downloaders for Android in 2023. Thanks to these downloaders, the prospect of listening to and saving your favorite songs on Android has never been easier.
Now that you know the key features and main benefits of each downloader, the next step is to choose what's best for you.
If you want to listen Android music and songs on your PC, then use AirDroid Personal. It establishes a wireless connection between your devices and lets you listen any song from Android phone on your computer.
FAQs
Here are a few important questions you should know about.
FAQs
1. Is there a free music downloader?
Yes, you can easily find tons of free music downloaders for Android. Some of these apps have both free and paid version – the latter offering advanced features coupled with ad-free experience.
2. Which is the best app to download MP3 songs for free on Android?
Some of the top-ranked free music downloaders for Android in 2023 include: 1. SoundCloud 2. YMusic 3. Tubidy 4. SONGily 5. Fildo
3. How to listen Android music on PC?
Use AirDroid Personal to listen all the songs and tunes from your Android phone on your computer. It establishes a remote connection between both devices and allows you to control Android songs from mouse and keyboard.
Was This Page Helpful?