How to Send WhatsApp Message without Saving Number to Contacts
WhatsApp, launched in 2009, is one of the most common applications everyone uses today. Its convenience and multimedia sharing capabilities are insane.
With each update, WhatsApp seems to get better and better. However, WhatsApp is still missing out on some features despite all this. One of these is the ability to send messages to several unsaved contacts.
But don't you worry! Read on to know all about how to send WhatsApp messages without saving a number.
1The Necessity: Why Message Non-contacts on WhatsApp?
For someone using WhatsApp regularly, being able to message non-contacts might come off as a very unnecessary task. Why would anyone even want to do that, you may ask? The reason is quite simple and basic: privacy.
Your saved contacts on WhatsApp automatically get access to your information unless otherwise manually blocked. If you have set your privacy settings to 'Only my contacts', anyone whose number has been saved in your contact list can view your status and profile picture.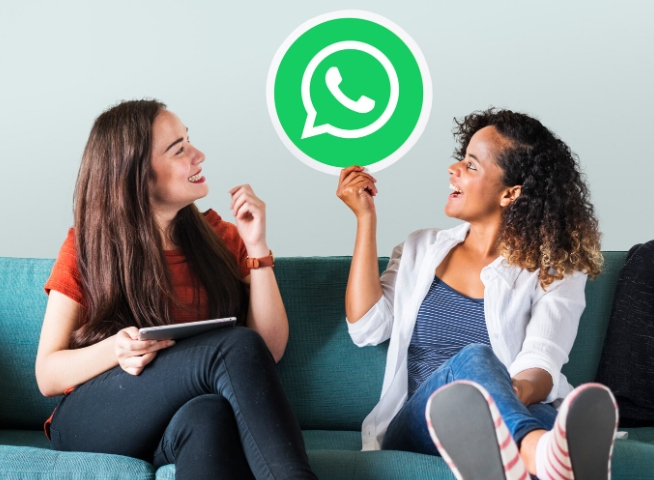 Now, this could be a problem in different scenarios. For instance, there are times when one has to send their location to a cab driver for pick and drop. You would have to save their contact first to be able to send them your location.
This obviously does not make sense since you will be texting this number only once. It also brings a major breach of your privacy. Why should a stranger be able to see your personal information, such as WhatsApp profile picture or status?
One way to prevent this is by saving the number first and then deleting it after you are done messaging them. This can be a daily hassle for someone commuting twice or thrice every day or maybe for someone who orders food quite frequently.
In such cases, it becomes very important to send WhatsApp messages without saving numbers in your contact list.
2How to Use WhatsApp without Adding Contacts?
With billions of active monthly users, you'd expect WhatsApp to make reaching out to unsaved contacts easy. However, unfortunately, that is not the case. For now, there is no easy way to message someone on this platform if you haven't stored their number in your contact list.
We have researched some workarounds for this problem, using which you can conveniently send WhatsApp messages to unsaved contacts.
Save a WhatsApp Number by Entering WhatsApp Chat Room
Using any of the above two links, you can easily enter the WhatsApp chat room with a person you do not wish to add to your contacts.
A pop-up window on your web page will say, 'Open in WhatsApp'. Click on 'Open'. It will allow you to enter the chat page where you can begin messaging the target person.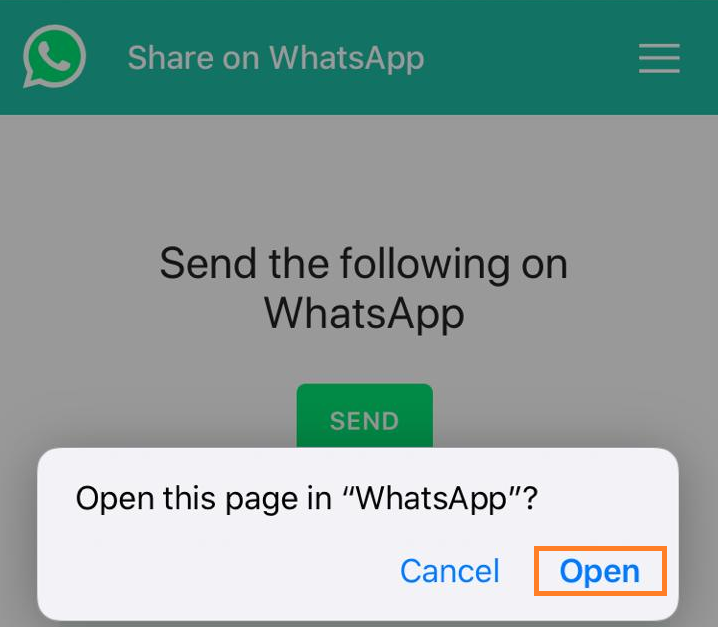 Here, you will only see the said person's phone number as their display name in the chat room. You will be able to see their name only after you have added them to your WhatsApp contacts list.
WhatsApp Message without Saving Number to Contacts via Text Replacement
Text replacement is one of the shortest ways of sending WhatsApp messages without saving a number to the contacts. It means that WhatsApp users can utilize keywords by triggering the two web links.
Mobile phone users can go to "Settings," then to General, and then to the Keyboard page and click 'Text Replacement'. In the 'phrase' column, enter the WhatsApp API link; in the 'shortcut' column, enter the text you wish to use.
Once you have set up 'text replacement', just enter the 'shortcut' you have set on the webpage, and the corresponding 'phrase' will appear.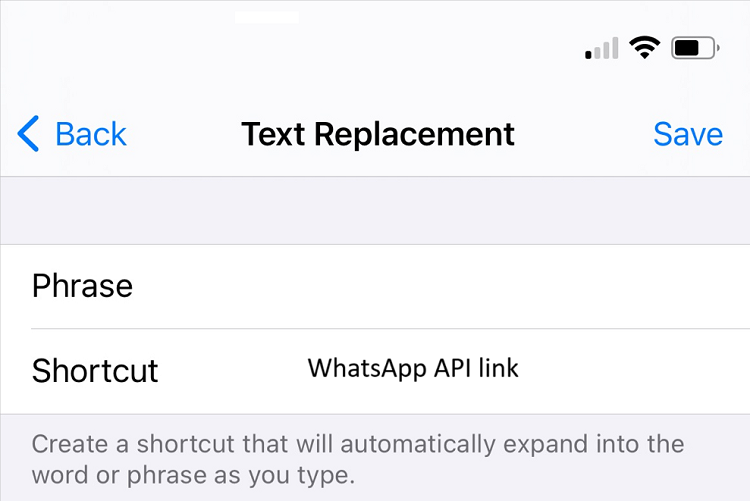 This way, you only have to enter the phone number and area code, quickly come to WhatsApp, and begin to message non-contacts.
Using a third-party app for link creation
Another alternative method for creating links is using a third-party app. Applications such as Click to Chat and WhtzDirect are the most convenient apps for creating WhatsApp links.
Enter the target phone number and begin chatting on WhatsApp. Ensure that the country code that you have entered is correct.
The best part about using these apps is that they are free, don't ask for device permissions, and don't show ads.
To begin using these apps, simply open them and enter the WhatsApp phone number of the target recipient and your message.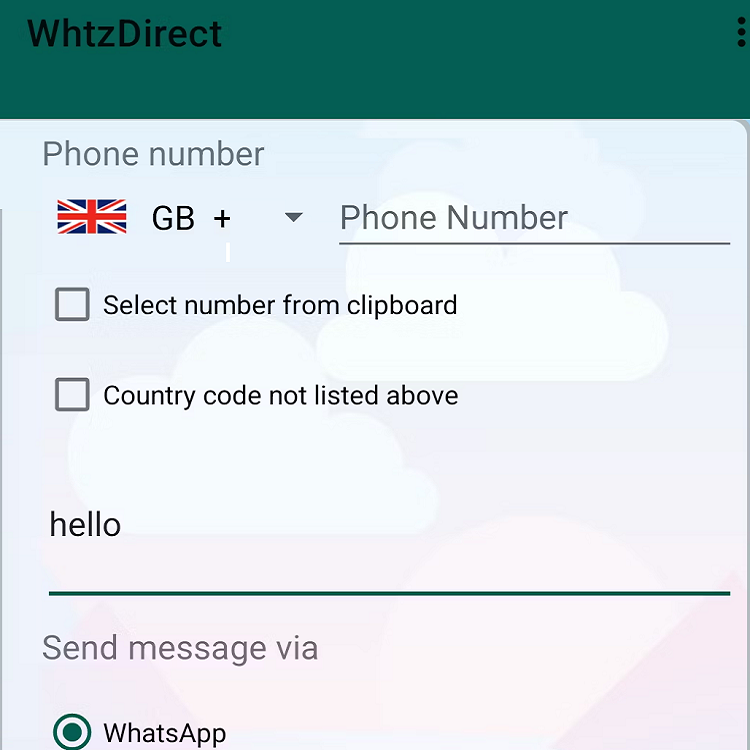 Using a third-party service for sending messages without saving number
Many iOS and Android users can enable third-party apps like Truecaller to filter out spam messages and calls. You might not know it, but you can utilize Truecaller for sending messages without adding any number. Here is what you can do:
Install the Truecaller app on your device by downloading it.
Then open the app and paste/enter the number you wish to send a message to in the search bar on the top. Now, tap on the contact's name identified by the Truecaller app. You will be able to see more details.
On the page showing contact details for Truecaller, you will be able to view the option of sending them a message on 'WhatsApp', without having to save their number. You will be instantly redirected to your unsaved contact's chat window.

3How to Creating the Direct Chat Link?
There is a quick link trick for chatting with a number without directly adding them to the contacts. This can be done by establishing a WhatsApp chat with contacts through this WhatsApp API link. As this link is entered in a web browser, one can chat directly without adding a number to the contacts.
Another method uses an easier-to-remember and shorter link. This link will also redirect users to a desktop version of the app or WhatsApp mobile app for sending messages to a non-contact.
Here is a detailed walkthrough of this method:
Enter the link https://wa.me/phonenumber in the address bar of your phone's or computer's web browser.
Click 'Continue to chat' to open WhatsApp on your computer or phone.
Send your message to this chat window.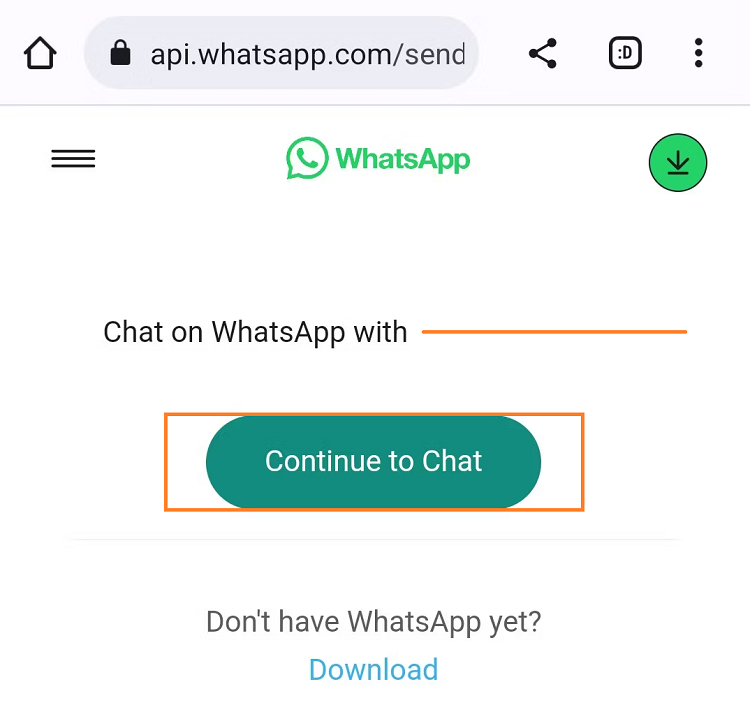 Besides, it is best to bookmark this link for your convenience in the future so that you do not have to look for it every single time. Sending a WhatsApp message would not require you to add the recipient to your contact list.
Also, Android skins such as OxygenOS and MIUI also allow you to run multiple message instances for WhatsApp at a time. After the third step above, the browser will ask you to pick up your target WhatsApp account.
4Potential Drawbacks and Solutions
While all of the above are very useful ways of sending messages to unsaved contacts, these methods can still have a few drawbacks.
Not Entirely "Invisible": How recipients might still see your number.
While with the above-mentioned tricks, you will be able to send a message to unsaved contacts; it is still not entirely safe. The unsaved contact will still be able to see your number and will not be entirely visible.
This means that all of the above methods are still unsafe for sending messages to an unsaved contact and can put you at potential risk of privacy leaks or a possible scam.
Staying Organized: Tips to manage non-contact interactions.
We all have been in a fit when it comes to managing non-contact interactions. You might have to travel every day to work through Uber and have lots of unsaved numbers on your mobile phone. Staying organized is the best way to keep on top of these numbers. One way of doing so is to delete the numbers that you do not need at all.
For instance, if you ordered an Uber today and kept the number of the driver, you wouldn't need it anymore since every time you will have a different driver.
Avoiding Scams: Warning about third-party apps that aren't trustworthy.
The risks that come along with using third-party apps cannot be undermined. There are numerous risks that are associated with the usage of third-party apps.
Malware: One of the greatest risks associated with using third-party apps is the possibility of malware. Malicious software may exploit potential vulnerabilities and introduce harmful codes into your phone.
Data leak concerns: Third-party apps mostly require access to certain data or may require integrating with internal systems to function properly. While most of these third-party apps have good intentions, the risk of data breaches cannot be ignored.
Conclusion
All these methods are wonderful when sending messages to different numbers without saving them. Using these methods, it can become super easy to message unsaved contacts without compromising your privacy in any way.
With all the different tricks discussed above, you can conveniently message someone who isn't saved in your contacts. Chatinsight is an intelligent AI chatbot you can train with your data and provide faster responses with professional responses. Train it for free try and in 30+ languages on other user utterances to enable it to meet your business needs.
Frequently Asked Questions
Can WhatsApp send SMS to non-users?
No. WhatsApp can only send messages to those who are using this app.
How can I send bulk messages without adding contacts for free on WhatsApp?
Bulk messages can be sent for free on WhatsApp, without adding contacts through three different methods: 1) using third-party tools, 2) using WhatsApp's 'click to chat' feature, and 3) Using WhatsApp Business API.
How to send an anonymous message on WhatsApp?
In order to send a WhatsApp message anonymously, you need to use a WhatsApp that does not have your phone number.
Can non-contacts see me online on WhatsApp?
When you are online, there is absolutely no way to hide your online status from anyone, whether they are saved as a contact or not.
Was This Page Helpful?