How to Access a Web Browser on Apple TV?
Whether you're a new Apple TV user, or someone who's had their device for a few years, chances are you may or may not have tried to access a web browser on your Apple TV. Does the Apple TV have a web browser? Well, the short answer is no.
There isn't technically an installed browser, such as Safari or Chrome, but that doesn't mean you still can't use your TV as a search engine. How is that possible if there isn't a browser installed? It's simple! Using Airplay to mirror your browser onto the big screen.
1How to Get a Web Browser on Apple TV?

Even though your Apple TV doesn't have a web browser installed, there are a few easy ways that you can mirror other devices directly onto your screen. AirPlay is a feature that allows you to cast other Apple devices directly to your TV.
How to Access a Web Browser on Apple TV Using AirPlay?

To do so, you must first ensure both devices are connected to the Wi-Fi. Once verified, decide what want to cast to your TV using AirPlay.
If you're wanting to look up a video, open it on your Apple Device.
Next, drag down the top of your screen to open the control menu.
There should be data for your video or web page located in the top right square. Find the AirPlay icon and select it.

After that, you should see a list of all available devices for you to choose from. Select the Apple TV, wait a few minutes, and soon you should see the video being played directly onto your TV screen.
If the video doesn't play right away, try selecting play on your Apple Device to get it going.
How to Surf a Web Browser on Apple TV Using AirPlay from Mac?
To start this process, you must first ensure that both your Mac and Apple TV are connected to the same Wi-Fi network.
Once that's done, click on the AirPlay icon in your Mac's menu bar and select "Mirror Display" from the drop-down list.

Your Mac will now start mirroring its display onto your Apple TV.
Now that you've set up screen mirroring between your devices, launching your preferred web browser on your Mac is time.
You should see it being mirrored on your Apple TV as well.
2Web Browser for Apple TV – Top 4 Picks

AirWeb
AirWeb is a web browser that you can use for your Apple TV. AirWeb utilizes airplay to cast your Apple device to your TV, making browsing the web on a larger screen easy. AirWeb works by accessing the site through your device, which then connects directly to your TV.
After that, the site creates a touchable trackpad on your device for you to scroll your TV screen. These buttons include click, move cursor, scroll, zoom, go back, and go forward. AirWeb is simple and easy to use, great for anyone wanting to stream TV or movies from their Apple device or watch fun videos.
AirWeb has a one-time cost of $1.99 to download it from the App Store.

AirBrowser

AirBrowser is an app similar to AirWeb, allowing you to cast your iPad, iPod, or iPhone directly to your Apple TV. Using this service is as simple as downloading AirBrowser from the app store into your device and connecting to your Apple TV.
The app lets you use the internet, watch TV, read newspapers, and perform many other functions. There's also a real responsive pointer that re-creates a traditional desktop experience and makes browsing the internet a breeze. The scale-to-fit feature optimizes AirBrowser's image, making it easier to read and watch videos when casting to your TV.
AirBrowsers has a one-time fee of $4.99 for downloading their app onto your Apple device.

Web Video Cast

Web video cast is another app that you can download to cast your web browser directly to your Apple TV. The app is free to download, but they do offer a premium version for 3.99. Web Video Cast allows you to cast movies, TV shows, live streams, news, and much other online content to your Apple TV quickly and effectively.
In the app's browser, you can search for a specific website or topic, and then you're presented with options to choose from. From there, you can simply click the cast button located at the top of the screen and connect it to your Apple TV. This makes it easy for you to scroll through websites on your browser while enjoying your content on the big screen.

Castify

Lastly, Castify is another option to use the web browser on your Apple TV. The app is free to download, and you can start using it immediately. You can either first use the cast button to connect to your Apple TV or find what you're searching for first by clicking on the browser button located on the right of the page.
When the browser is open, the picture below is what you can expect to see. The app is compatible with Ultra HD 4K, and you can cast both internet files and phone files onto your TV.

3What to Do With a Web Browser on Your Apple TV 4K?

1. Wider Range of Content
Because the Apple TV doesn't have a pre-installed web browser, such as Safari or Google Chrome, there's some limit as to what you can view as far as content goes.
Sure, there's plenty your TV can do, like streaming shows and movies and connecting to the YouTube App, but sometimes there are certain websites that you may want to visit that your TV doesn't allow you to. By downloading a web browser for your TV, you're able to explore the internet in new ways, making your viewing experience much more rewarding.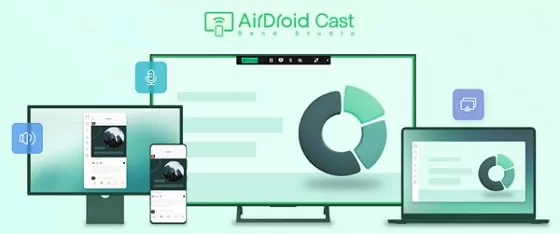 Certain apps are only available for some Windows or Android Devices, so you may not be able to use those for your Apple TV. Using your TV for a gaming screen allows you to share your view with other members, family, or friends. As an added bonus, AirDroid Cast on your phone or tablet opens you up to an even broader range of games you can display on your TV screen through a browsing app.
2. Enhance Your Gaming Experience

Installing a browser for your Apple TV enhances your gaming experience by magnifying the image and immersing you in the game. Sure, there are some games you can play or download directly onto the Apple TV store, but there are also some that you can't.
For example, if you want to play a game online, not in an app, your apple TV isn't going to be able to display it without installing a browser option. Plus, when you prefer to play an Android game on your Apple TV. AirDroid Cast Web is exactly what you need!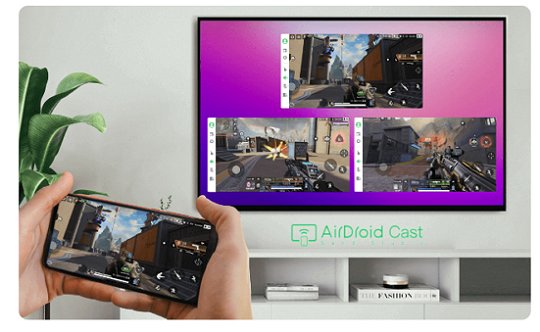 All you do is Download AirDroid Cast directly onto your Android phone, or Android table (any device you want to mirror from).
Then, go to "webcast.airdroid.com" on your Apple TV. From there, you can enter the QR code found on your device into your Apple TV using Airdroid Cast app, and the two should now be connected.
Now you can launch the game on your mirrored device, and freely enjoy playing mobile games with any delay on your Apple TV.
This allows you to connect just about any device, regardless of its make or kind. AirDroid Cast is a simple solution for streaming directly to your TV screen in no time.
3. Great for Multi-tasking
If you're multitasking, such as studying from a website and taking notes or working on homework alongside it, it's not always easy to look at a small screen, such as your phone, and work on your computer.
But using a web browser app for your TV allows you to utilize your TV, have a better view for taking notes or studying, and allows you to multitask more easily. If you're having people over and want to play an online game, using your Apple TV helps you also multi-task while playing and allow every guest to stay on track.
4The Bottom Line – Web Browser for Apple TV

Using a web browser on your Apple TV is a great way to enhance your overall viewing experience. Not only does it help you access content that isn't readily available on your Apple TV and lets you have more control over your TV shows, movies, and other media. If you're tired of squinting at your phone or need a better way to multitask, try installing one of the many browser options for you to use your TV as a screen.
So why limit yourself to small screens and squinting eyes when you can bring the whole world to your living room? Embrace the power of your web browser for Apple TV and AirDroid Cast Web, and let your browsing experience soar to new heights!
FAQs about Browsing the Internet Using Your Apple TV
Can you get Safari on Apple TV?
No, there is no downloadable safari app for Apple TV. But, if you want to use Safari on your TV screen, you can use a third-party browser app to cast safari from your iPhone, iPad, or MacBook directly to your Apple TV.
Why doesn't Apple have an Apple TV version of the Safari browser?
Apple doesn't include a Safari app on their Apple TVs because they want users to utilize their iPhones and other products to do web browsing. They've included a screen-mirroring option to allow casting to Apple TV easily.
Can you get Google Chrome on Apple TV?
No, you can't get a Google Chrome app for your Apple TV. But, you could use third-party software to cast a device using chrome directly to your TV.
What are the best browsers for Apple TV?
Overall, the best browser for Apple TV has to be AirDroid Cast. Using this service to cast directly to your TV allows you to have a customized experience by using your device as a remote. This is great for watching moving, viewing pictures, and browsing through your favorite apps on the big screen.
Was This Page Helpful?