How to Run Android App to Mac (Including MacBook M1)?
There are over 3.48 million Android apps available on the Google Play Store. Therefore, it is not surprising if you want to run Android apps on your Mac. Both of these platforms – Android and Mac – belong to two different companies – Google and Apple.
However, the technology nowadays has great interconnectivity due to which you can run Android apps on Mac. Keep reading to learn how!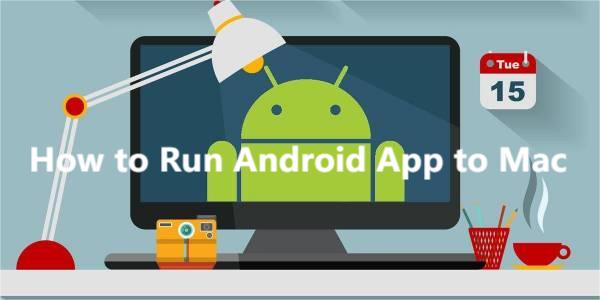 Can I Run Android Apps on Mac?

Yes, you can run Android apps and games on Mac with the help of different emulators and screen mirroring tools. Such tools allow you to enjoy your Android apps on the bigger screen of your Mac.
1. Run Android App to Mac under Different Scenarios
There are many instances in which you might want to run an Android app on your Mac, such as:
Enjoy gaming on the bigger screen of your Mac.
Get optimized performance for both Android apps and games with higher performance and efficiency than Mac.
You want to extend the functionality of your Mac with the help of many different Android apps that are not available for macOS.
Smoother workflow as handling complex tasks on the larger screen of your Mac will be easier than performing them on an Android phone.
If you are interested in app development, you will likely need to use your Mac to have complete control during the development procedures.
You want to extend the screen of your Android-based smartphone and use Mac as a second screen.
Whatever your motivation behind running Android apps on Mac might be, the good thing is that there is a wide range of options available to achieve this goal. Let's discuss them one by one.
2. The Ideal Option: Run Android App & Play Android Game on Mac
Traditional emulators come with a wide range of bugs, errors, and compatibility issues, due to which you might not get a satisfying experience of running Android apps and games on your Mac. In order to avoid such performance lags, it is recommended that you use a reliable screen mirroring app to ditch the entire complicated method of finding and installing an emulator.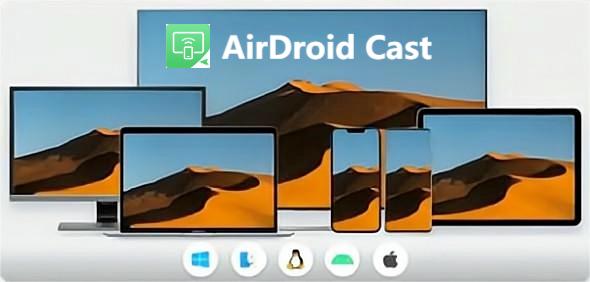 AirDroid Cast
One of the best screen mirroring tools is the AirDroid Cast. It allows you to run Android apps and play games on your Mac with maximum performance.
AirDroid Cast has impressive audio and visual functionalities to ensure you get an immersive experience while playing games. You can use the mouse and remote keyboard to control the game and app on your Android phone.
Follow these steps to use AirDroid Cast to run Android apps on your Mac:
Step 1. Download and Install AirDroid Cast
Download and install the AirDroid Cast app on both of your devices – Android smartphone and Mac.

Step 2. Ensure Connection
Connect both of your devices to the same Wi-Fi network. Make sure that your internet connection is stable to get optimum performance.
Step 3. Open the AirDroid Cast
In order to connect your Android phone with your Mac, open the AirDroid Cast on both of your devices and enter the Cast Code shared by your Mac to your phone. You can also scan the QR code generated on your Mac screen to make the connection.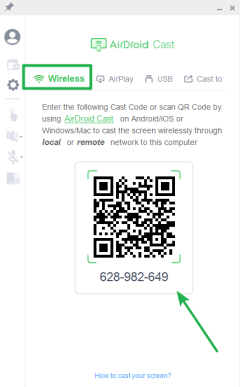 Step 4. Start Screen Mirroring
Once you enter the code or scan the QR code, screen mirroring will start after providing the relevant permissions. You can also control your mobile directly from your Mac by using the control option.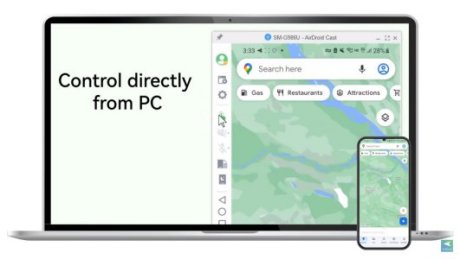 AirDroid Cast is an ideal option to run Android apps and play games on Mac due to the following features:
Wide-ranging compatibility with all major Android phones and Mac devices.
HD quality screen mirroring.
High performance to ensure no lags while gaming.
Impressive audio and visual features.
No need to root your Android phone.
Simple installation and easy to set up.
Control your Android phone from your Mac.
3. How Can I Run Android Apps on my MacBook M1?

Running android apps on MacBook M1 is much more complicated than the other Mac models. Popular emulators such as BlueStacks because the modern Apple Silicon processor is not supported by BlueStacks.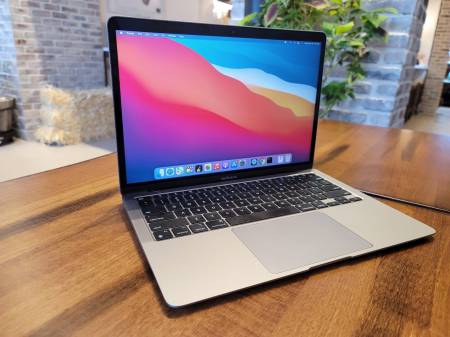 Nevertheless, there are two reliable options you can use to run Android apps on MacBook M1:
Download and install Android Studio, along with the emulator, to run Android apps. You won't be able to run Android games with this method.
Use AirDroid Cast by following the steps discussed above to cast any of your Android apps to the MacBook M1. AirDroid Cast is the best tool to use to run Android apps on MacBook M1 as it does not involve any compatibility issues.
4. Run Android Apps to Mac Using Emulator – BlueStacks

Several different emulators are available to help you run Android apps on Mac. However, not all of them are as efficient as BlueStacks.
BlueStacks was introduced in 2011 and have managed to become one of the most popular Android app emulators for different platforms, including Mac. It is easy to set up to start running Android apps on Mac.
System Specifications for installing BlueStacks on macOS

According to the official website of BlueStacks, your system meets the following requirements to install BlueStacks.
Requirement
Minimum Specifications
Recommended Specifications
Operating System
macOS 10.12 (Sierra)
macOS 10.13 (High Sierra)
OS Architecture
64-bit
64-bit
Processor
Intel or AMD Dual Core Processor
Intel or AMD Multi-Core Processor
with Single Thread PassMark score > 1500.
Graphics
Intel HD 5200 or higher
Intel/Nvidia/ATI, Onboard
or Discrete controller
Memory (RAM)
4 GB
8 GB or higher
Storage HDD Space
8 GB of available disk space
SSD with 32 GB of available disk space
Graphics Drivers
Graphics Driver with OpenGL 2.1
Graphics Driver with OpenGL 2.1 or higher
Power Plan
High Performance
High Performance
Resolution
1280 x 800
1920 x 1200 or higher
How to Run Android Apps on Mac Using BlueStacks?

Follow these steps to run Android Apps on Mac using BlueStacks:
Step 1. Download BlueStacks
BlueStacks 4 is the latest version available for Mac. Go to the download page of BlueStacks to download and install the emulator.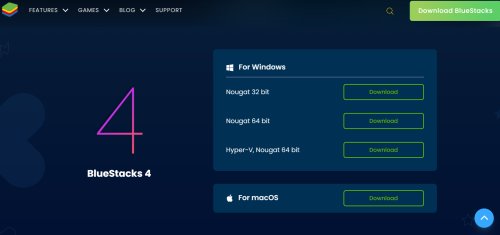 Step 2. Enable System Extension
During the installation process, you are likely to see a warning of "System Extension Blocked." In such a situation, use the "Open Security and Privacy" option to enable it.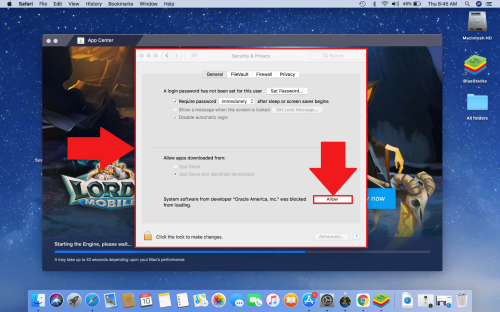 Step 3. Launch BlueStacks
Once the BlueStacks is installed, you can simply launch it and start running your Android apps or play Android games on your Mac.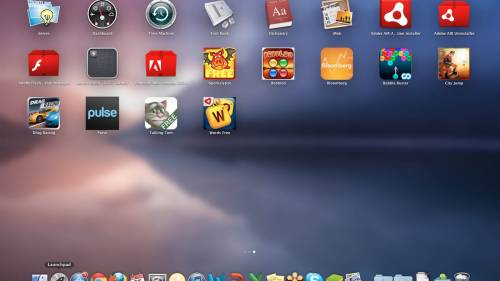 Limitations of Using BlueStacks
BlueStacks does not work on Mac computers older than 2014, Mac computers with M1 chips, macOS 12 Monterey, and macOS 13 Ventura.
You are likely to face performance issues if your Mac RAM is 4GB or lower.
Root issues while launching the app.
Recommended specifications are quite high.
5. Other Common Android Emulators for the Mac Listed out
Some of the other reliable Android emulators you can use on your Mac are:
1. KO Player
KO Player is an easy-to-use emulator to run Android apps on your Mac. It is best suited for playing Android games on the Mac, and content creators such as Twitch streamers greatly benefit from it.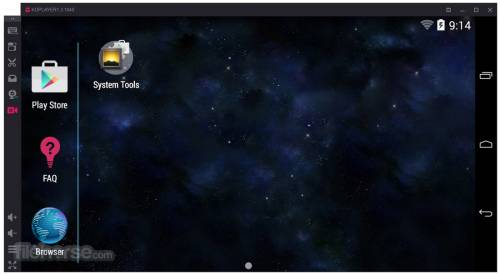 Pros
Record the footage while playing a game and upload it on a video streaming platform.
Wide-ranging compatibility for Android apps and games.
User-friendly interface.
Cons
A significant amount of bugs have been reported in KO Player.
Mainly targets gamers, so you might not enjoy emulating an Android app with KO Player.
Performance lags are common, especially in heavy games.
2.ARC Welder
Google developed ARC Welder to facilitate users of Mac systems in running Android apps through the Chrome web browser. However, it has limited compatibility as it does not run all Android apps.

Pros
Supports Google+ login with different apps.
Easy to use with the browser.
Good performance for small and lightweight apps.
Cons
Significant performance lags with complex and heavy apps.
Limited support for Android apps.
3. Bliss Emulator
Bliss Emulator is an open-source emulator to run Android apps on Mac. It provides impressive security and customization functions.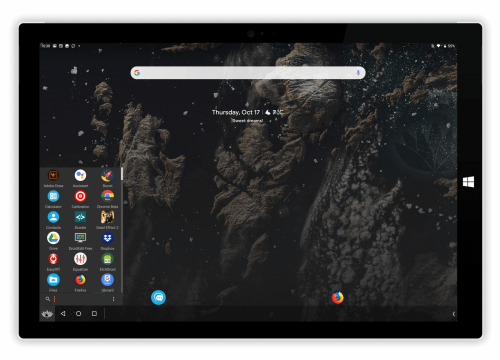 Pros
Friendly user-interface.
High-security features.
Good power-saving options to use when you are emulating Android apps on your Mac for a long time.
Cons
Performance lags are common.
Lack of updates to fix bugs.
The Sleet slate does not work properly.
6. Which Is the Best Method to Run Android App on Mac
There is a wide range of methods and emulators available to run Android apps on Mac, as discussed in this article. However, most of these methods have issues related to bugs and performance lags, except for the AirDroid Cast.
Using AirDroid Cast is the best method to run Android apps on your Mac due to its comprehensive compatibility. You can run all types of Android apps on your Mac by screen mirroring your phone.
Moreover, you can have an amazing gaming experience on your Mac by controlling your Android phone via the AirDroid Cast app. Therefore, if you want to avoid compatibility issues and use a quick and easy way of running Android apps, you should definitely use this amazing app.
7. Final Thoughts & Hottest FAQ Related to Run Android Apps on Mac
The bottom line is that running Android apps on your Mac does not have to be a complicated task anymore. We live in a highly interconnected digital era, and platforms like AirDroid Cast make cross-platform support easy through reliable screencasting options.
Even if you choose to use any of the emulators discussed above, you must carefully evaluate your requirements, system specifications, and the pros and cons of the emulator before choosing the best platform that suits you.
Can I Run Android App to Mac?
Yes, you can run Android apps on your Mac. You can use screencasting tools like AirDroid Cast to mirror your Android screen to your Mac. Similarly, emulators like BlueStacks can also be used to run Android apps on Mac.
Does BlueStacks run well on Mac?
BlueStacks run well on Mac as long as you fulfill the recommended system specifications, which are quite high. Otherwise, you can expect performance lags while using BlueStacks on Mac.
Why do my BlueStacks keep crashing my Mac?
Make sure that you have provided all the relevant permissions to BlueStacks to run on your Mac. Otherwise, it can crash or get stuck on startup.
How can I run Android apps on my MacBook M1?
You can run Android apps on your MacBook M1 by using AirDroid Cast to screen mirror your Android phone to your Mac and enjoy the app on the bigger screen.
Was This Page Helpful?