[4 Effective Methods] How to Mirror Mac to Roku?
Roku is an advanced streaming device that was first introduced in 2008 by the American company Roku inc.
This amazing square streaming device streams different movies, TV shows, sports, and events from the internet to your TV.
Is mirroring the Mac screen to Roku possible or not? It is possible. Keep reading this article because we will explain how you can mirror Mac to Roku in no time.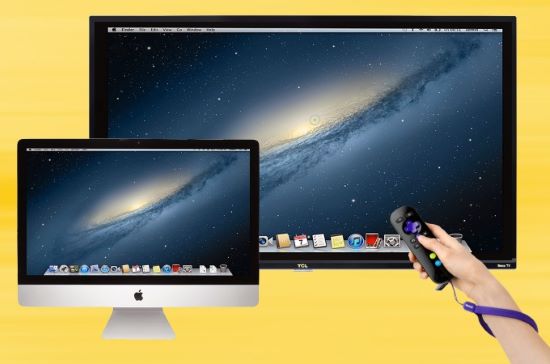 Part 1. How to Mirror Mac to Roku in 2023?
There are four easy ways to mirror a Mac to Roku. You can try these mentioned methods to find which is perfect for you and your home set up.
AirPlay
In modern Apple devices (iOS), there is a system installed known as airplay. With this system, you can share, Cast, or mirror content from Apple devices to other devices.
Thus you can cast or mirror from Mac to Roku 4k device through this airplay and home kit. But this does not apply to all Roku or Mac devices. For this method, you need a Mac 10.14.15. This aid you to cast Macbook to Roku free.
Additionally, Roku should be a specific model of Roku TV, stream bar, premiere, or streaming stick +. You can check out which models are airplay compatible on Roku's official website.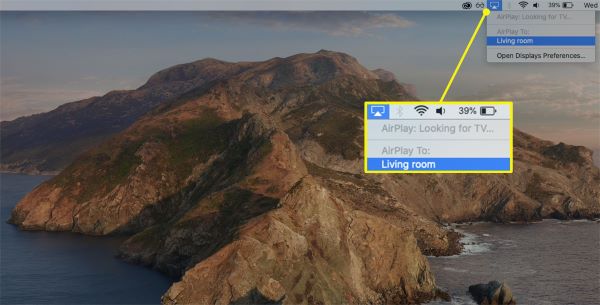 If you have any of the devices mentioned on the Roku official website, then mirroring with airplay from Mac to Roku is easy.
First of all, you have to check whether your Roku or Mac are on the same wireless network. To tap on setting> Go to network >Check the network name.
If you want to share only one file, open that particular file or video, click on the airplay button, select your role name or click on the share icon and select airplay in menu.
That specific will be visible on the TV screen.
But if you want to mirror the Mac to Roku completely, follow these steps:
Go to the control center icon of your menu bar.
Tap on screen mirroring and select your Roku name.
After connecting to your Roku, your Mac will start mirroring to your TV screens.
AirBeamTV
Do you want to enjoy wireless connections? Can you screen mirror Mac to Roku? For this, you have to buy an AirBeamTV. This tool is specially made for Mac users to enjoy movies and shows on the big screen.
This tool doesn't require cables and operates on the local home network. You can also use it on iPhones and iPad. So you can entertain yourself and your family on your mobile without any cable.
Download this app from app stores or the official website.
Now connect both these devices to the same network.
Launch AirBeamTV and Roku.

From the top menu, tap on the air beam. You will see castable devices.
Tap on start mirroring, and the connection will be built on your Roku device.
On your Roku TV, tap on the add channel and click on the ok button on the Roku remote.
Now tap on go to channel.
Casting or mirroring will begin now.
Juststream
How to mirror Mac to Roku with apps? Juststream is an app that is used for casting and screen mirroring from Mac to smart TVs. This is mainly used for those Roku TV versions for which airplay is not compatible.
If you are using the free version of the just stream, then you will be able to do mirroring only for 20 minutes from your Mac to Roku TV.
You can reconnect it, but it will stop your mirroring after every 20 minutes. You can get a subscription for 19.95 $ to avoid this disturbance.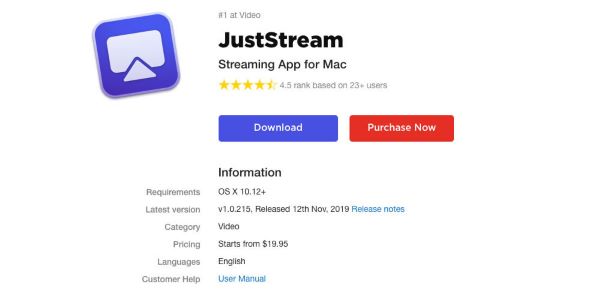 For this, you have to turn on your Roku and TV.
Open Juststream app on your Mac.
On the top of your Mac's screen, this app will appear.
Tap on the plus button of the app to find the media you want to watch on your Roku device.
At the bottom of the menu, you will see a stream device icon. Tap on it and choose your Roku TV.
Now tap on start streaming.
If you want to listen to audio on your TV, you can just download the stream audio driver. Because this app only works on smart TV, its use is limited. If someone has an extra smart TV, then this is a good app for them.
RokuCast
Rokucast is a chrome extension that makes sharing content from Mac to Roku easy. With the help of this chrome extension, you can transfer videos, images, and music from your Mac device to your Roku streaming device and later on you can enjoy these videos on your TV with your family.
Mirroring your Mac to Roku is not a big deal; you just have to add this extension to your Mac.
Click on this link, Download the Rokucast extension on Roku Device, and install it.
When you will click on this link, it will ask you to put your Roku account details.
After successful installation, you will see the application on the home page and update Rokucast .
Now connect your Mac device and Roku to the same network.

Install it on your Mac chrome. Once it is installed, you will see the Rokucast icon on the sidebar.
Now tap on the Rokucast icon and click on the setting option; next, tap on the gear icon and enter into Roku IP address.
Choose a video play it; you will see the video name, cast button, and download button.
Now click on the cast button; Rokucast will send the link of the video to the Roku TV.
Finally you can enjoy it on the big screen.
Part 2. Any Free Ways to Mirror My Mac Screen to Roku?
Yes, you can mirror your Mac to Roku without spending money on expensive third-party apps. Just purchase an MPDI cable and connect with your TV.
If your TV already has MPDI adaptor, it's perfect. If it has no adapter, purchase an adaptor too. Otherwise, it will not work.
Part 3. Extra Tips: How to Mirror Mac to Another PC?
There are different options to mirror Mac to other PC, but AirDroid Cast plays an important role in it. It is a powerful screen mirroring tool and works on all android, iOS, Win, and Mac devices.
Additionally, it makes it easy to give a presentation in a meeting, and people also use it for online teaching. Nowadays, gamer are using this tool for gaming streaming videos. They share the live screen with their fans with this app.
AirDroid Cast
Step 1.Download and install AirDroid Cast

Click download button below or go to AirDroid Cast website to download it on both the devices.(As for PC side, now AirDroid Cast supports web version, you can easily screen mirror through web browser).
Step 2.Screen mirror your Mac to other Mac/PC

Run AirDroid Cast in Launchpad; then, you will see the main interface.
Select "Cast to" on the main interface .

Enter your remote computer's AirDroid cast 9-digit Cast Code and your local computer, or click on the "Clock" to connect history computers.
The connection will be started immediately after entering the code.
Step 3.Finish some setting and start mirroring

Accept the request for Casting on the computer.
Casting window request "Allow the device XXX to cast its screen on this computer" It will show on your computer.
Click Allow to accept this request.
After completing all steps, you will see the all features button on your remote PC.
Part 4. Closing
Mirroring the screen is the best thing because you can watch movies and dramas on the big screen and enjoy yourself with friends and family. A few years back, this option was not available for the Mac user, but now the Mac users can easily mirror their Mac screen to Roku.
Due to advanced technology, there are different methods to cast or mirror screens to Roku we have discussed in above. Moreover, if you want to find a way to mirror Your Mac to other PC, then AirDroid Cast is the best choice.
Was This Page Helpful?