4 Effective Ways to Mirror iPhone to Mac without Wi-Fi [100% Work]
Screen mirroring an iPhone to MacBook can be done in a few different ways. AirPlay and certain third-party screening apps are the most popular methods, but sometimes, Wi-Fi can be an issue. If you're looking for a way to mirror iPhone to mac without Wi-Fi, then this blog will guide you through a few different methods.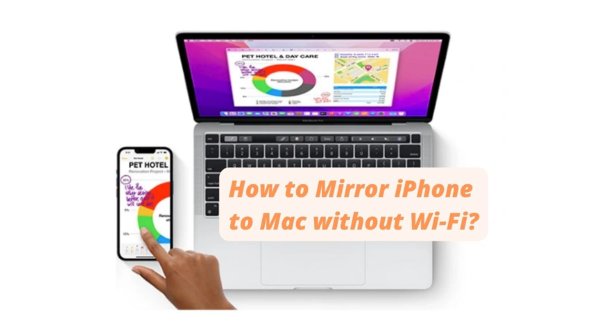 1 4 Ways to Mirror iPhone to Mac without Wi-Fi
You can mirror your iPhone's screen on your Mac in the four best ways; by using the Airdroid Cast app, the in-built AirPlay feature, QuickTime or Bluetooth by using AirServer.
1. Airdroid Cast - USB Connection
Airdroid Cast is a tool that allows you to mirror your iPhone on your Mac without Wi-Fi. Here is how to mirror iPhone to mac without Wi-Fi via a USB.
Step 1. Click download button below to install AirDroid Cast on your iPhone. Or Visit Airdroid Cast's official website to install Airdroid Cast and sign in to your AirDroid account.
Step 2. To connect your device with your Mac without Wi-Fi, use a USB cable. When you connect the two devices, a pop-up window might appear. In this window, enable USB debugging on your device.
Step 3. Click "USB" on the Airdroid Cast desktop. After that, choose your device from the Available device list.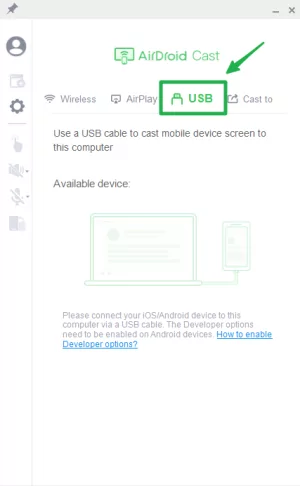 Step 4. After a successful connection, your device content will be shown on your Mac instantly.
Note : AirDroid Cast also supports creating connections remotely or connecting both devices via AirPlay.
Pros of AirDroid Cast
Supporting remote screen projection and remote control.
Multiple ways of connection.
A free version is available.
Works on multiple devices; Android/iOS/Win/Mac.
2. Peer-to-peer AirPlay
Using Peer-to-peer AirPlay, you can mirror your iPhone's screen on your Mac without Wi-Fi. It allows you to use your computer as a screen receiver without having to connect your iPhone and Mac to the same Wi-Fi network. Not only that, but you can also use your phone to stream videos, photos, and audio directly to your Mac.
So next time you're stuck watching a video on your tiny phone screen, remember that you can always AirPlay it to your computer for a better experience.
.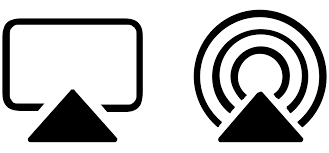 Prerequisites:
Your devices should be AirPlay (or AirPlay 2) compatible.
Pros
Free app, no need to purchase.
Works on larger distances than Bluetooth. .
Cons
Sound quality may get affected..
AirPlay Mirroring only works on newer Apple devices.
Here is how to AirPlay your iPhone to Mac.
On your Mac, visit "System Preferences", tap Sharing, and choose AirPlay Receiver.

If AirPlay Receiver is not turned on, then select the checkbox

Choose "Current User or Anyone in the same network" from the option for "Allow the following users to AirPlay"

Enter the password if required to AirPlay with Mac

If your Mac shows an AirPlay verification code, enter the verification code on another device
3. Bluetooth – AirServer
If you're looking to use your iPhone with a Mac and you don't have access to the same Wi-Fi network, don't worry - you can still connect them by using Bluetooth. Apple devices have this capability, or you can download a third-party program like AirServer.
AirServer is a receiver that allows you to receive AirPlay, Google Cast and Miracast streams. It is similar to an Apple TV or a Chromecast device.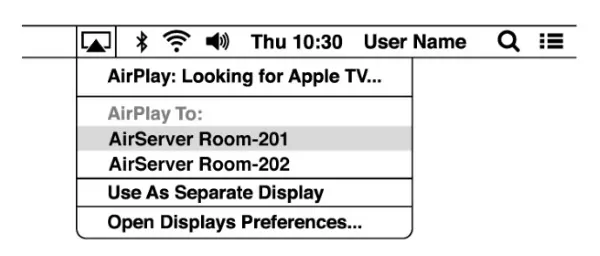 Pre-requisites:
All you need are Bluetooth-enabled devices and AirServer to mirror your iPhone screen onto your Mac
Install AirServer for Mac.

Enable Bluetooth on both devices; iPhone and Mac.

Now find your iPhone on Mac by selecting "Search for Devices".

Choose your iPhone from the available devices list and then touch Pair.

After successful completion of all steps, your iPhone screen will display on Mac.
Pros
It can enable certain audio features that AirPlay cannot.
AirServer has support for AirPlay mirroring.
Cons
Bluetooth range is required.
4. QuickTime
QuickTime comes automatically installed on every Macbook for a reason - it's an extremely flexible application. Not only can we listen to music and watch films on our Macs with QuickTime, but we can also transfer and modify video and audio files.
Plus, we can record sounds and view movies on our Mac computer using QuickTime. And did you know that QuickTime also allows for screen mirroring on iOS devices? It's a hidden function that is widely appreciated.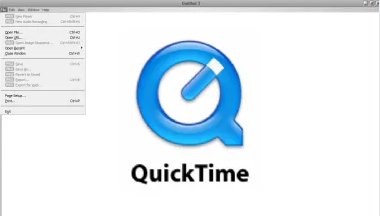 Connect both devices with the help of a USB cable.

Open QuickTime on your Mac.

Open "File" in the menu bar.

Select "New Movie Recording".

Select your iPhone from the available devices list on your Macbook.

Enjoy screen mirroring on your Macbook.
2 What is the Best Way to Mirror iPhone to Mac without Wi-Fi?
There are a lot of options out there regarding how to screen mirror iPhone to mac without Wi-Fi, but Airdroid Cast is the best because it allows users to see and control their mobile devices screen directly from a computer.
With great features like a simple setup, fast speed, and phone-to-phone mirroring with no Wi-Fi needed it is the most complete solution for all your mobile device scenarios.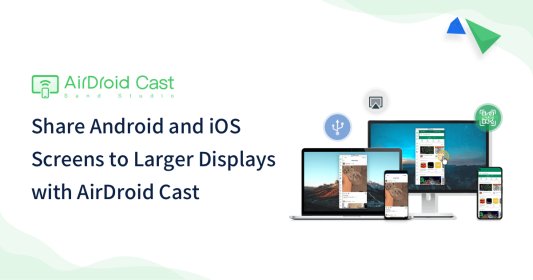 If you're having trouble with AirPlay and AirServer, then Airdroid Cast will sort you out in no time. It's easy to use, and you can get the hang of it in only a few seconds. You can connect the devices with remote network or USB cable as well.
3 How to Screen Mirror iPhone to Mac Wirelessly?
To wirelessly mirror iPhone to Mac, you can use Airdroid Cast application as well as its web version.
iPhone screen mirroring to Mac remotely
AirDroid Cast is a powerful screen-sharing app that allows users to cast a screen to a computer or any browser wirelessly. This means, that even if both your devices are in different networks or different cities, you can still create connections.
All you need to do is install AirDroid Cast desktop version on your Mac or open AirDroid Cast Web (webcast.airdroid.com) on Safari or any other browsers.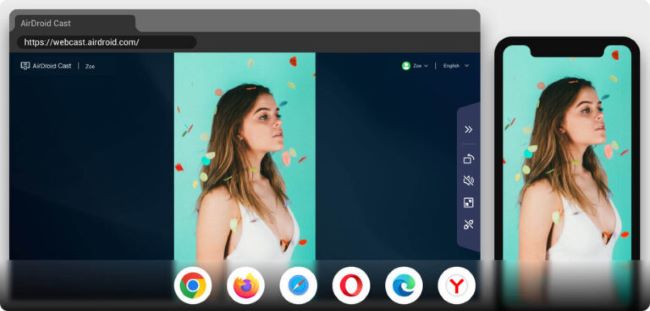 Through Airdroid Cast Web, you can now easily share your screen no matter where you are and whatever device you are using as it is compatible with all mobile devices, computers, or smart-TV. This web browser enables you to provide better training and create presentations.
Airdroid Cast Web has some amazing benefits.
Cross-Platform Screen Sharing.

No Cable is required.

Casting No Matter Where You Are.

Cast to Any Browser in Any Scenario.
4 Related: How to Share Wi-Fi from iPhone to MacBook?
You can use Wi-Fi and the personal hotspot on your iPhone or iPad to connect to the internet with your Mac. To share Wi-Fi from iPhone to mac, make sure your iOS device and Mac are within Bluetooth range.
Follow these steps to share Wi-Fi from iPhone to MacBook:
Open "Settings" on your iPhone.

Turn on Bluetooth.

Visit "settings' again and turn on Wi-Fi.

Now on your mac, visit the wifi icon and select the same Wi-Fi network that's connected to your iPhone.

Now tap "share password" on your iPhone by clicking on Wi-Fi.

A pop window with "share password" will appear. Tap it and your Wi-Fi will get connected to your Mac.
5 Does My Mac Have AirPlay? How to Know?
All newer Macs have built-in AirPlay. Macs running macOS Catalina (10.15), macOS Mojave (10.14.5), or iTunes 12.8 and later have an upgraded AirPlay called AirPlay 2. Devices operating with these system requirements can stream audio to more than one AirPlay 2-compatible speaker or smart TV simultaneously.
To check if your device is AirPlay compatible, visit "system preference" and look for the AirPlay icon. Turn it on to share any audio or video with other devices.
6 Closing
There are a few different ways that you can wirelessly connect your iPhone to your Mac to mirror the screen. The four most commonly used methods are AirPlay, QuickTime, Airdroid Cast and Bluetooth. Among them, we think that Airdroid Cast is the best in terms of functionality, pricing, and usability. You can try it for free and see for yourself - start mirroring your iPhone to your MacBook now.
Was This Page Helpful?