How Can You Make Screen Mirroring Full Screen?
Screen mirroring has quickly become one of the best ways to see your Android content on a computer or TV. It's become easier these days to use screen mirroring as a way to reduce stress on connections, while also making the entire experience efficient and comprehensive.
With screen mirroring you can also facilitate collaboration, while saving time. learning how to get full screen on TV/PC with screen mirroring can be tricky, but there are ways to do so. It's very useful and it can help convey the right results and provide an astonishing value and experience.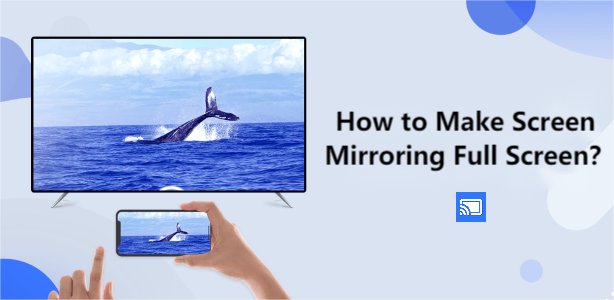 1Optimal Way to Make Screen Mirroring Full Screen on Any Device
Finding the best way on how to make screen mirroring full screen can be quite difficult without the right tool. But that's where screen mirroring comes into play. The main focus when you use screen mirroring from iPhone or Android to PC is to see mobile content clearly.
AirDroid Cast
AirDroid Cast is able to cast screens among different devices. You can cast screens from your phone to your TV, PC or tablet, from the computer to TV, tablet to TV or computer and so on. This versatility makes screen mirroring a breeze, while eliminating any possible issues that can arise.
How do you do screen mirroring with AirDroid Cast:
Step 1.Download and install AirDroid Cast on your devices

The first thing you want to do is to download install AirDroid Cast on your devices. Make sure that you install the app on your computer and your mobile device too.
Step 2.Choose the way of connection

After that, you must start a cast request from your Android device. You can use AirPlay, USB or WLAN for the connection.

Step 3.Accept casting permissions

After you completed that, you will receive a casting request on the computer. You must accept some permissions to ensure that the process works flawlessly and without any issues. Enable the casting permission on the Android device. Now you will be able to access all the content on your device.

Step 4.Make screen mirroring in full screen

The important thing is that you can also do the screen mirroring in full screen. All you have to do is to press the middle button in the upper right corner. Do that and you will see everything in full screen. If you want to exit the full screen mode, just press it again. It's that easy.
The entire process of seeing your screen mirroring process in full screen is simple, and all you have to do is to press a button. It doesn't take a lot of time to learn how to get full screen on TV or any other device via screen mirroring.
2Other Screen Mirroring Apps Worth Trying Out
TeamViewer
TeamViewer does a very good job at helping you share content from one device to the other. It has the ability to compress data in order to save some bandwidth. While it's more widely known for the fact that you can do remote control on PCs, it does offer good screen mirroring too, and that on its own can be very important to keep in mind.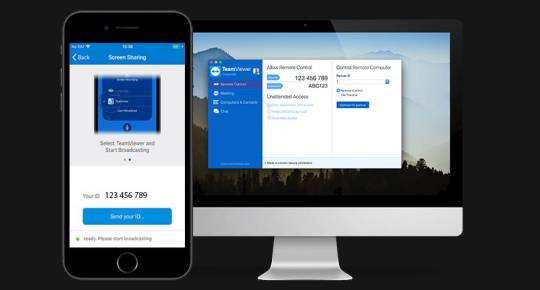 TeamViewer does a very good job at bringing in screen mirroring in a way that's comprehensive, efficient and easy to adapt to your own requirements.
Mirroring360
Mirroring360 makes it easy to mirror the screen of a phone onto desktop or other devices. It can work with many different wireless devices, and you can record anything you want without restrictions.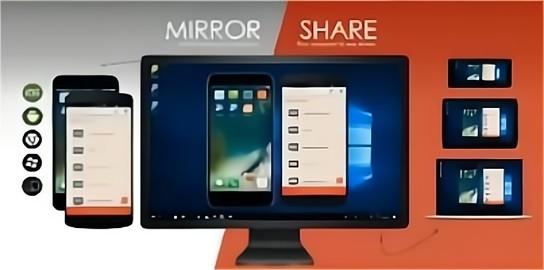 On top of that, it's mostly focused for students, so if you are a student this can be very handy and quite efficient at the same time. It also has support for Chromebooks, which other tools like this don't have.
VNC Viewer
Another tool you can use if you want to do screen mirroring is VNC Viewer. This one is suitable for mirroring from Android or iOS to an external screen. You will notice that VNC Viewer is compatible with multiple operating systems, and it always adds new features and enhancements, which is nice.
They also include zooming, scrolling, customization and many others. It's always a great idea to add in all the necessary features, and with a tool like VNC Viewer you get to do that. Customization is also pretty good, and they don't shy away from constant improvements.
3How to Make Screen Mirroring Full-Screen on TV?
Watching videos or playing games on a mobile phone is convenient but you can upgrade your experience by screen mirroring the activities on your phone to the screen of your TV. However, screen mirroring will not make much of a difference if the content displayed on your phone is not at full-screen.
The situation described above can reduce the quality of the content displayed on your TV and it can reduce the interest in watching videos or playing games. Fortunately, this guide has explained some possible ways to solve this problem easily.
Use AirDroid Cast to make screen mirroring full screen on TV
Airdroid Cast is a mirroring software that allows you to display the screen of your mobile device to your TV. Screen mirroring to a TV is achieved by using the web version of the AirDroid Cast which requires a Wi-Fi direct and internet connection between these two devices to work.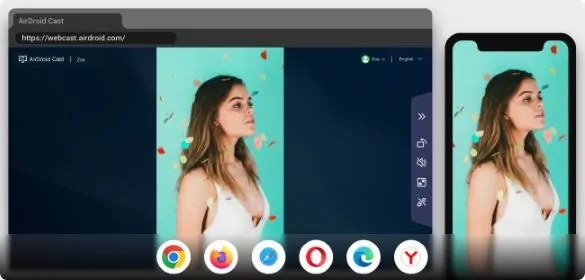 To use this app to make your display full screen, follow the steps below.
Step 1: Get the AirDroid cast app on your phone
Install this app from the official web of AirDroid Cast and it is relevant to form the connection between your mobile device and TV.
Step 2: Connect your TV to the internet
Connect your TV to the internet and this can be done using a Wi-Fi router or hotspot. Enable the browser on your TV and type in "webcast.airdroid.com" into the search bar.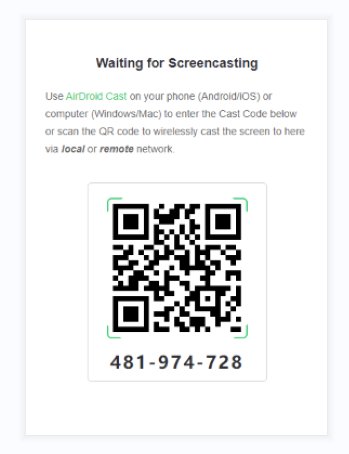 Step 3: Scan or enter the code
You will be redirected to the website where you will be provided a QR code or a cast code for screen mirroring. Open the AirDroid Cast App on your phone and scan or enter the code.
Step 4: Give access
You will be notified when another device is trying to connect and you will be asked to grant permission. The option to recognize a specific device for easy connection next time is offered.
Step 5: Screen mirror success
Carefully following these steps should allow you to successfully mirror your mobile device to your TV. Now you just need to tap the botton of "full screen" in AirDroid Cast page. The screen of your phone will display fully on your tv.
Key Features of AirDroid Cast:
No sign-in is required for the web version
Suitable for TV without Tizen browsers
Accessible with most modern browsers
Suitable for both Android and iOS mobile devices
No external devices required
Quick and easy setup
How to Make Screen Mirroring Full-Screen on Roku TV?
You can screen mirror your mobile device to your TV using Roku TV, but it doesn't display in full screen, you will need to adjust the display setting on this device. Below are the steps you can follow to make screen mirroring full screen on Roku TV.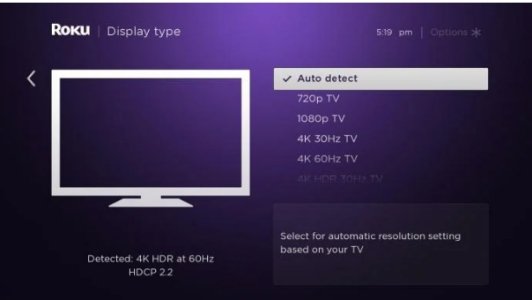 Press the home button using your Roku TV remote.
Navigate your way to the settings and then press the button on the "display type" setting.
Select the auto-detect option in this section and allow your Roku TV to adjust the resolution or aspect ratio according to your device screen.
How to Make Screen Mirroring Full-Screen on Samsung TV?
The aspect ratio of your screen mirrored device on a Samsung TV depends on the aspect ratio of your phone. You can activate the auto-rotate feature on your phone to switch from portrait to landscape, this way you can enjoy watching movies or playing games in full screen. Below are the steps involved in screen mirroring your mobile device to Samsung TV.
For Android devices:
Go to your phone settings and tap on connected devices to access your screen mirroring feature. This feature can also be labeled as Smart Mirroring, Quick connect, or Smart view. Click on wireless display and connect with your Samsung TV on the list of available devices.
For iOS mobile devices:
Access your control center and click on screen mirroring which is positioned below the brightness setting. Select your Samsung TV from the list of available devices to connect and cast your device.
How to Make Screen Mirroring Full-Screen on Apple TV?
There are two different ways to achieve full screen while screen mirroring on Apple TV. The first method applies to Apple TV 4K and Apple TV HD, while the second method applies to Apple TV 2nd or 3rd generation.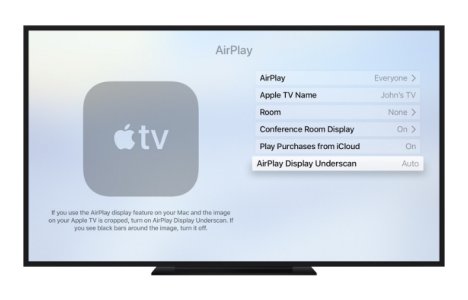 For Apple TV 4K and Apple TV HD
Access the settings on your Apple TV and push the button on the AirPlay option.
Go to AirPlay Display Underscan and activate the setting that will automatically set screen mirroring to full screen
For Apple TV 2nd or 3rd generation
Access the settings on this device and tap on the Audio and Video setting.
Click on the Adjust for AirPlay Underscan option
4Final Verdict
Figuring out how to make screen mirroring full screen on computer or tv is very important and there will always be challenges as you figure out how to perform this task. Thankfully, tools like AirDroid Cast stand out with their value, efficiency and quality. It's a very good idea to give it a try for yourself and you will be impressed with its quality, value and ease of use. Now you can finally do screen mirroring right, without any concerns or challenges.
FAQs about Screen Mirroring in Full Screen
Does mirroring automatically fill my TV screen?
It all depends on the device you are using. Generally, it should fill the screen automatically, if not then you need to use some of the guidelines and tips in this article.
How do I use screen mirroring (not Chromecast) and view the Hotstar app on TV in full screen?
You just need to set your TV to work in full screen mode. You can find more information about the way you set your TV in full screen based on. Even if the Hotstar app might not deliver full screen signal, you will still see it in full screen.
How do I make my iPad screen mirror full screen?
You can enter the Control Center, check the screen mirroring option there, and tap on it. You can view a list of devices for mirroring and also choose to mirror in full screen.
Was This Page Helpful?