How to Watch Apple TV on Android [Easy Guide]
Do you want to learn how to access the amazing entertainment selection offered by Apple TV on your Android device? Maybe you've heard great reviews about its exceptional content and want to experience it yourself. You definitely wouldn't want to miss out on hit shows such as Ted Lasso, The Morning Show, and For All Mankind. Here in this blog, let us explain that how to watch Apple TV on Android. Now, you can enjoy all the amazing content. Just keep reading until the end!
What You May Want to Know about Apple TV?
Apple TV is collectively called for Hardware, software, and the streaming service. Surprisingly, right? Don't be overwhelmed. We will give a brief introduction of Apple TV.
There are Apple TV television set-box that allows you watch movies and TV shows just like the way you watch on smart TVs, such as Samsung TV or Roku TV. And you can also stream contents from more than one streaming services, including Hulu and Netflix, which enables you to categorize your diverse streaming services in one place.
In addition, you can also subscribe to Apple TV Plus for premium streaming content, which can be done through the Apple TV application. More of that, you can also enjoy your Apple TV Plus via a web browser or other TVs that supports Apple TV.
What Does An Apple TV Do Exactly?
Overall, Apple TV allows you to watch, rent, or buy video content (mostly movies and TV shows) on this application. And you can also watch MLS Season Pass on this app or website.
It's personalized section helps you find your favorite content, which it presents based on the shows that you have watched across the multiple streaming services.
Moreover, there is also an Editor's Choice section that choose the best content from all streaming services and presents you with the best.
What Devices Support Apple TV App?
Apple TV is accessible through various platforms, including the following:
iPhone, iPad, or iPod touch that run iOS 13 or iPadOS 13 or later versions
Apple TV 4K or Apple TV HD that operate on tvOS 13 or later versions
Macs running macOS Catalina or later versions
Smart TVs and streaming devices that support the Apple TV app
At present, some smart TV manufacturers like Samsung and LG support the Apple TV app, while others are anticipated to add support in the future. Additionally, the TV app is also available on streaming devices like Roku and Amazon Fire TV.
Can I Watch Apple TV on Android?
Can you watch apple TV on Android? Yes, you can. As an Android user, watching Apple TV App on Android may seem like a trickier than a usual, but it is totally doable. First thing first, you need to understand that Apple TV and Apple TV+ are two different things.
How to Watch Apple TV on Android?
If you have an Android Smart TV or Android mobile phone, you can simply download the Apple TV App from Google's Play Store, and then log in the Apple TV app with your Apple ID. You are good to go.
But, unfortunately, you are not able to purchase within the Apple TV app on Android. What is worse is that the Apple TV app is buggy and crashing sometimes, preventing you from enjoying the shows constantly.
Instead, you can watch it via a web browser. However, the experience may not excite you but what other choice do you have? Or maybe you have? That's for the later.
For now. Let's see how to watch Apple TV on Android through Web Browser?
Step 1.Open a browser on your Android phone (it can be any browser)
Step 2.Type tv.apple.com in the URL bar.

Step 3.An Apple TV website will appear on your screen.
Step 4.Now, of course, you need to sign in with your Apple ID to access the content. If you have an account, move to Step 8; If you don't have an account, you can create one and buy the subscription - $6.99/month. OR you can tap on a Start Free Trial and access the streaming service for 7 days.

Step 5.When Creating a profile on Apple TV, tap on Sign Up Button.
Step 6.Enter your Apple ID in the email box and fill in the other required sections. Press Continue.
Step 7.A pop up will appear with the information that you will have 7-day free trial period and then you need to pay the required amount. Tap subscribe, and move forward.
Step 8.A list of content will appear on your screen. You can now play episodes or movies in your mobile browser.
Even though this method allows you to watch Apple TV on Android, using a web browser should be very time-consuming, and you may also concern about the security risks while you purchase the TV shows or subscribe.
How Does Apple TV Work on Android?
So, watching apple TV on Android is possible and you can at least satisfy your hunger to enjoy this app while being an Android user. But, does the apple TV app works perfectly fine on Android? Does it offer the good experience? How to watch Apple TV on my phone? Well, the thing is, the app's Android version has it's limitation which makes it not an ideal choice to access the Apple TV content. Let's discuss the pros and cons of accessing Apple TV on Android.
Pros
The app is free to download.
You can enjoy all the content you have bought or subscribed in other devices.
You don't need a third-party app.
Cons
The mobile-viewing experience isn't seamless and optimized.
Some of the features are limited and you can not access all the features.
You cannot download the content for offline viewing.
The application is buggy and lagging sometimes.
Ratings & Reviews of Apple TV App
See what other people have to say about Apple TV's Android app and how they feel about its experience.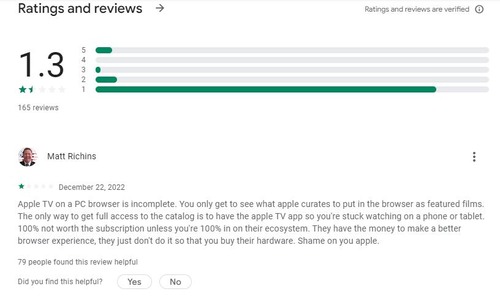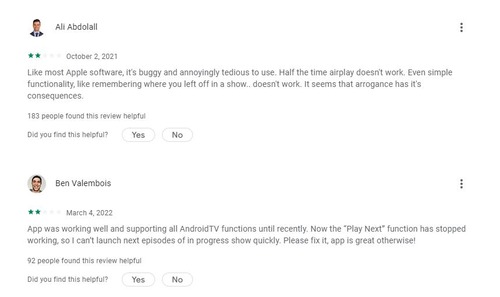 Bonus: Watch Apple TV on a Bigger Screen
As you can see from the rating and reviews, the Apple TV's Android app is good for nothing. People have so many complaints about it's services and they don't like the limitations and restrictions in its features either.
But don't worry. We have a perfect solution for you - AirDroid Cast. It helps you watch Apple TV from Android to a bigger screen! You are able to cast your Android screen to PC, Mac, and TV via AirDroid Cast, flawlessly and wirelessly.
Key Features
Compatible with Android, iOS, Windows, Mac, and Smart TV
Screen casting takes only a minute
No need for cables or software installation on the receiver end
Hassle-free and easy to set up
You're only one or two minutes away from creating the perfect connection. It's easy-peasy and super convenient, requiring only an internet connection and two devices to establish the connection.
Step 1.Download AirDroid Cast on your Android device, and navigate to webcast.airdroid.com from a web browser on the receiver device.
Step 2.You should see a 9 digit code or QR code on your browser. Simply enter the 9 digit code on your Android device.

Step 3.Accept the request permissions and your Android screen will be mirrored to a bigger screen once connected.
You can just open your favorite content on Android device and you can enjoy it on your PC or TV!
Conclusion
Watching Apple TV on Android is pretty easy, but it comes with some drawbacks and causes problems sometimes. Luckily with AirDroid Cast, you will be able to get much better experience on a larger screen by screen mirroring. Isn't it great?
FAQs about Apple TV on Android
Can I watch Apple TV on a non Apple device?
Yes, you can watch Apple TV even if you don't have an Apple device. There are various ways to do that. You can also watch Apple TV on Android device and some smart TVs. Additionally, you will need an Apple ID to watch Apple TV.
How do I watch Apple TV on my Samsung?
If you're the owner of a Samsung TV from 2019 or later, you might be in luck - Apple TV+ may already be included by default. Simply locate and select the Apple TV+ icon from your TV's home menu to start watching. If you want to watch Apple TV on Samsung phone, you can do that via a web browser or the Apple TV app.
Why can't I watch Apple TV on Google?
Actually, you can watch Apple TV on Google. However, if you failed to watch Apple TV on Google, it is likely because of the WiFi network or your Apple ID issue, as Google TV supports downloading and installing the Apple TV app on your TV directly, eve though the in-app purchase is not supported yet. Signing in your Apple ID will facilitates you to access what you have watched, rent or subscribed.
Was This Page Helpful?