10 Common Issues of Chromecast Not Working & How to Fix
Google Chromecast is a dependable, robust, and convenient media streaming tool that makes it possible to share content from the mobile gadget to large-screen devices. Any technological tool and feature have some hiccups once in a while, therefore the same can happen to the Chromecast.
Therefore, it can be a little uncomfortable when the Chromecast not working. Since you came across this article, you must be looking for the potential reasons and solutions. Here, we will discuss the issue of Chromecast not working and possible solutions and alternative options.
1How to Fix Common Chromecast Issues
You may be wondering, "Why is my Chromecast not working"? Chromecast not working may be caused by several reasons, including a poor WiFi connection, channel interference, or mismatched pairings. Fortunately, there are some fast workarounds available to assist you in troubleshooting your Chromecast.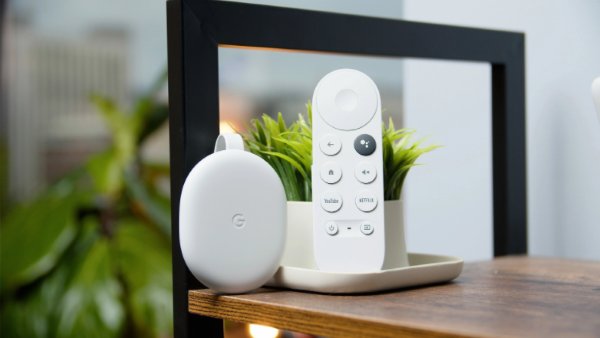 1. Check Wi-Fi connection
If your Chromecast is having trouble connecting to WiFi during the setup process in the Google Home app or if the Chromecast is not present, the first thing to check is whether your WiFi is functioning as it should. Simply unplug and plug your router back in a few minutes, then try to retest your connection when your router has booted. You may also try the reset button if your router has one.
2. Are Both Devices Connected to the Same Network?
When wondering why is my Chromecast not working, make sure that the devices are connected to the same network. Another most frequent reason for Chromecast not working occurs when devices are connected to different networks.
Your mobile device and Chromecast must be connected to the same WiFi network. In the top-right corner, click and hold the "settings" symbol and "Device Information". After that, The WiFi network your Chromecast is logged onto should be visible.
3. Change Power Supply If Necessary
A power supply issue is most likely to blame if your Chromecast periodically shuts down, goes dark, or restarts regularly. The included USB cord powers Chromecasts and many televisions have USB connectors conveniently placed next to HDMI ones.
Additionally, be sure the power supply you choose is compatible with your Chromecast model. To verify the power supply requirements for your Chromecast, visit the Google support page.
4. Restart Chromecast Device
Did you try everything and still wonder why is my Chromecast not working? Many difficulties with your Chromecast device can be resolved by restarting it. Unlike a factory reset, a simple reboot won't completely erase your data on Chromecast. To restart the device, go to the "settings", then click "more settings" and Choose "reboot."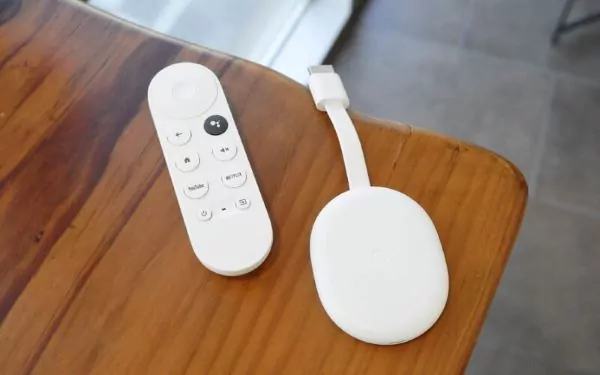 5. Attach the Chromecast Extender
Your network may be struggling to identify a signal of Chromecast. An HDMI extender was supplied with Chromecasts of the first generation, but newer models do not come with one.
If you're still using a first-generation Chromecast, you might want to try using an HDMI extender to position it so that it can pick up the Wi-Fi signal more effectively. After connecting the Chromecast to the extension, connect the extender to the HDMI port on the TV and this might fix your problem.
6. Update Chrome Browser
Updating the Chrome browser can help you if your Google Chromecast not working. You might need to update to a newer version of Chrome if you're experiencing trouble casting from your laptop or PC to your TV. Open a tab in the Google Chrome web browser. In the top-right corner, click the three dots button to continue. You will see "update Google Chrome" if an update is necessary.
7. Update the Chromecast App
With your Google Chromecast, you should always be sure to be running the most recent version of the Google Home app. Updates are frequently performed automatically, but if the app is giving you trouble, you may manually check for updates on the Google Play store (for Android) or the App Store (iOS).
8. Update the Chromecast
If you can't cast to Chromecast it can be because it needs to be updated. It will automatically install any new updates when you first set it up. There is a technique to determine if your Chromecast is the most recent version.
These steps are for the third-generation Chromecast. Go to "settings" on your smartphone. Access "device information" To view the firmware details, scroll down. You have a new version of the data corresponding to the information on Google Support.
Restart your Chromecast by following the instructions in part four of this article if your firmware is out of date. When it comes back on, the firmware upgrade will begin.
9. Adjust Your Router Channels
Is your Chrome Cats not working even after all the recommendations above? Then it may be because of the channels. Interference may arise if your neighbors utilize the same channel your router is automatically tuned to. This might help to explain why Chromecast can't connect to your network.
Look for a section named "Wireless" and a subsection called "Channel and SSID" in your router's settings. Depending on your router, these menus may have different names. Search for the "channel" field. Change it to any numbered choice if it is currently set to "auto".
10. Chromecast Factory Reset
If you've tried everything and nothing has worked, your last solution may be a factory reset on your Chromecast. Just keep in mind that using the Chromecast reset option will erase all of your data.
Ensure that the TV's HDMI port and power outlet are connected to your Chromecast. Depending on the model, you'll find a button on the Chromecast device's side or back. When the LED light goes white, hold down the button, wait for a while and then let it go.
2 What Else to Do If Chromecast Still Not Working
By following the instructions in this article, you can fix the majority of Chromecast problems. However, if Google Chromecast not working is a still problem, then you may need to contact google support and they may find the proper solution. Visit https://support.google.com/chromecast/troubleshooter/ on Google Support if google Chromecast not working.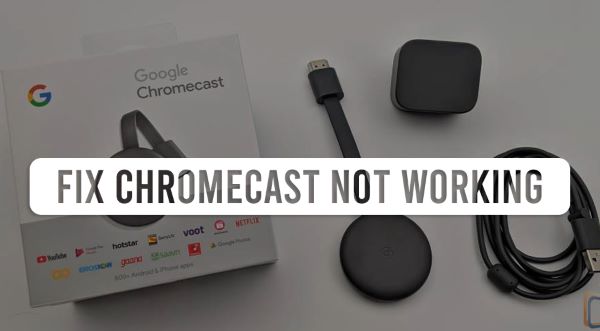 The fastest way to contact them is by Facebook page since messages are often answered quickly. You can also contact the Chromecast support staff via phone, online chat, or email to see if they can assist you with the issue.
3 All You Need to Know about Chromecast
Google Chromecast is free to use and it comes with various features. The use of this tool can be pretty helpful in many situations. However, even though Google Chromecast is very easy to use you may experience some minor problems with Chrome cast not working.
How to Setup Chromecast for Screen Mirroring?
To set up your standard Chromecast device:
Plug one end of the provided USB cable into your Chromecast device, and the other end into the provided power adapter.
Connect your Chromecast device to an HDMI port on your TV.
Plug the power adapter into your power outlet.
How to Reset Chromecast?
When your Google Chrome cast not working, You might need to reset it. To reset Chromecast you may either select "Factory Reset" in the Google Home app or you can press and hold the device's button for at least 25 seconds to reset your Chromecast device. You'll be able to tell when your Chromecast reset has begun when the solid light begins flashing.
Why is Chromecast Not Showing on my Google Home app?
First, make sure that the Google Home app on your smartphone has the necessary location permissions. If Chrome cast not working or doesn't show up in the Google Home app, at first, make sure it is plugged in and switched on. After that, Check if Chromecast and Google Home are connected to the same network again.
How to Fix the Chromecast Icon Disappeared?
If the "Cast" sign is missing when you try to stream content to your Chromecast, it usually means the device you're casting from needs to be updated. The chrome cast not working issue can be resolved quickly, allowing you to resume enjoying a movie or television show.
The little box with three narrow bars In the lower-left corner can be identified as the Chromecast icon. But what if you are unable to locate that button anyplace? The fact that both devices may not be on the same network is one of the primary causes of this issue, which prevents the feature from working and the icon to disappear.
4Troubleshooting on Chromecast Remote Not Working?
First, You need to connect the remote again to test whether it works or not. Restarting the device is recommended when something goes wrong with an electronic device since this usually causes the issue to resolve itself.
To re-pair your remote, read the instructions below:
Install the Google TV Remote app on your device.
Remove your remote from Google TV settings on your phone.
Check to see if the remote resumes functioning normally.
When you can't cast to Chromecast and think that the reason is the Chromecast remote not working, You should also check out batteries that may cause your issue if none of those mentioned above methods succeed in fixing it. So, you may try to resolve the can't cast to Chromecast issue by changing the batteries in remote.
5 Alternative to Chromecast - AirDroid Cast Web
If the Chromecast not working or you are simply looking for other options, AirDroid Cast Web is the best choice for you. It is a very effective alternative to Google Chromecast. You only need to open a web browser on your TV, then you can easily cast your phone/table/computer to TV within 5 minutes.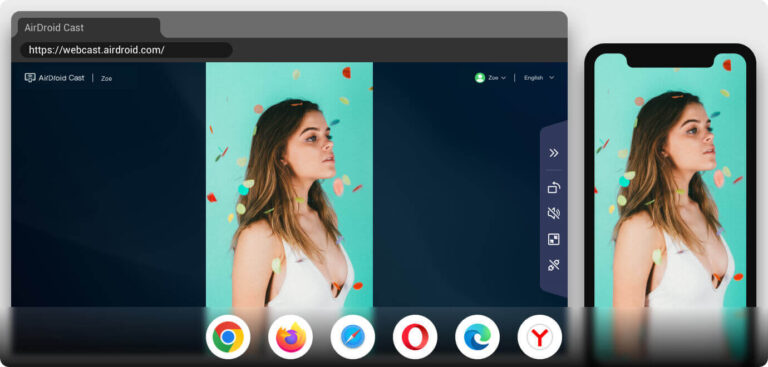 Cast Screen to TV Wirelessly
Download and install AirDroid Cast on your sending device by click download button below. You can also go to its official website or search this app on Google Play Store/App Store.

Open a web browser on your smart-TV and go to webcast.airdroid.com. Then you will see the QR code and Cast code on the screen.
Both casting methods are quick and easy. After scanning, you will be asked to allow screen sharing on both devices. After those steps, you are good to go.Your mobile phone/tablet/computer screen has been displayed on the TV.
Advantages of AirDroid Cast Web
There is no need for cable or installation.
You don't have to tell anyone your network password.
Your workflow from one device to another is considerably easier & more effective for any working or sharing requirements.
You can cast several attractive multimedia types using a special secure casting code.
Within seconds, cast online through web browser.
Works with remote network.
6Take Aways
Now you know 10 solutions of how to fix Google Chromecast not working problems on your device. In most cases, however, not all methods can be necessary and even one restart can be enough to restore the proper functioning of the device.
Is your Google Chromecast not working properly? To sum up, Here's what you can do:
Check your Wi-Fi.
Connect both devices to the same network.
Change power supply.
Use HDMI extender.
Use reset functions for all the platforms.
If all these suggestions can't help you, then you should consider using the best alternative for Google Chromecast - AirDroid Cast Web.
Was This Page Helpful?