[Newest] 5 Best Remote Screen Sharing Software in 2023
There are various situations we face in daily routine where we need to share our screen with other devices for larger display. Even on friend's gatherings and family get together we feel a need of watching movies and shows with a large display. Using screen sharing feature for presentations in meetings create a great impact on the viewers and there are more chances of acceptance.
It's very confusing to find the best apps for screen sharing from a vast list of apps. So, in this article will discuss the best remote screen sharing software for mobile and desktop.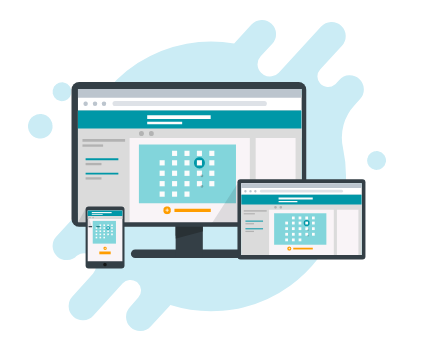 1 AirDroid Cast
AirDroid Cast is an incredible software due to the outstanding services it provides. It enables you to share your mobile or PC screen with other devices and control them remotely to perform various tasks. It is also best for teaching and playing online games by sharing the screen for a larger display.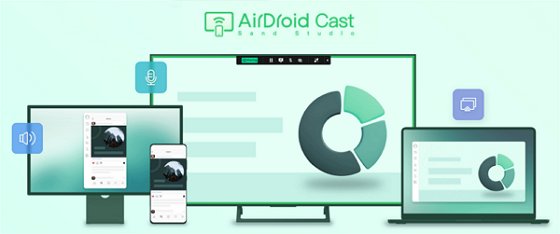 Compatibility:
It is compatible with Android, iPhone, Windows PC and Mac. AirDroid Cast supports sharing Android/iOS/Win/Mac screens to a computer, you can also share screens to any device with a web browser by using its web version.
Detailed Steps:
Here are detailed Steps to use this best share screen software for sharing screens from mobile phone to PC:
Download AirDroid Cast on your mobile phone and PC. Sign up an AirDroid Account and log in.




Open AirDroid Cast on both your phone and PC. Click "Wireless" on AirDroid Cast desktop client, now you will see a QR code and a 9-digit cast code in the main interface.

Scan the code or input the cast code on your mobile phone.

After you enter the code, a request is forward to the PC and mobile phone. Click on Allow button on both of your devices.

Your phone screen will instantly appear on the PC.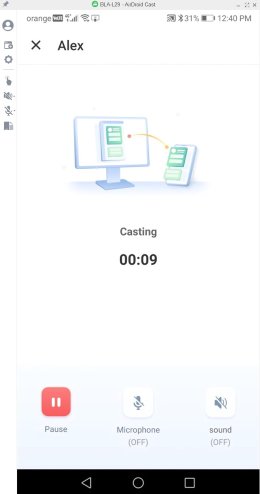 Uses of AirDroid Cast:
For Teaching
You can do both physical and online teaching smoothly using the AirDroid Cast. Two-way communication helps students listen to their teachers and ask questions simultaneously.
Online Gaming
AirDroid Cast helps stream online games on a big screen and enables us to control the Android/iPhone from the PC mouse and keyboard.
Presentations and Remote Meetings
No matter where you are, you can easily conduct a meeting with your office team just like you are in front of them. You can share slides on an office PC for a larger display while delivering a presentation.
2 Zoom
Zoom is a communication platform where you can share your screen with a specific number of people you add to a Room. It allows screen sharing remotely with various methods like whiteboard sharing, full-screen sharing, specific App sharing, a video from a device etc. It means it is flexible to use. Zoom is also known to be a free remote screen sharing software.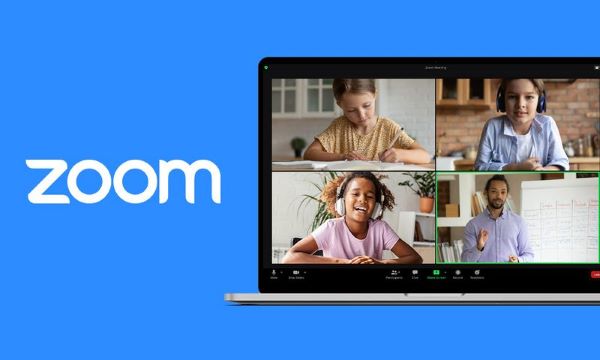 Compatibility:
The Zoom app is compatible with Android, Linux, iOS, Windows and Mac OS.
Detailed Steps to share screen on Zoom:
Download the Zoom app on your mobile phone/computer to share the screen.

Create a Room, add all the participants you want to share the screen, and then make a call.

Click on Share Screen from the meeting controls and select a specific way to share the screen. Select any medium from the Basic or Advanced tab.

Start sharing the screen with the participants.
Advanced Features
Zoom has many advanced features, like sharing control on the device with others.

Sharing sound using Zoom and the use of a microphone.

It allows sharing slides as a virtual background.

You can share local videos on Zoom.
3 TeamViewer
TeamViewer is another amazing app for sharing screens remotely between devices. It provides remote access to any device to use it as you want completely. You can use it to offer remote solutions to problems and even control their devices to troubleshoot the issues in their devices. It is a user-friendly interface that anyone can use.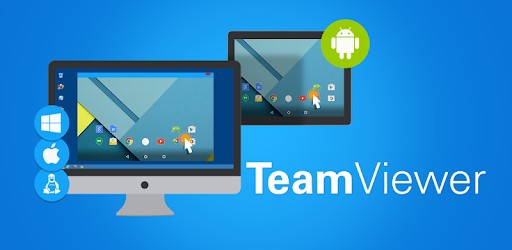 Compatibility
It is compatible with Windows, Mac, iOS and Android devices.
Detailed Steps:
Download TeamViewer app on your Desktop. Locate and install it on your PC.

Launch the app and get a specific ID on your app. Share the ID with the person whom you give access to your PC.

Allow access to the person from your PC to share your screen and remotely access your PC. Then you will get the display of your PC on the connected device.
Note : If you want to share your mobile phone screen remotely, please download "TeamViewer QuickSupport".
Extra Features
You can use TeamViewer for online teaching and sharing files and documents.

You can control other's devices and provide them with technical support remotely.

TeamViewer also provides customer engagement support for online businesses and consultancy.
4 LetsView
LetsView is another interesting app for remotely sharing the screen between various devices. With LetsView, you can get HD-quality results of screen sharing on another device. Let's view enable teachers and other professionals to explain things digitally more conveniently.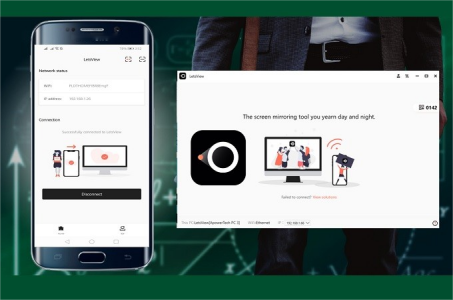 Compatibility
It is compatible with android, IOS devices, Windows, Mac and Smart TV.
Detailed Steps:
Download and install LetsView app on your mobile and PC. Please select the language after you install it.

Open the app and click on the Discover tab to select 'Remote Cast'.

Press the remote cast button to get the area to enter the code.

Open the App on your PC. Select Plug-in and Remote Cast. You will get a code. Enter the code on your phone and press the Remote Cast.

If you get a notification on your phone to allow access, click on the 'Allow While using App' option and then finally click on the 'Start Now' button to start casting your screen remotely.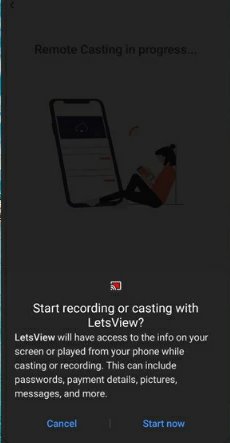 Additional Features
LetsView also provides access to take screenshots and record your device's screen or the shared device.

An annotation tool is also available to use with LetsView.
5 Webex
Cisco launches Webex. It is a remote screen-sharing tool used by the world's biggest brands to interact and collaborate with their team for various purposes. It is a fully secure application fulfilling all the requirements of security. Webex guarantees the protection of your files; no one else can access them without your consent. You can sign up on Webex for free. To enjoy unlimited access, use its premium package.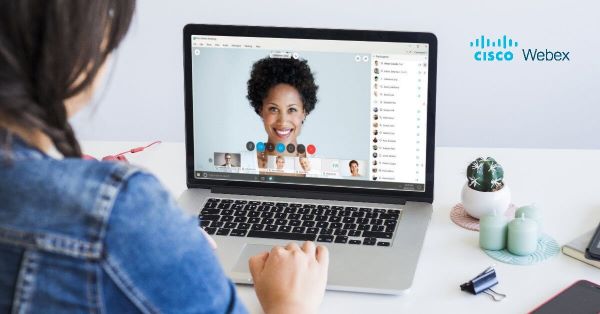 Compatibility
Webex is also compatible with android, iPhone, Windows and Mac.
Detailed Steps:
With Webex, you can share your entire screen or a specific app you want. Here are the steps to share screen remotely:
Download the Webex app on your device and Log in. Then ask other members to log in and create a room for calling and chatting.

During the call, click on the screen share button to share the screen.

Select the quality depending on the file type, and then select a file to share with others. Select a single screen you want to share in case of multiple monitors. This way, you can choose specific content if you dislike sharing everything on your screen.

Extra Features

It allows you to call from any device, including audio and video calls, chatting, polling, events, etc.

6 What Are the Qualities of the Best Screen Sharing Software?

The best screen-sharing software possesses various qualities, some of which are listed below:

Easy to Access

The best screen-sharing software must allow sharing screens without even downloading any app. Such as using a web browser for remote screen sharing, which can save space and time. Perfect software must be easily accessible to everyone.

Low Prices

Remember that standard software always has normal pricing so that even salaried people can afford it. It will also increase the number of users.

Compatibility

A standard remote-sharing app supports more OS. They also have mobile applications with their desktop applications.

7 Bonus Tips: How to Mirror Screen on Web Browser?

With AirDroid Cast's latest web version, you can now provide the best remote screen sharing using a web browser. AirDroid Cast Web supports almost all browsers for screen mirroring.

Casting is done fast, within 2 minutes, using AirDroid Cast Web, and no need to download any app on the receiver end. Open a web browser on the receiver device and search for webcast.airdroid.com. Download the app on the sender's device and start sharing the screen on the browser after scanning the code. AirDroid Cast also supports sharing screens on a Smart TV with the help of a browser.

8 Conclusion

We have provided the five best remote screen sharing apps after detailed research. You can use any of these apps depending on their compatibility. We prefer the AirDroid Cast app because it is compatible with maximum operating systems and does not compromise display and sound quality.

Moreover, you can also use the AirDroid Cast Web application if you don't want to waste time downloading and sharing screens remotely with a web browser. You must know the qualities of a standard remote screen sharing software and then choose accordingly. Don't use uncertified tools because scammers are ready to attack your device and harm you every time.
Was This Page Helpful?