How to Run Android Apps on Chrome Easily and Effectively?
Android is an excellent operating system with easy-to-use apps that cover almost everything you may ever want to do. From apps for tracking your exercise data to weather, even apps for helping you choose a color scheme for your home decoration, Android brings flexibility and usability.
But what if you want all that, but on another device? You are not alone, one of the most common questions asked on Google is 'can Windows 10 Chrome access my Android phone apps', because we all like the idea of the convenience of a big screen, keyboard, and mouse combined with the simple and effective Android apps we love.
Luckily there are ways you can run Android apps on Chrome, here's how.
Part 1. Update Chrome OS
If you have a Chromebook that was released after 2017, and you update your operating system to the latest version, there is a good chance you will be able to run Android apps in Chrome OS without needing any other software.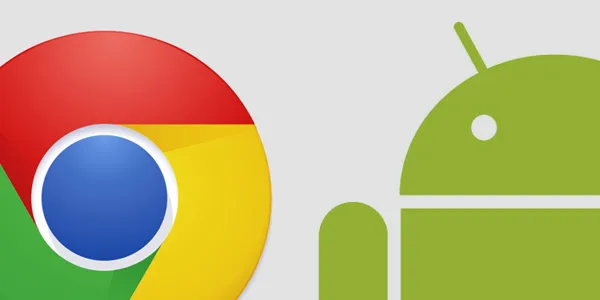 You can check the Chromium Website for a list of supported devices, but there is an even easier way to check.
Step 1 : Boot up your Chromebook.
Step 2 : Click the "Status Bar" at the bottom right.
Step 3 : Click the Settings "Cog".
Step 4 : Click About "Chrome OS", and then "Check For Updates".
Step 5 : If there are any updates, just follow the instructions until it is all completed.
Step 6 : Go back to the "Settings Cog".
Step 7 : Select "Apps".
Step 8 : If your Chrome device supports Android apps, this page will give you an option to access the Google Play Store.
Part 2. Use Third-Party Tools
AirDroid Personal
AirDroid Personal Web Version offers a comprehensive range of features to enhance your Android experience, and one of those is a simple-to-use remote-control feature perfect for Chrome Android apps, whether playing games or using any of your favorite apps. The best part is that it is really simple to access Android apps on Chrome through AirDroid Personal.
You don't even need to install anything on your laptop or computer, just have AirDroid Personal on your Android device, then access it by heading to the Airdroid Personal Web Portal on Chrome. From there you can get full access to your device and all the apps you have on it.
There are many advantages with AirDroid Personal over the other options mentioned, it is much easier to use, to begin with, which for most of us is an important point. If you want to use your favorite Android app or game, the last thing you need is to have to jump through hoops to get there.
With AirDroid Personal, you just install the app on your phone or another Android device, and then you can simply use Chrome, or any browser you want, to access your apps through the web portal.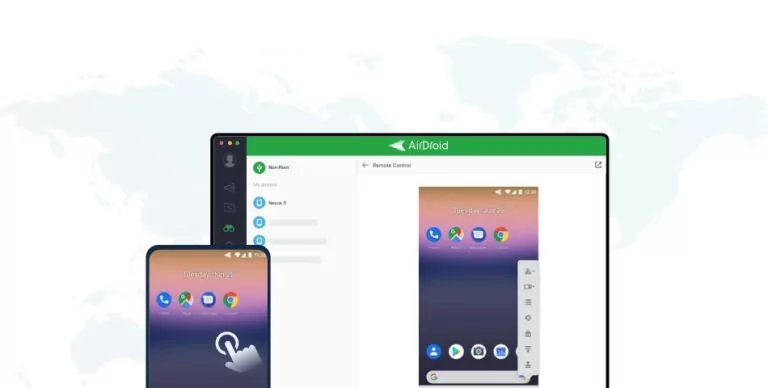 This means that every app behaves exactly as you expect, you can access not just free apps, but any you have paid for, and for apps that use the data, they connect to your account and work perfectly every time.
Because you are essentially using the remote control on your phone, you aren't restricted to a single app either, you get all the apps on your phone, and you can access the Play Store and install other apps to use as you need. It's super simple to set up too.
How to Use AirDroid Personal
Step 1. Install AirDroid Personal
Install the AirDroid Personal app on your Android device through the Google Play Store or Via the AirDroid website.
Step 2. Create Your AirDroid Account
Just go to the account portal on the AirDroid site and create an account, its quick, free and easy.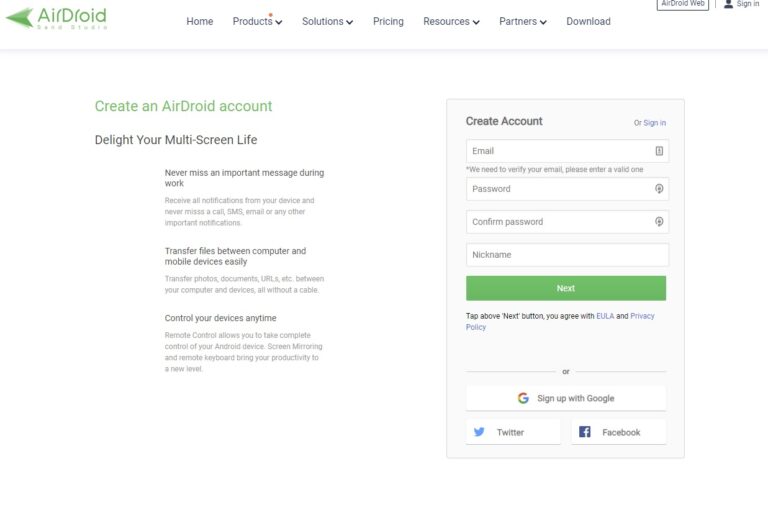 Step 3. Enable Remote Control
On your Android device, enable remote control by opening the AirDroid Personal app. Just go to "Security and Remote-Control" features in the menu and follow the instructions.
Once enabled, the app will ask you to download and install the AirDroid Control Add-on, this ensures seamless remote control so you can run Android apps on Chrome. You can just tap the button or you can install directly from the Play Store if you prefer.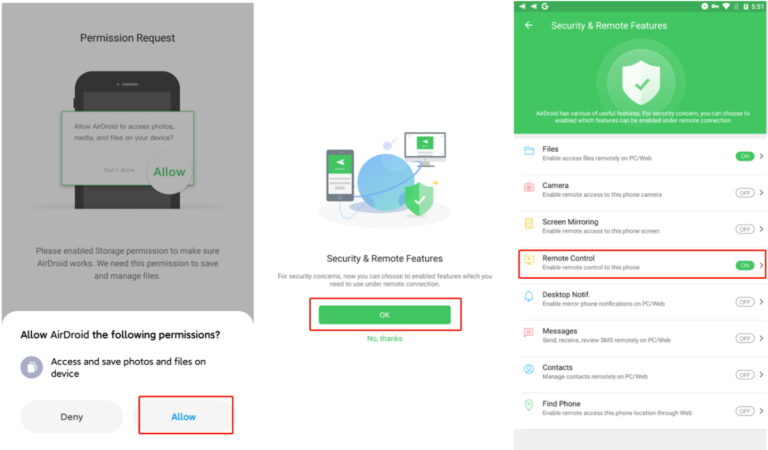 Step 4. Connect to Your Android Device
Now you are ready to use your Google Chrome App Android remote control, and its really easy to do. Log into the web portal and select remote control.
Just wait a second for the two devices to connect, and then your device home screen will appear on your computer. You can no control everything, launch apps, games and anything else, all on a large screen and with the ability to use your keyboard and mouse to control it all.
AirDroid Personal Can Do So Much More for You
The ability to use AirDroid Personal for remote control makes it worthwhile to install just for that, but AirDroid Personal is a feature rich application that can do a lot more for you too.
More Features
File Transfer and Management – Transfer files quickly and easily
Screen Mirroring – Your phone, on the big screen
Notification and SMS – Get notifications, send and receive SMS right on your desktop
AirDroid Business
Chromebook offers a lower-cost alternative to traditional PCs, nowadays, it becomes a great choice for small and middle businesses in different industries like computer software, healthcare, retail, advertising, and more.
If your company uses Chromebook as a working device, at the same time, your business is required to manage Android mobile apps from Chromebook, or you want to manage your Android apps on Chrome Browser. Well, here comes AirDroid Business.
AirDroid Business is an all-in-one Android mobile device management solution. It provides 3 choices between web Admin console, desktop client, and mobile applications for you to choose from, so you can easily run Android apps on Chrome for your business use.
Key Features of AirDroid Business:
1Remote Access & Control
AirDroid Business has powerful remote access and control features. With it, you can effortlessly access and control all of your Android devices from Chrome. It doesn't matter if you want to use it to run Android apps on Chrome or if you want to use it to remotely debug the device. It is able to effectively manage these problems.
2Mobile App Management
Are you looking for a way to deploy or update apps on Android devices without going onsite? AirDroid Business helps you easily monitor and update Android app performance on deployed Android devices at all times through a flexible and centralized interface.
3Monitor, Alerts & Workflow
AirDroid Business monitors all your Android devices in real time. Once it detects abnormal events on your Android devices, it will send you alerts right away. If you set the workflow, it will execute automatically to help you solve abnormal issues.
4Kiosk Mode
AirDroid Business Kiosk Mode feature allows you to restrict the use of operable applications, visited websites, changeable system settings, and even device interface styles on your Android devices based on your purposes and usage scenarios. It can create the most suitable operation mode for you and effectively improve your business security and productivity.
5Location Tracking & Geofencing
Need full visibility of your mobile devices? AirDroid Business offers location tracking and geofencing feature that help you have a clear view of your device's location and location history.
You can also set geofence for your devices, if the devices enter or exit specific locations, AirDroid Business will immediately send alerts to you.
6File Transfer
Is your company faces the file transfer problems like inefficient file management and unsecure transfer? Don't worry, AirDroid Business can help you transfer files in bulk and organize files with ease like copy, paste, create and edit folders. All files transferred with AirDroid Business are safe and guarded against unauthorized access from outside the organization.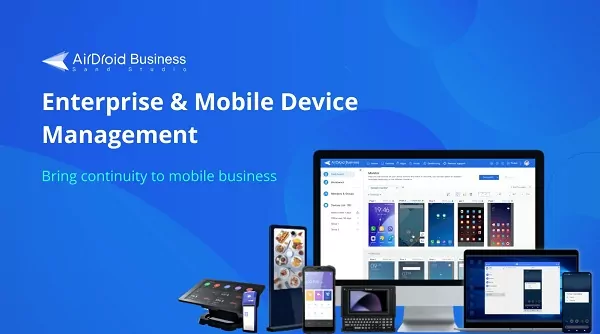 ARC Welder
One way to run Android apps on Chrome is through the ARC Welderbrowser extension. It allows you to run your Android apps right in Chrome, in an easy-to-use way that gets you up and running quickly.
There are some limitations, you can only run one app at a time, and because you don't have access to Google Play Store or any other app stores, you can only do this with free apps with an APK file available.
In addition, because you aren't tied to your Android account, some apps may not work as you expect them to either. This app extension also stopped development a while ago, so some of the latest Android apps may not run at all.
It is easy to get up and running with ARC Welder, just follow the steps below:
Install ARC Welder through the Chrome Store, just select 'Add to Chrome' and it will automatically install.
Once installed, you need your app in APK file form. An APK file is like an installer for Android.
Right click the ARC Welder extension, select the APK file you want, and it will run in Chrome.
To run your Android apps on Chrome OS, simply select Play Store, install apps as you would on any Android device, and run them from the apps drawer in the same way you do with Chrome apps. It really is that simple.
ARChon Runtime
This is another Android Chrome app that allows you to run Android apps in Chrome. Unlike ARC Welder, this one is not available on the Chrome Store, and you must instead download it yourself. In addition, you need to install other programs, first Node.js and then a CLI app conversion tool to get your Android apps on Chrome.
The result is a user-unfriendly experience, but if you know what Node.js is, and are comfortable installing these things yourself, it is a way to have Android apps on Chrome. Not all work well though, and some will not work at all.
Getting started with ARChon Runtime is a little complicated, but if you follow the steps you should not have problems:
Download the installation file to suite your platform.
Extract the file.
Go to Chrome: Settings: Extensions and enable developer mode.
Load the runtime
To create APKs for your apps you will need Chromeos APK
You will also need to download js and install it.
Run Chromeos, point it at the APK file of the Android app you want to use.
It will generate a directory for a Chrome extension.
Go to Chrome extensions and load the directory.
Enjoy your app!
Part 3. Conclusion
If you want to run Android apps in Chrome, the best approach is to use AirDroid Personal and its remote-control feature. It is easy to use, requires no modification for your phone or tablet, and works seamlessly over Wi-Fi too.
FAQs
Can Windows 10 Chrome access my Android Phone apps?
Not on its own, however by using AirDroid Personal, you can use Chrome to access the AirDroid Personal portal and gain access to your phone and all of its apps.
Can Chrome OS run Android Apps?
This depends on the device, some can, others may not. If your Chrome device has the Google Play Store installed, it will be able to run Android apps in Chrome. If not, then you cannot run native Chrome Android apps, and will need to find an alternative such as AirDroid to have your Android apps on a bigger screen.
Can I run Android apps on a MacOS computer?
If you have a MacOS computer and an Android mobile device, you may believe it is impossible to get your Android apps on your computer. But AirDroid can do that too, with a MacOS client that works in the same way as the Windows desktop solution.
Was This Page Helpful?