[2023] How to Turn on Phone Camera Remotely (Android & iPhone)
In many instances, you might need to remotely control your phone or android open camera remote. It can be when your iPhone or Android phone is on a tripod, and you want a perfect still picture. Another reason to remotely view an iPhone camera or Android Camera can be needed to take a group photo. Whatever the reason, the urge to remotely open the camera is always there, and here are answers on how to turn on the camera remotely.
Can I Turn On the Phone Camera Remotely?
First of all, we need to answer if there is a possibility of remotely turning on the phone camera. If you're an Android user, the options to remotely access your phone camera might be limited. But many developers are working on expanding the options for phone users to remotely access their phones and camera.
So practically, the answer is yes! You can turn on the phone camera remotely with the help of remote control buttons, Bluetooth selfie sticks, or your smartwatches and bands. For instance, if you're using Xiaomi Band 6, you can remotely control your phone's camera when the device is connected to your phone.
Besides, other ways do not require you to spend a lot of money to get a gadget that solves how to enable a camera on an Android phone. We are going to discuss the two most recommended and useful ways of remotely viewing your phone camera.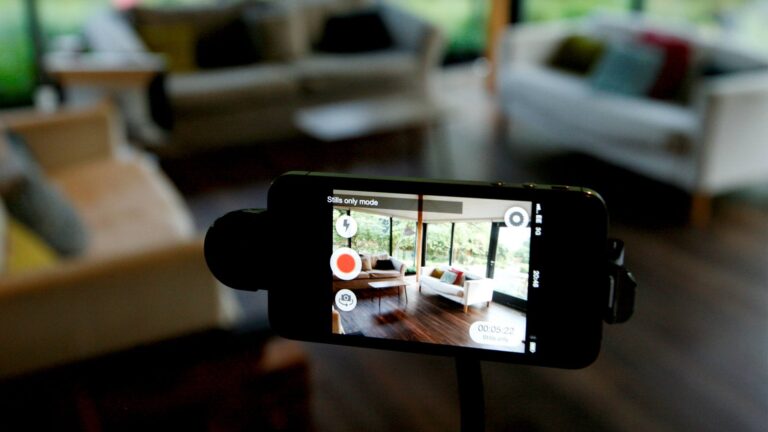 2 Ways To Remote Access Android Camera
Here are two ways(most recommended and useful) to remote access an Android camera that you must try on.
1. Remotely Turn on Android Camera on PC
Airdroid Personal is a mobile management tool that can be used to remotely access your phone, share files, manage your phone notification, screen mirroring, and a lot more. AirDroid Personal can be regarded as software with unlimited options and no need to spend dollars on getting gadgets to remotely control your phone.
The most enticing features of AirDroid Personal are:
Gives access to remote camera, with sound, that you can use as a security purposes
An all-in-one application/software
Safe, lossless, and wireless transfer of data and remote access of phone
Hyper-fast file transfer and remote access to your phone
Computers, Phones, and Laptops can be mirrored to bigger screens effortlessly
Mobile games can be remotely played on your computer
Recover data from your damaged phone and a lot more.
If we talk about AirDroid Personal Remote Camera, it's a feature to access your phone's camera from your laptop or computer without touching your phone. Capture photos from your phone in real-time without physically accessing your phone.
How to enable a camera on an Android phone with AirDroid Personal?
Follow these simple steps to access your Android Camera and capture photos:
Step 1. Download AirDroid Personal App

The first step is to install AirDroid Personal App on your phone and sign in/sign up for your AirDroid account.
Step 2. Install AirDroid Desktop Client

Similarly, download and install the AirDroid Desktop Client on your laptop or PC. Sign in to the AirDroid Personal account with the same credentials.
Step 3. Remotely Access Camera

Open your AirDroid Personal Desktop client on your laptop/PC, and go to the telescope icon in the left menu bar. A new window will be opened with different options, and choose Remote Camera. Establish the connection, and you're good to go.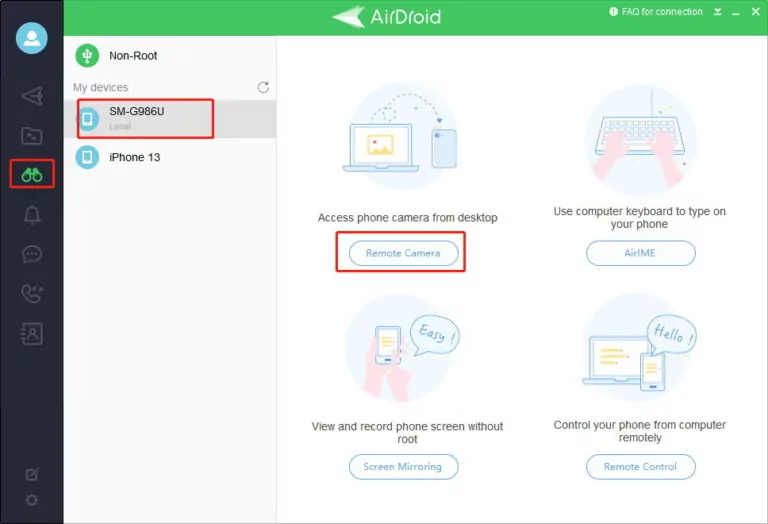 Functions You Can Perform When Android Open Camera Remotely with AirDroid Personal
With the remote control camera feature, you can have access to the following functionalities:
Screen rotation
One-way audio
Switch flashing light, front & rear camera
Take screenshots or record the screen
2. Remotely Control Android Phone Camera From Another Phone
AirMirror is an Android app by AirDroid, and it lets you remotely control your Android phone. AirMirror app can be downloaded on your phone from Google Play Store. The most important highlights of the AirMirror app are as follows:
Remote control your Android phone/ Tablet
Remotely control your camera on one phone from another phone
Screen mirroring in real-time
Voice calling, messaging & text
How To Turn on Camera Remotely From One Phone To Another Phone?
You can remotely control Android phone camera from another phone with the help of AirMirror and let's discuss how to do it.
Step 1. Download AirDroid App on Phone A

Install the AirDroid Personal app on the phone A. Phone A is the phone whose camera has to be remotely accessed from another phone. Once installed, log in to your AirDroid account.
Step 2. Install AirMirror App on Phone B

Install the AirMirror app from Google Play Store on the Phone B. Phone B would be used to access the Camera of Phone A. Also, login on to the AirMirror app with AirDroid account details.
Step 3. Open Camera From Phone B

Once signed in to AirMirror App, click on Phone A is connected. Click on Phone A and remote control options will be shown. Click on the camera, establish the connection, and you're good to go.
Features of the Remote Camera in AirMirror
With the remote control camera feature, you can have access to the following functionalities:
Screen rotation
One-way audio
Switch flashing light, front & rear camera
3 Ways To Remote Control iPhone Camera
You know what to do when you're using an Android phone but how to remotely turn on the camera with your iPhone?
Here are 3 ways you can use to open and access your iPhone camera remotely.
Apple Watch
As we mentioned earlier, smartwatches and health bands can be used to remotely access your phone camera; Apple Watch is a smartwatch by Apple Inc. If you have an iPhone as well as Apple Watch, you can open & use your phone's camera with Apple Watch.
All you have to do is to access the camera remote from the settings of your Apple Watch. Set your iPhone in a position you want to capture a photo and tap on the shutter button on your Apple Watch. You can optionally use a three-second delay. It also lets you choose between the front and rear camera of the iPhone.
Siri or Voice Control
Siri is an AI-based, voice-controlled personal assistant. The Apple devices(iPhone, iPad, iPod, Mac) have Siri as a built-in feature that mimics human intelligence and natural instructions. From turning on/off your Apple devices to making a call to your friend and remotely using your camera can be done with Siri.
Using your iPhone camera without touching it is very simple with Siri. You have to add a shortcut for using the phone camera with Siri. In the Shortcut settings of Siri, you will choose when Siri should open the camera and capture a photo. For instance, you can add instructions that Siri is supposed to open your iPhone's camera and capture a picture whenever you say 'Say Cheese'.
Use Earpods
Yes, you can also use your Earpods to remotely control your iPhone's camera. Just like other devices of Apple, Apple Earpods are also powerful enough to serve as a camera remote for your iPhone. Whether you're using wireless Earpods or having iPhone earphones, remote access to the camera is possible.
For earphones, volume up or down buttons can be used to remotely click the picture on your phone. For wireless EarPods, you can press the center button to turn on Siri and ask it to open the camera, switch front or rear camera, or capture the photos.
Conclusion
We have shared the quick and convenient ways how to turn on the camera remotely from your iPhone or Android. AirDroid Personal is a perfect solution for Android users without paying a single penny for it. If you go for physical gadgets, it means more spending to just control your camera remotely. On the other hand, AirDroid Personal and AirMirror come with tons of other features that you can capitalize on.
FAQs
Can your iPhone camera spy on you?
It's possible to spy on a person through the camera on a cell phone. Many spyware can be installed on your iPhone or Android phone for spying. However, as a company, Apple denies using iPhone microphones or cameras to spy on their customers.
Can your phone take pictures without you knowing?
Usually, it's not possible on Android phones or iPhones to secretly capture your photos because your phone always notifies when using a mic or camera. However, if someone has installed spyware on your phone, possibilities are there. Therefore, make sure to stop any unauthorized person from accessing your devices.
What is the camera remote on iPhone?
Camera Remote is an option for iPhone and Apple Watch users that lets you control your phone's camera from your watch. You can read more about it in detail, as discussed in the article.
Can someone remotely access my laptop camera?
Webcams can surely be hacked, and hackers can turn off/on your camera whenever they want. However, it's not possible in an ideal situation without your consent. Usually, any unauthorized person could upload RAT(remote administration tool) to hack your system.
What's the best remote control app?
AirDroid Personal is an all-in-one app that lets you remotely control your phones and mirror screens, remotely control cameras, manage your files, share files, and many more functions.
Was This Page Helpful?