How to Track an Android Phone from an iPhone
I know a friend that needs to track his son's phone. Though he has an Android, and my friend owns an iPhone. I tried to search inside the AppStore but couldn't find it. Thanks 😉
As the Reddit user said, tracking an Android phone using an iPhone is a widespread issue. At one point or more, we know someone whose phone was stolen. Perhaps it was your phone; you need another device to track it. Even when a phone is not stolen, you may need to track your child's phone, colleague's, or yours when you have suddenly misplaced it.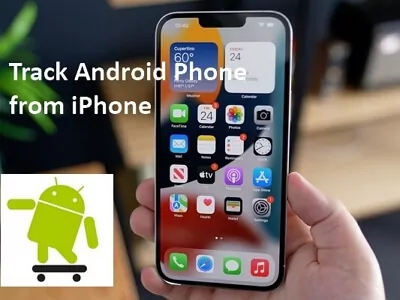 If the target phone is an Android phone, people are often hopeful that there are a few ways to track the phone. But when the device available to track the phone is an iPhone, the general idea is that it is difficult. This article addresses this misconception so that you can know how to track an Android phone from an iPhone.
Part 1. 5 Ways to Track Android Phone from iPhone
This section of the article discusses five of the most lucrative ways to track your Android phone with an iPhone. Then, it further explores how to use these free methods.
Way 1. AirDroid Location Tracking
This first method uses the AirDroid Parental Control. It allows an iPhone to track Android phones seamlessly. In addition, it keeps your kids safe in the physical world and online and helps them maintain healthy digital habits.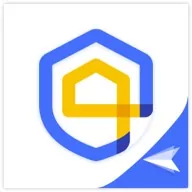 The app has several incredible features like remotely monitoring your kid's phone surroundings, screencasting, screen time control, games and apps blocking, Sync notifications and SMS, location tracking, instant alerts, etc.
Key Features
Track android phone location in real-time from iPhone.
Set geo-fenced zones and get instant alerts.
Remotely watch and hear your kid's phone surroundings.
Monitor online activities in real-time and review daily or weekly report.
Sync social media apps' notifications, such as Facebook Messenger, Line, and WhatsApp.
Schedule screen time and app usage to help kids build healthy digital habits.
Block or restrict specific inappropriate apps and new apps.
Steps to track an Android phone from an iPhone
You can start using AirDroid with these simple steps.
Step 1. Download and Install AirDroid Parental Control App on your device.
Step 2. Launch AirDroid Parental Control on your device, and it will direct you to the sign-up page. Create your account and then log in.
Step 3. Download AirDroid Kids on the target phone. After installation, launch AirDroid Kids and set up some necessary settings on the phone.
Step 4. Enter the pairing code to bind the device. Now, you can see your kid's Android phone through your iPhone screen.
Way 2. Family Locator - GPS Tracker
Family Locator is a GPS tracking app that allows users to track Android phones from iOS devices. The app has features like Family Locator that helps users stay connected with all the locations of family members. In addition, it is integrated with a chat and group system. This feature allows users to chat with other family or friends through the app easily.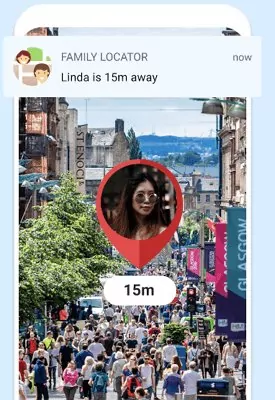 The steps below show how to use the app.
Step 1. The Family Locator – GPS tracker must be installed on Android and iPhone devices. Launch the Family Locator app on both Android and iOS devices to complete the configuration process.
Step 2. Share the real-time location with your iPhone device on the Android device.
Step 3. Open the Family Locator app on your iPhone device and accept the sharing permission. You can also check the app's map to find the location of the target Android device without them knowing.
Way 3. GPS Mobile Number Tracker
This web app allows users to track Android phones on iPhone devices through mobile numbers. It is a free app that uses history location data such as GPS, WiFi connection, and cell tower triangulation. It only requires that users input the estimated country, country code, and phone number. Once the search has been done, it will show the Android phone's location on the map.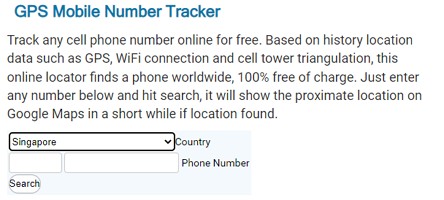 Way 4. Google Location Sharing between iPhone and Android
There may be a lot of incompatibility between iPhone and Android, but that should not hinder your tacking experience. Here is how to share Google location between iPhone and Android so that you can track an Android phone from an iPhone.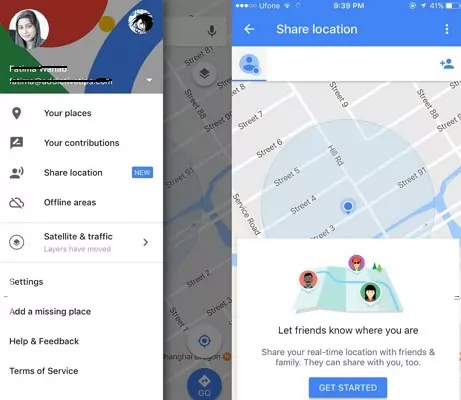 Step 1. Download Google Maps for your iPhone from Apple's App Store. Open Google Maps, and turn on location by selecting "Allow While Using App."
Step 2. Click on your blue location dot to pull up more options and select "Share your location." You can specify how long you want to share your location or use the "Until you turn this off" option.
Step 3. Click on the Message icon and type in your Android contact to share your location with the phone.
Way 5. Google Find My Device through Website
Find My Device is another ideal method of tracking an Android phone through an iPhone device. It is a free web feature available for Android users with Google accounts. This feature may become inaccessible if the Android phone is not online. If it is offline, it will show the last known location of the Android phone.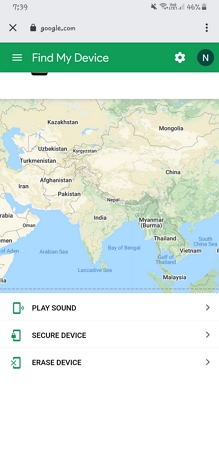 Find My Device works by pairing devices over a private network. Hence, it can track every moment of the target device or even lock it to your iPhone remotely. Also, if the two devices are close, you can use the app to play a sound. By playing a sound if it was in the closure, you can quickly pinpoint where it is. Another feature that this method provides is storing users' data. You can even erase all the content on your Android phone from your iPhone.
Step 1. Open the website on iPhone's default browser (Safari) or any other browser.
Step 2. Sign in to your Google account by entering all your details and password. It will take you to the Find My Device page, which has a map background.
Step 3. Click on the Location Tag to get the coordinate of the Android phone. If you click on the blue Direction button at the bottom of the page, it will show you a route that will take you to where the Android phone is.
Part 2. Which Is the Best Way to Track Android Phone from iPhone for Free
Part 3. How to Prepare the Android Phone for Tracking
You can prepare an Android phone for tracking depending on which suggested methods you want to use. If you want to use the AirDroid Location Tracking, you have to install the corresponding app AirDroid Kids on the Android phone. You need to also install an app for Family Locator – GPS Tracker. For any of the Google options, your Google account has to be active, and it must be online. It also requires that your location is turned on. GPS Mobile Number Tracker requires that the Android phone is on and the sim belonging to the number is in it.
Conclusion
There is a fair probability that your Android phone can get lost, and you will need to track it using an iPhone. Hence, this article has highlighted five methods for tracking your Android phone through your iPhone. You can use these methods without the target device user knowing that you are tracking their device.
FAQs about Tracking an Android Phone
Can You Track the Location of an Android Phone?
Yes, you can track the location of an Android phone. In addition, you can track it from another Android phone, an iPhone, or your PC.
Can You Track an Android Phone with an Iphone?
Yes, you can track an Android phone with an iPhone. Five of the trusted methods for doing so have been well discussed in this article.
Can I Track a Cell Phone with Just a Number?
Yes, you can track a cell phone with just a number. You can use the phone number tracking app or reach out to that cell phone carrier. You may be asked to provide other details like Country Code, ID, and IMEI number.
Can You Track a Phone Without Location On?
Yes, you can track your Android phone and iPhone without turning on the location. You can use AirDroid Location Tracking or any other apps to track the location of your phone even when the location of the phone is not on.
How Can I Track a Phone Without Them Knowing on Google Maps?
You can track a phone using Google Maps without them knowing by enabling the feature without them knowing. Once the Google sharing or Find My Device feature has been set, you can track their phone without them knowing.
Was This Page Helpful?