How to Track a Stolen Huawei Phone?
It sounds unpleasant to hear your Huawei phone is lost. Indeed you had many contacts, essential pictures, valuable apps, and a lot of important data. Now, parallel to purchasing a new phone, you would also be crying deeply if only there were a way to recover all your lost data; most importantly, worry about finding your Huawei phone. Here, we offer the ultimate guide for finding your lost or stolen Huawei phone!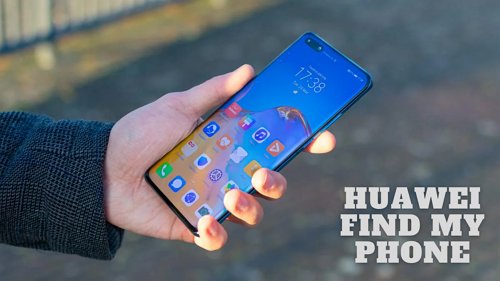 You can recover your lost data in many ways and delete all your data from the stolen Huawei phone so that nobody can ever access it. In this article, you will learn how to track a stolen Huawei phone, recover data using Huawei personal ID, use the Android default recovery method, track your loss via IMEI, AirDroid Parental Control, and much more. So here we go:
1How to Find My Huawei Phone with Huawei Cloud?
Before diving into the details to find a Huawei phone, you should know that Huawei provides an exclusive way to track your phone via Huawei Cloud.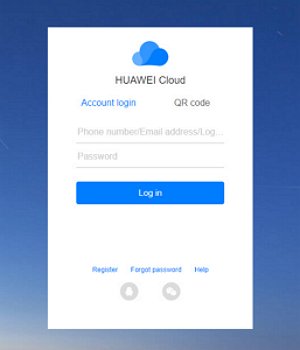 The Huawei Cloud feature is only accessible once you make Huawei ID. The Huawei ID is available for all Honor and Huawei phones. This ID opens gates to exclusive services like AppGallery, Cloud, Video, Themes, and much more. Huawei realized this feature's usefulness, so it was mandatory for any user who migrated from other brands to Huawei phones to make this ID. Though the Huawei ID is unavailable in some countries, significant regions can undoubtedly avail of this feature.
If you are wondering how to access Huawei Cloud, follow the below steps:
From your Home screen, swipe down and click the gear button to access settings, or click the settings icon directly from apps.
Log in with your Huawei ID.

Open the Cloud menu and enable the features as you wish.
Once you have made and set up your Cloud on the device, and unfortunately, it gets stolen, no need to worry. You can track your lost Huawei phone via the cloud feature in two ways. One is Find Device, and the other is Find My Phone.
These two features are from different origins but function the same. The Find Device is for Google account users available in Android 4.1 and onwards. This means users have Ascend P7 Mini, Ascend Mate 2 4G, and B199 and can find their stolen phone via the Find Device feature.
Here's how to find a Huawei phone via Find Device:
Launch cloud.huawei.com on the browser and open Find Device.

Login with your same account as on the stolen phone from the list.
Head on to the Find Device interface and select which device you wish to locate. If you can not find the device in the list, the function may not be available on your phone; the phone is not connected to the network, unlogged from the Huawei account etc. Contact the Police in this situation.
Once located, the device will appear on the map.
On the other hand, the Find My Phone feature is available under certain conditions. Huawei's press release informs its users that the Find My Phone feature will be available for users having P10 Plus, P10, Nova 2, P10 Lite, and later models.
The steps to use Find My Phone feature are same as Find Device.
2How to Find Lost Huawei Phone by IMEI Number?
IMEI number stands for International Mobile Equipment Identity. This number is on every mobile device, giving it a unique identification number. You can also find a Huawei phone if your phone is lost by tracking the IMEI number. But first, you need to find your Phone's IMEI number. Here is how you can find it:
Swipe to show the notification bar on the home screen and click the Settings icon.
Now go to About Phone.

Find and view the IMEI number.
You can also find the IMEI number by dialling *#06# on the keypad. If your phone is stolen, you can see the IMEI number on the Phone's box.
Now once you know the IMEI number, follow the below guide to track the stolen Huawei phone:
Go to Google Play Store and download the "IMEI Tracker" app.
Open the app and enter the IMEI number of the stolen phone. The app will show the location of the lost Phone.
3How to Find My Phone Huawei with Location Tracking Apps?
There are paid and built-in location tracker apps that helps you find your stolen Huawei phone. The paid third-party software gives you additional features like hearing what the stolen phone user hears. So if you want to avail of other features, you should use paid tools. Here are three location tracker apps that can find your stolen Huawei phone:
1AirDroid Parental Control
If you are looking for extra benefits rather than merely finding a Huawei phone, this is the best tool on the market. The software is made for parents who want complete control over their child's activities and to monitor what they are up to every second. But with the dedicated Location Tracker, you can find your stolen Huawei instantly. With AirDroid Parental Control, you can locate your lost phone immediately.
With location tracking, activity tracking, and real-time alerts, AirDroid Parental Control provides you with the peace of mind to keep your children safe and healthy. Our app will help you stay in touch with them at home or out and about at all times. You can also set up time limits for your child's use of the devices and receive real-time notifications when they violate these limits.
Here is the complete procedure of setup and finding the stolen Huawei phone:
Setup Procedure
Step 1.Download and install AirDroid Parental Control on your device.
Step 2.Open the app, create your account, and log in. Then download AirDroid Kids on the targetted mobile phone. After installation, launch it and pair the device with the pairing code. It should be noted that the stolen phone should also have this software. Otherwise, following the complete procedure is meaningless.
Step 3.Click on the GPS icon on the dashboard's bottom. You will notice the location of your stolen mobile. Click the Refresh icon in the top-right corner to find the current and fresh location. It will display your stolen phone's current location.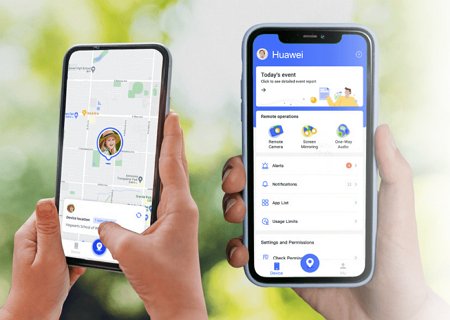 This function in AirDroid Parental Control tells the stolen mobile's current and exact location. This is how you can find your stolen Huawei phone:
2Find My Device
As discussed earlier, this function is a built-in feature by Google. And you need a Google account to log in. You can find my Huawei phone using my Google account. It also helps you locate your stolen phone; the feature is connected to Google Maps, and you can see the approximate location in the Map application.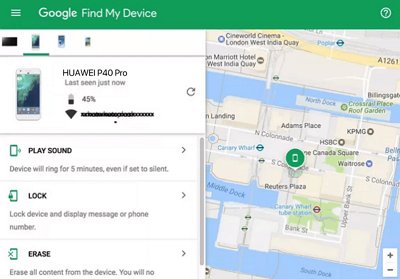 Step 1.On your Android tablet or phone, open Find My Device app. Sign in with your name and hit Continue.
Step 2.Head over to google.com/android/find and log in via Google account.
Step 3.If you posses more that one phone then select the phone from top of screen.
Step 4.If your phone consists of multiple user profiles then log in with the main user profile of the phone.Your lost phone gets notification.
Step 5.Now you will see the information on your map where the lost phone is located. However, the location will be approximate. If the phone is unable to be found, you will see the last known location if the feature is avaialble on it.
3Google Maps
The Google Map is handy when someone receives your lost phone and contacts you to inform you. Now with that person's help, you can find a Huawei phone on Google Maps. Here is how to do it:
Step 1.Ask the stolen phone received to open the GPS in the mobile.
Step 2.Now ask him to open Google Maps.
Step 3.Tell them to press the "center-on" icon, so the location is now precise.

Step 4.Tell the receiver to share the location at somebody else's phone number where you wish to receive the location.
Step 5.Once he shared it, click on the link. The link will open Google Map on the phone and will tell you where the phone is right now.
4What Can I Do If My Huawei Phone Is Lost?
If your phone is lost, unfortunately, there are three things you can do immediately to avoid receiving any threats or blackmailing.
1: How to Play a Sound and Lock Your Lost Phone?
You need to have Find My Phone enabled on the stolen device. Otherwise, the procedure will not work.
Click on cloud.huawei.com and log in with the Huawei ID on the stolen mobile. Click Find My Phone .
Now select the device from the list you want to locate The device appears on the map.
Click the icon lock device and your lost device will be locked. Click the sound icon on your device. The device will start playing loud sounds. But never try this option if the phone is far away from you. Otherwise, the thief may get an alert and switch off your phone.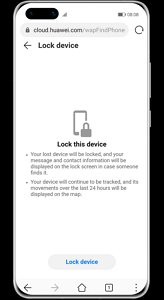 2: How to Erase Data on a Stolen Huawei Phone?
Follow the steps mentioned above until your device appears on the map.
Now click Erase Data to wipe away all data on your stolen phone.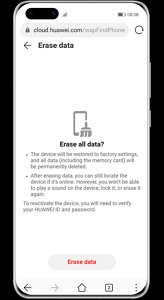 3: How to Use Lost Mode to Send a Prompt?
Log in with your Huawei ID on the stolen mobile.
Select the device from the list you wish to locate.
Head to Find My Device and click Lost Mode.

Send a message to display on the lock screen on the stolen mobile so that the person finding this mobile can return it to you.
5Can I Track a Huawei Phone Using iPhone?
The Google introduced Find My Device app for Android devices only. But if your Android phone is lost and you have your iPhone available, you can still use the phone via your iPhone. Here's how you can find it.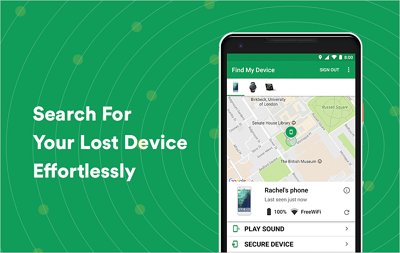 Step 1.Open browser on iPhone. In the address bar, input google.com/android/find
Step 2.Input the Google ID active on your stolen Huawei and hit the Next button. Enter the correct password.
Step 3.The web page will direct you to the "main device page", from where you can track your phone.
Step 4.Click "Location Tag" on the map, and the coordinates of lost Huawei will show up on iPhone.
Conclusion
In the end, if you are worried about how to find my Huawei phone, various methods answer the question. Even if your internet connection is disabled or your phone is on aeroplane mode, you can still track your Huawei mobile location via apps. But to get real-time updates on location, AirDroid Parental Control is the recommended app.
6FAQs about Finding My Huawei Phone
How to Track My Lost Huawei Mobile Phone That Is Switched Off?
The lost Huawei phone will not be found if switched off. This is true for every Android phone.
How to Locate Your Huawei P30 Lite?
Using Find My Device or Find My Phone options, you can easily find the Huawei phone, P30 Lite. This is true for every Huawei phone user if they have Huawei ID.
How Can I Find My Huawei Phone Using My Google Account?
Can I Locate My Huawei Phone in Airplane Mode?  
You can locate your Huawei even in aeroplane mode if the features like Offline Finding, Google Find My Device, Google Timeline, etc., is enabled.
How Do I Turn on Find My Huawei Phone?
Open the cloud.huawei.com on the internet browser, open Find My Phone, and log in with details the same as the stolen mobile. The Find My Phone option is now enabled.ss 
How Can I Track My Huawei Phone without Internet?
You can track your phone easily by installing the "Where's my droid" app. You need to give all GPS permissions to complete the setup. Once done, you will see the "Bell and GPS" option, which will help you track your Huawei phone even without the Internet.
Was This Page Helpful?