[2023] Top 10 Free Parental Control Apps for Android
Kids these days are secretive and feel like they don't need parents breathing down their necks. As parents, we cannot stop ourselves from wondering what our children do with their phones, especially when they start keeping some type of friends or hiding their phones away from us.
Fortunately, science has made it that technology can battle technology. Software developers have developed parental control apps. These apps have become rampant that getting the best parental control app poses to be a headache.
While some are available for free, free for a period, others require a subscription or a sort of payment to access the app. This post contains some of the best free parental control apps for android. Read on to discover more!
What Is the Best Free Parental Control App for Android?
Generally, when choosing the best parental control app for android, there are things to put into consideration. Such as;
Age of Your Child Age
The kind of parental control app you choose is dependent on how old your kid is. If your kid is under 12, you might consider investing in apps that block certain website access. But if you have teenagers, the restriction is lifted a little, thus allowing them objectionable browsing online with your permission.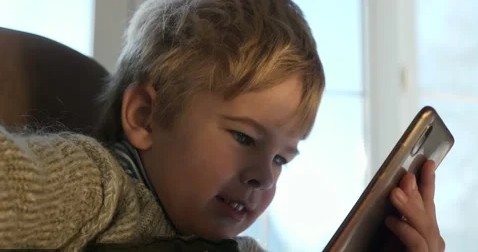 The Features of the App
A typical parental control app for android phones should have the following features; location tracking, call logging/blocking, text blocking, web monitoring/filter, app blocker, time limits, etc.
Test and Rating Dimension
After considering your child's age and the features you want the app to have, the next thing is testing the app. You can do that by evaluating the criteria such as price, app management, app installation, etc.
In a nutshell, the best parental control apps should have variants for kids at different ages, have the features you need, and have good evaluations. Based on all these, we list the top 10 best free parental control apps below.
10 Best Parental Control App For Android
We will introduce and review the ten programs in detail. Hopefully, it will be helpful for you to find the most suitable app.
1AirDroid Parental Control App
AirDroid Parental Control is one of the best comprehensive parental control apps suitable for families. With it, parents/guardians can remotely monitor and manage kids' android cell phones.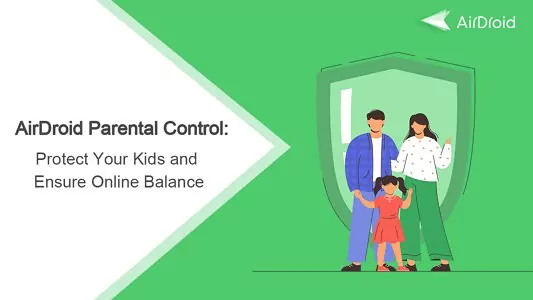 Some of its features include; call tracking, screen time limits, location tracking, app blocking, on and on. You can have a three days free trial before paying for a plan. It also has some unique features as below:
Key Features
View and listen to kids' surroundings online to ensure their safety
Remotely know what kids are doing on their Android devices
Track app activity and set time limits on certain apps
Track Android phone for free in real-time and set geofencing
2Qustodio Parental Control Software
Qustodio is an easy-to-use free parental control app for android. You can set rules and create schedules of when your kids can use their phones, and the websites they can visit.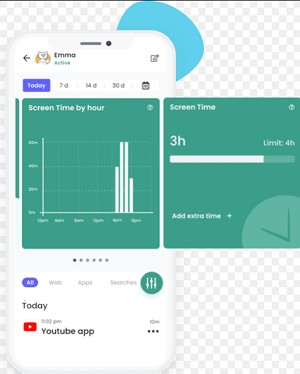 Its features/pros include call and text message monitoring, the time limit for apps, and location tracking. It has a permanently free option, however you cam only get limited controls like app blocking and web filtering.
3Norton Family Parental Monitoring App
Norton Family is not just one of the best free parental control apps for android, it is also a tool for learning. The learning features block distracting notifications from popping up while the kid is studying. On the downside, you need to pay after 30 days of use.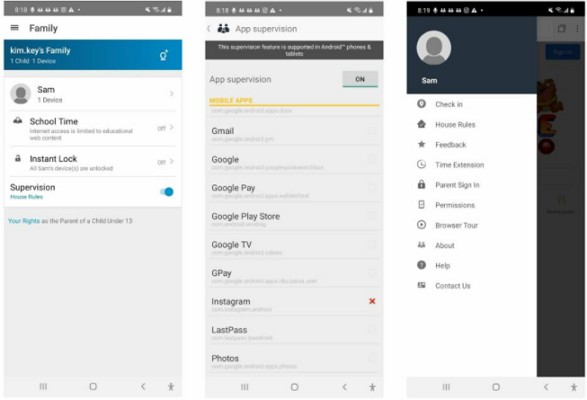 Its pros include;
Key Features
Easy to use but hard to bypass website filter.
It applies safe search to google searches.
It allows scheduling phone limits and usage.
4Google Family Link
Google Family Link is a first-option parent control app available for free. Its many features are well integrated with the android operating system. Some of its features include app monitoring and management, location, phone usage habit, and lock the device.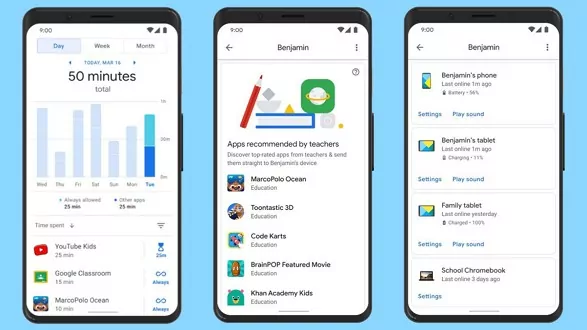 If you only want to manage apps belonging to Google company, it will be enough.
Note: If your kids log their google account on several devices, the location tracking may be inaccurate.
5KidLogger Phone Monitoring App for Parents
KidLogger is an open-source parental control app. In other words, the user can modify the software.

Key Features
Time and usage restrictions on named apps.
Call monitoring.
Text message monitoring.
Note: On the flip side, it has no web filter. Rather it keeps tabs on browsing history. It allows little control over kids' phones.
6IvyMobile AppLock Cell Phone Parental Controls
This software has several monitoring features, which is why it is among our top 10 best parental control apps for android. It is ideal for parents who want to keep a tight watch on their kids. It is majorly for younger kids. It locks kids out of sensitive apps. It requires a password to unlock the locked apps.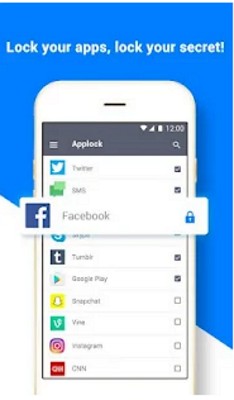 7Kaspersky Safe Kids Cell Phone Monitoring for Parents
Kaspersky-safe kids are available in the free or paid version. Its features include a blacklist to prevent access to certain websites, age restrictions, and screen usage limits.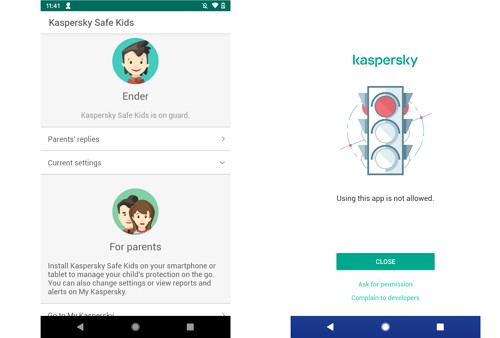 Key Features
It has app management.
There is screen management.
It has certain extra mobile tools.
8FamilyKeeper Parental Control on Android Phone
FamilyKeeper is a free parental control app that requires the installation of parent app and child app on you and your child's phone respectively.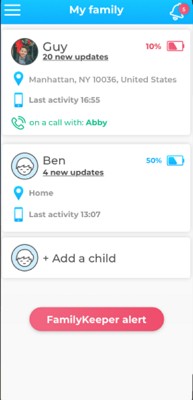 Its top pro/feature is real-time location tracking and notification. It uses artificial intelligence to monitor kids' devices and point out treats on social media and chats. The downside is there is no web filter or screen time limitation unless you subscribe.
9Safe Lagoon Parental Monitoring Software
If the Google family link is the pro, the safe lagoon is considered the lite version. It allows parents to view the app their kids use, find their kids' location, lock the phone, or limit their usage. Think of it as an alternative to the Google family link. It is also available for free.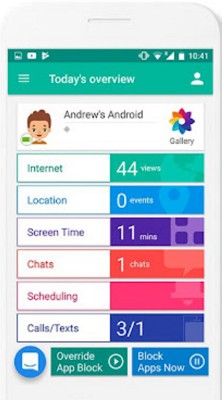 10OpenDNS Family Shield Parental Control Phone App
OpenDNS family shield blocks your kid's access to a certain website. It changes the DNS in the control panel from the router level. It involves copying and pasting the nameserver provided by the app over that on your system. Some of its con includes not specifying the website it blocks or blacklisting a website. There is also no screen usage limit or location tracking.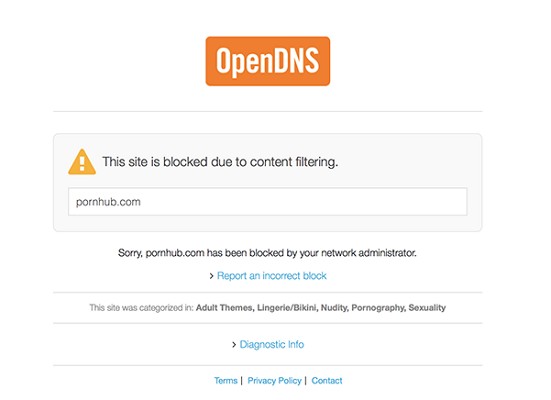 Apart from that, OpenDNS is among the best free parent control apps for android.
3 Parenting Tips for Better Phone Use
Sometimes, our failures as parents are reflected by our kids. Parental control apps will not completely protect our kids from all the dangers of having a phone. We need to take extra measures to teach kids how to put their phones to good use. Some include;
1Communicate With Children About Internet Dangers
You can be your child's counselor. Make them understand that the internet is not a big happy place. It contains scammers, the dark web, and other unpleasant tries. When communicating with them you need to be as gentle as you can be. Allow them to see you as a friend. This way, they get to buy your idea and accept it.
2Have Family Rules In Place About Phone Use
Sometimes, talking to them about internet dangers attached to owning a phone is not enough. You need to have rules put in place about phone use. The rule should involve when eating (no phones), when alone (restricted browsing and downloading), etc.
3Spend Quality Time With Your Child
Your kids will not feel obligated to glue their eyes and fingers to the phone if you created time for them. Hence, you need to spend quality time with them. When they are relaxed enough, they would not remember their android cell phone, unless to take pictures of the moment.
Conclusions
Honestly, no software company will develop a completely free app. It either comes free for a limited while or has ads running inside till you upgrade to premium.
The most important thing to look for in a parental control app for android is software performance. This is why AirDroid is recommended. It is not forever free but it gives a complete insight into your kids' activities with their android device.
FAQs about Free Parental Control Software
Is There a Completely Free Parental Control App?
Now that's a tricky question. There is no completely free parental control software. Those posed as free cannot be fully trusted to give the kind of control kids need over their android phones. So, why are paid apps listed on a free parental control page? These apps offer free parental control for a limited time before a subscription is required.
Does Android Have Built-In Parental Controls?
Parental control is in-built and can work on the device if your kid has a Google account and signs in with it. Android cell phones are a sophisticated technology. You can achieve a lot of things with it, even parental control. With your own Google account, you can manage and monitor their phones from yours.
Should I Monitor My Kids?
Kids do not want to be monitored, but it is up to you as a parent to take up your responsibility. So, yes, you should monitor kids. Especially, if they are adolescents with the nagging need to separate.
How Can I Protect My Kids from Online Dangers?
As parents, there are limited things you can do for your kids. However, you should do all you can to protect your kids from the dangers of the internet. Kids these days are smart enough to access and navigate dark websites and other apps/webpage. So Parental Control apps we list above will be helpful for you.
What Is the Best App to Monitor Your Child's Phone without Them Knowing?
As earlier established, parental control apps are the best way to monitor your kid's phone without them knowing. Of all the above-mention free parental control apps for android, AirDroid seems to stand out. It can be said to be the best app for monitoring your child's phone without their knowledge.
Was This Page Helpful?