Top 9 Call Tracker Apps In 2023
Phone calls have made everything easy. It is the fastest way to communicate with friends, family, and colleagues. A phone call is so easy that regardless of how one feels at the moment, You just dial the number and talk to someone. Everyone is just a call away. People find it easier and better to hold a conversation over the phone than face-to-face ones.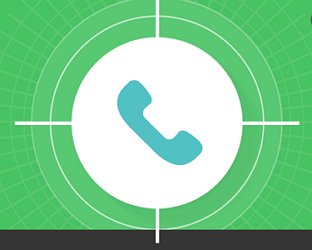 As parents/guardians, if your child/ward is constantly on the phone, even when they are upset or should be asleep, You may be curious to know who they are on the phone with and what they are saying. Hence, the use of call tracking software.
This post is an overview of the best call tracker apps for 2023. Read on to find out more!
Part 1. What Is The Best Call Tracker?
The best call tracker can monitor incoming and outgoing calls. Not only that, it should have certain criteria. Below are factors to consider when choosing the best call tracker.
Call Tracker Features
The tracker feature is a important factor when choosing the best call tracker. The app should be able to track the source of your phone calls, record calls, have the feature of DNI (Dynamic number insertion) and integrate with other programs you use for marketing campaigns.
UI Design
The app should be easy to install and use. The interface should be organized and not cluttered. Collected data should be presented in an arranged way. The features should be easy to access. The settings and options shouldn't be too embedded inside each other. Everything should be simple and easy to use and navigate.
Performance
Overall, the tracker performance should be top-notch. The app should always run without a glitch and must be reliable. Regardless of the app features and interface design, its performance should match expectations.
A powerful tool for real-time tracking of batch Android devices
Secure your company-owned Android devices with

AirDroid Business
- the ultimate solution for real-time location tracking and monitoring.
Customer Support
Customer support is the next thing to consider. Some call tracking software comes with tutorials on how to use it. Some have contact support features in the app. Customer support should also be available round the clock to answer queries and complaints.
Value
The call tracker you choose should have value for money. The app should be able to do what you want after the subscription is paid. Some apps offer free trials for demo operations, while some have free basic plans. Check if the app is worth it during the trial period before migrating to the advanced plan.
Rating
Before downloading a call tracker or buying a subscription, be sure of the rating. What are other users saying about the app/software?
You don't want to download the tracker and feel bad afterwards. Go to the app store and check the tracker rating and review.
Compatibility
Not all tracking software is compatible with your device. A tracker app not compatible with your device is like no tracker. Call tracking apps are designed exclusively for iOS devices, and some are designed for Android devices. Some are compatible with both operating systems. Also, consider the operating system version. Some call tracking software does not run on older operating systems. Check the device and software compatibility before making a move.
Part 2. 9 Best Call Tracker Apps In 2023
1Hubspot
Hubspot is an all-in-one call tracking software. It records calls, prioritize, and schedule calls via the internet. It also syncs the collected call data with CRM.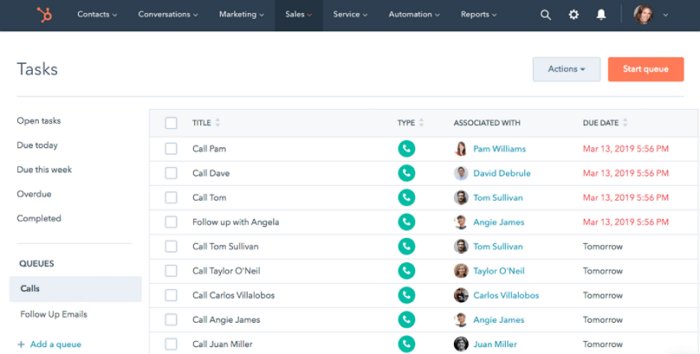 Features
Email sequence/autopilot
Automatic call recording with a single click
Customizable dashboards
Chat routing
Email scheduling and tracking
Pros
Place calls straight from the desktop site
Automatic call tracking and logging
Cons
It is web-based and cannot be downloaded
Free Trial
Limited free option (demo).
2800response
800response is a sales and marketing solution that organizes call operations. It monitors, routes, and tracks calls. It tracks call locations and uses vanity 800 numbers.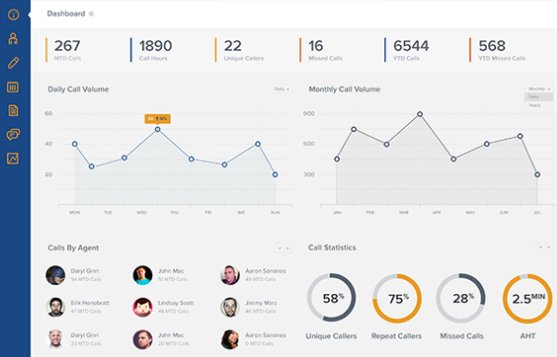 Features
Speech analytics tool
Lead management
Customer analytics solution
Real-time call tracking
Pros
Call tracking and recording
Good customer support
Good call tracking quality
Cons
It is difficult to navigate, especially for first-time users.
The call recording feature is not always responsive.
The tracker is a bit costly.
The dashboard looks outdated.
Free Trial
No free version available, but it has free trials.
3ActiveDemand
ActiveDemand is an integrated marketing software that tracks calls. It also does social media marketing and campaign lead generation.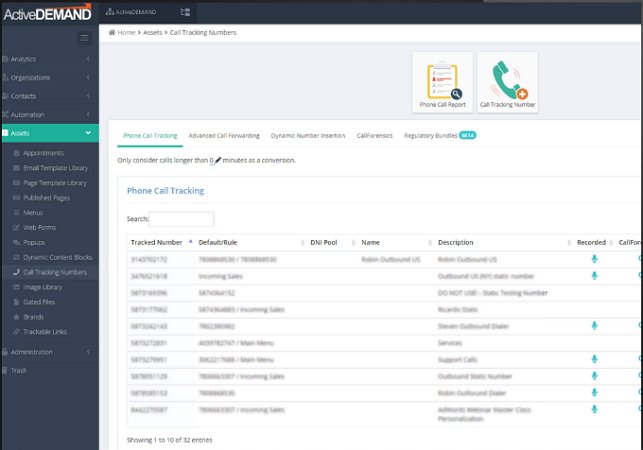 Features
Real-time call tracking
Cross platform/channel
Campaign management
Marketing automation
Email and online marketing features (dynamic content and email editor)
Instant phone number setting
Pros
User can port existing phone numbers.
It can be integrated with salesforce.
It records calls.
DNI (dynamic number insertion) and country-specific number insertion
Excellent customer support service
Cons
Software glitches
Reports do not automatically refresh.
Free Trial
14 days free trial.
4CallRail
CallRail is SaaS type call tracker. Its mobile application is compatible with both iOS and Android devices. It connects data from calls and chats for better outcomes.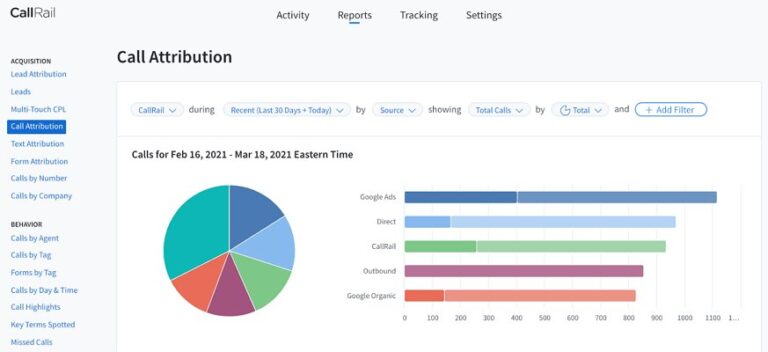 Features
Call recording
Call tracking
Contact management
Integrated with Google Analytics, Hubspot, etc.
Pros
It records calls and calls information.
Ease to use/navigate user interface
It is easy to setup.
Available as website and app
Cons
Integration is not seamless
Poor customer support
Cannot see text history
Free Trial
No free trial, but free versions are available.
5WhatConverts
WhatConverts is another call tracking software that also tracks leads and conversion. It gives real-time reporting. It also manages reports on its dashboard.

Features
Call, form, and chat tracking
Search, filter, and export leads
Real-time marketing and custom reports
Dynamic number insertion
Google ads and analytics integration
Pros
Easy to navigate and setup
It has good tracking solutions.
Cons
Customer service needs improvement.
You can add only one email to one account.
It has no mobile app.
Free Trial
It has a 14-day free trial.
6CallFire
CallFire is another call tracker for 2023. It is an inbound call tracking software best for businesses or large-scale calling tracking.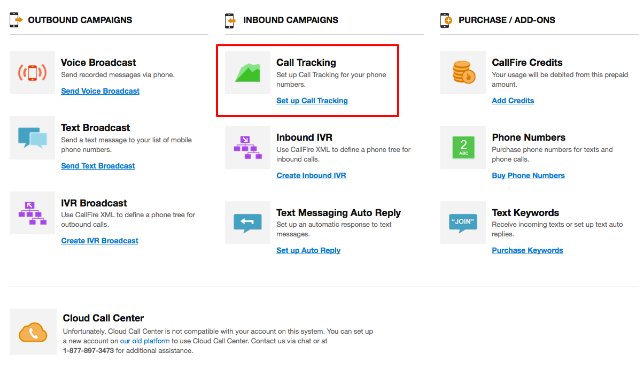 Features
It tracks local, international, and toll-free numbers.
Call tracking comes with SMS.
Call/email notification enabled.
Call broadcast
Team tracking dashboard
Pros
It tracks SMS too.
It offers different payment plans; pay-as-you-go or pay per minute/text.
Cons
It is cloud-based and cannot be downloaded.
Free Trial
No free trial available and no free version .
7Convirza
Convirza is an enterprise-based call tracking software that also combines phone analysis. It is originally designed as a marketing solution software. Still, its call tracking features make it one of the best call tracking software for 2023.
Features
Speech recognition
Customizable language tracking
DNI insertion
Local numbers tracking
Call details and geo-routing
Pros
It tracks and records calls in real time.
The user interface is easy to navigate and understand.
DNI is easy to implement.
Cons
The report viewing needs a review.
There is no dynamic call tracking.
Glitch in the web interface.
System frequently logs users out for inactivity.
The performance is not smooth on safari.
Free Trial
It has 21 days free trial.
8CrazyCall
CrazyCall is a cloud-based call tracking software. It is designed for call centres and sales/marketing teams to boost incoming/outgoing calls.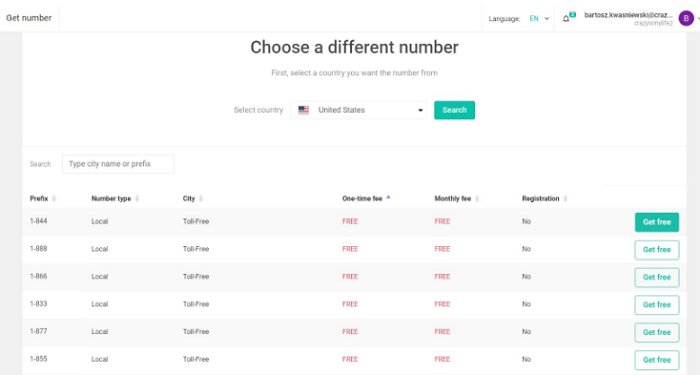 Features
Free call archiving
Queue and campaign management
SSL encryption
Conference calling
Pros
It requires no download.
Numbers are dialled automatically.
Users can choose numbers from over 60 countries.
It has support call recording.
Cons
The UI is a bit complex.
There are occasional system glitches.
Downloading report from the cloud is slow.
Free Trial
It has 14 days of free trials.
9CallAction
CallAction also has the function to track calls. Its intuitive automation helps to capture and engage incoming calls, text messages, and emails.
Img: callaction alt: CallFire by CallAction
Features
Cloud, web, and SaaS-based
Call and contact management
Customer database
Referral monitoring
Supports up to two users
Call recording system
Campaign management
Text for info services
Pros
Automated texts and emails
Tracks caller location
It captures phone numbers.
Cons
A little difficult to setup
The user interface is confusing.
The features are a little confusing.
Free Trial
Free trial is available for 14 days.
Part 3. How Do Call Tracker Apps Work?
The call tracker app simply collects and records incoming call information. When you set up call tracking software and attach it to a number, the software assigns a number to the target number. Calls are then routed to the number when it comes in for the target number.
The call tracking software collects the caller's information and location. It also collects call details such as the date, the duration, and the timestamp attached to the call. Call tracking software is a great means to see whom the target number calls and who calls them.
Part 4. Why Should You Use Call Tracking
Determine Which Campaign Bring the Most Phone Calls
One major reason why you should use call tracking is that it determines which campaigns bring the most phone calls. When you know which campaigns are effective, you can continue with them.
Find Qualified/ Potential Customers
Another reason why you should use call tracking is that it helps find qualified leads. With the call recording features, you can analyze the caller. You can also see the kind of leads that contacts you. In other words, it helps you know your audience.
Source Reporting
Source reporting is the location and time of the call. This detail can help you polish your marketing/advertising campaigns. For instance, if the majority of your calls are from a particular region, you might consider location-based campaigns.
Determine Which Marketing Channels Bring The Most Offline Calls
Call tracking software helps you determine which marketing channels bring the most offline calls. With this data, you can plot a customer's path from start to finish, and determine if your marketing/advertising efforts are working.
Determine Which Keywords Drive Leads
Another reason why you should use call tracking is to determine which keywords drive leads. PPC (pay-per-click) advertising is a keyword-driving option that helps users understand PPC (keywords) campaigns. You can see which advertisements have the most leads.
Bonus: How to Track Your Kid's Phone Calls
When it comes to taking care of your kids, it shouldn't be limited to their physical state of well-being only. The teenage and adolescence period is the most difficult stage of a child's development. They may be compelled to do things not suited for them, hence, the use of a call tracker app.
AirDroid Parental Control app
can be used as a location tracker to find your kids location any time. You can also use it to monitor kids calls & SMS. It also monitors social media messages. It syncs your kid's device with yours and lets you see their activities.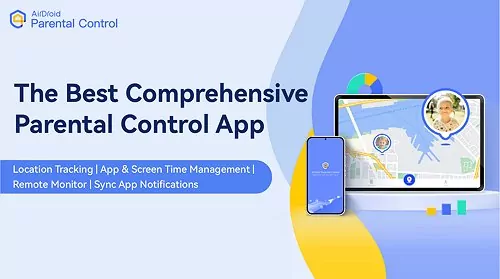 Features
Get notification when getting a call and record calls if needed
Watch, hear and record the surroundings of the phone call
Track calls and text messages of target device remotely
Screen mirroring and app notification syncing
Remote device monitoring and management
Real-time location tracking and geo-fencing
You can see their text messages and monitor their calls. The AirDroid app runs in the background stealthily. Hence, there is no interference. Even your kids wouldn't know you have it installed on their devices.
Final Thoughts
As parents or guardians, your world revolves around your kids. It is only natural to be concerned about their safety and well-being. Cell phones are a boon for us, including kids and teenagers. You protect them and their device by tracking their call with call tracking software.
AirDroid Parental Control app and call tracker is the choicest app for tracking your kid's call. It is the best call tracker app for 2023 with parental control features.
FAQs about Call Tracking
How Can I Track a Phone Call?
To track a phone call, you must set up a tracker. Once the tracker is set, incoming calls for the target number are routed to your number.  First, download the call tracker app on your device, link the target device to yours and set up call tracking for the number.
Is There a Free Phone Tracker?
Yes, there is a free phone tracker. Some are available as websites; some are available as downloadable apps. Some downloaded trackers offer free trials, while others have free basic plans, like the AirDroid app. AirDroid phone tracker app has most tracking features like call recording, caller location tracking, and timestamp.
What Apps Track Phone Calls?
Call tracker apps are apps that track phone calls. Parental control apps with call recording features can also track a phone call. AirDroid parental control app and call tracker monitor incoming calls, the call details, duration of the calls, caller ID, and the call timestamp. It also features that record that calls.
How Much Is a Call Tracking Number?
Call tracking costs anywhere from $20-$100 per month, depending on the package and the tracking features. Some trackers even cost more. It is why you need a free call tracker app.  AirDroid call tracking app is the best free call tracker app. It has a free basic plan and an advanced plan. The advanced plan is affordable at $2.5 per month.
Can I Track Someone's Location By Phone Number?
Yes, you can track someone's location by their phone number. You can do that via google Maps if they share their location with you. You can also contact their phone carrier to request a tracker. But you must have legal reasons to do so. The easy approach is to use call tracking software.
Was This Page Helpful?