How to Automatically Forward Text Messages to Another Phone
Almost everyone who has ever used a phone has occasionally required forwarding a text message to an email address or another phone number. You might want to forward text messages to a different phone number or email for various reasons.
One justification will be if you have several phone numbers. Additionally, you will require text forwarding if you are visiting another nation and utilizing a different phone number. And text forwarding might be helpful for a parent who wants to keep an eye on their child's conversation.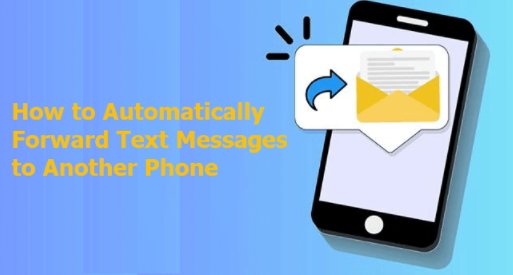 While using your service provider to accomplish this is an option, it is not always the ideal choice. Thanks to third-party apps created by developers, we can now automatically forward text messages to another phone.
Part 1. How to Automatically Forward Text Messages to Another Phone
You may use SMS Forwarder APK to automatically forward text messages to any designated phone number or email address. The software will do the rest; you have to specify the phone numbers or email addresses to send SMS to and the kind of messages you want to forward.
1From Android
No native system resources may be used to automatically forward text messages unless your carrier provides some solutions in this area. However, modern technology has greatly simplified our lives. At the same time, bullying and harassment can be committed with this technology. Keeping a watch on someone's online habits can be useful, whether you are a worried parent or a doubtful spouse.
You can protect your youngster by receiving your child's texts in real-time on your phone using AirDroid Parental Control.
To activate AirDroid Parental Control, follow these instructions;
Step 1.On your phone, download and install AirDroid Parental Control. You can also visit the web version at webparent.airdroid.com directly.
Step 2.Creating an AirDroid account. Launch the app on your phone, and then follow the instructions to create an account and log in.
Step 3.Bind a Device. Download AirDroid Kids on a different phone. Install and run the application. You can finish the setup by doing as instructed. You can now connect the target phone to your gadget.
Step 4.Review the text messages from a different phone number in the Notifications section.
2From iPhone
Step 1.Go to Settings > Messages on the iPhone and choose Text Message Forwarding. Your Apple ID-connected devices will be listed on the screen. Choose each person to whom you want to forward SMS messages.

Step 2.After that, you will be given a six-digit number that you must enter on your other device. You can also add a different phone number to your Apple ID.
Video Tutorial: How to Automatically Forward Text Messages to Another Phone?
Part 2. Other Ways for Forwarding Text Messages
Forward Text Messages to Email
Choose the method that best suits your needs from the various options available for setting up an SMS forwarder.
1Google Voice
Step 1.Open the Google Voice app. You can download it from Google Play or App Store if you don't already have it.

Step 2.Select Menu from the top left, then select Settings.
Step 3.Turn "Forward messages to email" on under Messages.
2SMS Forwarder
Step 1.Install the app by downloading it from the Play Store.
Step 2.Open the application and provide it with the access it requests.
Step 3.You should now see a "Set Up Email" button; touch on it after you've accepted the terms and permissions.
Step 4.Enter the email address to which the SMS will be forwarded.

Step 5.If you're using a Gmail account, choose "Via Gmail API," and if you're using another provider, choose "Via SMTP."

Step 6.Once the app is configured, you are ready to use it. Still, if your phone has a battery optimizer option, you may wish to instruct it to ignore or disable it.
Step 7.This is because battery optimization could prevent the program from running continually in the background.
Forward a Text Message to Slack
Step 1.Select Events from the OpenPhone Admin Dashboard can change which events are shared to Slack. To forward texts, missed call notifications, and voicemail to Slack, voicemail, missed calls, and text messages will, by default, be posted.

Step 2.You must configure a Slack SMS integration to receive SMS in Slack. You can specify which Slack channel you want your incoming text messages to go into during the setup process. Incoming messages will appear in your chosen Slack channel after you authorize the channel.
Forward Messages Into Hubspot
Use the forwarding address to add an email response to the contact record's timeline. When you need to log an email after you receive it, the forwarding address comes in handy. Ensure your email client supports the forwarding feature before you begin.
Step 1.Click the Settings icon in the main navigation bar of your HubSpot account.
Step 2.Get there by choosing Objects > Activities from the left sidebar menu.
Step 3.On the Email Logging tab, click.
Step 4.Click Copy to the right of the Forwarding Address field.

Step 5.Open the email you want to log into HubSpot by going to your email inbox.
Step 6.Send the email to the forwarded address that you have copied.
The forwarded email will be noted in HubSpot under the contact's record. A new record will be created if the HubSpot contact record for the email recipient does not already exist.
Part 3. How Companies Use Text Forwarding
Text forwarding makes it simple to view all of your incoming communications via your preferred channel by delivering text messages to your mobile device, email, or online messaging dashboard. Text message forwarding is useful to individuals, businesses, and corporations. The following is how organizations benefit from this feature.
Customer Service
Delight your consumers by staying on top of all incoming customer communications and replying promptly via text messaging, which is their preferred method of communication. Satisfactory customer service is one of the things that keep customers coming back.
Selling and marketing
Never again miss a chance to make a transaction. Receive prompt notification whenever prospective clients ask questions about your goods and services. Selling and marketing are two other areas where the forwarding of text messages has proven to be very helpful.
Employment Operations & Recruitment
Stay alert anytime job candidates or employees text you via your favorite communication channel. Many companies today are very quick to respond to such prompt messages with the help of text message forwarding features.
What Advantages Does Text Forwarding Offer? The following are some of them;
Send messages to your messaging dashboard, email, or mobile device.
Utilize a web browser interface to manage huge contact lists.
Allowing team members to select their favorite messaging channel will keep them updated.
Bonus: How Do I Divert All Calls and Texts to Another Number?
The following instructions may be of help;
Step 1.Activate the call icon or dial pad.
Step 2.Tap the Overflow action icon.
Step 3.Touch the Menu icon on various phones to get a list of commands. Alternatively, dial settings.
Step 4.Toggle calling forwarding on.
Step 5.Decide on a forwarding number.
Step 6.Click OK or Enable.
FAQs about Text Message Forwarding
Q 1. How Do I Forward My Text Messages to Someone Else?
The text conversation containing the message you want to forward should be opened. The message should be pressed and held. Selecting Forward will be tapped. The recipient can be found and chosen by searching on the Contacts tab. Hit "Done." When prepared, press the Send button (right-angled arrow) to send the message.
Q 2. How Do I Forward a Text Message to Multiple Contacts?
Tap and hold the text message, choose Forward from the pop-up menu, and then enter the recipient. Enter several contacts if you want to send the message to several recipients. After making any necessary text edits, tap Send.
Q 3. Can You Forward Text Messages Like Call Forwarding?
Does text message forwarding apply to calls as well? No, call forwarding will just forward your voice calls; it will not forward text messages you get on your phone.
Q 4. How Can I Get Text Messages Sent to Two Phones?
Android phones are unique. You need to download an app that supports SMS forwarding on both phones. For instance, Forward SMS Texting is a relatively common option among Android users. The Google Play Store also offers the Google Voice app for download.
Q 5. Can I Forward My Text Messages to Another iPhone?
Tap More after touching and holding the message bubble you want to forward. Choose any other texts you want to forward. Enter a recipient after tapping Forward. Hit "Send"
Was This Page Helpful?