How to Find WhatsApp Folder on Android and iPhone
But the problem arises when you don't know where is WhatsApp folder on Android or iPhone. This makes it difficult to find certain files shared with a specific contact on WhatsApp. For this, we have compiled this guide to help you find the WhatsApp database folder to quickly access all your data.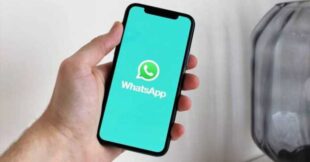 Without any further ado, let's cut to the chase.
1Where to Find WhatsApp Folder on Android
If you're an Android user and wondering where is WhatsApp media folder, then cheer up. All you need to do is follow the below step-by-step guide to find the WhatsApp folder on Android effortlessly:
Step 1. Tap the File Manager icon on your phone's home screen.
Step 2. Next, tap Internal Storage and hit the WhatsApp folder as shown in the figure.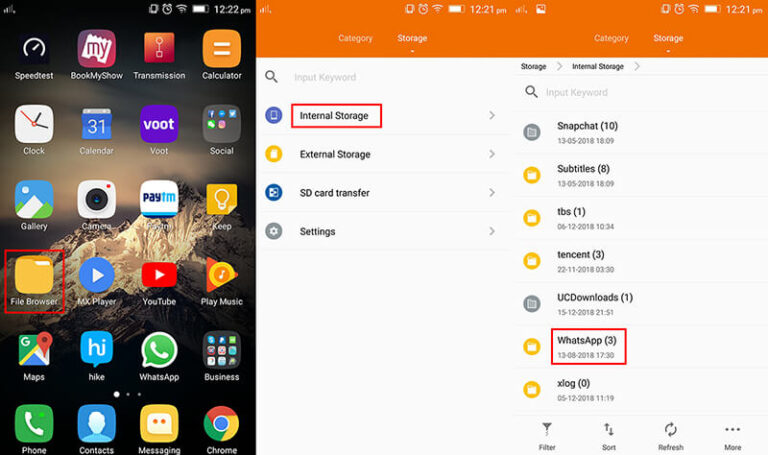 Step 3. After that, tap Media to access and view all the files, images, videos, and audio shared on WhatsApp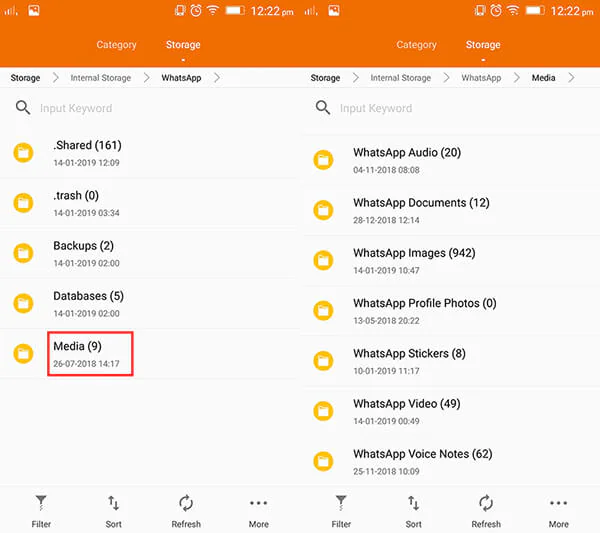 2Where is WhatsApp Backup Folder on Android?
WhatsApp makes a local backup on Android that is stored on your device. Local backup is saved daily and this feature is automatically active. It remains on your phone for almost a week.
This gives you the ability to retrieve a particular chat without restoring the cloud backup. So, if you're asking about the WhatsApp backup file location, follow the below steps to find it:
Step 1. On the Device Manager app on your phone, tap Device Storage or Storage.
Step 2. Next, go to WhatsApp > Databases.
(If your data isn't stored in the /SD card/WhatsApp/ folder, you might see "internal storage" or "main storage" folders.)
When it comes to backing up your WhatsApp on Android, it's always a handy option to make a cloud backup. Luckily, WhatsApp automatically backs up your data to the Google account synced with your device – if you have enabled this feature.
3Where to Find WhatsApp Folder in iPhone
If you're asking where is WhatsApp folder on your iPhone is, you're not alone. Accessing this folder on your iPhone is necessary to view the stored WhatsApp information that you have been struggling to find on your phone.
Here's how to do that:
Step 1. First, be sure to enable the WhatsApp feature to let the media automatically be stored on your iPhone. For that, open WhatsApp and go to Settings.
Step 2. Next, tap Chats and enable the "Save to Camera Roll" or "Save Incoming Media" option. option.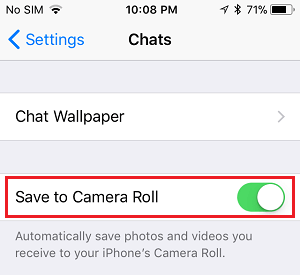 Step 3. After that, you'll see all the WhatsApp photos and videos on your Photos app.
4Where is WhatsApp Backup Folder on iPhone?
Remember that automated WhatsApp backups are not enabled by default on iPhone. You need to enable the backup option to store your WhatsApp data. Since this backup is saved on a cloud platform, you cannot physically view or access WhatsApp backup folder on iPhone.
The iPhone users get additional advantage to backing up their data on the Apple's proprietary platforms as well as the WhatsApp's own servers. Check out the below steps to backup WhatsApp on iPhone via iCloud:
Step 1. Go to Settings > Your Name (at the top) > iCloud > Backup. Here, enable the iCloud backup option.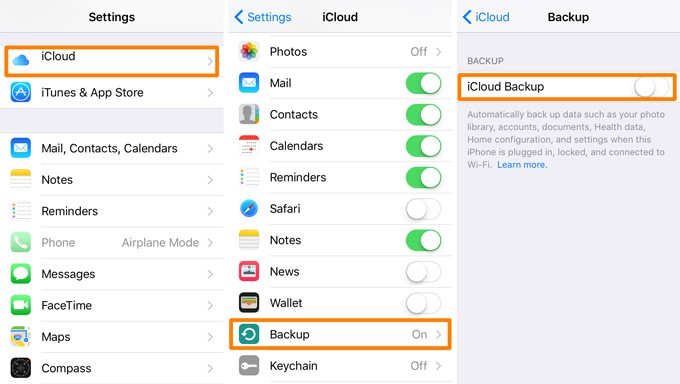 Step 2. Now, be sure that the WhatsApp is also enabled in the apps synced with iCloud backup.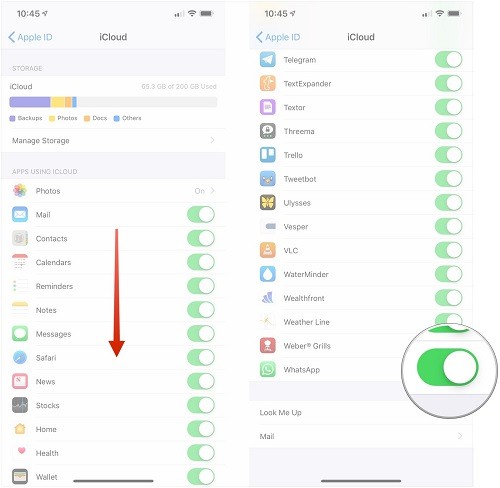 Step 3. Now, open WhatsApp and tap the Settings icon. Here, select Chats > Chat Backup > Back Up Now.
Step 4. WhatsApp also gives you several options to automatically back up your data. For that, go to the "Auto Backup" feature and set its frequency to daily, weekly, or monthly.
Note: Note that you can easily retrieve WhatsApp data to your phone all at once by deleting and then reinstalling WhatsApp on your iPhone. However, iCloud offers only 5GB of free storage. If you have the bulk WhatsApp data, either back it up on your PC or get additional iCloud storage plans.
5Manage WhatsApp and Other Social Media Apps from PC – Use AirDroid Personal
Have you ever found the need of managing your WhatsApp from your PC? Maybe you're in the office or at work and cannot use your smartphone constantly to check the updates. Or maybe, you want to view WhatsApp media on a larger screen.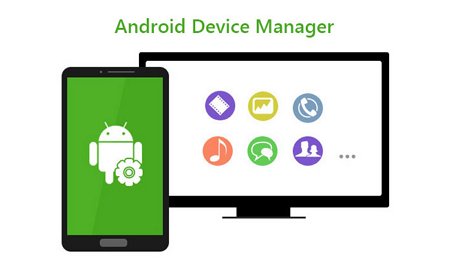 In any case, AirDroid Web is all you need to control all your phone's notifications from your desktop. This helps a lot in multi-tasking or getting added convenience to manage multiple social media apps. The best thing about AirDroid Web is it doesn't need super-fast internet to run smoothly. Use it on any web browser and expect a consistent and smooth user experience.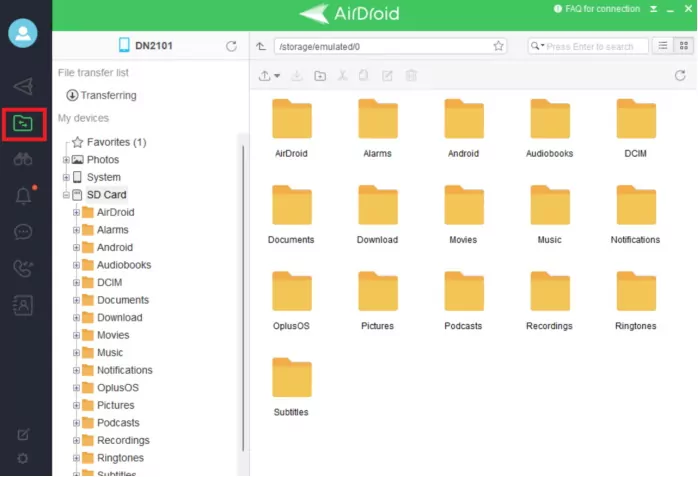 In addition, the program also empowers users to transfer files between smartphone and PC, use the phone's remote camera, and file management. All you need is the AirDroid Personal app on the smartphone you want to manage from your PC.
Key Features of AirDroid Personal
Here are some notable features of this remarkable service:
Offers a click-through procedure to use WhatsApp on a PC.
Supports all social media apps including Facebook, Messenger, Kik, Telegram, Skype, Line Messages, and more.
Works perfectly even on slow internet
Allows you to transfer data between computer and smartphone in lossless quality.
Control SMS and call notifications.
Block unnecessary apps to avoid getting irritating notifications.
Using AirDroid Web is as easy as it can get. Follow the below steps to do that:
Step 1. After installing the AirDroid Personal app on your smartphone, sign in with the AirDroid account.
Step 2. Next, go to Me > Security & Remote Features, and enable the Desktop Notif. Option.
Step 3. Now, tap My Devices and hit the AirDroid Web scan icon. A QR code will appear on your phone's screen.
Step 4. Next, go to AirDroid Web on your PC web browser and scan the QR code on your phone app to connect both devices.
After that, you can handle all the messages and other notifications from your browser window.
6Final Remarks
This article shows that accessing the WhatsApp folder on Android and iPhone is easier than you think. It just takes you a few clicks to find the WhatsApp media folder on any smartphone, and from thereon, you can check photos, videos, documents, and other files. You also learned how to find the WhatsApp backup folder on both iOS and Android devices.
Having said that, use AirDroid Personal to read your WhatsApp messages from PC wirelessly. This feature-rich program arms you to manage notifications for all your social media accounts from the comfort of your computer.
If you have any questions regarding AirDroid Personal or its features, feel free to ask.
7FAQs
Below are some important queries of users regarding
1. What is WhatsApp shared folder?
WhatsApp shared folder is a temporary folder to store your WhatsApp data for some time. It actually decrypts your files on WhatsApp until they are moved to the WhatsApp media folder.
Users can delete the shared folder as it only contains temporary files. WhatsApp will automatically recreate that folder whenever it is needed.
2. Where to find the WhatsApp folder on Android and iPhone?
On an Android phone, go to Device Manager > Internal storage or SD card storage > WhatsApp > Media. This also answers your query regarding WhatsApp database location on Android.
On iPhone, all your WhatsApp photos and videos are stored on the Photos app. Be sure you have enabled the "Saved to Camera Roll" feature in WhatsApp > Settings > Chats.
3. Where is the WhatsApp status folder for Android and iPhone?
To find the location of the WhatsApp status folder on Android, go to:
File Manager > Internal Memory > WhatsApp media > Statuses.
Be sure to enable the " Show hidden system files" feature in the settings to see watched WhatsApp status on your device.
On iPhone, you cannot see the WhatsApp status folder for security reasons. However, it allows you to screen record the status in real-time. The recording feature is present in the Control Center.
Was This Page Helpful?