How to Use Spotify Offline Without Premium? Explained!
Spotify revolutionized music listening. It gave users access to a vast music library that is constantly growing through a single app interface. Moreover, almost everything is free of charge. Although, you can get a premium subscription that lets you use more features. But how to listen to Spotify offline?
Despite all the advantages the free Spotify app grants you, it doesn't work without the internet. So, using free Spotify offline isn't something you can normally do. But you can find many ways to work around this problem. For instance, you can sign up for a premium account. Or, you can use certain tools that help users listen to Spotify offline.
1 Does Spotify Premium Work Offline
Spotify is a music "streaming" service. So, if you are asking does Spotify work offline, the answer's right there. It doesn't. Because offline means no internet streaming, and that translates to no app music. However, if you are a Spotify premium subscriber, you can enjoy listening to saved music in Spotify offline mode.
Listen to Spotify offline With Premium Subscription.
When you get a premium subscription, Spotify allows you to download a maximum of 10000 songs. These are encrypted music files, and you can only play them via the Spotify web player. So, if you ask how to listen to Spotify offline, the correct answer will be to get a premium subscription.
A Spotify premium subscription costs you around ten dollars a month. However, during the offline mode, you can only listen to the songs you have downloaded and saved. In other words, to stream music or to listen to new songs, you will still need an internet connection.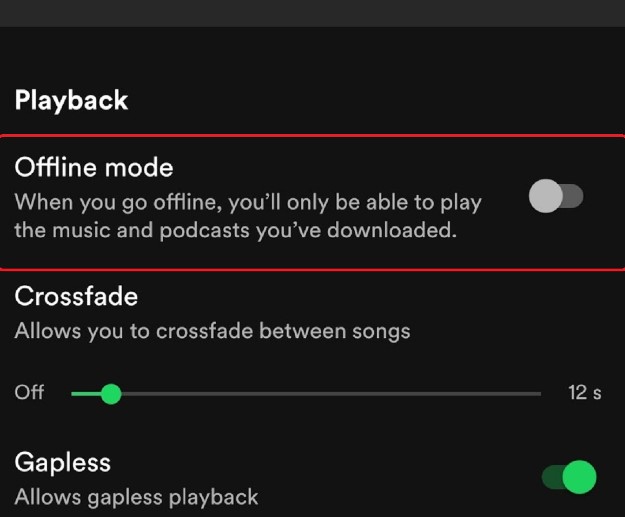 Steps to Get Spotify Premium
There are various types of subscription options available for Spotify premium. You can choose Family or Duo. Student subscriptions will provide you with a discount. In that case, you may have to present your student ID to Spotify. Here are the steps to get a Spotify premium subscription-
Step 1: Open the App and select 'Premium' from the bottom of the far right tab
Step 2: Choose your preferred subscription option (Student or Family) and get redirected to Spotify's main subscription process.
Step 3: Select a plan and click 'Get Started.'
Step 4: Fill in the payment details and complete your subscription process.
2How to Listen to Spotify Offline Without Premium
Can I listen to Spotify offline without the premium subscription? Or how to download Spotify songs without premium? This is something users of the app often wonder about. Well, there's a positive answer. Although the app doesn't allow you to do this, you can use a Spotify Downloader to make this possible.
A downloader will save the songs while you listen to them on Spotify. Later, when you are offline, you can hear the saved songs using the downloader's interface to listen to Spotify offline for free. Several software programs allow you to hear music when Spotify is offline. Here are the top three-
1. Sidify
If you are thinking about how to go offline on Spotify, Sidify can be one of the best options, it can enable you to download a playlist on Spotify without premium. This music converter was developed with the sole intention of downloading Spotify tracks and playlists. You can convert and save Spotify music files in various formats like MP3, FLAC, WAV, and others.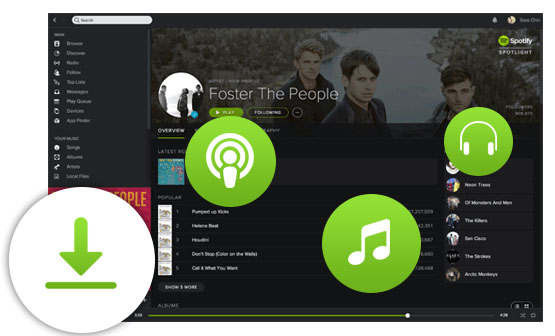 Features
Customize the name of the file you converted.
Organize your music files according to artists and genre.
Maintains 320 kbps audio quality in the converted files.
Compatible with Windows 7 and upwards
Work with Mac OS 10 and onwards
Pros
You can download and convert to a wide variety of file formats.
Burn the music files to a CD.
Preserved the audio quality of the original music.
Updates are free.
The tech support service of Sidify is friendly and free of charge.
Cons
Doesn't have a direct app for android devices.
Won't work unless you already have a Spotify app.
Price:

9.95$ for the Pro-Version
2. Audials One
Audials is another great option for those wondering how to listen to music offline on Spotify. One of the main advantages of this app is you don't need to have the Spotify app installed on your device. In other words, you can even download music when you are listening from the web interface of the streaming service.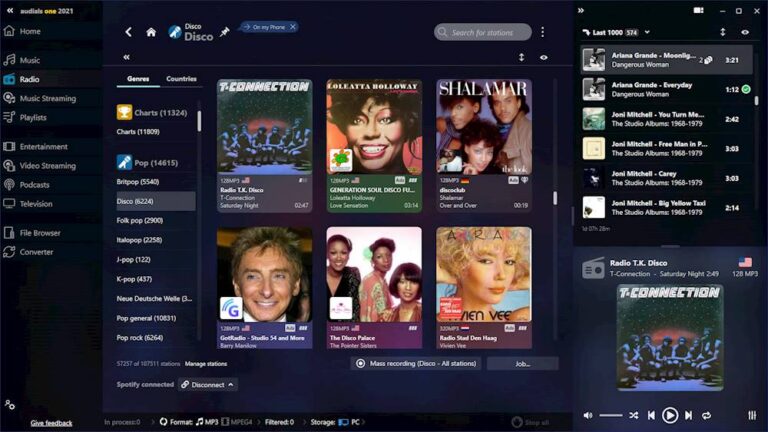 Features
Download and save songs, playlists, and albums with original audio quality.
MP3, FLAC, WMA, M4A, and other format options are available for conversion.
Doesn't connect to Spotify servers. So, Spotify can't detect and hold you accountable for downloading their music.
Automatically sorts and organizes Spotify songs into files.
Can search for lyrics automatically and add them to your songs.
Spontaneously adds ID3 tags from Audial's database.
Pros
Keep your music files organized in the best possible way.
Your downloading is undetectable to Spotify.
Can record even when you don't have the Spotify app.
Cons
High priced
Doesn't support M1 Macs.
Price:

59.90$
3. WonderShare Streaming Audio Recorder
If you want a simple audio recorder to download Spotify music, Wondershare is worth considering. Based on the settings, WonderShare can spontaneously download any audio that's playing on your device. At the same time, it can add cover art, artist, genre, and other details to your files.
Features
Record audio from Spotify, BBC radio, iTunes, and 500 similar sources.
Automatic addition of ID3 tags.
You can schedule the recordings according to your convenience.
Pros
Simple and easier than other Spotify downloaders.
You can edit the tags.
Adds details automatically.
Cons
Doesn't support a wide variety of file formats.
It cannot record from all sources.
Price:

29$
4Use AirDroid to Move Spotify Music Files Between Devices
You might have downloaded and saved music files from Spotify using your premium subscription or a Spotify downloader. However, you still face the challenge of moving those files between devices. Your best option is to use a professional file transfer app like AirDroid Personal.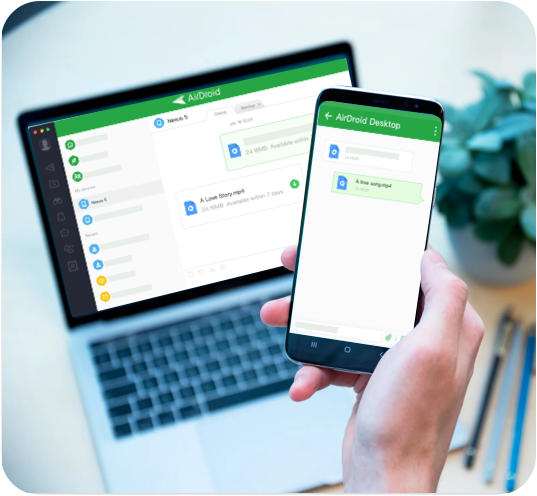 The steps are too simple-
Step 1: Visit AirDroid's web interface from your PC and sign-up
Step 2: After signing up from your PC side, the screen will show a QR code. Scan that code with your mobile, and the app will install on your phone too.
Step 3: Open AirDroid mobile and sign in.
Step 4: Give the app permission to access your files and turn on 'File' in the 'Security & Remote' features.
Step 5: Go to "AirDroid Transfer" and select your PC from 'Devices'. You can select your mobile using the same steps on your PC interface.
Step 6: You can now drag and drop saved Spotify music files between the two devices. Or use the paper and click an icon to send them manually.
Features
You can send files between devices close without the internet using the NearBy feature.
Use the PC keyboard to manage text messages on your phone.
Supports virtually all kinds of music file formats across all platforms.
Remotely access the mobile camera from your desktop.
Cast your music and videos on other devices without any compromise in quality.
Retrieve important files when your phone is lost or broken.
Pros
Fast file transfer.
Very easy to set up across multiple devices.
Control file sharing across several devices from one single interface.
Cons
Overall, appearance is unattractive.
Needs more supportive content.
Price:

29.99$/year
3 How to Mark A Playlist For Offline Sync Spotify
Offline sync Spotify lets you listen to your music even when there is no stable internet connection. So, can you use Spotify offline? Yes, you can- when you have a premium subscription and have enabled the Spotify offline sync. But do you know how to offline sync Spotify? Well, here are the steps.
Step 1: Access the Spotify App on your device and select the playlists section.
Step 2: From the playlists menu, mark the ones you want in sync during offline mode Spotify.
Step 3: toggle the Available Offline Button to the right to sync the playlist
4How to Turn Off Offline Mode On Spotify Desktop
Keeping the Spotify app offline helps you save on phone bills. Otherwise, the ads and updates can consume valuable mobile data and cost you way more than your monthly budget. But offline Spotify also means you cannot stream music. In that case, you might want to turn off the offline mode. So, how to turn off offline mode on Spotify? Let's find out.
Step 1: Open the Spotify app.
Step 2: Tap on the Cog/Wheel/Settings icon at the top right corner.
Step 3: Scroll the screen until you find the 'Offline Mode' option (under playback)
Step 4: toggle the switch to the left and turn off the offline mode.
5How to Turn On Offline Mode On Spotify?
If you are wondering how to play offline Spotify, the first requirement is to turn on the offline mode. Well, it is the same process as described in the previous part. The only difference is that you have to toggle the switch to the right in this case.
However, anyone who asks how to play offline Spotify ultimately finds that you can only do that with a premium subscription and downloading the songs. So, you must learn how that works. As a bonus, these steps automatically take you offline.
Step 1: Set up an internet connection.
Step 2: Open the application and log in to your premium Spotify account.
Step 3: Browse the tracks or albums you want to hear offline and select them.
Step 4: Find the Download button at the playlist's top and tap on it. Give some time for the download to complete.
Step 5: Dismiss the internet connection, and automatically you will enter the offline mode.
Conclusion
So, let's review: can Spotify play online? The answer is both no and yes. If you are using the free Spotify app, you cannot normally play music while offline. So, how to play Spotify offline with the free app? The answer is Spotify downloaders. Another option is to get a premium subscription to Spotify for roughly ten dollars a month.
Besides knowing how to use offline Spotify, you should also have a smart plan for managing the music you download and save. For instance, music converters only work with some operating systems, phone versions, and devices. So, you need a system that lets you seamlessly move music files between devices. Airdroid is your best option for that job.
Frequently-Asked Questions
Q1. What is Spotify premium offline apk ios?
Ans: The Spotify Premium offline apk for iOS is a modified version of the free app. The modification enables the app to have some features of the premium subscription. However, APK, or Android Closed Kit, is built for the Android system. So, you need to decompress it first to run it on IOS.
Q2. Can you listen to Spotify offline without a premium subscription?
Ans: You can listen to Spotify offline without the premium subscription. To make it possible, you will need a Spotify downloader. This software will record the music when it plays on Spotify and save it. You can later listen to it when you are offline.
Q3. What are some of the best Audio downloaders for Spotify to listen offline?
Ans: Wondershare, Audials One, and Sidify are some of the best Spotify downloaders. All of them have free trial versions. You can also purchase paid plans to gain access to additional features. Wondershare is the most affordable option among them.
Was This Page Helpful?