How to Do SMS Backup and Restore - 2023 New Solution
Despite the social media platforms like WhatsApp or Instagram taking precedence over text messaging, many people still love having a conversation via text messages.
Many people still want to use text messages because they don't have an internet connection to send text messages to their friends, as you can send and receive text messages offline.
However, what if you had a conversation with your friend and you want to back up the text message chatting to prevent it from getting deleted?
Luckily, you can go for an SMS backup and restore procedure, and we'll introduce the most efficient ways to back up SMS messages.
Part 1: Can You Restore SMS On Android?
Yes, you can restore text messages on Android, as long as you have created a backup somewhere. If there's a backup present, you can usually restore your old SMS from your phone and transfer them to your new Android phone. If you don't have a backup, however, you can transfer your texts to your new phone.
But if your phone is broken or you can't access your messages, then you might have lost your texts forever. So that's why it's always a good idea to keep your backup on. Google usually automatically backups up your texts by default. So when you are setting up your new phone, remember to restore SMS from Google drive after logging in to your Google account.
This way, Google will restore all your contacts and backup text messages and any other data you might have backed up. It's very easy and there's no need for you to manually do anything. However, if this doesn't happen, you can always use third-party backup or transfer apps or use other methods to get SMS backup.
Part 2: How to backup and restore SMS from Google Drive
If you're wondering whether you can back up SMS without an app, the good news is that you will surely back up and restore the text messages courtesy of Google Drive. We'll show you how to opt for the SMS backup and restore using Google Drive.
Google comes up with a built-in backup feature that empowers you to back up SMS to Google Drive and restore them whenever you want.
Follow the guide below to look for SMS backup and restore through Google Drive.
Step 1.

Select the ''Google'' icon after launching Settings on your Android.
Step 2.

Tap on the ''Backup'' option and then check the backup details. Next, click on the'' Back up now'' option to back up your text messages.
After backing up the SMS to Google Drive, you can restore the text messages by restoring the backup after performing a factory reset on your Android device.
Here's how to do it.
Step 1.

Select the Backup & Reset icon after hitting the Settings option.
Step 2.

Press on the '' Erase All Data'' and confirm factory resetting your device by typing the PIN/Password. Log in with your Google account you used to back up SMS
Step 3.

After restarting the device, navigate to the Settings app and choose the'' Backup & Reset'' icon. Login with your Google account you used to back up SMS
Step 4.

Choose the data you'd like to restore after tapping Sync.
Next, you must press on ''Restore all synced data'' to get all the backed-up text messages on your mobile device.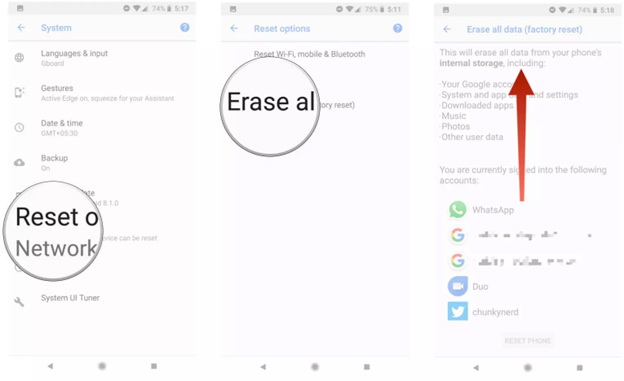 Best SMS Backup and Restore App for Android 2023
If you're looking for an SMS backup and restore app for your Android device, here's a list of some of the most popular SMS backup apps.
1E2Pdf
E2PDF is an unbelievably good app, especially if you intend to SMS backup and restore your Android device.
Using this immaculate tool, you can prepare a backup of everything, including specific contact logs, contacts, truecaller, SMS Statistics, Log statistics, and more.
Importantly, this SMS backup app comes up with a brilliant user interface, meaning backing the SMS in Google, DropBox, Email, or any cloud location won't be time-consuming.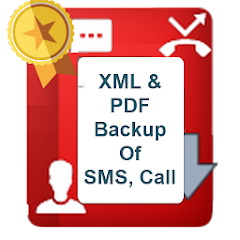 Pros
Easy to use
Helps you backup multiple data types
Restore the backed-up data effortlessly
Cons
The last update came in April 2020
2SMS Backup and Restore
SyncTech Pty LTD introduced the SMS Backup and Restore app, which is worth your attention.
It is a brilliant Android app that automatically backs up text messages into a Gmail account, Google Drive, Dropbox, or SD card.
Moreover, you can preserve your text messages in XML format, making this app flexible. Another thing to like about this app is its user-friendly interface; all you need to do is install the app from Playstore and set it up to start backing up text messages.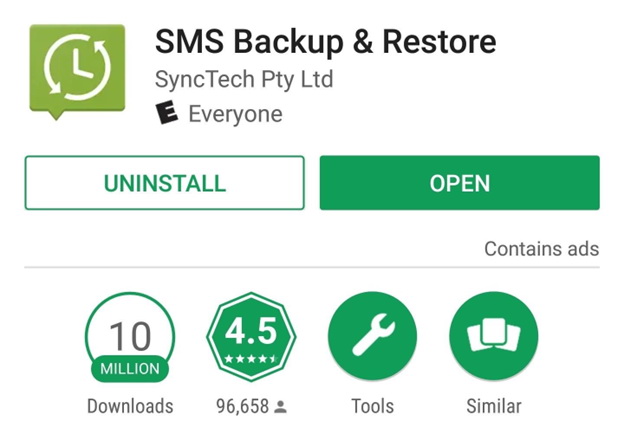 Pros
Lets you backup the text messages on Dropbox, Google Drive, and drive
Supports scheduling the backup on hourly, daily, or weekly bases
Rooting the mobile device isn't required
Cons
Only supports Android 5.0+
Doesn't support backing up the plain texts
3SMS Backup+
Another fascinating SMS backup Android app that stimulates backing up important text messages is SMS Backup+.
It has a pretty intuitive user interface that allows you to back up the multimedia and text messages you can see on Gmail.
You must install the SMS Backup+ app from Playstore and then sync it with the Gmail account.
Once the text messages are backed up, you'll receive an email on your account.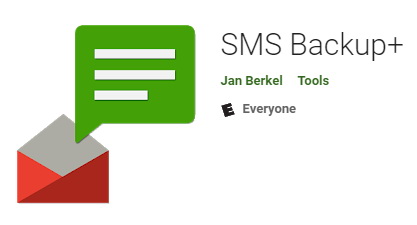 Pros
Easy to use
Allows you to view your backed-up texts on Gmail
Labels the backed-up data
Easy installation process
Cons
Doesn't get updated regularly
3Use An SD Card
If you're interested in transferring SMS from Android to Android then you can use an SD card to do so. However, this method will only work on certain Android devices that have a built-in option to back up your text messages. Not all Androids have this feature.
To do this, first, make sure that you have a working SD card with enough storage space inserted into your phone. Texts don't take up a lot of space, so don't worry.
Then go to the Settings app on your phone and then tap on System and then Backup and Restore. Click on Personal Data and then tick Messages from the list.
Finally, tap on the Backup icon at the bottom and you're done! Remove the SD card and insert it into the other Android device.
Then navigate to Backup and Restore by opening the Settings app. Tap on Restore, and you should find your backup on the SD card as an option. Tap on it to restore your messages!
3Use Mobile Trans
In case your phone doesn't have the option for you to back up text messages on Android on your SD card, you can use the Mobile Trans software to transfer your text messages without any hassle. The great part is, it even works across platforms.
Download and install the software on your computer and then launch it.
Select the Phone Transfer tab and then Phone to Phone. Connect both of your phones to your PC.
Once the software detects your phone, select Text messages to transfer your text messages from one Android to another. That's it!
Part 4: Best SMS Management App for Android - AirDroid Personal
You forgot to bring the mobile device to your office, but you must reply to important text messages.
How would you manage your Text messages without mobile?
Surprisingly, AirDroid Personal brings all the energy to empower you not only to handle the mobile device from your PC. Instead, you can easily reply to and receive text messages from your friends and family.
Apart from replying to text messages, you can also receive or dial phone calls, manage all the notifications on your device, access your social media account, and many more. Moreover, AirDroid Personal is also pretty efficient at helping you to share data from Android to iPhone easily, iPhone to Android, PC to Android, and PC to iPhone.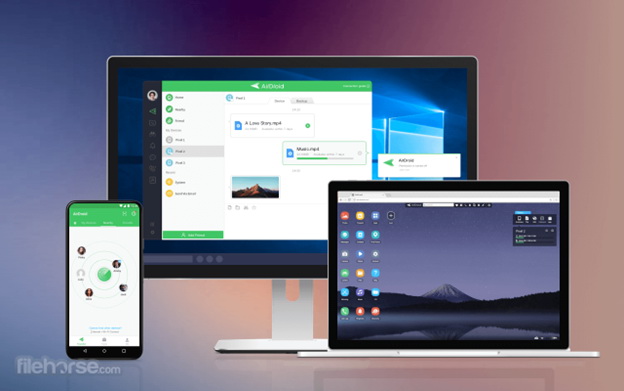 Features
Receive and Reply SMS
AirDroid Personal ensures that you not only receive text messages on your PC but can also easily reply to the text messages.
Notification Management
One of the most breathtaking features of AirDroid Personal is that it enables you to manage any notification on your mobile device from a computer.
Transfer text from the Android
If you want to share text messages from an Android device to a PC, AirDroid Personal comes in handy.
File Transfer
Using AirDroid Personal, you can transfer files across multiple devices without compromising data quality.
Remote Control
Now, you can control the camera device of your home sitting far from home courtesy of the AirDroid Personal.
Pro Tips for Android SMS backup and restore
How to export text messages from Android
If you want to export text messages from one Android device to another, the SMS Backup+ app might help your cause.
Follow the guide below to do it.
Step 1.

You'll need to log in to your Gmail account on your old Android device and then navigate to Settings.
Step 2.

Tap on '' Enable IMAP after hitting the '' Forwarding and POP/IMAP. Click on '' Save Changes'' to complete the preceding.
Step 3.

Install the SMS Backup+ on both of your Android devices. Launch the SMS Backup+ app on your source device; select the Gmail account you used after tapping the Connect icon. Next, grant permission to the SMS Backup+ app to back up the SMS to the Gmail account backup.
Step 4.

Navigate to the target Android phone and launch the Backup+ app. Next, tap on Connect and choose the same Gmail account you selected earlier. Tap on the Restore icon to export the text messages from one Android device to another.
How to download text messages from Android
Downloading the text messages from an Android device is pretty easy as you'll need to back up the text messages on your Gmail account, and then you can download the messages where you'd want.
To do it, you'll need to launch the Gmail account and turn on the IMAP feature. Next, select Connect after launching the SMS Backup+ app.
After accepting the prompt to backup, you'll be able to back up all the text messages on Gmail.
Now, you can download text messages from Gmail with ease.
Can you back up and retrieve text messages from your iPhone?
Opting for SMS backup and restore is possible on an iPhone, as you can back up and restore text messages through iCloud.
Here's how to do it.
Step 1.

Tap on the user name after launching Settings. Next, click on the iCloud icon and toggle the Messages on. It will help you sync the text messages on your iCloud.
Step 2.

Factory reset your iPhone and select Restore from iCloud backup to get back all the backed-up text messages.
Final Words
This guide has all the ingredients that empower you to easily SMS backup and restore. All the tools we've reviewed in this post are breathtaking and won't disappoint you with their mind-blowing features.
On the other hand, if you want to manage text messages via PC, we've also recommended AirDroid Personal.
FAQs
1.What is SMS backup and restore?
Backup and restore can help you permanently save important text if you intend to prevent the text from getting deleted. This way, you can restore the text messages whenever you want.
2.Can you backup SMS to Gmail?
You can back up SMS to Gmail using tools like SMS Backup+. Once you back up the SMS to Gmail, you can view the backed-up messages and can download the text messages any time you'd want.
3.Does google messages backup texts?
Google backs up your text messages if you empower Google Drive to store all your text messages. If you back up the text messages on Google Drive, you can retrieve them whenever text messages get deleted unintentionally.
4.How to sync text messages on Android?
You can sync text messages on Android as you'll only need to back up your text messages on your Gmail account. Next, you can log in with the same Gmail account on another device and access all the text messages you synced earlier in the previous Android device.
5.Where are SMS messages stored on Android?
All your SMS or text messages are stored in a database inside your Android phone's internal storage system. Depending on the version of Android you use, however, the exact location path might differ. These aren't usually readable from another device unless you use third-party software.
6.How Long do Android phones keep text messages?
Unless you manually delete the text messages or set up a custom setting, in most cases Androids will always store your messages. You can probably find all your texts in your Messages app from years ago, as long as your phone is working and you haven't manually deleted them. Deleted texts stay for about 30 days in some phones and you can find them in the Recycle Bin.
7.How to recover deleted texts on Android?
Depending on which Android phone you use, you can usually find a recycle bin inside your messages app. Tap on the three dots in the top right corner to see if you can find a Recycle Bin. If your phone doesn't have this feature, you can use plenty of third-party apps to retrieve deleted text messages, within about 30 days.
Was This Page Helpful?