Solved! How to Fix Quick Start iPhone Not Working
When you are an old iPhone user switching to a newer model, you will want to retain your data and apps from a previous device. Quick Start is a new utility of Apple that you can leverage to set up your new iPhone from the older phone. However, sometimes you might have to face the issue of the QuickStart iPhone not working.
Why is QuickStart not working? How will you fix the issue? What are the alternatives to QuickStart?
It is essential to answer all of these questions. Therefore, we will share everything you need to know about iPhone QuickStart not detecting old phones or not working. So let's get into it.
Part 1: What Is Quick Start iPhone?
Apple launched QuickStart in 2017 for iOS 11 and above. The feature aims to facilitate Apple users to set up their new iPhones and iPads from the older versions. You won't have to rely on iCloud or iTunes for setting up your iPhone with QuickStart.
You can transfer everything from your old iPhone to the new iPhone with QuickStart feature that is built into all iPhones with or above iOS 11. All you have to do is keep both iPhones near to each other, connect WiFi and Bluetooth, set up your new iPhone and follow on-screen prompts for Quick Start.
Part 2: Reasons Why iOS Quick Start Not Working
As mentioned earlier, you might face issues using QuickStart for data transfer. If QuickStart is not working properly or not working at all, there can be many reasons, but the most common reasons are as follows:
Incompatible iOS
Your iPhone must be running on iOS 11 or later to use the QuickStart feature to set up your new iPhone without losing any data from the previous device. If your iPhone version is older, you won't be able to use Quick Start. It is one of the common reasons why people report QuickStart iPhones not working.
Internet Connection
If you cannot transfer or download data to your new iPhone with the QuickStart utility, the internet connection might not be stable, resulting in the error.
Devices Proximity
Both devices should be close to each other during the process of setting up your device with QuickStart. One of the common reasons why QuickStart is not working can be the proximity of the device to each other.
Bugs And Errors
Sometimes unknown errors and bugs can also leave you helpless with QuickStart not working on your iPhone.
Part 3: How to Fix Quick Start Not Working?
Whatever the reasons, the main goal is to fix the problem and set up your iPhone with the QuickStart feature. So here is the list of all fixes you can try to make QuickStart run on your system.
1Check Your iOS Version
First of all, you have to ensure that you are not running an older version of iOS on your new or old iPhones. You have to check both iPhones and their iOS to ensure that the problem is not due to incompatible iOS.
How will you check the iOS version of your iPhones?
For each iPhone, here are simple steps you need to follow:
Go to Settings on your iPhone.
Tap on General and open Software Update.
If your iOS version is not 11 or above, tap on Download and Install to update it.
Once updated, try using QuickStart on your phone.
2Check Your iPhone's Bluetooth And WiFi
Bluetooth and WiFi must be working on both iPhones to use the QuickStart. If your iOS version is updated and QuickStart is not still working, you need to check the Bluetooth of your devices and enable it in case it is turned off.
So here is what you need to do on each iPhone device to enable Bluetooth:
1. Go to the Settings of your iPhone.
2. Tap on Bluetooth and toggle on the switch against Bluetooth.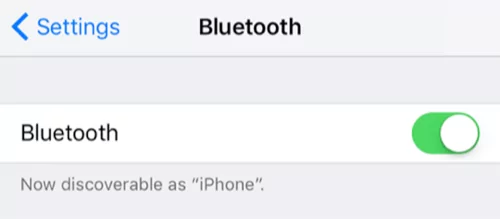 3. Once you see the Bluetooth icon in the top menu bar of the screen, it means the Bluetooth is working.
4. Try using QuickStart to transfer data from your old iPhone to a new one.
3Force Restart Both iPhones
If both fixes don't seem to work for your iPhones, you should consider giving a fresh start to your phone. When you force restart your iPhone, it will most probably fix the Quick Start iPhone transfer not working on your phone.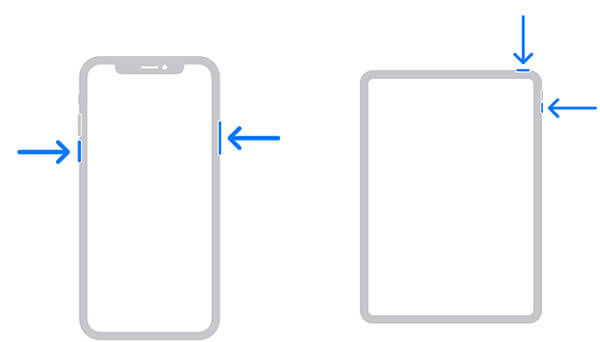 Here is how to restart your iPhone:
1. For the newer models of iPhone above iPhone X, you will hold and press the Side button until the slider appears on the screen. Drag it to turn off the device. Once turned off, press and hold the side button again until the Apple logo appears on the screen.
2. If you are using an iPhone older than X, you will restart your phone by holding the top(or side) button until the slider appears. Drag it and turn the device off. Now press and hold the top button until the Apple logo appears.
4Check iOS System
Your iOS system might require a repair, due to which QuickStart is not working on it. If none of the solutions has worked on your iPhone to launch QuickStart, you should consider using an iOS repairing tool. There are several third-party repair tools that you can try to fix your iPhone. Unictool Umendit is also a convenient software you can use to fix iOS Quick Start not working.
5Contact Apple Support
Although you can have a temporary fix with the third-party alternatives of QuickStart, you need a permanent solution to the problem. Therefore, you will need to contact Apple Support and ask for the resolution of the problem.
One of your iPhones might have a technical problem that results in Quick Start on iPhone not working. You have to explain everything to the dedicated representative and get the best professionals for your help.
If You Want to Share iPhone Files to Any Devices Instantly –AirDroid Web
If none of the fixes we have discussed are working on your iPhones, you will need to use the alternative methods for the time being. There are several third-party data transfer tools that you can leverage to transfer data from your old iPhone to the newer one.
AirDroid Personal and Web is a popular third-party tool that works as an excellent tool to control and manage your iPhone, Android, and PC alike. The web version of AirDroid doesn't need any installation and is a quick way to connect your iPhones and transfer data across the devices.
The main features of AirDroid are as follows:
A seamless way to transfer data to new iPhone
The wireless way to transfer files across different devices and operating systems
Screen mirroring of your mobile screen to display on a bigger screen
No dependence on LAN for data transfer
SMS and notification management feature to remotely manage your device
User-friendly interface
You can easily transfer any file type or data from one iPhone to another with AirDroid Personal software or the web version of Airdroid Web.
How to use AirDroid as a solution to Quick Start not working?
1. Install AirDroid Personal on your PC and iPhone.
2. Launch AirDroid on your phone, go to My Devices, and choose AirDrop Desktop.
3. Transfer all desired data from your iPhone to your Desktop.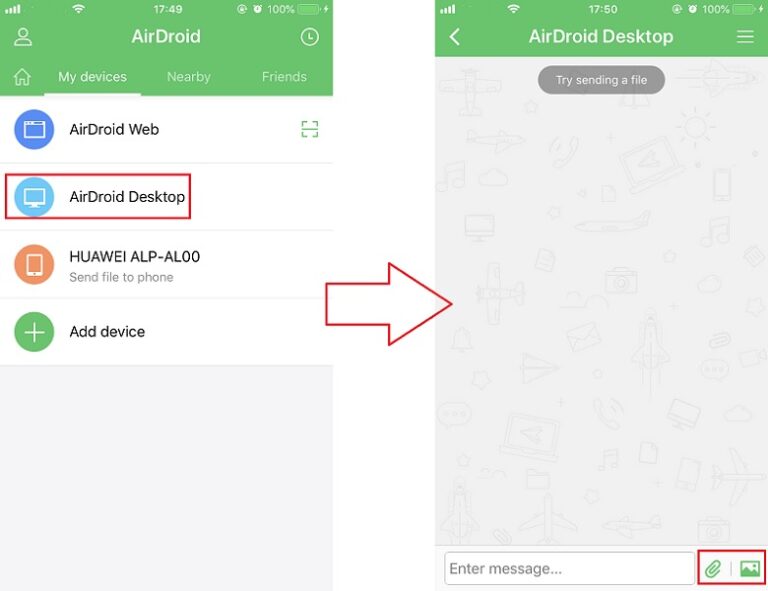 4. Set up your new iPhone, connect it to your computer, and transfer all data to the new phone. That's it!
FAQs
1.How do I get my iPhone Quick Start to work?
In most instances, a Bluetooth connection, USB cable, or incompatible iOS version on either of the iPhones is not working properly. Therefore, you will need to follow different fixes as we have mentioned above. If one is not working, the other one might work for your device.
2.Why won't my iPhone data transfer to my new iPhone?
If your old iPhone is not connected to the internet or Bluetooth, it won't be able to create a backup of the data. As a result, when you try to restore data from the old phone to the new iPhone, it shows nothing. It is one of the common reasons why iPhone data transfer to your new iPhone is not working.
3.What are the common issues with using QuickStart?
The most common issues with QuickStart include the following:
i.Two devices not being in the range of each other
ii.Two devices in range but not recognizing each other
iii.Activation might not complete
iv.Everything works, but the setup never completes.
Conclusion
We have shared different methods to fix your QuickStart not working on your iPhone. You can try all of the fixes we have shared. If nothing seems to work, you will need to contact Apple Support to get technical assistance. Meanwhile, you can leverage the third-party alternatives of QuickStart for data transferring across your iPhone devices. AirDroid is the most convincing and user-friendly tool with excellent features that you can use for seamless data transfer across iOS devices.
Was This Page Helpful?