[2023] Best Huawei Phone Clone Apps Review
Huawei's Phone Clone is a convenient way to transfer data between devices. With just a few simple steps, you can easily move content from one device to another with no stress or hassle. Whether you're switching from iOS to Huawei or from android to Huawei, Phone Clone Huawei makes it easy to keep all your important data with you. Learn how Phone Clone works and discover how to use it to make your life easier.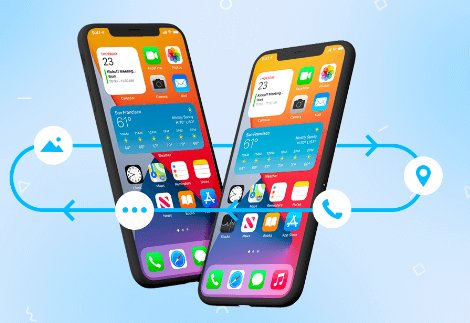 Part 1: Phone Clone By Huawei Overview
Huawei's Phone Clone is the ultimate tool for keeping your data and apps safe and secure. Whether you're switching to a new device, or just want to have a backup of your data, Phone Clone is the perfect solution.
Phone Clone is a free app that allows you to easily clone the data on your smartphone, including installed apps, contacts, text messages, photos, and more. With Phone Clone, you can quickly transfer all of your data from one device to another, without any fuss.
Key features
Super Fast Sometimes slow data transfer seems like the most annoying thing on the planet. When you just got a new phone, you'd want to transfer all the data as fast as possible. Keeping that in mind, phone clone Huawei has focused on providing blazing fast data transfer, up to 8 GB per minute.
Easy To Use The phone clone Huawei app is incredibly easy to use. It has a user-friendly interface and easy to use features.
No matter what your new device, you can transfer all your data from the old one in three easy steps.
Supports Wide Range Of Files Whether you are transferring from iOS to android, or android to iOS; there's nothing to worry about.
It supports both operating systems with a wide range of firmware versions. The phone clone Huawei app supports android versions 7.0 and above and iOS version 8.0 and above.
No Internet Required Transferring all the data from old to new devices is a huge task because the amount of the data is tremendous.
If you are not under a Wi-Fi network, you might get worried. But fret not, you will require neither Wi-Fi nor cellular data when using Huawei clone app. With the phone clone Huawei, you can transfer files at a lightning fast speed without any internet connection.
Data Safety The phone clone app Huawei app uses a private connection and fully encrypts the data during transfer.
Because there is no internet connection and data encryption during transfer, your data remains fully protected throughout the procedure.
Part 2: How To Use Phone Clone By Huawei?
Using a phone clone Huawei app is incredibly easy on both android and iOS devices. Here is how to use phone clone Huawei to transfer android to iOS and iOS to android:
Android to iOS
Step 1: Launch The App On Both Devices
First install the phone clone Huawei app on both the new and old device. On the new device, launch the app and select "This is the new device" and on the old device select "This is the old device."
Step 2: Scan The QR Code
Scan the QR code on the new device's screen with the old phone. This will establish a connection between the phones.
Step 3: Choose The Data And Start Transferring
Now select the data you want to transfer from the old phone to the new one. Click "Transfer" and wait for the transfer to complete. Don't use the device during the procedure.
iOS to Android
Step 1: Open The On Both Devices
This step is similar to above. Download and install the app on both devices. Then launch the app and select "This is the new device" on the new phone and on the old phone, select "This is the old device".
Step 2: Establish A Connection
Scan the qr code. The old device will connect to the new phone via Wi-Fi hotspot. Go to settings>Wi-Fi to ensure successful connection.
Step 3: Select The Data And Start The Transfer
Here is an extra step since Apple is always extra protective of their users' data security. You have to agree to the privacy user agreement for authorization. Now select the data, click "Transfer" and wait for the procedure to be completed.
Part 3: Airdroid: The Best Android Device Manager
Airdroid personal is arguably the best solution you can find to clone your old Huawei phone to a new one. Not only Huawei, but Airdroid is also great for phone clones Huawei to Samsung and phone Huawei to Xiaomi.
It establishes a completely remote connection between two phones for seamless file transfer. It also offers lots of features like SMS management, screen mirroring, receiving SMS notifications, etc. Airdroid shows impeccable performance for phone clone Whatsapp.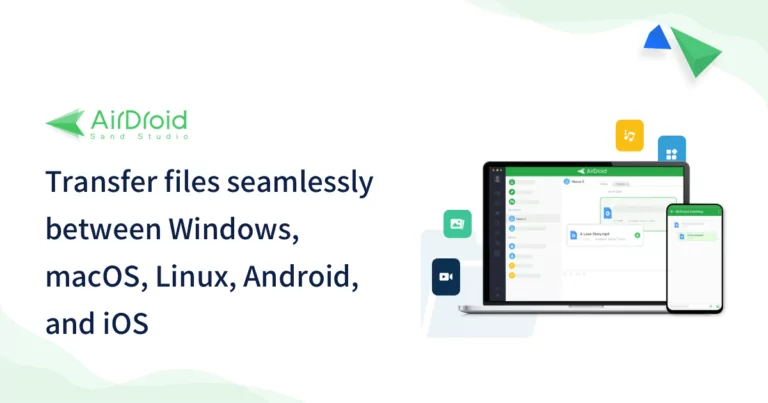 Airdroid personally supports all the major platforms and operating systems. Every feature that you might need has been included in it. Its web version makes managing your mobile devices easier than ever.
Airdroid has gained acclaim and recognition from the media thanks to its huge user base and impressive features. Airdroid presently has 4.3 user ratings on Google Play, based on ten years of continuous progress.
Key Features
Airdroid Personal allows you to wirelessly and losslessly transfer files between devices.
Enjoy high-speed file transfers within your local area network.
Get the same smooth experience while switching to a Wi-Fi, 4G, or 5G network.
The Nearby feature of Airdroid Personal allows you to easily exchange files with others even when you are not connected to the Internet.
Additional Features
Remote Control: Airdroid Personal works with all Android devices regardless of manufacturer or model. The remote control feature does not require rooting the phone. This gives you total control over the device. Airdroid Personal remote control is simple to set up. It works flawlessly no matter where your smartphone is.
Screen Mirroring: You can use Airdroid Personal to mirror Android phone displays to your laptop or desktop computer and see things on a larger screen. To use this feature, your phone and computer don't have to be on the same network. Due to this reason, this feature has become a lot more convenient.
Remote Monitoring: To check in on babies and pets, you don't have to purchase a baby monitor. With the remote monitoring feature, you can use unused android devices as cameras.
Sms Management: Airdroid Personal allows you to manage your phone from your computer, allowing you to focus on your business. You can use a computer to receive and send texts, connect to headsets, enter or copy phone numbers, make calls, and many more.
To be specific, you can gain total control over your mobile phone from your computer. The Notification function syncs your phone's notifications to the computer. This allows you to respond to them straight from your desktop or laptop.
Pros
Wireless file transfer
Super-fast file transfer
No internet connection required
Smooth operation
Sms management gives you full control of your phone
Cons
Not all features are available on the free version
Instructions
Before starting, make sure location permission for the Airdroid personal app is enabled. Here is how to clone a device with Airdroid personnel:
Step 1: Start the Airdroid personal app and go to the nearby tab.
Step 2: Click on the tap to search button. It should be in the middle of your screen.
Step 3: Your new device will appear on the screen
Step 4: Click on the device to initiate the file transfer.
Pricing
Monthly: $3.99/month
Quarterly: $3.23/month
Yearly: $2.5/month
Part 4:3 Other Best Phone Clone Apps for You
Phone Clone Huawei is a great tool for transferring data between two phones. It is fast, secure, and easy to use. It has a wide range of features that make it suitable for multiple use cases. It also has a user-friendly interface which makes the cloning process much simpler.
With Phone Clone by Huawei, users can quickly and easily transfer data between their phones with a few simple steps.
If you are a Huawei user who just got a new device and is looking for a Huawei phone clone app, look no further.
Many apps claim to be the best phone clone app Huawei but who would you trust? For that reason, we have handpicked the 5 best phone clone apps for Huawei. Let's go:
1Coolmuster Mobile Transfer
Coolmuster is currently one of the most popular phone clone Huawei software on the market for Huawei devices. It allows you to switch from Android to Android, Android to iOS and iOS to iOS.
Coolmuster is very user-friendly and packed with features. It supports a wide range of data types so that you don't have to leave anything behind.
Features
Transfer data between two phones of two different operating systems.
Supports a wide range of data types such as Contacts, call records, SMS, photographs, music, documents, videos, and other applications.
Compatible with the most recent ios and Android devices.
Transfer files without using any mobile data.
Pros
An interactive and user-friendly interface.
Very beginner friendly.
Supports a wide range of mobile phone models, operating system versions, and firmware versions.
Different connectivity options for convenience.
Cons
Limited features in the free version.
Pricing
1-year License For 1 PC: $25.95
Lifetime License For 1 PC: $35.95
Price customizable for up to 30 PCs
2MOBILedit Copier
MOBILedit's Phone Copier Express is another professional cell phone cloning software that is loved by many Huawei users.
It can store phone data and provides a dependable way for transferring crucial files from an old phone to a new one. All you need is a few clicks.
Features
Supports data transfer across different platforms.
It can easily identify your phone's model.
It is compatible with ios, and Android and with outdated operating systems like Windows Phone, Symbian, etc.
Supports maximum types of files like a contract, photos, music, etc.
Pros
Supports older operating systems.
Can identify phone models.
Supports lots of data types.
Cons
The installation process can seem a bit difficult.
Pricing
Personal - $9.90
Express - $600
3CLONEit
CLONEit is a widely used phone clone app. Many Huawei users consider it one of the simplest apps for phone cloning.
It lets you simply transfer up to 12 different types of data from your old phone to your new device. You won't need cellular data to use CLONEit as it uses a Wi-Fi hotspot.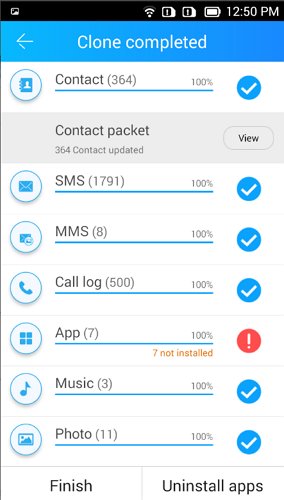 Features
Apps, contacts, SMS, MMS, call logs, photographs, videos, music, and so on may all be transferred.
Data transfer rates faster than Bluetooth, around 20 megabytes per second.
It has some unique features like app uninstalling, cleaning storage, etc.
Operates in offline
No risk of data theft
Pros
Free to use
Interactive UI
Beginner friendly
Lots of necessary features
Cons
The free version has ads
Sometimes the app becomes slow
FAQs
Q1) Does Phone Clone Apps Transfer Sms?
Ans. Yes, phone clone apps transfer SMS as well as all the other necessary files and documents from your old device to the new one.
Q2) What Does A Phone Clone App Do?
Ans. Phone clone apps purposely copy all the files from your old device to your new one so that you don't have to transfer your necessary files individually.
Q3) Can You Clone Android To Ios Or Vice Versa?
Ans. Yes, you can clone Android to ios and vice versa. Almost all phone clone apps offer this feature.
Q4) Do You Need The Internet For Phone Cloning?
Ans. No, you don't need an active internet connection for phone cloning. Some cloning apps don't even require the phones to be on the same local network.
Q5) Is There A Risk Of Data Loss During Phone Cloning?
Ans. As phone clone apps don't use the internet for data transfer, there is hardly any risk of data loss or data theft during cloning.
Was This Page Helpful?