10 Best iPhone File Managers You Need to Know In 2023!
Discover the ten best iPhone file managers and which one you should install on your iOS device.
A file manager app in all kinds of operating systems helps users in managing different types of files and folders on their devices. Whether you want to transfer files between devices, view a file, or edit it, the native file manager app comes into service.
As an iPhone user, the native iPhone file manager app is Files, and you can view different files stored on your iPhone or iPad's internal storage. However, it might be tricky for some people to use the Files app and manage different file types on their devices.
We have listed the ten best iOS file managers that users might want to have installed on their iOS devices for smooth file management. The file manager tools we have listed allow you convenient file management, transfer, editing, and control.
So let's get into it.
Comparison Table
| App | 👍 Rate | ✨ Highlight | 🎁 Free Version |
| --- | --- | --- | --- |
| AirDroid Web | 9.5 | File management & transfer between iPhone and Computer via Web | Free |
| FileApp | 9.0 | File transfer across operating systems over HTTP, FTP, etc. | Free |
| FileMaster | 8.8 | All-in-one media player, document viewer, text editor, and more | Free (ADS free – $2.99) |
| Documents By Readdle | 9.0 | In-built audio/video player and cloud drive integration | Free (Professional PDF Editor – $49.99) |
| Amerigo File Manager | 8.8 | Quick search, file transfer across different OS, and multiple cloud drive support | Free (No Ad & Extra features – $2.49) |
| Microsoft OneDrive | 9.2 | Manage, view, and share your files & photos with automatic syncing and backup function | Free (In-app Purchases start from $5.99) |
| FE File Explorer | 9.0 | An intuitive user interface and allows access to data on SD Cards and USB Drives | Free |
| My FileManager –Documents | 9.2 | Best for document file formats and zip/unzip documents | Free (Remove ads Lifetime – $9.99) |
| ES File Explorer | 9.0 | Quick and seamless transfer and file management across different operating systems | Free |
| File Manager and Browser | 8.8 | Seamless integration with native Files app of iOS and saves email attachments immediately when received | Free (TapMedia PRO 1 Month – $1.99) |
1AirDroid Web
The first file manager and transfer tool which you will feel blessed about as an iPhone user or iPad user is AirDroid Web. AirDroid Web is an all-in-one tool allowing users to manage their phones via the Web. It won't be wrong if we call Airdroid Web the free app organizer for iPhones and other operating systems.
AirDroid Web is an online tool trusted by millions for its convincing performance and unbeatable features. You do not need any application downloading and installation on your iPhone to utilize the free file manager for iOS and other operating systems as well.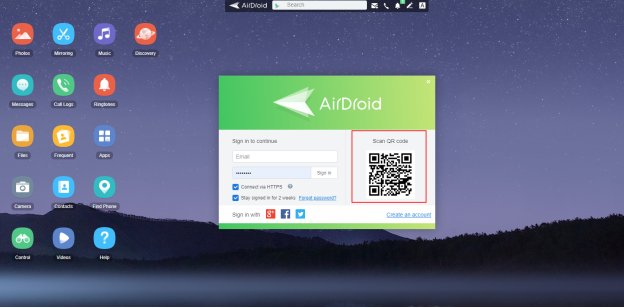 This amazing tool is one of the best file managers for iPhone for several reasons and features. However, the main highlights of AirDroid Personal Web are as follows:
Easy file management and transfer from the web browser of your iPhone
You can easily transfer and share your photos and videos from iPhone or iPad to other devices, including phones, tablets, laptops and desktop computers.
Access and manage your iPhone's photos and videos remotely from a web browser
Other enticing features and capabilities of AirDroid Web include:
Accessing the phone's camera remotely from Windows or macOS on your compute
Remotely managing your iPhone to send or receive messages
Control and play media
Screen mirrors your device on a laptop or laptop computer.
2FileApp
The second tool you can rely on as an iPhone file manager is FileApp, which works for iPhones and iPads. The file management application automatically organizes your device files by date, type, recent use, etc.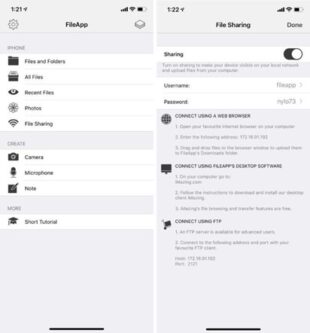 Whether you want to keep track of PDFs or play your phone's media, it is possible to do right through FileApp. And it won't be justified if we don't mention the great and engaging user interface of the File App. The app also allows you to transfer files across your PC and iPhone/iPad by utilizing the desktop app of the tool.
3File Master
File Master is a simplistic file manager app for iPhone users. Despite being simple, it gives mobile users a good shot at features and capabilities. You can manage and sort the files by type, date, size, etc. Even the user interface of the file management app is yet another excitement about the software.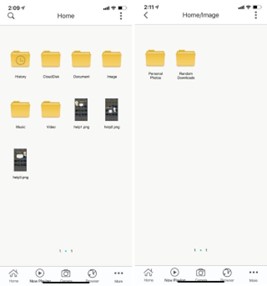 You can download the File Master app to make it easier to transfer photos and videos to other devices and create folders to categorize files easily. Finally, an in-built web browser of File Master allows user to download their files right away from the software.
4Documents By Readdle
The next file manager app for iPhone and iPad is Documents By Readdle, an all-in-one app to manage almost everything on your iOS devices. Whether you want to access your Apple Music Library or want to extract folders or files from ZIIP folders, manage iCloud files, photos, documents, and whatnot.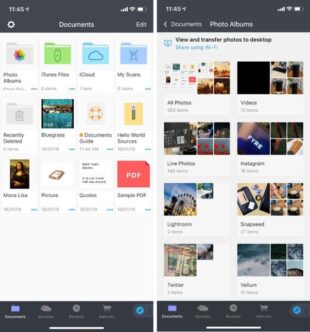 Besides file management, Readdle allows you to play audio files, open documents & PDF files, and view images right from the app interface. If you integrate the cloud drives like Dropbox, OneDrive, Google Drive, etc., you can also manage and view files stored on cloud storage. Documents by Readdle are available for iPhones, iPads, and via the Web.
5Amerigo File Manager
When talking about iPhone Files app alternatives, we can't go by ignoring Amerigo File Manager. The file management app works like a non-physical USB drive to manage your data within and across your iPhone. The biggest benefit of Amerigo is easy and free file transfer across iPhones and PC(Windows or macOS).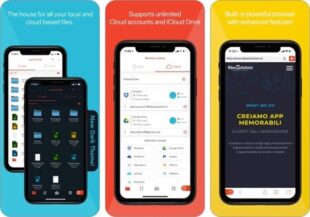 Other features of Amerigo include playing audio files, reading PDF files, cloud-drive integration for extended capabilities, a search function to find your files quickly, and free support on iOS devices. You don't have to worry about the privacy of your data with Amerigo's passcode settings to protect your files.
6Microsoft OneDrive
Microsoft Onedrive is a popular cloud drive to store and manage your data, mainly on Windows but generally on different operating systems. It supports file storing and management for music, PDF, documents, photos, videos, Zip files, and a lot more.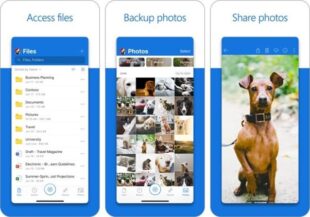 If you subscribe to Microsoft 365, you get free access to up to 5 GB of cloud storage of Microsoft Onedrive. However, you can access more storage of Microsoft OneDrive by upgrading your subscription for up to 1 TB of storage.
7FE File Explorer
FE File Explorer is next on the list of best iPhone File Manager, commonly known as File Manager. One of the best things about FE File Explorer is the user-friendly interface that is pleasant to the eyes. Unlike the boring menus and folders, the app has several options for users looking to manage and transfer data on iPhone, iPad and other devices.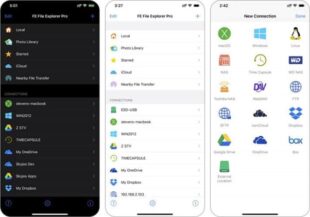 The app organizer for iPhone works on iOS, iPads, Windows, Mac, and other operating systems. Once you have file explorer iOS installed, you can access files and folders on internal storage, SD Cards, and USB drives. The other common capabilities of the tool include playing music, reading PDFs, and accessing the file editing & management features.
8My FileManager – Documents
My FileManager is yet another feature-packed iPhone file manager for users having iOS devices. You can organize your local files with MyFile Manager, edit them, change permissions, and organize them into different folders with My FileManager.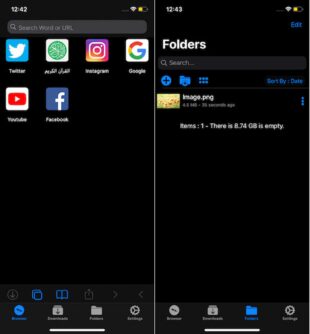 With the iPhone management app, you can manage and access files on both iPad and iPhones. Additionally, the tool offers you an added layer of security and privacy with password protection.
Let's talk about the usability side of My FileManager. The software has many enticing things like freedom to choose dark/light mode, easy navigation, and access to features like image background remover, lock function, web management, etc.
9ES File Explorer
ES File Explorer, an older tried and tested file manager app, is also available as a tool to manage your iPhone devices easily. After successfully serving Android users, the company has launched their free local and network file manager, ES File Explorer iOS.

Like other file management software, ES File Explorer allows users to manage different file types, perform controls on files and folders, integrate cloud drives to access web data, and easily transfer data across devices.
10File Manager and Browser
Last but not least, File Manager and Browser is also one of the popular file manager OS and an answer to how to get files on iPhone. The file management has a freemium and premium pricing model with tons of features available to iOS users.
Some of the main highlights of File Manager and Browser include multiple cloud drive integration and seamless integration with the iOS system to facilitate speedy and convenient access and control. The clean and easy-to-use interface, in-app video and audio content players, and support for various file formats increase the utility of the iPhone file manager app.
Conclusion
As an iPhone or iPad user, you might get problems when trying to transfer files to other operating systems or managing your data and different folders on the device. Therefore, you will need a reliable iPhone file manager to do the job, and we have listed the best one for you to choose.
The AirDroid Web is the most practical way for iOS users to view their files remotely and also manage what to do with files & folders on their iOS devices. You do not need any installations or long-term commitment to AirDroid web to make your life easier.
FAQs
Does the iPhone have a file manager?
The Files App is native to the iOS system used in iPhones, and you can manage your files via the Files app. Therefore, the answer to this question is Yes!
What's the best file manager for iPhone?
There are several file manager apps and tools for iPhone you can rely on. However, the best solution depends on the needs of the user. You can refer to our list of the best iPhone managers to decide which one suits you the best.
How do I manage the file manager on my iPhone?
You can modify and view files & folders on your iPhone by opening the files app on your phone. Look for the browse option on the bottom screen and tap on it. Select the item you want to view or modify and choose the option accordingly.
What file system is used by Apple?
Apple uses APFS, Apple File System, a proprietary file system, to organize and structure data on the storage system of Apple devices.
Was This Page Helpful?