How to Send Long Videos on iPhone?
From entertainment to work and education, a video can do a lot. A high-quality video not only pleases the eye but also has a long-lasting effect on the mind. However, a video with excellent resolution and considerable length can quickly become a file measuring up to a few gigabytes. And that's when you wonder how to send long videos on iphone.
If you want to send large video from iPhone, a few good options are built into your device. Such as AirDrop and Mail. However, like most other Apple tools, they are exclusive to IOS. Also, there is a risk of time and data loss when sending massive video files. In that case, a third-party app like AirDroid personal can work best.
How to Send Large Video Files From iphone
Often apple customers ask how to send a large video from iphone. The company has introduced various tools over the years to answer that query. Alongside those, a few other methods are effective for sending large video files from an iPhone.
If you want to send video files worth hundreds of megabytes with your iPhone, then AirDrop, Mail Drop, and Image Capture are your best options. Their maximum file sizes are big enough to send large videos.
AirDrop
What AirDrop is to the iPhone is what Bluetooth is to android. However, AirDrop is more efficient in large file transfers. Because it combines both Bluetooth and Wi-Fi to send files, that doesn't mean you will need to be on an active network to send files. Instead, AirDrop will build its own Wi-Fi connection with the receiving IOS device.
The best thing about AirDrop is that there's no file size limit. Also, you can use other types of files besides videos. Just ensure that the devices are close to each other. Plus, they need to be iOS 7 or up. Follow these steps to send files from the iPhone using AirDrop.
Step 1. Enable Wi-Fi and Bluetooth on both sender and receiver devices.
Step 2. Turn on AirDrop visibility on the receiving device. First, go to Settings. Then proceed to the General. From there select 'AirDrop' and choose the 'Everyone' option.
Step 3. Open the Files App and select the video file on the sender's phone.
Step 4. Choose the Share icon.
Step 5. Select AirDrop. You will then see a list of iOS devices available near you. So, choose your device from them. After that, the sending process will begin
Step 6. On the receiving phone, tap 'Accept,' and you will receive the large video file.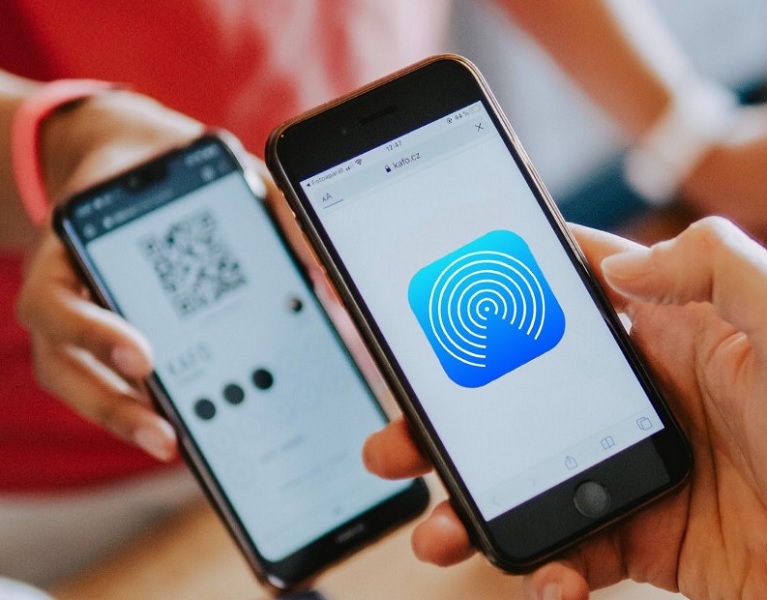 Mail Drop
Unlike AirDrop, proximity is not a requirement for Mail Drop. However, the sender and receiver both need to have an internet connection. And, of course, they need email accounts. Once someone sends a file to the recipient, Mail Drop holds it for 30 days. After that, the file gets deleted. So, your recipient needs to be aware of this period.
Step 1. Compose an email on your iPhone and attach the large video file
Step 2. Click the blue Send button. Your device cannot send the file and show a pop-up asking to use 'Mail Drop' instead.
Step 3. Touch 'Use Mail Drop.'
Image Capture
This is another Apple-offered tool for sending large video files from your iPhone. First, you must unlock your iPhone and connect it to the Mac using a USB cable. Afterward, you can follow the steps below-
Step 1. Launch 'Image Capture' on your Mac from 'Applications'
Step 2. When the Image Capture window opens, select 'Devices' from the leftmost sidebar.
Step 3. Your iPhone will be listed under Devices. Select it.
Step 4. On the right sidebar, you will see your iPhone's video and picture files. Select the one you want to transfer
Step 5. Select Import to' from the bottom left of the Image Capture window. Then choose your preferred location on the Mac to save the video file.
Step 6. Select 'Import' from the bottom right, and the video will be sent from your iPhone.
AirDroid File Transfer
Have you wondered how to send videos from iPhone to email and were disheartened to learn the size cap? Or, you may have tried the other video sending options on your iPhone and been frustrated by the speed, limitations, and compromise in quality. In that case, AirDroid Personal is your best alternative.
AirDroid is a file-sharing app that permits remote control and access to your device. It is better than the typical iPhone video file transfer methods and apps. For instance, it allows sending files from iPhone to non-IOS devices. Also, it doesn't impose any restrictions regarding format and permits the transfer of huge files.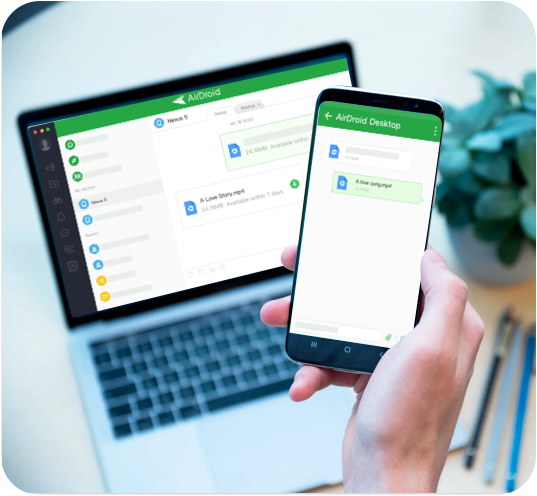 Key features of AirDroid Personal
The Nearby feature lets you send long video files without the internet or WiFi.
Supports all platforms, formats, and sizes
Type on your iPhone using the PC keyboard
Control your phone's camera from far away
Find your iPhone or IOS devices if lost or stolen
Share a video you are watching by casting the screen.
Pros
Ideal app to send long videos from iPhone
Ensures the privacy of your files
Fast and easy to use
Cons
Bland looking interface
It needs more instructional literature.
How to send long videos on iPhone using AirDroid Personal
It takes a few clicks to send large video files from your iPhone using the AirDroid app. These are-
Step1: Download and install AirDroid Personal on your PC and the sender & recipient's device
Step2: Open the AirDroid Transfer window on the sender's iPhone
Step3: Select your PC from Devices and send the video file as an attachment
Step4: Open the AirDroid window on your PC and select the receiving device from the devices
Step5: Drag-n-drop the video file you accepted from your iPhone to the recipient's phone
Price: 29.99$/year
Third-party Apps to Send Large Video From iphone
The inbuilt and Apple-exclusive tools are excellent for sending large video files from your iPhone. However, the time it takes to send these files and the size caps can restrict your capability. So, a better alternative is to use free third-party applications like SHAREit, Send Anywhere, and Xender.
1Send Anywhere
Send Anywhere is a free and speedy long-distance file-sharing app. Those wondering how to send a large video from iPhone to someone far away can try this app. You need to be connected to a Wi-Fi network for the app to work.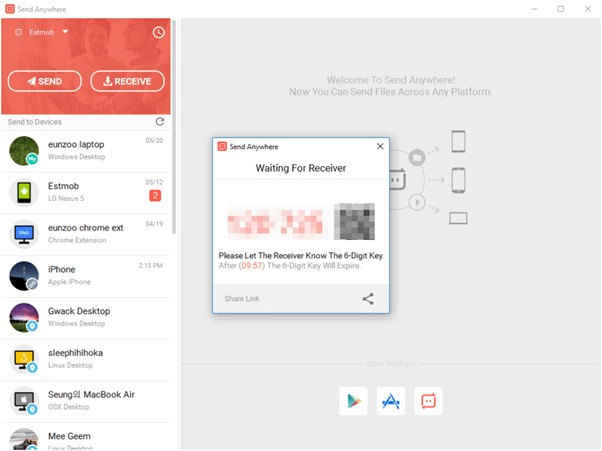 Features:
Security: Regarding third-party file sharing apps, privacy and security are the key concerns. From that aspect, Send Anywhere can be the best choice. This app uses SSL Security and 6-digit keys to pair sender and receiver devices. Plus, all the sent files are 256-bit encrypted.
No account: Send Anywhere is a free service. There is no cost and no hassle of account set-up. Plus, there isn't any cap on the size of files you can send. In addition, the platform has an easy-to-use web interface.
Pros
Secure file sharing
It doesn't require sign-up
Excellent web interface
Cons
A shared file is only available for ten minutes
Need better mobile app
Price: Free
2SHAREit
SHAREit is a free and fast app for sending large video files from iPhone. So, if you have been asking how to send large video on whatsapp iphone, you should look into this app. Because, unlike WhatsApp, SHAREit doesn't cap the video file size at 16 MB. Plus, the transfer is 200 times faster than Bluetooth.
Features:
Fast sending: You can send large video from iphone at forty-two megabytes per second. In other words, sending a one-gigabyte video file will only take half a minute or less
Versatility: Unlike Apple applications, SHAREit is a very liberal tool. It supports gigabytes that are well over two digits. Plus, you can send all formats of files when you have the app on your iPhone.
Pros
Free app
No limit on file size and format
Fast transfer of video
Cons
Both devices require a shared network to connect.
Wants location access, which some users think is irrelevant
Price: Free
3Xender
Another free, fast and large file-friendly app is Xender. It is compatible with all major platforms and permits almost all file formats. With Xender on your iPhone, you can enjoy limitless sharing of large video files faster than Bluetooth. You can also share apps, pdfs, and music files alongside the video.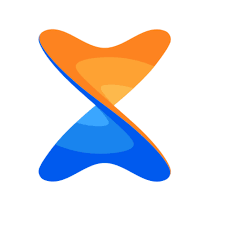 Features:
Music Extractor: The Xender app features an MP3 converter. You can use it to extract the music or audio from your video files and save them as MP3 files.
Social Media Downloader: This app feature helps you download and manage files across platforms like Messenger, WhatsApp, or Instagram.
Pros
Cross-platform transfer of multiple file format
User-friendly interface
Conserves file quality during transfer
Cons
Not suitable for transferring app files
Requires camera and location access
Price: Free
Conclusion
How to send long videos on iPhone? As you can see, Apple presents you with some options. Of course, they are suitable for occasional usage. For instance, mail drop can be a lifesaver if you need to send a large file to an email address in an emergency.
On the other hand, these in-built apps might fail to fulfill the needs of certain professionals. For instance, if you are a product videographer or content creator, you need to send a large video from iPhone with its quality intact. At the same time, the transfer needs to be fast and backed up.
In that case, a professional tool like AirDroid is your best choice. So, test the free version today.
FAQs
How to send a 20 minute video from iphone?
Ans. The image capture app on Mac lets you receive single video files as large as 4GB from your iPhone. So, this method can work great for you. Because usually, a twenty-minute high-quality video file can be around one gigabyte in size.
Can I send large video files as attachments from my iOS phone?
Ans. Many iPhone owners wonder how to send a large video through email from phone. Sadly, email only lets you share a maximum of 20 MB per file. However, you can still send large files as an email attachment as long as you do it via Mail Drop. This Apple tool lets you send up to 5GB of video files from your iPhone.
Can I send long video files from my iPhone using iMessage or WhatsApp?
Ans. You might wonder how to send long videos on imessage. Or how to send long videos on whatsapp iphone. You can't because iMessages caps its file size at 100 MB. Meanwhile, WhatsApp only permits a maximum transfer of 16 MB per file.
Was This Page Helpful?