How to Send Files in Messenger? (PDF, Videos, Etc)
Sending files and documents is an essential part of communication in the digital age. A quick and secure way to send files is extremely useful when messaging with friends, family, or colleagues.
As Facebook is the most popular social media and communication app, many prefer the Messenger app to share files. Although sending and receiving photos using Messenger is very easy, sharing other file types isn't as convenient.
Although Messenger isn't made for sharing files, you can still send various files using Messenger. However, the process is not exactly convenient. In this article, we'll explore how to send files in Messenger using phone and also PC quickly and securely.
Part 1: How to Send Different File Types in Messenger?
Messenger is tailored for file-sharing purposes. Its main goal is communication by text messages, voice calls, and video calls.
You can also share images using Messenger pretty easily, but the image quality degrades. Sharing other file types is a bit tricky. Here is how to send different file types in Messenger:
1 Send PDF Files
You can easily send PDF files in Messenger but there's a catch. You can use the Messenger app on your iOS, Android, and also on PC. Using Messenger on a PC, whether you are using the Messenger app or browsing Facebook from your browser has some advantages.
One of those advantages is that you can send so many different file types to other people, including PDFs. When using the Messenger app on pc, go to the chat and look for the plus (+) icon on the left side of the typing area. Click it then click 'Add Attachment(s)'. Now find the PDF file you want to send, select the file, click open and click send.
The catch is that the very same (+) icon is also available in iOS, but it doesn't let you select and send any file type you want. It only lets you select images and share locations on Messenger. On Android devices, there are four dots in the place of the plus icon that acts the same as the plus icon. To send PDF files, you have to use Messenger from a personal computer or a laptop.
However, this doesn't mean there is no way to share PDF files on Messenger. If you know how to send PDF file in messenger, you can easily figure out other methods. Although you can directly select the files using Messenger, you can share them using the app. Locate the file on your device, select the file and click share. Then select Messenger and send it to your friend. The 'Send' button is on the right side of the person's name.
2 Send PPTX Files
Sending PPTX files is the same as sending PDF files. You can't directly send PPTX files using Messenger on iPhone or Android. You have to log in to your Facebook account or Messenger on pc.
Then you can attach the file by clicking the plus (+) icon, selecting the file, and sending it to anyone you like. If you must send PPTX or PDF files from your Android mobile phone, log on to Facebook using any browser like Chrome, Mozilla, or Safari. Then go to the chat, select the plus icon and the rest is the same.
You can share the file the same way discussed above. Locate, select, and click share. Then send it to your friend on Facebook.
3 Send Documents Files
Sending DOCX files is no different either. Like PDF or PPTX, Messenger doesn't let you send DOCX files using Android or iOS phones.
You have to use Facebook or Messenger on your pc or laptop to send DOCX files using Messenger. You can also use Facebook from a browser on your Android or iPhone to send docs files to a Facebook friend or Messenger user. However, you can directly share it with your friend using Messenger.
4 Send Image Files
When it comes to sending images, Messenger is way more lenient than the previous instances. You can easily send images to a Facebook friend using Messenger, whether on iOS, Android, or a personal computer.
If you are using Facebook from a browser on a pc, select the 'Attach a file' icon on the right of the plus (+) icon, choose any image you like and send it to your friend.
If you are using the Messenger app on pc, look for the 'Attach a file' icon on the right side of the typing area, left of the smiley emoji; the rest is the same. On Android and iPhones, look for the four dots and the plus icon respectively. Select the image and send it right away.
5 Send Videos Files
You can send videos using Messenger very easily, just like images. Just attach the file using the plus (+) icon, wait for the video to upload then send it. If the video isn't in your gallery, you have to locate the file manually and then share it.
Remember that video quality degrades when shared via Messenger. Also, the maximum file size you can share on Messenger is 25 megabytes.
Part 2: Airdroid Personal: How Can It Help in File Transfer on Your Device?
As you may have already realized, sending files using Messenger can be a great hassle. Different devices act differently when it comes to sending files using Messenger. It doesn't let you send any file other than images on Android and iOS.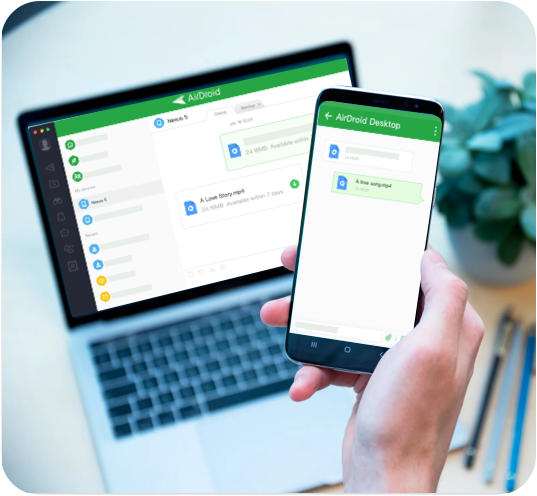 Also you'll have to know how to attach file in messenger using different devices and different operating systems, and also how to send files in messenger using android phone
On the other hand, you can send almost any file you like using Messenger on a pc or laptop. This kind of thing can be very confusing to remember and annoying in a time of need. Because you can and cannot depend on Messenger to send important files. So, what's the solution?
Airdroid Personal is the solution. Our amazing app lets you transfer files from pc to mobile, mobile to pc, and mobile to mobile with ease, regardless of the platform. Airdroid Personal works in the same capacity. For iOS and Android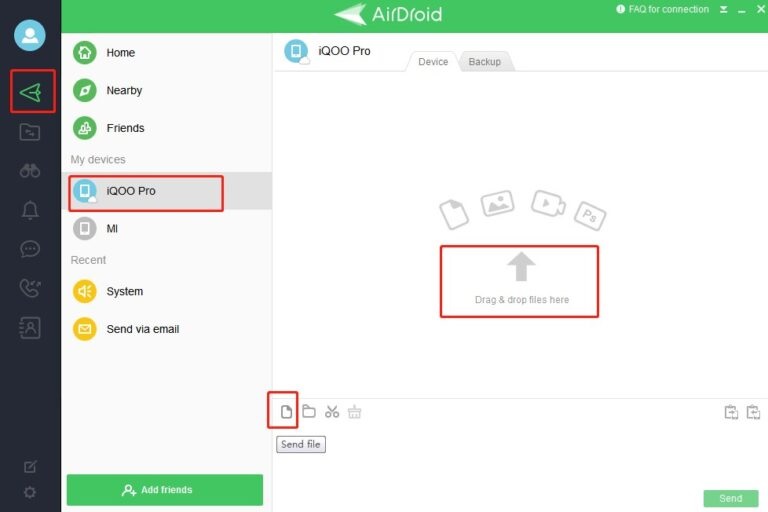 Why Airdroid?
Airdroid Personals file transfer feature has so many benefits that you won't look for a second method to share files.
You can easily send files to your friend or colleague without requiring any internet connection under the same network. Let's take a look because Airdroid is the best method to transfer files:
Cross-Platform Support: One of the key features of Airdroid Personal is its ability to transfer files across different platforms. It supports Windows, Android, Mac, and Linux operating systems. This makes Airdroid Personal a great option for those who need to transfer files between different devices and platforms.
Remote File Transfer: Airdroid Personal also offers remote file transfer capabilities. With this feature, you can transfer files between two devices even if you are not under the same local network. You will require an internet connection and remote data quota on the app. The trial version gives you a 200 MB remote data quota. For unlimited remote data quota, you have to purchase the premium package.
Wireless Transfer: Airdroid Personal also offers wireless transfer capabilities. This feature makes it even easier to transfer files between two devices and eliminates the need for wires and cables. With this feature, you can transfer files seamlessly at lightning-fast speed without tangling in wires.
Conclusion
Sending files in Messenger would be very convenient if the app provided all the features across all platforms. The different behavior on different platforms makes it difficult to send various file types using Messengers. Even if you know how to send files in Messenger, the process doesn't get any less tricky.
If you want to conveniently send and receive any file types, Airdroid Personal should be your pick. It supports all file types, and all platforms and offers seamless operation at blazing-fast speed.
Frequently Asked Questions (FAQs)
Q) Where Is The Attachment Button On Messenger?
Ans: The attachment button is on the left side of the typing area. However, you can't attach anything other than image files using the attachment button.
Q) Is Airdroid Personal Free To Use?
Ans: Airdroid Personal gives a trial version without requiring any credit card. To get all the features, you will need to purchase the product.
Q) What's The Max File Size Supported On Messenger?
Ans: The maximum file size you can share on Messenger is 25 MB.
Q) Does Photo Quality Get Reduced On Messenger?
Ans: Yes, image quality gets significantly lower when shared on Messenger. That's why many people prefer WhatsApp or email to share photos.
Q) Does Video Quality Stay The Same When Shared On Messenger?
Ans: Video quality also deteriorated when sent in Messenger. WhatsApp or email is the preferred option.
Was This Page Helpful?