[Updated 2023] How to Fix AirDrop Stuck on Waiting
Why AirDrop Failed on iPhone 12/13/14
Here are some common culprits of why your AirDrop stuck on waiting as well as proven solutions to make it up and running again.
A user wrote on an Apple discussion forum:
"My airdrop stuck on waiting iphone 13, and I can't share files! Help!!"
Another one complained:
"When I use Airdrop to share pictures with my family, it gets stuck without any response for a long time. What happened?"
AirDrop is one of the most talked about services of Apple but it isn't immune to unexpected issues. If your AirDrop stuck on waiting, then you're not alone. This problem is quite common and can appear out of nowhere.
No worries. This article is going to outline several proven workarounds to fix AirDrop issues with minimum hassles. Give it a read and find out.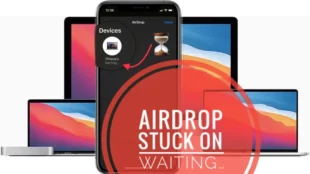 Part 1: Common Reasons for Why AirDrop Stuck on Waiting
Before heading to solutions, it's imperative to understand why AirDrop just says waiting when you try to send files. Here are the reasons that might hinder the normal functioning of AirDrop:
1. Software Glitches: Probably the most common culprit of why does my AirDrop not work. Mostly, a minor error in either of the device can prevent AirDrop from sending your files and getting stuck on waiting.
2. Issue in iOS Update: Either you haven't updated your iPhone or iPad and maybe, the latest version may have brought some bugs that interrupt AirDrop. Many users have reported that AirDrop doesn't work after updating to iOS 16/15.
3. Wrong Configuration: It may happen that Bluetooth or Wi-Fi on either device is not turned on, or personal hotspot is still enabled. This can result in AirDrop stuck on waiting or not sharing files.
4. iPhone is Locked: The recipient's iPhone must not be screen locked, else it won't appear on your iPhone for sending files or may get stuck on waiting.
5. Devices are Not Close Enough: AirDrop works when devices are present within about 30ft of each other. Otherwise, they may not get Bluetooth signal that may result in AirDrop stopped working.
Part 2: Simple Fixes for AirDrop Stuck on Waiting
Here's a step-by-step guide of some workable methods to make sure your AirDrop is working properly again.
1. Turn Off and Enable Wi-Fi and Bluetooth
If you have already enabled Wi-Fi and Bluetooth enabled on both iPhones but AirDrop is not working, try refreshing them.
All you need to do is disable both Wi-Fi and Bluetooth on both devices, wait for a few seconds, and turn them on again. Hopefully, it will fix the issue. If not, head to the next solution.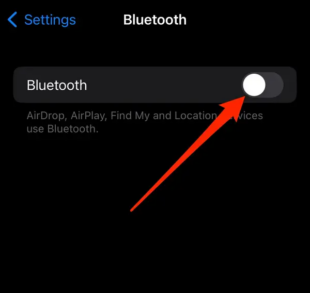 2. Turn Off Personal Hotspot on iPhone
One of the common reasons why AirDrop failed is when you forget to turn off personal hotspot. You need to turn it off. Luckily, it takes just a couple of taps to disable personal hotspot on an iPhone or iPad.
All you need to do is go to the Control Center > long press the Bluetooth icon, and tap the Mobile Hotspot icon to turn it off.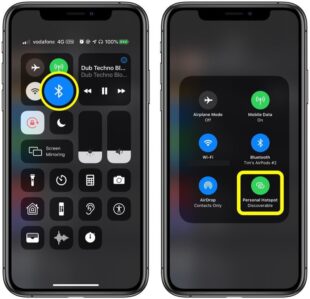 3. Remove AirDrop Restrictions
Apple allows users to put restrictions on any app to limit or manage their usage. It may occur that you have mistakenly set up restrictions on AirDrop, which might be the reason why AirDrop not showing up.
To fix it:
Go to Settings > Screen Time > Content & Privacy Restrictions.
Tap Allowed Apps, and be sure AirDrop is turned on.
4. Force Reboot Both Devices
As you already know that a minor bug in the system software can prevent AirDrop from working properly. Force restarting your iPhone is the quickest way to remove all such glitches.
Here's how to get AirDrop to work by force rebooting:
For iPhone 6 and earlier: Press the Sleep/Wake button and Home button simultaneously until the Apple logo appears.
For iPhone 7 and Plus: Press the Sleep/Wake button and Volume Down button until the Apple logo appears.
For iPhone 8/X and later: Press the both Volume Up and Volume Down buttons together, then hold the Side button until the Apple logo appears.
Wait until the iPhone restarts. Now, try sending the files again. If you're still facing an AirDrop problem, continue reading.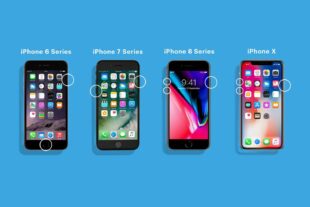 5. Update iOS
Each iOS brings automatic fixes for many pending issues on your device. Many users have reported that updating both devices to the latest iOS version has helped them get rid of the AirDrop says waiting problem.
Here's how to update your iPhone or iPad:
Go to Settings > General > Software Update.
If new updates are available, tap Download and Install and wait until the process ends.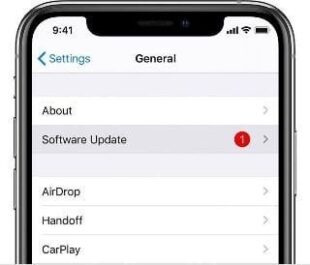 6. Reset Network Settings
Sometimes, the issue can be in the network settings of your iPhone – either sender or recipient. So, if none of the aforementioned methods has helped you get, try resetting the network settings.
To do that:
Go to Settings > General > Transfer or Reset [Device] > Reset Network Settings.
Part 3: Bonus Alternative to AirDrop for Transferring Files
Sharing files via AirDrop has its own set of complications as you'll find many unexpected issues time and again. Want to avoid all this? Look no further and get AirDroid Personal.
Been an industry leader for almost a decade, this powerful tool guarantees a seamless data transfer process. Not only it lets you transfer files between two Apple devices, Mac and iPhone, it also supports cross platform transfer.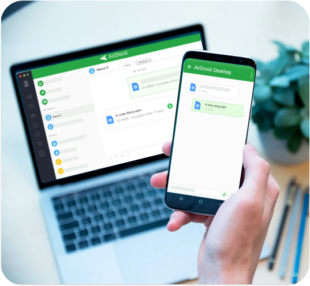 Now, you move unlimited data between Android, iOS, Mac, and Windows. This gives AirDroid a comprehensive edge over Airdrop – as the latter only supports Apple devices. And coming to speed, AirDrop Personal boasts of remarkably-fast transfer speed without losing any quality.
Key Features of AirDroid Personal
Allows you to transfer files between two Apple devices quickly.
Supports cross-platform file transfer.
Send data to multiple devices in one go.
Guarantees lossless data transfer at a blazing-fast speed.
Share files between both Nearby as well as Remote phones.
Allows you to manage smartphone from PC remotely
In the below steps, we will learn how to transfer data between two iPhone as well as iPhone and Mac. Note that the same procedure can be sued for Android and Windows. using AirDroid Personal.
For Two iPhones
Step 1. Install AirDroid mobile app on both iPhones and login with the same AirDroid account.
Step 2. Launch the app on the first iPhone, tap the Nearby tab, and choose your other iPhone.

Step 3. After establishing a remote connection, tap the Transfer icon > paperclip icon > Files. Now, select the files you want to send.
Step 4. Hit the Send option to send data.
Between iPhone and Mac
Here's how to send data from iPhone to Mac:
Step 1. Install the AirDroid Personal Desktop Client and mobile app on the respective devices. Login with your AirDroid account on both devices.
Step 2. From the Personal app, tap your computer's name under My Devices to connect both devices remotely.
Step 3. Then, hit the Transfer option and select attachment icon > Files. Choose the files you want to transfer and tap Send.
Part 4: Common FAQs About Why AirDrop Stuck on Waiting
1. Why is my AirDrop stuck on waiting?
Some of the common causes of AirDrop stuck on waiting are:
Both devices are not close enough to each other to let AirDrop connect them.
Your iPhone or Mac is not fulfilling the AirDrop minimum requirements.
Wi-Fi and/or Bluetooth is turned off on any device or personal hotspot is enabled.
Glitches in system software or any app running in the background.
Outdates iOS version.
2. How to fix AirDrop stuck on "waiting"?
Try out the below solutions:
Make sure AirDrop permissions are given.
Restart the Bluetooth and Wi-Fi.
Update iOS
Reset the Network settings
Final Remarks
And that's all the information you need to get rid of the AirDrop stuck on waiting error. Just implement the aforementioned AirDrop troubleshooting solutions until it is up and running smoothly.
If you want to get an alternative tool to send large data files quickly, try AirDroid Personal. It allows you to move files between any two devices, including iOS, macOS, Windows, and Android. Additionally, it acts as a remote desktop program to manage your smartphone from a PC.
Feel free to ask any questions about how to fix AirDrop.
Was This Page Helpful?