How to Convert HEIC to JPG on Mac – 5 Best Ways
Apple products are renowned for their excellent camera quality, clicking amazing shots of your precious memories. However, you might have noticed how the image extension, HEIC, is not supported or compatible with many platforms and devices. So it is natural for you to ask how to convert HEIC to JPG on Mac.
Apple has many native tools that do an outstanding job converting images to your preferred file type. They include the Photos application, Preview and Automator. Apart from these, you can also use various alternatives like iMazing and third-party solutions like online converters. AirDroid provides remarkable results as well.
There also remains the fact that the HEIC format and why is a powerful and efficient extension in comparison to other forms. We will delve deeper into HEIC vs JPG and frequently asked questions you may have. So without further ado, let us find a quick and easy solution on how to convert from HEIC to JPG on Mac!
Part 1: HEIC format: What is it?
HEIC, standing for High-Efficiency Image Container, is the proprietary version owned by Apple of HEIF (High-Efficiency Image File) format. It was released along with iOS 9 and can be found in all later versions. This file format is intended to give users a better manner to save their images.
HEIC makes images smaller in size and saves space. HEIC files typically offer better quality while being half the size of JPGs due to their superior compression algorithm. The issue with HEIC is that not many other programs or devices are compatible. Sometimes it isn't easy to open a HEIC format image after you transfer it to your computer.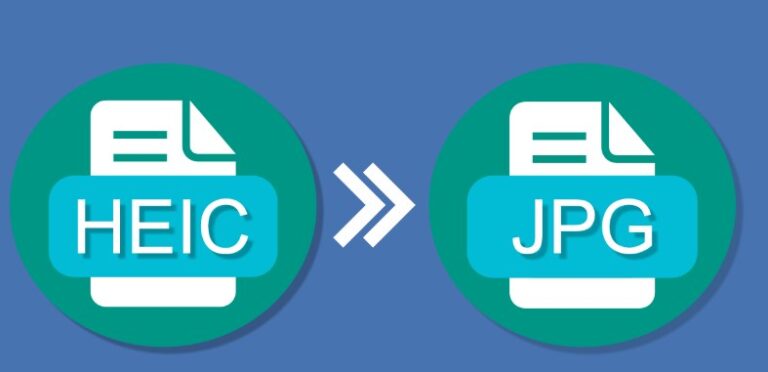 Part 2: In-built Solutions to Convert HEIC to JPG on Mac
The built-in tools available only on your Apple Mac are great for converting files to the format you prefer. So, if you ever wondered how to save HEIC as JPG on Mac, it is a great place to start. The applications I want to highlight are Photos, Preview and Automator.
1Photos
For iOS users, Photos is the most frequently used app for browsing and editing images. Additionally, this is where you'll engage with HEIC images the most. Fortunately, the program provides a way to make your Mac convert HEIC to JPG without additional software. Notably, dragging photographs from your iPhone to your Mac Photos library and placing them will convert them to JPG automatically. It is super practical and straightforward.
The control iOS provides when moving photographs are used in a second approach. Through the following, you can choose the file formats and quality that suit you best:
1. Choose the HEIC photos that you want to convert.
2. Select the file from the menu toolbar, select Export, and select Photos.
3. Select JPG as the photo type, then adjust the other settings according to your preference.

4. Select "Export" from the options.
2Preview
Although photos may be popular right now, not all iOS users agree. You can use Preview, Mac's built-in photo viewer, to convert those images to JPG if you feel more comfortable with it than Photos.
It's a valuable alternative to Photos because you can edit photos with the app. Here's Preview on how to HEIC to JPG on Mac:
1. On your Mac, start Preview. By utilizing Spotlight Search (Command + Space), you can find Preview too.
2. Locate and choose the HEIC file that has to be converted.
3. Choose "Open."
4. Preview will be open by now and showing the HEIC file. Select "Export" from the drop-down menu after clicking "File" on the toolbar at the top of the screen to convert it.
5. The file's information will be displayed on a pop-up menu. The arrows adjacent to "Format" should be selected.
6. Click "JPEG" in the drop-down menu.
7. If required, rename the file using the textbox at the top. Using the drop-down menu next to "Where," you can also modify where the file will be saved.
3Automator
If you've ever used Automator, you'll understand why I think it is so underappreciated. This native iOS app can execute various activities for you, like relocating folders, filtering junk mail, and batch renaming files and folders.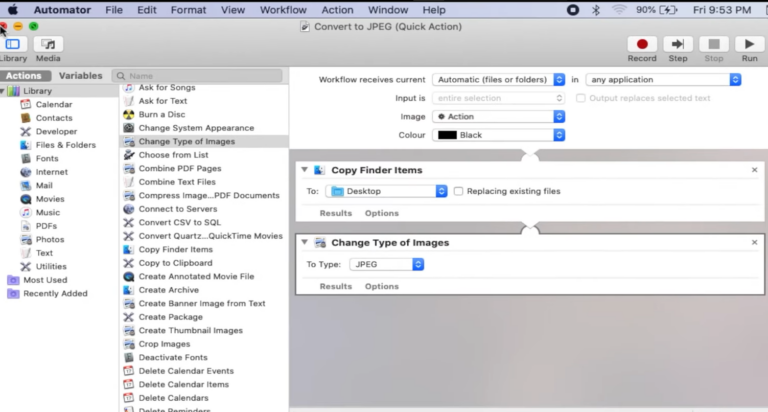 Additionally, the program has a JPG to HEIC converter. Without relaunching the program, you may also configure and access it from the desktop. Converting HEIC to JPG on Mac is easy if you follow the below steps:
1. Launch Automator and choose a new document.
2. Select by clicking on quick action.
3. Select the folder where you intend to save the JPG files and look for the photos you want to convert under the copy finder's action.
4. Find the action to change the type of photos and choose jpg from the drop-down menu.
5. Make sure you have saved the quick action.
Part 3: Alternative Methods to Convert HEIC to JPG on Mac
If the native applications are not in favour of your work process, there are alternatives you can avail to serve your purpose.
1iMazing
The HEIC converter for Mac, iMazing, is excellent. It is well-known for its capacity to transform IOS 11 HEIC images into JPG and PNG file types. Thanks to this tool, you won't have to worry about your older applications being unable to convert HEIC to JPG on Mac.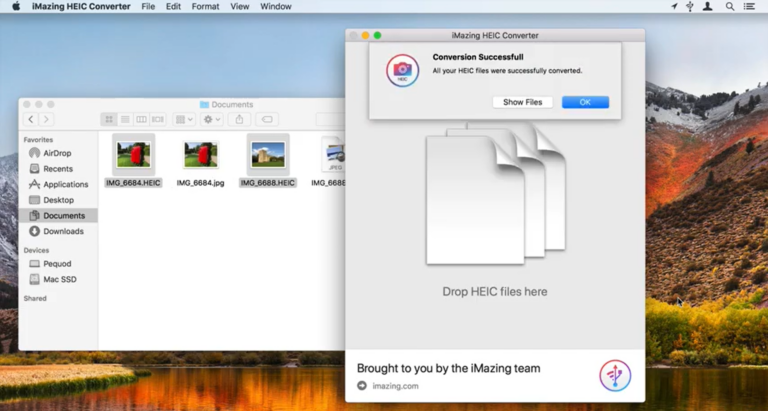 Pros
Simple and dependable to use
Offers capabilities like backups and restore
Can export files and app data
With just a tap, it can assist with updating and reinstalling iOS
It doesn't need iTunes to function.
Price:
Device License (beginning at $34.99)
Unlimited Devices (subscription costing $44.99 annually)
2Online Websites
If you Google "heic to jpg converter," you'll come across many websites that can help you. Additionally, the App Store offers HEIC converters that can translate these files. These third-party programs aren't required if your Macintosh runs High Sierra or any later version, but for older systems, they could be the best option for converting HEIC files into JPGs.
However, use caution while using online HEIC converters. They frequently contain a ton of advertisements, and some even have malware.
Additionally, if you upload your images to these converters, the site's owner will probably be able to access them.
Part 4: Using AirDroid to Convert HEIC to JPG on Mac
Using the file-sharing program AirDroid, you may access and operate your device from a distance. It outperforms the standard iPhone file transfer techniques and apps. For instance, it enables file transfer from an iPhone to a device that is not an iOS device. In addition, it allows the transfer of large files and places no format constraints on them.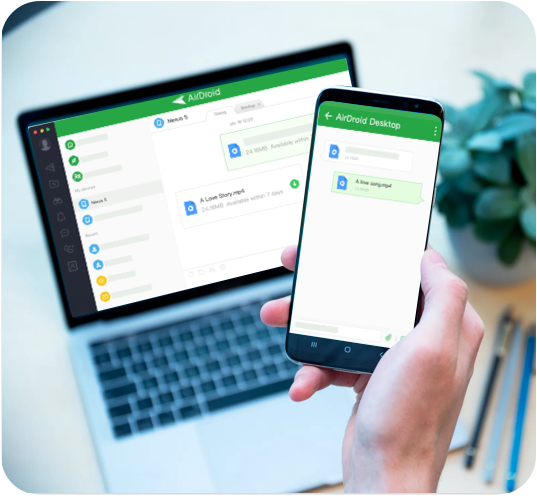 You can send images from an iPhone to an Android smartphone and from an iPhone to a Windows or Mac computer using AirDroid, which allows file transfers between several platforms.
How to Enable Auto-convert HEIC to JPG on AirDroid
Step 1.Open AirDroid after downloading it from the App Store.
Step 2.Ensure that the settings option "Auto-convert HEIC to JPG files when the receiver does not support HEIC" is turned on.
Step 3.After deciding which HEIC photos to send, transfer them to other devices.
Step 4.The pictures will be converted to jpg when sent to the other devices.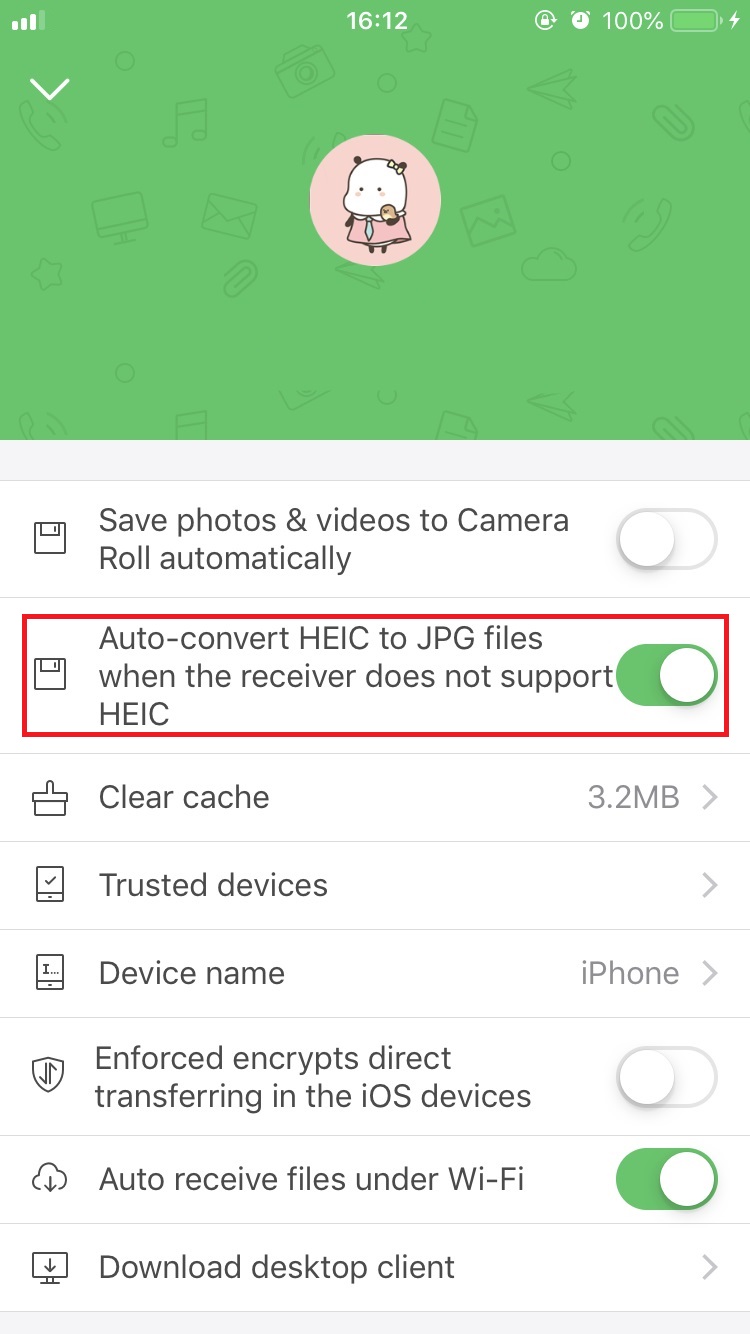 Features
Without using the internet or Wi-Fi, you can send large video files using the Nearby feature.
Use the PC keyboard to type on your iPhone.
Remotely operate the camera on your phone.
Locate iPhone or iOS devices that have been lost or stolen
Cast the screen while watching a video to share it with others.
All platforms, formats, and sizes are supported
Pros
The best third-party program for sending files from an iPhone
Protects your files' privacy
Quick and simple to use
Cons
Dull interface
More instructive literature is needed.
Part 5: Which one should you choose: HEIC vs JPG?
HEIC is superior to JPG, especially when compressing images without sacrificing image quality. What devices and apps support HEIC is the issue that is causing problems.
Even while HEIC is being used by more and more developers every day, JPG, the tried-and-true standard, is still more widely utilized.
Conclusion
While working with HEIC files could be irritating, remember that they have a purpose. They maintain image quality while optimizing the size of your files. Therefore, it is best to leave your images as HEIC. However, the good news is that there are a few simple and quick techniques to convert your photos to JPG.
Frequently Asked Questions (FAQs)
Q1) Can you convert HEIC to JPG in Batches?
Ans: Yes, you can. All the above suggestions will tell you how to convert multiple HEICs to JPG on Mac without hassle.
Q2) Does converting HEIC to JPG reduce quality?
Ans: The abovementioned ways will give you a lossless conversion from HEIC to JPG on Mac. However, online converters may diminish quality sometimes.
Q3) Why are my photos saved as HEICs rather than JPGs?
Ans: Apple devices use a proprietary format known as HEIC, or High Efficiency Image File, for photos instead of the conventional PNG or JPG format. It can maintain high-quality while taking less space.