Is AirDroid Safe to Use in 2023? All Answers are Here!
How Safe is AirDroid Personal?
State-of-the-art Security Infrastructure for Data Encryption
Taking Antivirus Tests to Ensure Security
Using SSL Tech to Guarantee User Privacy
HTTPS Technology Protect Your Personal Data
Relying on Advanced E2EE Tech
Having AirDroid installed on your phone is like having a swiss army knife in your pocket; you never know when you might need it. AirDroid is one of the most versatile apps out there for both your phone and PC.
It allows you to seamlessly transfer files between devices; project your screen onto bigger monitors and access your smartphone from your PC. That's not all; AirDroid has plenty more features, one of which is the remote control feature.
While this feature is extremely handy, especially in cases of emergencies, it can also make you wary of this control falling into the wrong hands. If you can so easily access your smartphone from another device, can hackers do it too? Is AirDroid safe to use? Let's find out.
What is AirDroid? A Brief Introduction
AirDroid app is a one-stop solution to manage your smartphone from a PC wirelessly. It establishes a remote connection between two devices and offers tons of amazing features like file transfer, SMS management, screen mirror, Android file management, and many more. The software is designed to improve user experience and simple remote access. Thanks to its sleek interface, even a non-technical user can navigate its functions without any hassles.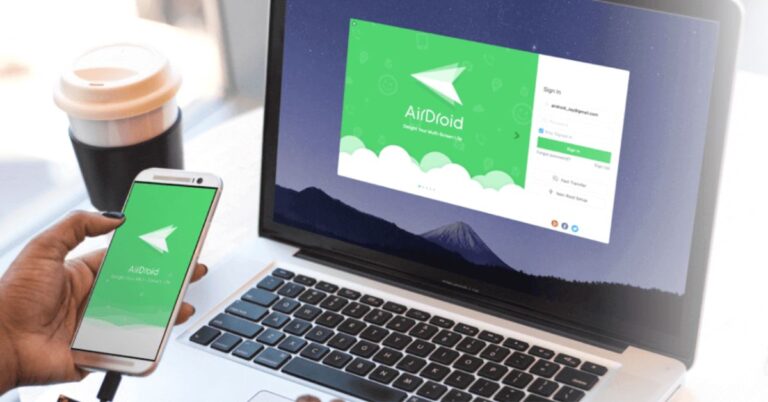 Is AirDroid Safe?
You can put your worries to rest because the AirDroid app is completely safe to use. Keeping your data secure and protected is one of the top priorities of the AirDroid security team, and we have taken plenty of steps to ensure this. All of your data transmissions are done via an HTTPS connection, and nothing is stored in our database without your consent.
If you're still unsure of whether AirDroid is safe to use, let's take a deeper dive into its security measures of AirDroid.
HTTPS Technology
HTTPS is an internet communication protocol that ensures that the data you are transferring is protected and confidential. No third parties can access this data. It only stays between you and the software client.
Data transferred over an HTTPS connection cannot be accessed by third parties, cannot be modified during transfer, and is proven to only be transferred to the intended server. This protects you from hackers and third-party attacks against your personal data.
When you are using the Remote Connection Mode in AirDroid, all your data is transferred over an HTTPS connection; even AirDroid as the server owner, cannot read the data. So all the personal information on your phone is safe and secure.
Data Encryption
In the Desktop client of AirDroid web, we use End-to-End encryption to transfer all your data between your PC and smartphone. E2EE can help prevent third parties from eavesdropping on your data in between transfers.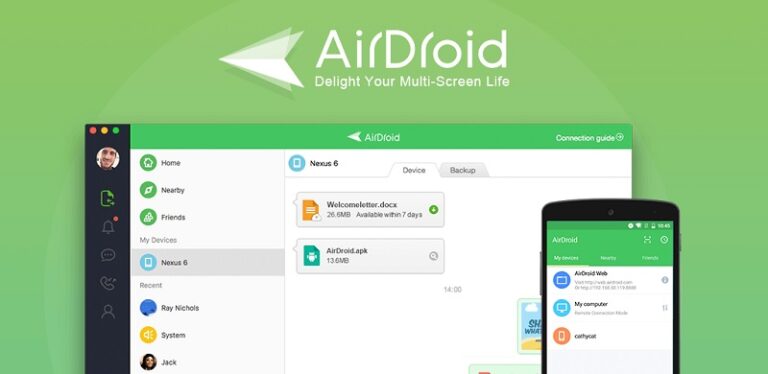 All your private information like your passwords, account credentials, bank information, or text messages are never stored on the server. They are transferred via a secure channel and are completely encrypted when you use features like Remote Control.
Even when you are using the AirDroid File Transfer feature, we only temporarily store the files you are transferring so that you can use the feature more efficiently. These files are deleted permanently once your session expires. None of your data is stored by AirDroid, without your consent.
GDPR & EULA
The General Data Protection Regulation or GDPR is the set of laws in the European Union that deals with data protection and privacy. It is meant to keep user data safe and secure. All our practices are compliant with the GDPR regulations, and we prioritize data protection in all aspects of the AirDroid app.
We do not collect personal data about you that includes things like health, race, disability, criminal offenses, etc. None of your data is sold to advertisers or other parties that can benefit from it. Your data, when stored, is stored on cloud servers across the world under Amazon Web Services, and the entire infrastructure has layers and layers of security measures in place.
Whenever you are using AirDroid, you agree to the End User License Agreement. Everything we do is transparent, and nothing is hidden from you. So all your data is only used for your tasks and is completely safe and secure with AirDroid. You can read the Privacy Policy to learn more about how we use your data.
Taking Antivirus Tests to Ensure Security
A lot of users are hesitant about installing new apps because they might contain viruses or malware. While this can happen, nowadays, software from trusted sources rarely causes any harm to your systems.
AirDroid passes several anti-virus checks, including Avast Antivirus, Comodo, BitDefender, Kaspersky, etc. You can also scan the software with your own anti-virus before you install it just to be sure.
Remote Control Feature
More than anything else, a lot of users are afraid of using the remote control feature. Allowing access to control your smartphone from another device can be very risky if not done properly. But with AirDroid, the process is very secure. Due to the several security measures, we take to protect your data transmission, rest assured that no one else can control your phone.
If you have ever tried to use the remote control feature, you will know it requires a lot of permission from you. There are many authorization steps, and you have full control over how much you agree to give access. And as soon as you end the session, all these permissions are revoked again. There's no way for someone else to gain access to your device.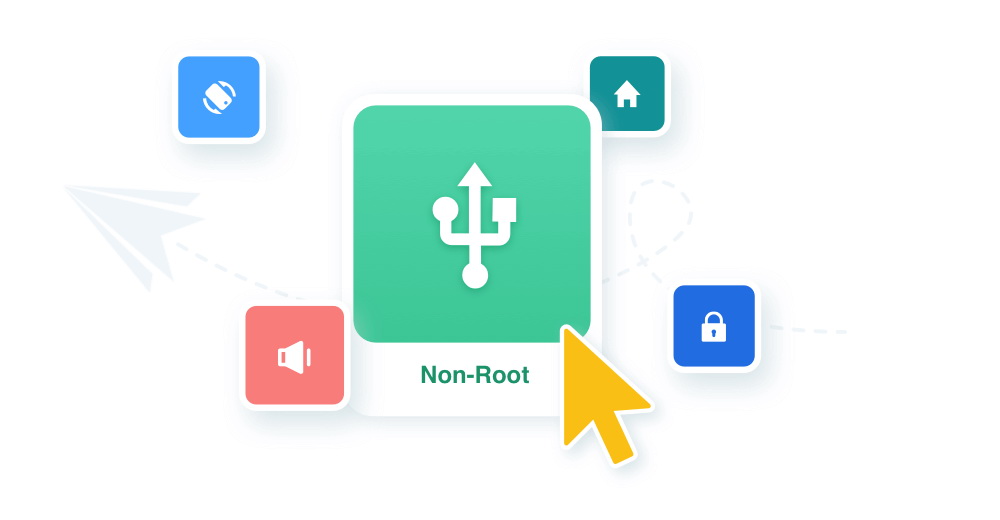 Unlike other remote control apps, AirDroid does not require any root actions. So your phone is completely safe, and there's no risk of damage in the process of using this feature. Without your permission, it's almost impossible for someone else to hack into your phone and control it remotely using AirDroid.
Tips To Use AirDroid Safely
Security is a two-way street. Not only does it depend on how secure the app is, but it also depends on how carefully you use it. You can follow these tips to keep your data secure when using AirDroid.
Use A Secure Password
This tip works for almost everything on the internet. It's important to use a secure password that you aren't using anywhere else for your AirDroid account. Since you can use your AirDroid credentials to log in to your account from anywhere, if someone knows the password, they can gain access to your device.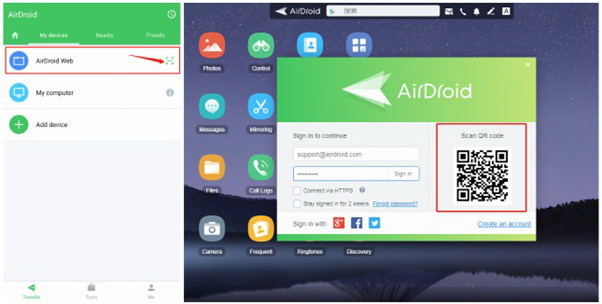 So use a strong password and do not share it with anyone. It's also a good idea to keep changing your passwords every now and then.
Authorized Users Should log in:
Set a mechanism in place to allow only authorized users or agents to access login and access the AirDroid servers.
Log Out Properly
When you are done using the app, remember to log out of the app both on your phone and on the desktop client if you are using it. Especially after a remote control session, you should remember to end the session properly and revoke all the access you had granted to the app.
This way, no one else can log into your account and access your device even if your computer is lying out in the open. Often leaving your account logged on can allow someone else to view your device if they have access to your browser.
Use Two-factor Authentications
Always use the 2FA (two-factor authentication) protocol to get an extra layer of security.
Learn About HTTP and HTTPS: Remember that the AirDroid firewall allows only ports 80 (HTTP) and 443 (HTTPS) along with certain bandwidth limits for download and upload. Make sure you are always following the set standards.
Install The Updates Regularly
AirDroid rolls out regular updates to the app to deal with bugs and improve features. So remember to always update both the app and software whenever there is a new update present.
Regularly updating your apps keeps them compliant with the recent security measures and makes your app much more secure to use.
Don't Leave Your Devices Lying Around
This shouldn't be an issue if you remember to log out properly each time you use AirDroid. But often, leaving your phone lying around can allow someone else to use the app.
Or even when you are using AirDroid on your PC. Computers are often shared by multiple people, so if you leave the browser with your AirDroid account logged on, then anybody can use the app to access your connected device. So remember to log out of your accounts and keep a password on your phone.
Conclusion
So, is AirDroid safe to use?You can make that judgment for yourself. AirDroid offers layers upon layers of security measures to protect your data. Not even AirDroid servers have access to take a look at your personal information.
So don't worry. You can use AirDroid without having to worry about hackers or compromising your privacy.
Extra Tips: Secure Corporate Android Devices with MDM Solution
What is MDM?
MDM stands for a mobile device management tool that is used to optimize the functionality and security of Android devices within the enterprise and protect corporate work. Typically, the MDM tool supports remote monitoring and control features.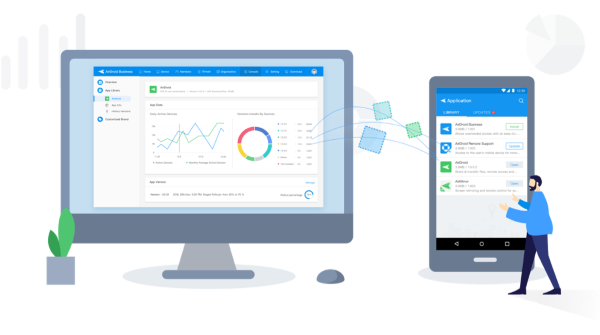 AirDroid Business MDM Solution
AirDroid Business is the highly recommended application for businesses of All sizes. This single application is helpful for the business because it handles a lot of tasks like remotely controlling devices, tracking Android devices, and securely managing multiple devices. Admins can customize the setting and introduce policies for all target Android devices.
1. Remote Control over All Corporate Android Devices
One of the best features of AirDroid Business MDM is its remote-control feature that helps the user to monitor multiple Android devices on the same screen. Running a business is not easy, and the body can keep an eye on all employees' devices at the same time. But via AirDroid Business, the business owner or manager can monitor all devices at the same time without difficulty.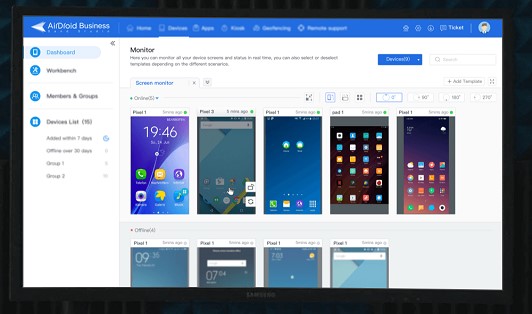 If any of the devices is not working smoothly and needs technical help, the AirDroid Business software user can easily troubleshoot that device without getting physical access to that device.
For the workflow of any business, it is important to keep all devices active and up to date. For managing online deliveries, you have to keep an eye on delivery drivers because on-time deliveries are an important process of a business. In that case, the AirDroid Business helps you track the location of those drivers to improve the workflow.
AirDroid Business MDM solution presents you altars of 20 different devices such as battery percentage, battery temperature, data limit, single app usage, device on or off, robot, etc.
2. Kiosk Mode
Kiosk Mode allows you to set a single app or multiple app mode and let you set a list of which app work and which will not.
Additionally, in kiosk mode, you can customize your business layout and brand, and you can do settings like volume, display, cellular data, hotspots, etc.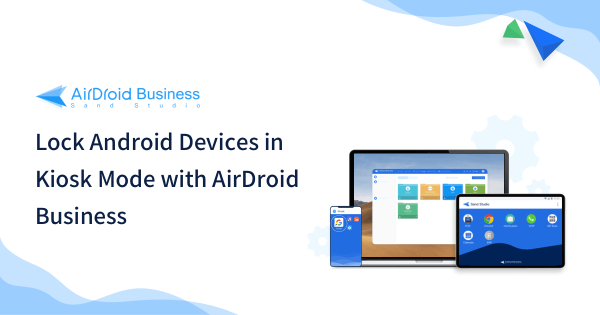 Moreover, the kiosk mode has the option of a kiosk browser that lets its users decide which websites should be accessible and which are not.
3. File Management
AirDroid Business makes it easy to manage files remotely. You can remotely copy, paste and delete files on the target device(supports multi-device transmission). You can download files from any device without getting physical access to the device, or using any connectivity cables etc.
In addition, you can easily transfer or delete bulk devices quickly via this application and you can secure any file by encryption.
FAQs About AirDroid Security
Is AirDroid Free Secure?
Yes, even the free version of AirDroid is completely safe and secure and offers encryption features. With other versions of AirDroid like the AirDroid Business version, you also get further security controls such as 2-factor authentication, restricted access for remote control, etc. But even without these features, your data is secure with AirDroid.
Is Android File Transfer Safe?
Yes, Android file transfer is completely safe as long as you have a trusted app like AirDroid to do it. You can also transfer files using a USB cable if you don't want to use an app. It is safe to transfer files between Android devices, between Android and iOS devices, and even between Android and Windows or MAC computers.
Does AirDroid Contain Malware?
No, AirDroid does not contain any malware or virus that can damage your phone or PC and make it vulnerable to third-party attacks. You can scan the app with anti-virus software before you use it to check.
Was This Page Helpful?