[Proven] 5 Ways to Download YouTube App for PC and Mac
Want to know how you can download the YouTube App for PC and Mac? Then don't go anywhere. There are lots of methods described by people, but most of them do not work.
But lucky for you, I am exploring the top 5 proven ways with which you can download YouTube for PC/Mac within seconds. So, stay till the end.
Before Reading: Is There A YouTube App for Windows PC/Mac?

Many people have no idea whether there is any YouTube App they can download on their PC and Mac. Luckily, there is. You just have to know how to do it.
Don't worry. It's really simple to download YouTube for PC and Mac, and I am discussing this here in detail. Whether you own a Mac or a Windows PC, the easy steps will work for all of you.
Way 1. Download YouTube Via Browser

First, have a look at how you can download the YouTube App on PC, and then about how you can do the same on Mac.
Download YouTube for PC:

To download YouTube for a PC, you should have Windows 10 or 11. If yes, then follow these steps:
First, make sure you are using the right Edge Browser. To know, open the browser and search "edge://settings/help" URL. There should be a message in the middle of the screen stating the browser is made possible by Chromium.

Open YouTube. On the address bar, you can see the icon "App available." Click on it.

Choose "Install." That's it.

Another way to do this is:
Open Edge Browser. Press Alt and F4 keys together.
Click on "Apps."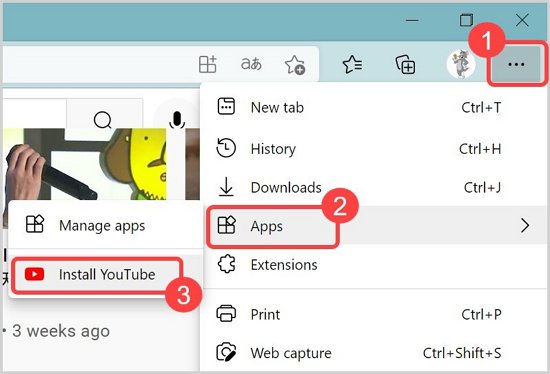 Next, click on the Install YouTube option. Then, Choose where you want to add/pin YouTube (to the taskbar, to Start or Create a Desktop Shortcut).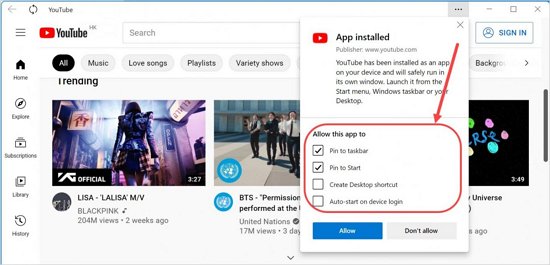 Download YouTube for Mac:

Downloading YouTube on Mac is similar to the Windows method except for one change. Mac has a default Safari browser, which does not support YouTube installation. So, you will have to first install Chrome or Edge browser on your Mac.
The steps to download YouTube for Mac are:
Download and Install Edge or Chrome browser on your Mac.
Open YouTube and then click on the Install icon in the address bar.

Confirm the installation.
Way 2. Use YouTube Website Directly

Using YouTube directly to listen to your favorite videos is pretty fun too. Just a click and the video you want to listen to will start playing.
Here is the step-by-step process:
Open a Browser and Type YouTube in the search.

Open it and click on the video you want to play.

But there are some problems you might face when you use YouTube directly, which I am now discussing.
Drawbacks of Using the YouTube website

When you use YouTube website, the common issues you will face are:
If there are any issues with the browser, YouTube might not work. You will be free from this problem if you have the YouTube app installed.
Every search and watch history will be saved in your Browser's History.
YouTube notifications are not as visible when you open the website on the browser as on the App.
When you have App, you can open YouTube independently with just one click. To open the website, you will have to open a browser and type in YouTube.com (Unless you bookmark the link).
If you want to watch videos on a PC or Mac in the easiest way possible, then I don't suggest you download the YouTube App. It is because not everyone can download the App. For PC, you must have Windows 10 or 11. Similarly, the YouTube App downloaded on Mac doesn't offer any better comfort.
But worry no more. I've got the perfect software with which you can watch YouTube and have much more fun. You even can control YouTube on your PC from the phone with this amazing app.
Way 3. Use YouTube App on Windows PC/Mac with AirDroid Cast

AirDroid Cast is a top-notch screen mirroring App that lets users share the screen from one device to another. With this, you can connect your iPhone, iPad, or Android to your PC and Mac and start displaying every App (including YouTube) with just a few taps.
So, use AirDroid Cast and screen mirror YouTube from your mobile or iPad to the Mac and PCs.
Here's how to do this.
Free Way (Local Network Connection)
The Free Way method is the best one to connect devices via AirDroid Cast.
Step 1. Download AirDroid Cast
First, download AirDroid Cast on both your mobile and PC/Mac. Then, install the App and then launch it. You should also make sure both of your devices are connected to the same internet connection/Wi-Fi.
Step 2. Startup connection
Open the AirDroid Cast on both devices. You will then either have to input the 9-digit code or scan the QR code to make a connection.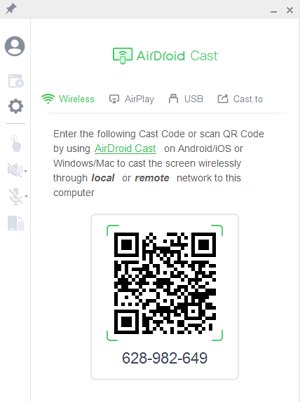 Step 3. Allow permissions
The PC/Mac will then receive the request to cast the screen in the form of message "Allow the device XXX to cast its screen on this computer?
Grant access and screen sharing will start. If you don't want to see the pop-up again, check the "Trust this device and never ask again" option at the bottom left of the pop-up.

Step 4. Start screen mirroring
Lastly, start the Broadcasting. It's that easy.
Now the fun part starts! You can then open YouTube and then watch the videos on the Mac/PC screen.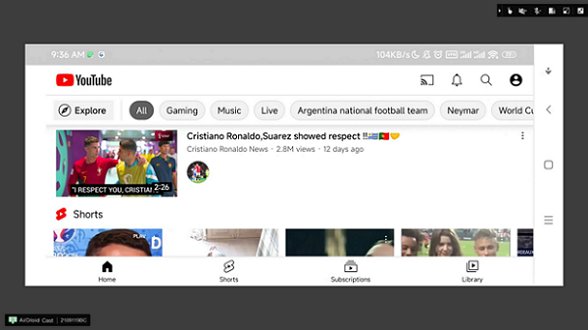 More Connection Methods that You Can Choose

There are three more ways with which you can connect your mobile to PC/Mac to screen mirror via AirDroid Cast.
Remote Connection
Via AirPlay
Use A Cable
Remote Connection
For Remote connection, follow the step-by-step guide that won't take more than a few minutes:
Open AirDroid Cast and then sign up if you are using it for the first time. If you already have signed up before, then simply log in there.
For remote connection, you will first need to upgrade your account to Premium. Choose whether you are doing the casting for personal or business reasons and complete the purchasing process.

You can then do two things:
Input the 9-digit code shown on PC/Mac screen.
Scan QR code from the mobile to make a connection.
You can then screen mirror YouTube from mobile/iPad to PC or Mac with ease.
Via AirPlay
Ensure that the AirPlay function is turned on both of the devices .
On your iPhone/iPad, go to the Control center. Out of the different options, tap on "Screen Mirroring."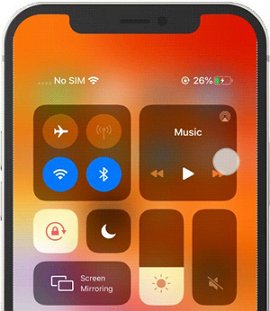 Out of the different names you see, Choose AirDroid Cast - XXX. The casting will then be successful. You can then open YouTube and then watch the videos on the Mac/PC screen.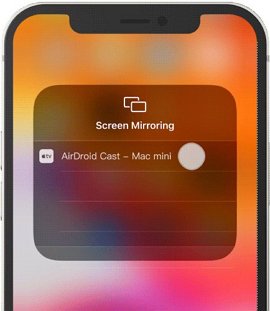 Use A Cable
The easiest way to connect your mobile to your PC/Mac is via a USB cable. It is also preferable because network fluctuations don't distort screen sharing when you connect your mobile with PC/Mac.
Connect one end of the USB to your mobile and the other to your PC/Mac. Allow the USB debugging to ensure the connection. On the AirDroid Cast interface on your PC, go to Cable.

There, choose your mobile name and confirm you trust the device.

The casting will then begin. You can then open the YouTube app on your mobile and mirror the screen on the Mac or PC screen.
Way 4. Download YouTube APK for Windows 11

One more way to download YouTube for PC (free) is via downloading the APK. It is a common practice when you are unable to get the app from the Google Play Store or Microsoft store.
To Download YouTube APK, go to any APK provider website and type in YouTube there. You can also type YouTube APK in Google and then open a link.
Click on the Download APK button and let the downloading to finish. You can also go to the Downloads folder to check the progress. When the download is completed, click on it to install it. Follow the prompts, and then allow YouTube to be installed. That's it.
Way 5. Download YouTube App Using Android Emulators

We now have Emulators with which we can easily download YouTube on your PC and Mac. The top two ones are:
Bluestacks

Bluestacks is a popular emulator with which you can download YouTube on your device within a few minutes. Here's how:
First, download the Bluestacks emulator 5 on your PC or Mac. Then, Install .exe file.

Sign in there with your email.

Open the Store and type "YouTube" there. Click on Download, and the App will be installed.
NoxPlayer

NoxPlayer is the second emulator I have for you to download YouTube on your PC for free. Just follow these steps:
Download and Install NoxPlayer.

Click on Nox.exe on the desktop screen and let the customized installation to complete.

Type YouTube on the search and download it.
Also, you can download YouTube APK and drag it to the NoxPlayer interface to install it.
That's all about YouTube App download for PC/Mac!
6Is YouTube APK Safe to Use?
Yes, YouTube APK is safe to use. When you download and install the APK, you will use the official YouTube platform.
However, make sure you don't download the APK from any unreliable website. It is because APK files in such websites might be affected by malware and can also lead to cyber-attacks.
So, How to Discern?
Well, go for credible APK platforms that have been in this business for years, like Vanced, APKPure, Softonic, etc. Don't go for those whose names you are reading for the first time.
Now, it's time for some more info!
7How to Upload Videos to YouTube?

Curious to know how you can upload videos to YouTube? Well, the steps are simple.
On PC/Mac:

Sign in to YouTube with the same email you made your YouTube account. On the top right, click on the "Create" icon (right next to bell icon).

You can then record a video or upload the one that is saved on your device.

Type the video title name, adjust the settings and then click on "Upload."
On Mobile:

Open the YouTube app. Tap on the Plus (+) icon.
Choose the video and then tap on "Upload." It's that simple!
8Learn More: Is It Legal to Download YouTube Videos?

YouTube does not allow users to download any videos from its platform. You can read about this when you open YouTube's terms and policies. The company can also sue you for trying to do this as well.
So, don't try to do anything illegal. Just watch online and if you liked the video so much, click on the "Watch later" icon so you can find the video again easily.
Closing Words

All-inclusive, it is easy to download YouTube for PC and Mac. You can use an online browser, APK, and emulators for this purpose and get the job done.
However, the easiest way to watch YouTube videos on Windows PC and Mac is via AirDroid Cast. It is a screen mirroring App that lets users display the screen of one device to another.
Just a few simple clicks, and that's it. You can watch YouTube videos like never before. So, try AirDroid Cast and have fun watching YouTube videos!
Was This Page Helpful?