How to Monitor WhatsApp Chat and Activity
WhatsApp has risen to become one of the most popular apps in the world. However, its position as the most used quick chat app is undisputable. The reason for its outstanding popularity is none other than the app's numerous benefits. Alongside the rise of this platform are other malicious features that may endanger users. These malicious uses are why monitoring WhatsApp chat and activities are suitable.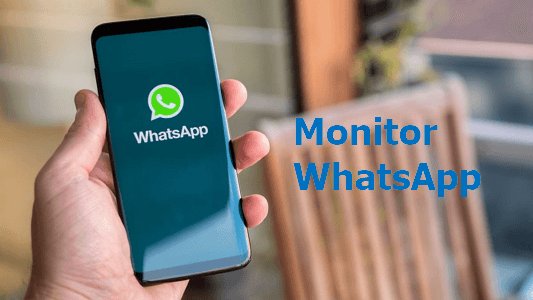 WhatsApp monitoring may defer between the two popular OS. Hence, this article takes you through the reasons for monitoring WhatsApp and parental tips for parents. Also, you will find how to monitor WhatsApp on your Android and iPhone below.
Part 1: Why Should You Monitor WhatsApp Activity?
In this section, we will consider some popular malicious features on WhatsApp that make monitoring WhatsApp activities necessary.
Inappropriate content: There are no restrictions on the kind of content or news sharing over WhatsApp. Unfortunately, this exposes any user, especially kids, to inappropriate content. Since it is a popular chat app, information can spread quickly.
Exposure to strangers: Given the large number of people using WhatsApp, there are also users with harmful intentions. Some of these users are strangers who can share inappropriate content with other persons on the platform.
Cyberbullying: Digitalized bullying is another reason for monitoring WhatsApp activity. Except for being bullied by their friends, users can be bullied by strangers via group chats. Bullying comes in different forms like rumors, mean comments, video trends, etc.
Privacy: WhatsApp provides its users a lot of privacy and high security. However, every chat room has multiple views. From any other viewing screen, a chat can be snapped or screenshotted and shared across the platform and beyond.
Scams: WhatsApp users are susceptible to any typical scam. Usually, group chats with strangers are used as windows to get in contact. Then, individuals are targeted with spyware, money requests, catfishing, phishing, and fraudulent job opportunities.
Part 2: How to Monitor WhatsApp on Android
Live WhatsApp Monitor is a feature of the AirDroid Parental Control app. It is an app that allows you to monitor your kids, spouse, friends, relatives, or coworkers. It will keep them safe in the physical world and online. Also, it will help them build healthy digital habits.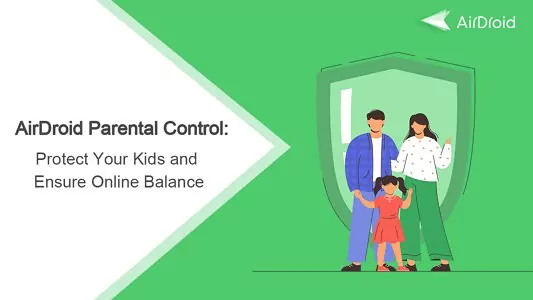 The app was specifically designed for parents to monitor their kids' WhatsApp, but it works fine for any target phone. It can work for different uses because there are a lot of incredible features on the app that are discussed below.
Ensure Online Safety
Sync WhatsApp apps' incoming messages
Remotely monitor kids' phone screens in real-time
Block or restrict specific apps and new apps like WhatsApp
Schedule when and how long they can use WhatsApp
View your kids' daily phone activities on WhatsApp
Ensure Physical Safety
Watch and hear what is going on around your kids
Find your kids' current location
Get alerts when your child enters or leaves the geo-fenced zones you set.
Know whether your kids' phones have enough battery.
Get notifications if there's no data update for a long time.
Steps to Use AirDroid Live WhatsApp Monitor App
Step 1. Download and install the AirDroid Parental Control app on your device.
Step 2. Launch the app on your device and create your account on the sign-up page. Then log in.
Step 3. Download AirDroid Kids on the target phone. After installation, launch AirDroid Kids and set up the necessary settings on the phone.
Step 4. You can see a pairing code on your device that you will enter to bind the devices. Now, you can see someone else's WhatsApp chats and activities.
Part 3: How to Monitor WhatsApp on iPhone
You can monitor the WhatsApp chats and activities of your kids, friends, and coworkers with the Hoverwatch app. This app is a suitable iOS option for you to monitor multiple accounts simultaneously.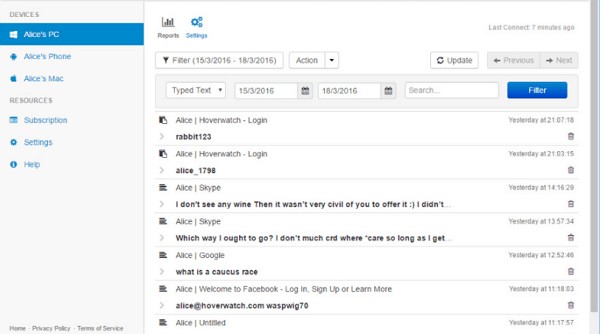 You can use it to track and record WhatsApp chats, photos, and videos. Furthermore, it helps you to monitor calls and shared links. Hoverwatch boasts an easy and clever interface. Some of its other features are discussed below.
You can monitor your kid's WhatsApp chats and other activities without them knowing.
You can get full access to calls, texts, and a contact list on your kid's phone.
Get notification when your kid changes sim.
You can get the real-time location of your kid through GPS and sim location.
You can track the browser history on your child's phone.
You can block or restrict websites and keywords on your kid's browser.
Steps to use Hoverwatch Parental Control
Step 1. Open an account by providing your email and choosing a password.
Step 2. If you have an account already, log in with your details.
Step 3. Once you are signed up, download and install the Hoverwatch app.
Step 4. Download and install the Hoverwatch app on the target phone.
Now, you can see what your kid does on WhatsApp.
Part 4: Benefits of WhatsApp Monitoring
If you are unsure about monitoring WhatsApp, you might want to reconsider for these reasons.
You can protect younger users against malicious content.
You can help someone break off addition to WhatsApp.
WhatsApp monitoring is beneficial in limiting the risk of kids being sexually exploited.
It helps to identify scams.
To prevent strangers from taking advantage of people.
Part 5. Parenting Tips for WhatsApp Safety
As a parent, there are a couple of things that you can do to help your kids stay safe on WhatsApp. Below are a few tips about WhatsApp that will help you.
Control the Information Sharing on WhatsApp
You can control the information that your kid shares on WhatsApp. For instance, last seen, online status, profile picture, status, etc., are set at default by WhatsApp to be shared with every other user. You can turn off these features on your kids' WhatsApp to restrict how much information about your child people have.
Restrict Contacts
Without turning off some features of WhatsApp, you can restrict who sees them. WhatsApp has simplified everyone on its platform into three categories for every individual. Hence, you kid can share their details with Everybody, My contacts, and Nobody. It is best to restrict details visibility to My contacts.
Be Aware of a Location-sharing Feature
Parents must be aware of a location-sharing feature on WhatsApp. If the setting is turned on, any video or image shared will show the location where it was created or taken on the map.
Schedule WhatsApp Usage
Parents can use an app lock to restrict strangers' access to their child's WhatsApp. If you choose to give your child access to the password, you can regulate their usage.
Bonus: How to Know If Someone Monitors your WhatsApp
You can find out if someone is monitoring your WhatsApp through WhatsApp Web. There is a history list of all your open sessions and devices. This list will let you know which devices are connected to your WhatsApp. If you see the notification "This phone could not be verified," it could mean that an unknown device is monitoring your WhatsApp.
In Case You Missed It
WhatsApp is one of the most talked-about apps. However, it has as many benefits and exposes users to dangers. The group most susceptible to these dangers do not often know. Hence, monitoring WhatsApp chats and activities is expedient.
You can monitor your kid's activities on their Android mobiles, with the AirDroid Live WhatsApp Monitor app. Likewise, you can use Hoverwatch for your iOS device. Besides using third-party apps, WhatsApp has privacy features that parents can use to keep their kids safe online.
FAQs about WhatsApp Monitoring
Q 1. Can WhatsApp Chat Be Monitored?
Yes, you can use a monitoring app like AirDroid Parental Control App or Hoverwatch to monitor a WhatsApp chat.
Q 2. Can Someone See My WhatsApp Messages from Another Phone?
Yes, by using a monitoring app, someone can see your WhatsApp messages from another phone.
Q 3. How Can I Monitor My Child's WhatsApp?
Yes, you can monitor your child's WhatsApp. Our AirDroid Live WhatsApp Monitor app is dedicated for parents and guardians to watch what their kids are doing on WhatsApp.
Q 4. How Can I Monitor Others' WhatsApp Activity?
You can monitor the activities of others on WhatsApp if you have access to their phone. Spy apps require that you access the phone and install an app on the target phone.
Q 5. Can a Third-party Read WhatsApp Messages?
A third party can read WhatsApp messages if they are granted access. Hence, it is advised not to give unverified third-party apps or individuals access to your WhatsApp.
Was This Page Helpful?