Parent's Guide to Using TikTok Restricted Mode
If you are bored, open TikTok and watch videos until you are no longer bored. This is the approach that many people are following, right?
In fact, it wouldn't be wrong to say that some people are addicted to these videos, including kids. This is causing a lot of issues for kids because they aren't able to focus on their studies and familial life. In addition, they are at a constant risk of getting exposed to adult and inappropriate content.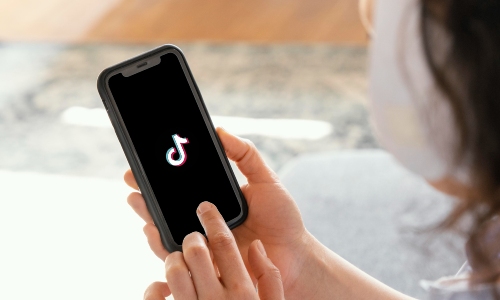 For this reason, TikTok has launched Restricted Mode, which allows users to set their content preferences. This way, there are fewer chances of vulnerability. So, let's see what Restricted Mode is and how you can use it!
Part 1. What Is Restricted Mode on TikTok?
According to TikTok, there is a feature in the Account Settings that allows users to limit the appearance of inappropriate content in their feed.
To protect your kids from inappropriate content, you can use the Restricted Mode on TikTok to filter out different types of content.
You can enable this feature from Settings, and remember that you will need the password for it. This means that parents can easily set up the content filter for their little ones.
Part 2. How to Enable Restricted Mode on TikTok?
If you are a parent who wants to protect your children from inappropriate content on TikTok, we highly recommend setting up Restricted Mode on TikTok. It wouldn't be wrong to say that this is one of the simple yet excellent settings on TikTok because it protects kids from bad content.
So, if you are ready to learn how to set Restricted Mode on TikTok, we are sharing the step-by-step guide;
Step 1. Open the TikTok profile and tap on the three horizontal lines from the top-right corner. It will show a menu, and you've to choose "Settings and privacy."
Step 2. From the Settings and Privacy page, scroll down to Content & Display, and tap on the "Content preferences" option.
Step 3. When the new page appears, click on "Restricted Mode," and it will open this page. You have to click on the "turn on" button at the bottom.
Step 4. Once you've selected the option, you will be taken to a new page where you've to enter your account's passcode. After adding the passcode, click on the "Next" button and follow the on-screen prompts.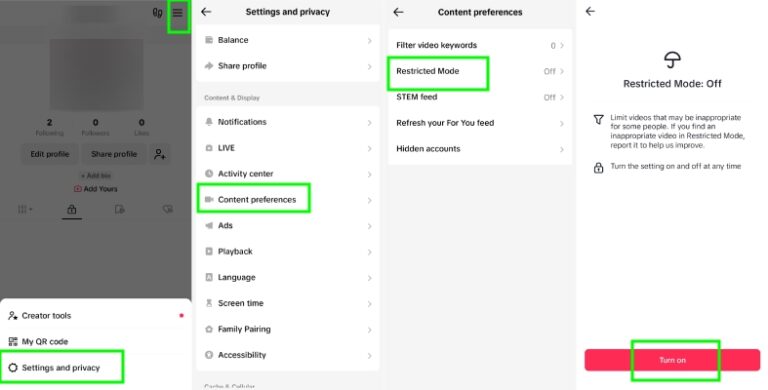 Note : TikTok has mentioned that this is an always-developing feature, which means there might be a few slips. This means that an inappropriate video might pop up, and the users are recommended to report it (the chances of such slips are rare, though).
Part 3. Other Parental Controls on TikTok
1. Family Pairing
Parents can connect their TikTok accounts to their kids' accounts through the Family Pairing feature. Once this link is made, parents can see and change a number of privacy and content settings.
You can limit your child's screen time, block inappropriate material, turn on or off their search function, and set privacy settings to control who can contact them or add them as a friend. Setting up TikTok Family Pairing takes a few minutes only.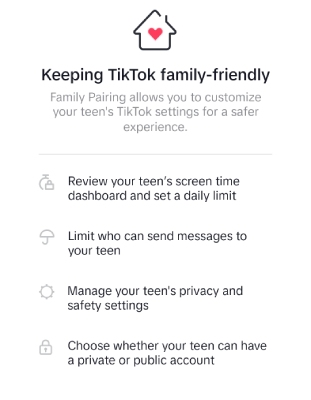 Parents need to get TikTok on their phones, make an account, and then set up Family Pairing. Here are the steps;
Step 1. Open your TikTok and go to "Settings and privacy."
Step 2. Scroll down to "Family Pairing" and tap on it.
Step 3. Tap "Continue," select "Parent," and then scan the QR code to link your child's account. You can also send an invite to your child's account.
Note : Family Pairing on TikTok is only available on the TikTok mobile app. You can't use it on mobile or desktop computers.
2. Set Limits on Screen Time
Everyone, but especially kids, can get hooked on TikTok very quickly. With TikTok's screen time management, you can limit how long they can be on the app each day. When kids reach the end of their daily time limit, they will get a message asking for a PIN to get back in.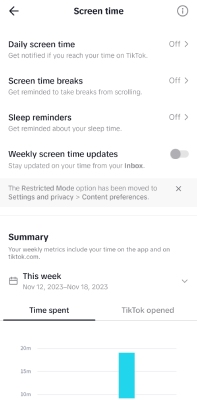 Screen time breaks are another way for parents to remind their kids to take breaks from TikTok every so often. In the Screen time part of a child's profile, you can set the times when break alerts should show up. If the function for weekly screen time updates is turned on, users will get a push notification telling them how much time they spent on TikTok during the week.
You may also like: How to Set Up Screen Time Limits on TikTok.
3. Set up Content Choice
What people see on TikTok depends on what they like. Parents can change what their kids see by going to their profiles and clicking on "Content preferences." They can also hide videos from certain people.
Step 1. Go to your teen's profile on TikTok, click on the three-line button at the upper right corner, and hit "Settings and privacy."
Step 2. Scroll down to "Content preferences."
Step 3. Click "Filter video keywords" and add keywords.
Here, you can add up to 100 keywords or hashtags that you don't want to see in their feeds. Also, your child won't be able to search for videos, hashtags, or live videos on TikTok if you have Family Pairing turned on.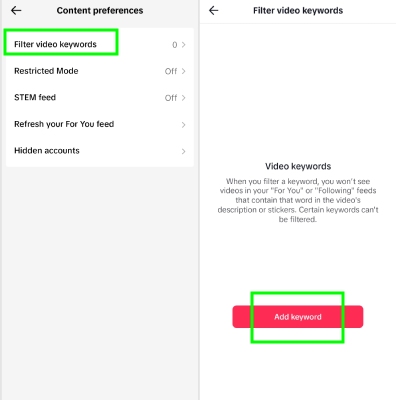 4. Change the Direct Message (DM) Settings
Predators use direct messages to target and train teens who aren't paying attention on social media. Making sure that DMs are turned off is very important for keeping your child safe online. The company says that TikTok users under the age of 16 can't use direct texting by default. Also, users who are 16 or 17 years old have the direct message function set to "No one" by default.
Parents of teens and adults can still stop their kids from texting directly by turning on Family Pairing or changing the settings to Friends or No One.
5. Report videos on TikTok
Even with all of these rules, material that is harmful can still get through. Tell your kid to tell you if they see anything wrong so that you can report it. You can also teach your kids how to report the news on their own. You can also use TikTok's online form to report a video. The case will be looked at by TikTok's review team, which will then take the right steps.
Part 4. 4 Additional Ways to Keep Your Kids Safe on TikTok
At this point, you know the answer to "What does Restricted Mode on TikTok do?" However, this isn't the only feature, which is why we are sharing three additional ways to secure your kids.
1. Show Kids How to Spot Adult Material and Fake Websites
Dangerous people online know that most kids want to be popular on TikTok. The Better Business Bureau (BBB) found that scammers often come up with ways to get kids to make sexual movies for money. After all, they don't get paid, and these videos can hurt the child's image and sense of self-worth as they move up.
Remind them that forcing kids to do something they don't want to do is never okay. Help your kids learn how to report and block people, and let them know you're there for them.
2. Check out TikTok's Digital Wellbeing Tools
You can help your kids think about how they use TikTok by talking to them about the things they do in the app. Show them how watching too many screens and inappropriate videos can hurt their mental health and mood. Talk to them about what they hope to get from the site. If you're not sure how to start talking about family safety, TikTok's parenting guide has seven questions that you can use.
3. Teach Kids How and When To Report
Some good places to start are by talking about good social media manners, going over the TikTok Community Guidelines, and making it clear how to report users and material. It's important that your kids feel like they can talk to you about anything. Being a reliable listener and guide can help them understand that you're not there to judge them. You're there to help them figure things out.
4. Use Parental Controls Apps
While we have already shared a lot of parental control features of TikTok and additional ways to protect kids on TikTok, another option is to use parental control apps, such as the AirDroid Parental Control app.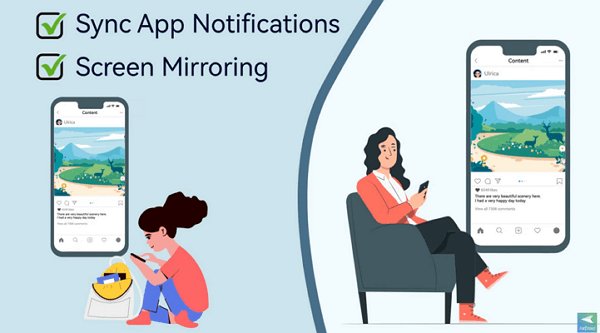 This is a third-party solution, but it has safety and privacy features for TikTok that you won't find anywhere else. Some of these features include;
You can use the keyword monitor feature. It allows users to monitor their teen's activity on TikTok, such as the textual descriptions of videos by setting up keywords. Once keywords are detected, you will receive an instant alert so you will what video your child watched.
You can easily set up the time limit for TikTok use. It will help ensure that your kids aren't spending too much time on TikTok, which significantly reduces their chances of getting exposed to inappropriate content.
You can sync notifications. Whenever your teen gets notifications from TikTok or other apps, you will know the details of them.
You can mirror their screen in real-time. This helps you see what video they are watching at the same time.
Conclusion
TikTok is a popular app for watching videos, and there are millions of uploads every day. This means that there is never-ending content on TikTok, and it's important to protect your kids. For this reason, we talked about how to get Restricted Mode on TikTok. Also, don't forget to leverage the AirDroid Parental Control app because it's the ultimate way of keeping an eye on your kids without feeling that you are spying on them.
FAQs about TikTok Restricted Mode
Is There 18+ Content on TikTok?
Not really, because TikTok has strict policies, and they take down adult content as soon as it's reported. So, if you see such content, don't forget to report it.
How Can I Turn off the Restricted Mode?
You've to open the Digital Wellbeing page from Settings and click on the Restricted Mode. From this page, you have to click on the "turn off" button. As a confirmation, you've to provide your passcode.
Will Using Restricted Mode Ban My TikTok Account?
No, it will not. That's because this is a security feature, and you are free to use it for your protection.
Was This Page Helpful?