How to Lock Apps on iPhone With/Without Screen Time
One way of ensuring more privacy in your iPhone, without a doubt, is locking your apps. Surprisingly, some still wonder if it is possible to lock apps on iPhones. There are several ways to lock apps on iPhone; some are straightforward with limited options, while others are much more advanced.
You can lock apps on your iPhone by setting screen time or without screen time. Furthermore, you can use third-party apps that help lock apps and manage screen time. An excellent example of these apps is the AirDroid Parental control app, which can manage screen time and lock different apps or websites.
So, if you need to learn how to lock apps on your iPhone with a passcode or without screen time, then keep reading.
Part 1. How to Lock Apps on iPhone With Screen Time
The easiest way to lock apps on iPhone is using Screen time. You can follow the below steps to complete it.
It is essential to note that you can lock apps on your iPhone using or without screen time. To help you understand this, we will explain both methods and which is the best for you.
1Lock Apps on iPhone Using Screen Time ( iOS 12 or Later)
The Screen Time feature that helps you lock your apps is available in iOS 12 and later. This method only allows you to lock the first-party apps (apps that Apple creates). Therefore, if you have other apps from other software makers, you won't be able to lock them.
And so, if you're going to use this option, then here is how to do it,
Head over to Settings.
Go to Screen Time.
Under screen time, select Content and Privacy.
Tap Allowed Apps.

For apps you don't want to use, turn off the toggle switches by simply tapping to turn them white.

You're done; you can now go back to the home screen by swiping up or tapping the back button.
What if you are using something other than iOS 12 or later? How can you lock your phone apps? Well, to lock your apps, follow the steps below.
2Set Time Limits to Lock Apps ( iOS 12 or Later)
Alternatively, you can lock the app by setting time limits. This method is relatively easy and effective as the ones shown above. To fix time limits for apps, follow these steps:
Open Settings.
Navigate to Screen Time.
Then tap on App Limits.

Click on Add Limit to open the list of apps.
While on the list of apps, you must select which apps to restrict access by tapping the check box button. This button is situated to the left of the app category you plan to lock, for example, the Social Networking category.
After choosing the app, you will have to set a time limit in which that app will be used. For example, you can select 1 hour or customize the days you want the restriction of that app to last.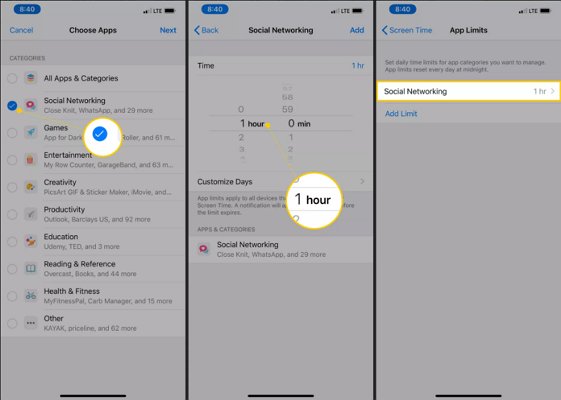 Part 2. How to Lock Apps on iPhone Without Screen Time
1How to Use Guided Access to Lock Apps on iPhone (iOS 11 or Later)
Besides the options already shared above, you can also opt for another option to lock apps on your iPhone, which is using Guided Access. It can help you lock apps without screen time.
Guide access is an option to lock you within one app and prevent you from leaving that app. For example, your friend wants to use your phone to make a call, but you are afraid they might start venturing elsewhere. So, to prevent them from doing so, you can use this feature and restrict their access to only one app.
Note: This feature works only on iOS 11 or newer, and to activate it, follow these steps:
Go to Settings.
Then tap General and head to Accessibility, then Guided Access.
However, if you're using iOS 13, you can navigate from Setting > Accessibility, then Guided access.

Turn on the Guided Access toggle by swiping the toggle right (to the green position).

Afterward, head to Passcode Settings and click Set Guided Access Passcode.
Once all these are set, you can turn on Guided Access at any time once the app has started by simply pressing the home button three times or the side button three times (depending on the phone you're using).
When the guide access screen starts, you must draw a circle covering the places you need to disable. It can cover the entire screen, half or none of it. Keep in mind that this option can only last 24 hours while active.
2How to Lock Apps on iPhone with Shortcuts (iOS 13 or Later)
There is a built-in Shortcuts app in iOS 13, and later, you can create a shortcut for any app you want to lock and then add passcodes to each shortcut. What will appear on your screen will be shortcuts that have been saved as bookmarks, and those apps can only be accessed by entering the right passcode. However, you have to hide the actual app to ensure your shortcuts work effectively.
So, follow these steps to lock your apps on your iPhone with shortcuts:
Start by opening "Shortcuts" to initiate the setup process. From the "My Shortcuts" or "Shortcuts" tab, add a new shortcut. Create the shortcut and name it the app you want to hide and lock. We will take Snapchat as an example.

Tap "Add action" in the editor and search for "Ask for Input." Tap "Text" in the new action box to see the available options (text, number, URL, date, time and date & time). Use either to set security that will help secure your locked-ups. Tap "Prompt" to explain that, for example, "enter passcode, or enter date and time."

Now go back to "Add Action," then add the "If" action, then tap "Condition" in the "If" action box. After that, select "is" and add a passcode by tapping "Number."

To finalize the setup, add the "Open App," then place it between the "If" and "Otherwise" actions. In the action box, click "App" to select the apps you want to lock.
3How to Lock Apps on iPhone with Face ID (iPhone X or Later)
You can follow the steps below to use face ID to lock your apps on your iPhone.
Start by opening "Settings app" on your phone.

Tap on Face ID & Passcode.

After that, enter your secret iPhone passcode. If you don't remember your passcode troubleshoot by clicking forgot your passcode.

Click "Other Apps" to select the apps you want to lock using Face ID.

Enable face ID on the app you want to lock by clicking on the toggle (to turn green).
That's all you need to lock your apps with Face ID on your iPhone.
4How to Lock Apps on iPhone via Restrictions ( iOS 11 or Earlier)
You can try this option if you are using iOS 11 and earlier and want to lock first-party apps.
Head over to Settings.
Tap General.
Scroll down to Restrictions.

Tap on it, then select Enable Restrictions.

Once prompted, you will be required to enter the passcode (twice to confirm).
After that, several options will present to you.
In the Allow section, you can turn off all the apps you don't want showing up on your screen by turning off the toggle switches.
Bonus: How to Lock Apps on Android from iPhone
Now, if you need to lock apps on Android from your iPhone, then using third-party app locks will be the best option. For this option, there will be countless apps that you can use to do this. The best app I can recommend that is iOS-compatible is the AirDroid Parental Control app.
The parental control tool includes limiting application use on any paired device. With this app, you can set time limits for using a special app. For example, if you set time limits like 1 hour daily, the app will be locked automatically after 1 hour of use. Also, you can set up inaccessible for some time, like bedtime, dinner, study, or even never accessible.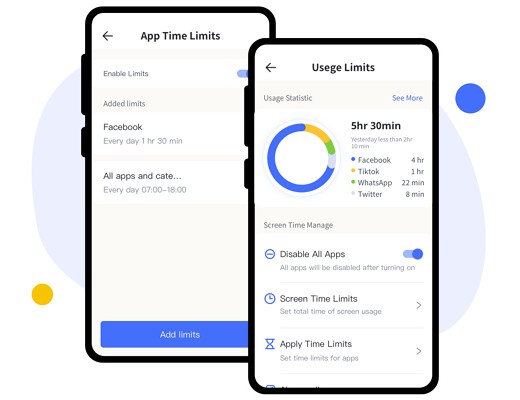 This option is valuable because it helps prevent kids from accessing certain apps that might be detrimental to them. You can also use it to manage your or your kid's daily social media use, which is beneficial in ensuring healthy digital habits.
Additionally, this app does more than that. For example, tracking location, tracking social media use, tracking data use, remote monitoring, and more. It is easy to use and affordable (with a free trial) and helps you monitor multiple devices simultaneously.
Conclusion
App locks are necessary, and locking all apps on iPhone is essential to ensuring more data security or limiting distractions. If you need to learn how to lock apps on your iPhone with/without screen time, then you know.
Choose the appropriate option from the options mentioned earlier to lock your apps today.
Was This Page Helpful?