Is WhatsApp Safe? Keep Your WhatsApp Safe and Private
Is WhatsApp Safe? It is a concerning question from the nearly 2 billion active monthly users of this messaging app. Safety and data privacy are major concerns in this proliferated digital world. Cyber attacks are on the rise regardless of social media platforms. A cyber attack can make the personal data of millions of users vulnerable within a short period.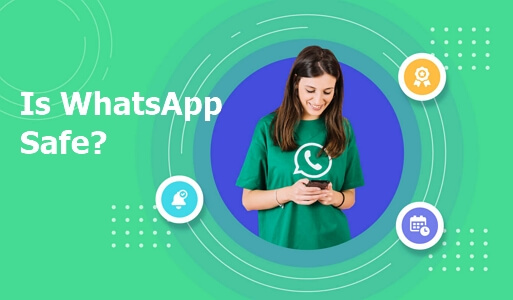 Therefore, users go through an app's security and safety features before using it. WhatsApp is relatively more secure than other messaging apps like Snapchat and Instagram, especially when you enable security features.
Part 1. WhatsApp Privacy and Security
End-to-end encryption is the chief privacy and security feature of WhatsApp. End-to-end encryption keeps the communication between two persons completely secure. No third parties can see the WhatsApp messages between the two persons.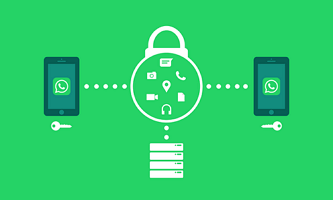 The working mechanism of the end-to-end encryption feature makes WhatsApp safe from hackers. In this encryption methodology, the message from a sender is decoded before it leaves the device. Moreover, only the sender will be able to decode the message. Therefore, even if a third person hacks the messaging communication, they will not be able to decode the message.
However, the safety concerns of WhatsApp have increased ever since the latest updates of its linkage with the Facebook platform. Many users are confused if the WhatsApp new policy is safe or not. Ever since the release of this new policy, there have been many speculations of data breaches and privacy concerns. However, the reality is that this new policy will not impact the end-to-end encryption method.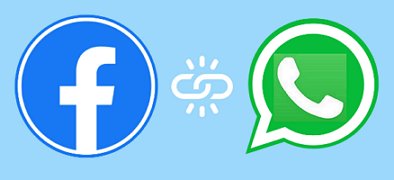 WhatsApp is safe even after this latest change in the privacy policy. This policy only lets you integrate contacts with Facebook. Regardless of this update, the end-to-end encryption of WhatsApp messages will remain intact, and no third parties, such as Facebook, can see or decode the encoded messages.
WhatsApp privacy and security also span over the WhatsApp Business app. The messages sent and received from the WhatsApp Business are also end-to-end encrypted. Therefore, Business WhatsApp is safe to use. However, the only problematic situation is that the business may have a different privacy policy, and they may use your information accordingly.
Part 2. Is WhatsApp Safe?
1End-to-end Encryption
Yes, WhatsApp is secure owing to the end-to-end encryption feature between the messaging communication. The messages, photos, videos, audio and video calls, documents, and other files you share through WhatsApp are safe due to this end-to-end encryption feature.

Only the message sender and receiver can decode the messages, and no other person can not even WhatsApp. The advantage of this security and privacy mechanism is that the hackers won't be able to decode the messages even if they succeed in intercepting the communication. Moreover, WhatsApp does not save the message data on its servers. Therefore, WhatsApp is one of the most secure platforms. WhatsApp is safer than Telegram, Instagram, Twitter, and Snapchat.
2Scams and Malware
However, one should be wary that every app is penetrable. The hackers may use different scamminglinks to get their hands on your personal information. For instance, if you click the scam link sent to you on WhatsApp by a hacker, you will most likely be sabotaging the security of your WhatsApp. They can also use different types of malware to hack your WhatsApp. Fake news is also a threat to the security of WhatsApp, and clicking them may initiate a cyber-attack. So you'd better learn to identify and avoid WhatsApp scams.
3WhatsApp Data with Facebook
Furthermore, WhatsApp also monitors your app usage time. It shares this information with Facebook. Facebook sharing WhatsApp data is another potential threat. It poses a threat to privacy, and the contact sharing update of Facebook may also cause some privacy issues.
4Status Privacy
Status privacy is another potential danger that can leak your personal information or photos to irrelevant persons. The crux is that every app has loopholes and the hackers try every pinpoint effort to penetrate it. Therefore, one has to be very proactive when using these apps.
Part 3. Keep Your WhatsApp Chat Secure and Private
WhatsApp is safe from a broader perspective as it follows the end-to-end encryption for sending and receiving messages between two persons. However, there are certain loopholes through which a hacker may penetrate this app and steal crucial data. For instance, malicious links sent to WhatsApp groups may make your WhatsApp vulnerable to hackers.
1Restrict Your Privacy Settings
Hence, it would help if you took preventive measures to secure and keep your chats private. The first thing is that you should restrict your privacy settings. You can access the privacy settings in the main settings menu.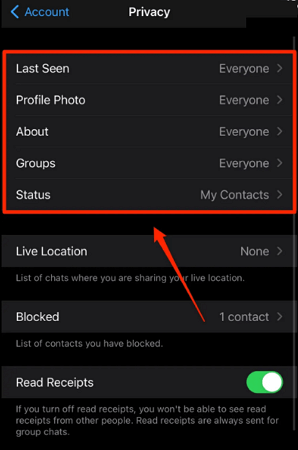 With the latest updated version, WhatsApp offers many privacy settings, including status privacy, chat privacy, and profile picture settings. You should restrict these settings per your desire to enhance security. You can avert the danger of status privacy by ensuring restrictions on who can view your WhatsApp status.
2Turn on End-to-end Encrypted for Backup
Generally, WhatsApp is secure comprehensively when it comes to messages and chats. However, the WhatsApp chats backup is not end-to-end encrypted by default, unlike the messages. Therefore, the backup of your WhatsApp messages on iCloud or Google Drive is vulnerable to attacks from hackers.
Hence, enabling end-to-end encryption of WhatsApp backup is highly recommended to make your WhatsApp backup data safe from hackers. You can enable the end-to-end encryption of WhatsApp backup from the WhatsApp settings.
3Log out WhatsApp Web When Leaving
WhatsApp Web is an added feature to use WhatsApp on your desktop and laptop. However, you must take precautions while logging in to your WhatsApp on your desktop. It is advisable to follow a Two-Step verification for this purpose. It will secure WhatsApp from hacking in a better way. Moreover, do not forget to log out from the WhatsApp Web after you are done using it.
4Enable Security
WhatsApp keeps on alerting its users regarding potential security threats. Hence, you should enable security notifications to get the latest updates regarding security threats. Moreover, you should also be able to distinguish the spam messages the hackers send to get your information. Keeping a check on potential scams is a great way to protect oneself from the trap of these scammers.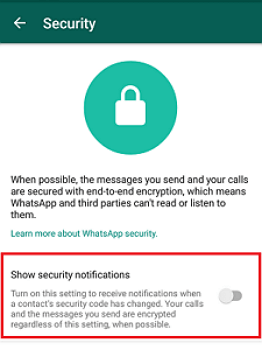 Part 4. Protect Your Kids on WhatsApp
The younger generation is not well-versed with the security threats this digital world pose. Therefore, checking your kids' digital activities is imperative to ensure the safe use of WhatsApp. AirDroid Parental Control app is a diverse solution for monitoring your kids' WhatsApp and other digital activities.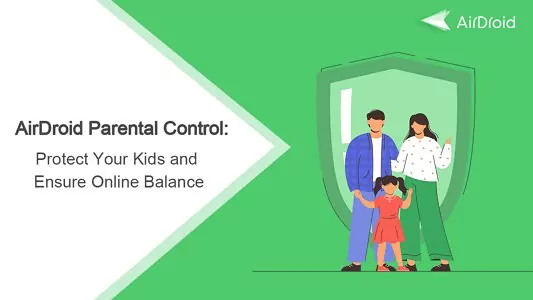 This app has a set of comprehensive parental control functions. You can check the screen time of your kids and can also get the report of time spent on an individual app. Furthermore, you will also be able to check the WhatsApp conversations of your kids. You can also check the picture, videos, and audio sharing.
You can also monitor video calls through the screen mirroring feature of this diverse app. Therefore, you can make WhatsApp safe for kids by keeping a stringent check through AirDroid's Parental Control app.
The Crux of Discussion
Is WhatsApp Safe to use? This question is sprawling in the minds of users concerned about privacy. WhatsApp is safer than other social media platforms owing to the end-to-end encryption feature. This feature ensures that only the sender and receiver decode the messages. Therefore, no third party can check your messages, not even WhatsApp.
However, some potential threats might sabotage the security and privacy of your WhatsApp. Therefore, you should enable the end-to-end encryption of WhatsApp backup to secure WhatsApp more comprehensively. Furthermore, you must not click on spam messages to secure WhatsApp.
The AirDroid Parental Control app is the most useful app to keep a check on your kids. It will let you read the messages of your kids and will make WhatsApp secure for kids.
FAQs About WhatsApp Security
Q1. Can WhatsApp Be Hacked?
Yes, WhatsApp, like other apps, can be hacked. However, the end-to-end encryption makes it quite secure as the hackers won't be able to decode the messages. However, if the hacking attempt succeeds through spam messages, it will be more catastrophic. Hacking through phishing messages can prove detrimental.
Q2. Is It Safe to Send Passport Copy by WhatsApp?
Yes, it is completely safe to send a passport copy by WhatsApp. The WhatsApp chats are end-to-end encrypted. Therefore, only the message sender and the receiver can decode the messages. Furthermore, all the images, videos, and files shared through WhatsApp chat are encrypted. Thereby, WhatsApp is secure, and one can easily send a passport copy without worrying about data safety.
Q3. Is WhatsApp Safe to Send Private Pictures?
Yes, WhatsApp is safe to send private pictures due to the end-to-end encryption. This encryption feature of WhatsApp encodes a message whenever it is sent. Only the receiver of the message can decode the message. This encoding and decoding of WhatsApp messages are automatic. In this manner, WhatsApp is safe to send private pictures.
Q4. Is WhatsApp Safe to Talk to Strangers?
Yes, WhatsApp is safe to talk to strangers. The strangers will not be able to get your personal information as they will only be able to see your messages, status, and online status. However, it is not safe when you intentionally or unintentionally share your personal information with strangers over WhatsApp messages. Therefore, one must be very careful when talking to strangers.
Q5. Is WhatsApp App Safe for Online Dating?
Yes, the WhatsApp app is safe for online dating since the other person will only be able to know what you want them to know. The person you are dating will be able to see your messages, profile picture, and status. Dating through WhatsApp will only become a threat if you share crucial information with the other person through WhatsApp messages.
Was This Page Helpful?