How to Track Phone Using IMEI Online
AirDroid Parental Control & Location Tracker
Find your loved ones in real-time and set geofencing; see and hear their mobile surroundings remotely
Monitor online activity by mirroring kids' phones and syncing text messages and app notifications
Schedule how long and when your kids can use their mobile and manage app usage
Every parent wants to keep their children safe and give them a positive start in life. Wouldn't it be great to locate your kids through their phones? You can do this with IMEI number tracking. You can track your phone using IMEI online, or another option would be to use a location tracking app.
We will explain IMEI online phone tracking and chat about an app that can also be useful to track a phone. But first, we will chat about why you need to track your phone using IMEI online for free.
Part 1 : Types of Online IMEI Tracking
There are two types of IMEI Trackers. Online Tracking Platforms and Mobile Tracking Apps. It is now possible to track any IMEI online without going through any intermediate service provider.
Google "IMEI tracker online free" and choose the website of your choice. This online service allows you to locate your phone number displayed conveniently on a map. All you need to do is enter the IMEI of the device you want to locate and the correct country in the appropriate platform, and the system will run a process to deliver your cellphone's location.

Going through Apps or Operators will probably take more time, and apps need a previous setup process. An Online IMEI Phone Tracking Service is quick. The IMEI Phone Tracking Service will access the GSM network to track the stolen phone and block it from accessing any other network in a particular country.
Part 2 : How to Track Phone Using IMEI Online
First, Google "track phone using IMEI online" to find an appropriate service. You can resort to this technology for parental control and social services. But be careful if you use this service too much. It may be too intrusive to the person that owns the phone.
Using an online IMEI Tracker is simple. But how do you use the IMEI tracker online for lost mobile? You have to enter a valid IMEI number in the appropriate online form. Then you enter the country where the Mobile Phone was Registered. The IMEI Tracker then provides a precise update on the phone's status. i.e. You can instantly find out whether it is lost or stolen.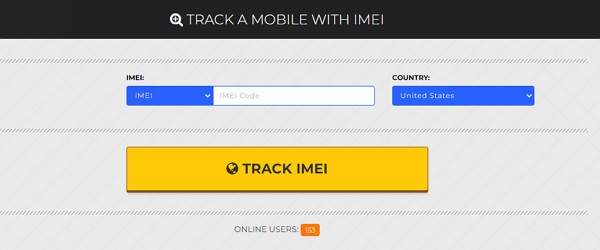 Online platforms can be more suitable than mobile apps in certain circumstances. To operate a mobile tracking app, you would have had to have the app installed on your device. It means that you had to have prepared your phones earlier on. Quite simply, going through an online platform is more accessible. It would help if you remembered that the GP systems inside your phone aren't 100% accurate. You can get a phone's precise location on a map or just the general neighbourhood that the phone is in. You can track phones using IMEI android online or Mac iPhone as well.
Recovery of your Phone
Once you find the phone's location, you have to be careful I there is theft. Recovery of your phone should involve the police to avoid altercations.
Note to Parents Before Installing Tracking App
Before you do IMEI Phone Tracking or install any third-party parental control software, you should sit your family down and discuss what you're doing and why you're doing it. Be clear or else your child may rebel and not conform. Make sure everyone understands the rules of phone tracking. Once everybody agrees, you are clear to do IMEI Phone Tracking or install an appropriate app.
Part 3: Why Track Phone using IMEI Online?
Find Lost Phones
Kids are probably going to lose their phones at some point. Phone Tracking will let you find phones that fall out of your pockets or are misplaced or stolen.
Emergency Safety
If you need to know exactly where everyone in the family is, Phone Tracking can help. As long as people keep their phones with them, tracking software is helpful to find someone who's injured, lost, or in trouble.
Keep Child in Known Areas
You know where your child should be. If their location is somewhere on the map where they shouldn't be, you can instantly call them.
History of Locations
You can make a report on the history of the locations your child has been to for future use.
Reinforcing Grounding: If necessary to ground your children, you can use tracking to ensure they go to school and stay there with no visits to friends or stores etc.
Part 4: What is IMEI?
The Phone's IMEI number is located on a sticker behind the battery. You should write this IMEI number down as soon as you can, as you may need it in the future if your phone gets misplaced or stolen. It is crucial to write this IMEI number down early on, or else you will have no number to enter in the IMEI Online Website Tracker. The acronym IMEI means International Mobile Equipment Identity.
The IMEI number is unique and can't be changed per phone, while you can change the SIM number per phone. The SIM number identifies the subscriber account, while the IMEI identifies the device. Phone manufacturers associate each phone device with a specific code (IMEI).
The Phone Device is constantly sending data packages to the operator service. It means that the exchange of data is always going on. IMEI also unlocks administrative privileges to control the phone. To put it simply, once you know your IMEI number, you run the IMEI Online Tracking software, and it finds its location! You can google "IMEI tracker online free" or "IMEI tracker online", and you will find various options.
Part 5: How to Find the IMEI Number
Remember that there are no two devices that will have the same IMEI number, which makes each smartphone unique from the others. Let's go through the various ways to find the IMEI number. We've gone through the fact that the IMEI number is located on a sticker behind the battery. In case the number is blurred or some digits are scratched, the universal way to find the IMEI number is to open the phone dialer app and dial:
*#06#
and the number will be displayed on the screen. Another method is to Open the About Section of the Phone.
For Android:
Navigate to Settings > About phone> Status, and here you will find the IMEI Number on the report.
For iOS:
Head to the iPhone/iPad Settings > About > Phone > Status, and here you will find the IMEI Number on the report.
Moreover, you can find the IMEI number of your lost phone through the box in which the handset was packed. Check for the sticker pasted on the box with product information, such as the model number and serial number.
However, if you have lost the phone, you can find the IMEI number through the box where the handset was packed. Check for the sticker pasted on the box with product data, such as the model number and serial number.
Bonus: Track Phone Real-time Location and Monitor Phone Activities
If you want a different solution other than the IMEI number tracking, you can use a Tracking App but note that it requires a prior setup procedure. This app is a more comprehensive parental controlling system. To track a phone using IMEI android online makes sense, but it doesn't give you complete parental control of the Airdroid app.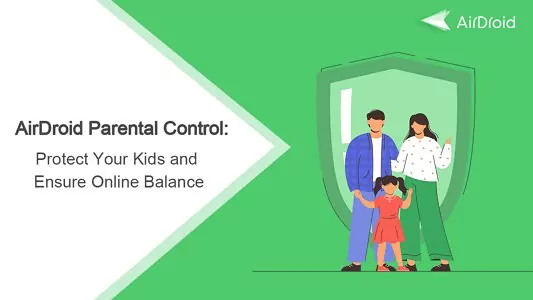 AirDroid Parental Control app keeps kids safe in the physical world and is an alternative to the IMEI tracker online. It has many fantastic features, such as remotely monitoring your kid's phone surroundings, screencasting, screen time control, games & apps blocking, Sync notifications & SMS, location tracking, instant alerts, etc.
Key Features
Find your kids' current location
Track your kids' location history by timeline
Get alerts when your child enters or leaves the geo-fenced zones you set
Keep your kids safe without following them anywhere and anytime
Have a schedule for the time your children can access their devices to help them build healthy digital habits.
Pros:
Remotely Monitor Your Kid's Phone Surroundings
See the background with the cameras of your kids' mobile devices
Listen to the environment through the microphones of your kids' phones
Cast your kid's Android device to your phone and remotely monitor their online activities in real-time
Monitor social media apps' notifications, such as WhatsApp, Line, and Facebook Messenger
Steps to Track Phone Location in Real-time
Step 1. Download and Install the latest AirDroid Parental Control app.
Step 2. Launch AirDroid Parental Control on your device. You will then be taken to a Sign Up page with a form. Create your account with your details. Then log in.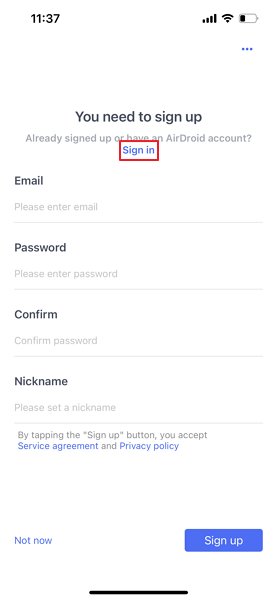 Step 3. Download AirDroid Kids on your child's phone. After installation, launch AirDroid Kids. You will be asked to enter some settings via a form. Then enter the pairing code to bind the devices. From now on, you can track the phone in real-time. You can, of course, uninstall the app whenever you need to.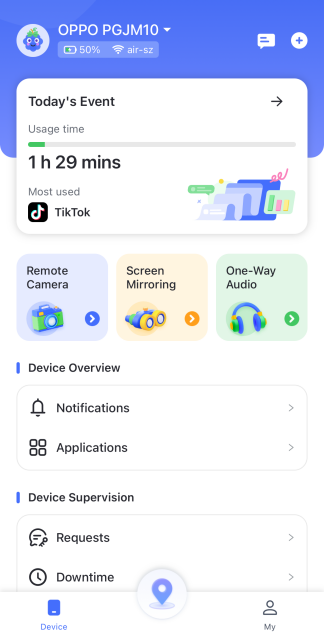 Benefits of Phone Tracking Your Kids
Every parent worries about their kids. These days, most kids have a smartphone. A phone tracker then is the smart option. With Phone Tracking, you will know instantly when your child wanders off to an unknown place. It may seem too much, but you need to know your kids are safe in today's age. They will understand that you want the best for them, and they will feel safer. Think of it as an option when you want your kids back home on time or when they have been playing up, and you suspect they are entering an unknown destination.
Conclusion
Let's face it; your kids are precious to you. Knowing where they are at any time of day is quite helpful. It's nice to know they are safe and sound. IMEI Phone Tracking Online remains an easy option to locate your lost phone.
Apps are also good, but they require a setup procedure. But the right Parental Control Software can make a real difference when talking about tracking. As we've described, the AirDroid Parental Control App has other features too. Many customers have taken advantage of IMEI number tracking because it is easy to use. So, for better Phone Tracking for your kids and family, track your phone using IMEI online today!