How to Find Hidden Apps on Samsung?
Samsung phones are generally used by millions of people every day. Most people are anxious to know how to find hidden apps on Samsung to monitor the activities of kids who may use these hidden apps on Samsung phones. Kids not only hide apps, but they can conceal obscene videos, images, and messages. Besides using these hidden apps by the kids, many methods help parents find hidden apps on Samsung.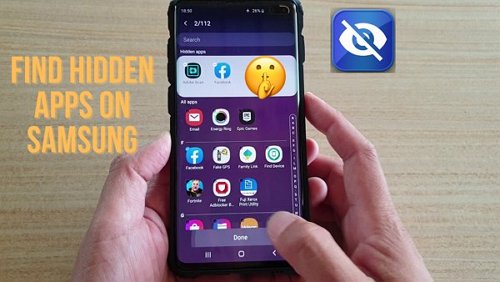 So, if you are wondering how to search for hidden apps on a Samsung phone, we are here to provide you with complete guidance. So, let's get started on our informative journey.
Part 1 : Why Are Apps Hidden on Samsung?
Samsung is one of the most popular devices among users because it provides a customization offer to hide irrelevant apps from the app drawer and home screen. So, if you want to secure your essential apps or have proper checks and balances on confidential apps, then the hidden apps feature is the best option.
Hide applications on your Samsung smartphone to restrict friends, relatives, and youngsters from using your mobile. If your phone does not allow hidden applications, you can download third-party app launchers that do that task effectively.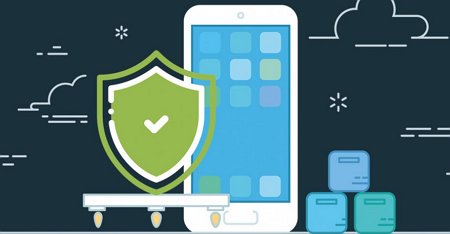 This method might be beneficial when you wish to hide business apps at home. When you're interacting with your children, you don't want to be bothered with useless alerts, or maybe you conceal leisure applications in the office during working hours. The hiding apps are the best option of all.
If you want to reduce the number of programs in your Apps Tray and on the "Home screen" but can't delete pre-installed apps, consider deactivating or forcing to pause the application and hide it. You may discover how to quickly hide and re-add apps to your Apps Tray.
Part 2 : How to Find Hidden Apps on Samsung?
Here in this part, we will discuss the top three methods used to hide apps on Samsung phones. So, without wasting your precious time, look closely at all these methods.
Method 1. In Settings
One of the more straightforward methods to find hidden apps on Samsung phones is the Setting option. The setting feature provides easy access to the complete list of all available applications for Samsung devices.
Step 1: You must select the Settings option that looks like a gear icon from the drop-down menu. The alternative is available on the home screen or in the app drawer.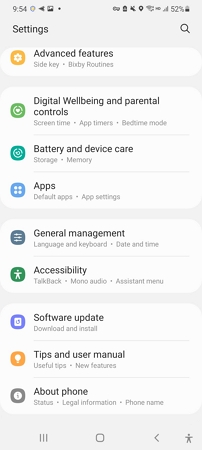 Step 2: You will see the option Select Apps and Notifications in the setting menu.
Step 3: Now click on See all apps. The option will display a list of all apps that comprise programs and files necessary for the Samsung operating system to work appropriately and effectively.
Step 4: Select the Show System option on the upper-right corner of your Samsung screen to see all hidden apps. It will display all of the apps on your Samsung phone, including hidden and unhidden apps from the app drawer or home screen.
Method 2. In the Homescreen
Step 1: You need to pinch the Home Screen to view more valuable options.
Step 2: Click on the option Home Screen Setting.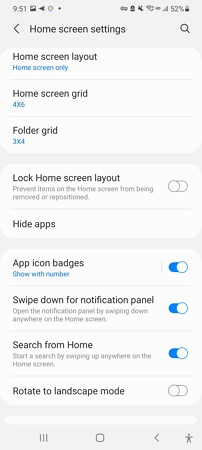 Step 3: Now select the Hide apps option. Scroll through the apps list that displays or tap More and click on Show System apps.
Step 4: If the applications are hidden, the disabled will appear in the field with the application's name. Click on the desired app and click on Enable to check an app.
Method 3. In App Drawer
To find hidden apps on your device, you need to press the icon, which seems just like a circle with 6-points present on the screen, just the lower-middle portion. Click on the button, and you will see a complete list of apps installed on your Samsung. Some of these apps are visible, but some of them are hidden. To make hidden apps visible, you should perform the below-mentioned actions.
Special note: Always remember that the approach we mentioned below may not be available on all Samsung phones by default. It depends on the launcher that you use.
Step 1: Select three dots from the app drawer in the upper-right corner. The setting menu will open.
Step 2: Select the option that shows Hide apps with the help of the drop-down menu.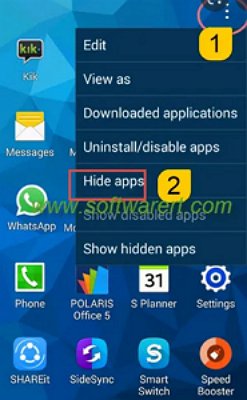 Step 3: You will see a list of applications from the app list that have been concealed on the screen.
Remember: No app will be hidden when you see a blank screen, or maybe you are not able to see "Hide applications" options on the net.
Part 3 : How to Find Hidden Apps on Samsung?( with Third-Party Apps)
In this part, we will discuss the features of third-party apps used to search for hidden apps on Samsung.
1AirDroid Parental Control
When parents want to find hidden apps on kid's Samsung devices, AirDroid Parental Control is one of the best apps that helps parents to locate kid's secret apps easily. It also helps the parents to guide their children in building healthy and good digital habits. The Data dashboard allows you to examine your child's smartphone's daily/monthly usage data, including information on hours of use, application usage time trends, app message counts, and traffic consumption statistics.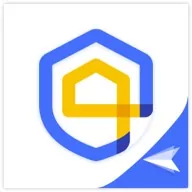 Steps:
First, download and install AirDroid Parental Control on your device.
Then sign up with your G.mail account. If you have already registered an AirDroid account, click "Sign in".
Now, create an AirDroid account on your kid's phone. Launch AirDroid Kids after installation and configure specific phone settings. You must then enter the pairing code to bind the device.
Easily regulate your child's device's timeslot or time frame with use limitations. You may set total run usage time and app restrictions and even deactivate all applications instantaneously. When your kid's smartphone gets app push notifications, you'll synchronize them to let parents understand if their youngster is using complex applications.
AirDroid Parental Control is a fantastic and valuable program. It is pretty simple to use and download. Its characteristics are distinctive and straightforward. This software is excellent. Everyone should install this program, in my opinion.
2Hidden Apps Detector
Hidden Apps Detector can analyze your apps on your Samsung phones and detect the presence of hidden apps. Hidden App Finder for Samsung is a free application program. Hidden Programs and Permission Settings lets you pick between secret & dangerous apps, spyware, and Malware.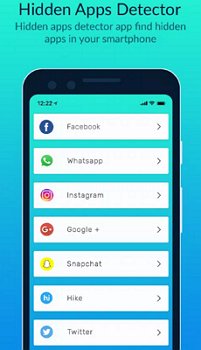 Steps to download:
First, open Google Play Store and tap on Hidden Apps Detector.
Then click on install.
Follow the steps and download the app.
Hidden applications scanner for Android will discover hidden apps that have been installed on your phone. Install this hidden spy program detector for android and begin finding hidden apps or software apps. This program detects hidden software applications.
3Nova Launcher
You may block your children from accessing applications by hiding them in Android launchers such as Nova Launcher. It is the best way to hide applications from your phone's Home screen and the App drawer. You may use both the paid and free versions of Nova Launcher. However, the paid version is required to conceal applications from the launcher entirely.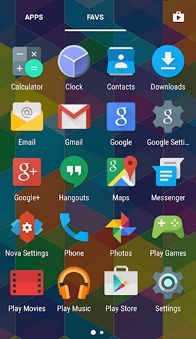 Download steps :
First of all, head over to the play store of your device and search for "Nova Launcher."
Hit on installation button to start automatic installation.
After installation, click on the "Open" button and sign up with your Gmail credentials.
Part 4 : How to Identify and Remove Spyware from Samsung Smartphones?
Identify Spyware from Samsung Device
First, you need to navigate Google Play Store App.
Press the menu button to access the menu.
From the drop-down menu select Play protect.
Select Scan option.
The device will start scanning for malicious Samsung software.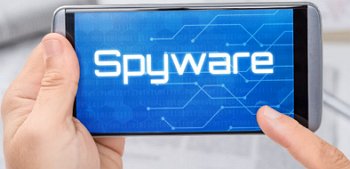 Remove Spyware from Samsung Smartphone
Navigate to the Settings menu.
Choose Backup and Reset.
Choose Factory data reset.
Select Reset phone.
Type your PIN or password to confirm your action.
Choose whether you want to reset your phone from a backup as well as start from scratch.
Part 5 : Bonus: How to Locate Hidden Files on Samsung?
The approach for detecting hidden files on Samsung mobile is very same as that used on Windows. Go to your Android phone's file system or gallery options & enable the "display hidden files" button. Various methods are used to locate hidden files on Samsung, such as setting options, file manager, or third-party software. All these methods will help find all apps hidden in your kid's or spouse's devices.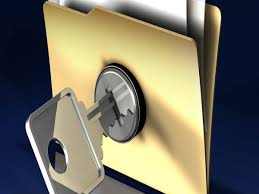 For instance, the Hidden app's scanner for Android can detect hidden apps that have been installed on your device. Install this Android hidden spy program detector and look for secret applications or software programs. This application discovers hidden software programs.
Similarly, AirDroid Parental Control is one of the most excellent parental control programs for keeping children safe both offline and online. It also assists parents in guiding their children in developing healthy and positive digital habits.
FAQs about Finding Hidden Apps
Can I Use a Hidden Application?
Yes, you can use the apps that are hidden. You only need to open the app drawer, then type the application name in the search box and launch the particular app when it shows to you on the screen.
How Can I View Hidden Apps That Have Been Deleted?
It's extremely conceivable that your gadget, like a computer, has a trash folder. Aside from that, I'm afraid you're doomed if your phone isn't linked to the cloud and any other online backup. In terms of hidden applications, you can locate and add them in your browser settings, or you may search for them by typing any hidden application names into your phone. And your phone will get you somewhere.
How to Uncover Hidden Apps on my Child's Samsung Phone?
You can use AirDroid Parental Control to find hidden apps on your child's Samsung phone and  easily track child's location, check daily online activity, and schedule screen time & application usage.
How Do I Put Hidden Apps Back on my Samsung Home Screen?
You can go to Home screen settings and select an app and then click on Hide apps. You may now decide which applications you want to suppress from your Applications tray as well as the home screen.